In recent years, technological advancements in artificial intelligence (AI) have opened up exciting new possibilities in many fields, now most notably, the world of corporate photography.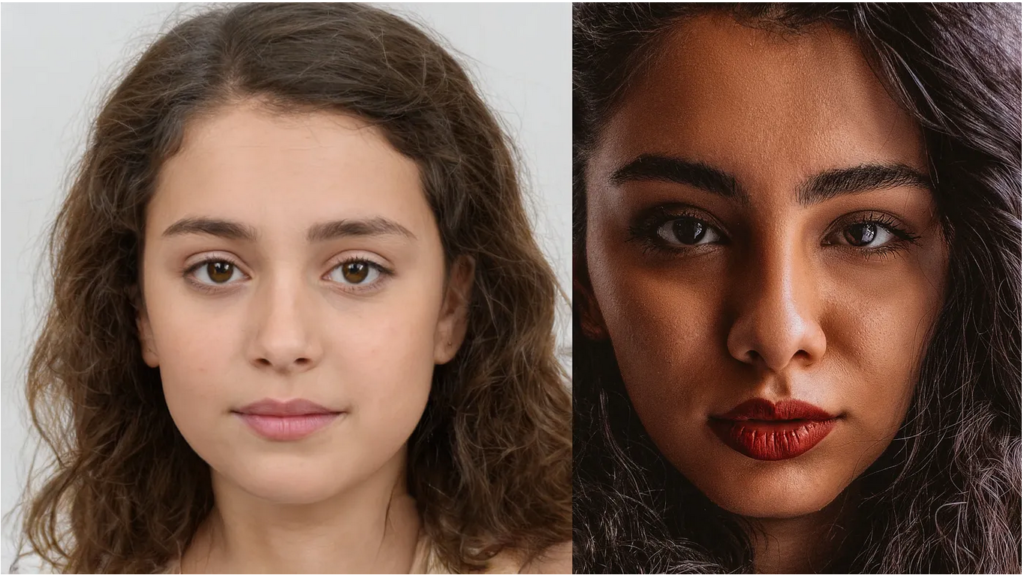 Real or fake? AI-generated image on left and real stock photo from Unsplash on right
From product images to company headshots, corporate photography is a way to visually communicate the values and messaging of a business.
We are currently witnessing the rise of AI — such intelligence is already in use with traditional photography to enhance the final product. For example, AI can be used to assist with post-production editing, allowing photographers to quickly and efficiently retouch images with precision and accuracy. Another emerging trend is AI-generated headshots.
While these AI-generated photos may seem like a convenient and cost-saving alternative, there are several reasons why you still require a skilled photographer to capture high-quality, personalised, and impactful images.
In this article, we'll delve into why synthetic images cannot fully replace the value and expertise of real photos taken by a professional corporate photographer.
Experience and Expertise

One of the key reasons why professionals still require a professional corporate photographer is the photographer's experience and expertise.
A professional photographer's skills in the craft has been honed through years of exploration through passion and curiosity. Style and taste in setting up for a shoot, thus comes innately from a strong foundation in lighting, composition and other technical aspects of photography
This knowledge and experience allow them to create images that are not only visually stunning but also convey the intended message effectively.
Are you able to spot which images are AI-generated and which are taken by White Room Studio photographers?
(Answer: Top left and bottom right)
Pictured: Ratna Juita, Well-being Strategist, Coach, TEDx Speaker and LinkedIn's Top Voice. Ratna required a set of portraits which show her at her most natural state, approachable and relatable.
After trying out the AI headshot program, she said, "I even had trouble recognising myself in some of the AI photos!"

Personalisation
Another reason why AI should be viewed as a complementary tool rather than a replacement for traditional photography is the personalisation factor.
A professional photographer works closely with their clients to understand their needs and vision. They take the time to learn about the client's brand, messaging, and goals, and use this information to create customised images that effectively represent these.
Similarly, at White Room Studio, we had photographed corporate lifestyle images for Kerry Consulting, a leading Search and Selection firm headquartered in Singapore. This was a collaborative project that involved discussions with their team. At their office, we learned more about their business objectives and how best we can showcase their human talent to achieve the desired outcome.
In contrast, AI-generated photos may lack the personalisation and creativity that only a human photographer can bring to the table.
Quality Control
It is already very likely that AI will be used to automate certain aspects of the photography process, such as setting exposure or focus. This can help to streamline the process and allow photographers to focus on capturing the ideal image.
By incorporating AI into their workflow, professionals can enhance their capabilities and create even more stunning images. With the right balance of artificial intelligence and human input, the possibilities for corporate photography are limitless.
However, quality control is another critical factor that sets professional photographers apart from AI-generated photos. A skilled photographer has an eye for detail and knows how to frame the perfect shot. They also have the necessary tools and equipment to ensure that each image is of the highest quality possible.
Pictured: Located in a 2,400 sq ft Peranakan-inspired shophouse, White Room Studio offers a diverse variety of settings for the discerning professional looking for their next headshot.
For example, after the photoshoot is done at White Room Studio, the photographer is responsible for curating the best photographs (i.e. no blurry shots, awkward expressions, closed eyes) for the client's selection.
This attention to detail and commitment to quality control have yet to be replicated by an algorithm, and it may not be within the realm of possibility for now.
Creativity and Originality
Creativity and originality are two essential factors that make real photos taken by a professional photographer irreplaceable. While algorithim-generated photos may be technically impressive, they lack the human touch that makes photography an art form.
This is especially true in a studio environment, where the photographer has complete control over the lighting, background, and other elements that can greatly impact the final product. A skilled photographer can work closely with their team, such as assistants and makeup artists to create a set design that complements the client's brand and enhances the overall look and feel of the photos.
Pictured: We have crafted these respective portraits for a dancer and a chef, adding a creative twist to a typical job.

But it's not just about the technical aspects of photography. A professional photographer brings their own style and creative vision to every project, infusing each image with a unique personality and character that sets it apart from the rest. On the other hand, AI is highly dependent on user prompts and the kind of images fed to the algorithm.
And let's not forget about the importance of originality. A skilled photographer can take a client's vision and turn it into something truly one-of-a-kind. They can come up with creative concepts and ideas that push the boundaries of what's possible, resulting in photos that stand out from the crowd.
The Future of Portraiture

In the future, it's likely that we will see even more integration between AI and traditional photography.
AI integration within the traditional realm of photography has began to push the quality of professional portraits up a notch, such as using AI to analyse a client's brand, thus offering an evolved styling of shots that can convey the desired message to the audience.
Additionally, AI could be used to create 3D models of products or environments, allowing for even more creative output.
When AI and human creativity are combined and balanced in the right way, we are confident that corporate photography can unlock a boundless range of possibilities!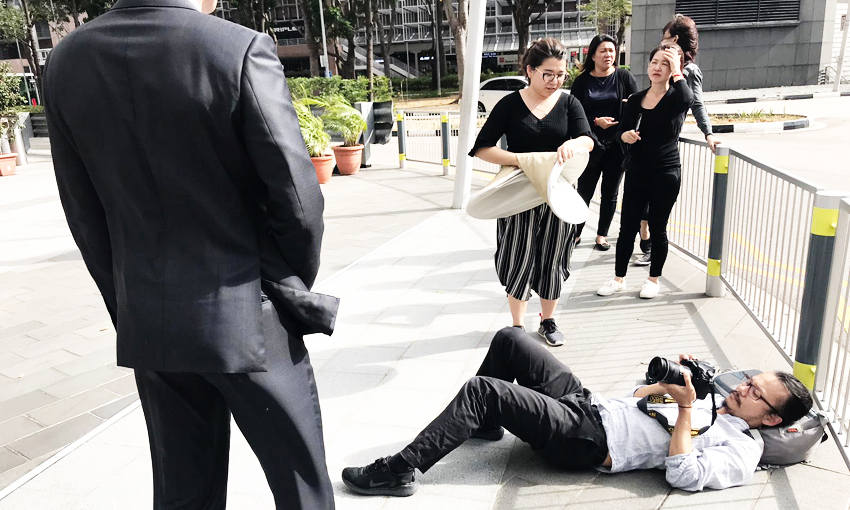 PACKAGE DETAILS
Keen to experience a real portraiture session for yourself? Our Corporate Portraiture Package starts at $390 for 1 pax and it includes 2 outfits photographed and 2 backdrops of your choice!
Enjoy 30 minutes of artistic photography in our two-storey shophouse studio, be it for a headshot or a personal branding session.
From a selection of corporate headshots, half-body and full body shots, you will receive 3 retouched soft copies ideal for LinkedIn, CV, or your website!
Personalised hairstyling and makeup services are also provided. At White Room Studio, we also have a fully equipped changing room with a garment steamer, plus a spacious executive guest lounge and pantry for you to get ready before your shoot!
If you wish, we recommend that you bring along any props that may highlight your profession and expertise.
Send us a message via the form below and we'll get back to you shortly!