It's that BIG day where your little one officially graduates from kindergarten! Before you know it, 6 years have passed and your kid is moving onto their first year of primary school.
What better way to mark the start of this next chapter than a photoshoot? White Room Studio has been capturing K2 graduation photos since 2018 and is the leading photo studio in giving you the best K2 graduation photoshoot experience you can find in Singapore!
Pictured: A cheerful K2 graduate in her K2 graduation gown and cap taken at White Room Studio's third floor!

For generations, pictorial records of life have served as a means of preserving representative timelessness of memories.
As Singapore's finest natural light photo studio, see how we bring nature into your family portraits within the comfort of our amazing 2400 sqft Peranakan shophouse.
Our friendly photographers are also highly experienced in photographing kids of all ages and capturing the natural brilliance of every child – it's what we do best.
Read on to find how you can make K2 graduation extra meaningful for your child!
The German Educator, Friedrich Froebel, pioneered and started the first Kindergarten back in 1840. He believed that children have unique needs and capabilities and needed a safe space wide enough to grow and nurture their innate qualities.
Why not take this K2 graduation season to create a memory that you will forever cherish?
Pictured: A proud dad with his little K2 graduate taken at White Room Studio!

Watching parents smiling ear to ear seeing their little one cloaked in the hue of their prideful achievement at graduating kindergarten. This is the graduation photoshoot that holds a meaningful and unforgettable experience!
From the first smile to their first word, from taking their first step to a missing tooth; all of it seemed to flash by and suddenly they're celebrating their first academic milestone.
Let's take this K2 graduation ceremony to applaud our brave stars on their monumental achievement and cheer them on their next journey.
Your K2 graduation photoshoot will be a once in a lifetime experience to commemorate this momentous occasion.
While the focus remains on the K2 graduate, bring your family along for a fun-filled graduation photoshoot and at the same time cover a set of family portraits. Or opt for a shoot wholly with your little one's BFFs to join the shoot and watch them express themselves and have a good time.
The studio always loves merry laughter of children reverberating the space with a sense of homely nostalgia.
🎓 Scroll along for Top Tips to make K2 Kindergarten Graduation meaningful for your kid!

1. Take Professional K2 Kindergarten Graduation Pictures 📸
K2 kindergarten graduation is the year-end ceremony that marks every kid's growth and academic achievement. For our client, Weixiong, it also marks his personal achievements together with his daughter!
It was a double celebration – they were both graduating from NUS and K2 at the same time! Weixiong's wife, Bee Ling, couldn't resist joining in the celebration by donning her graduation gown, though she had graduated some time back.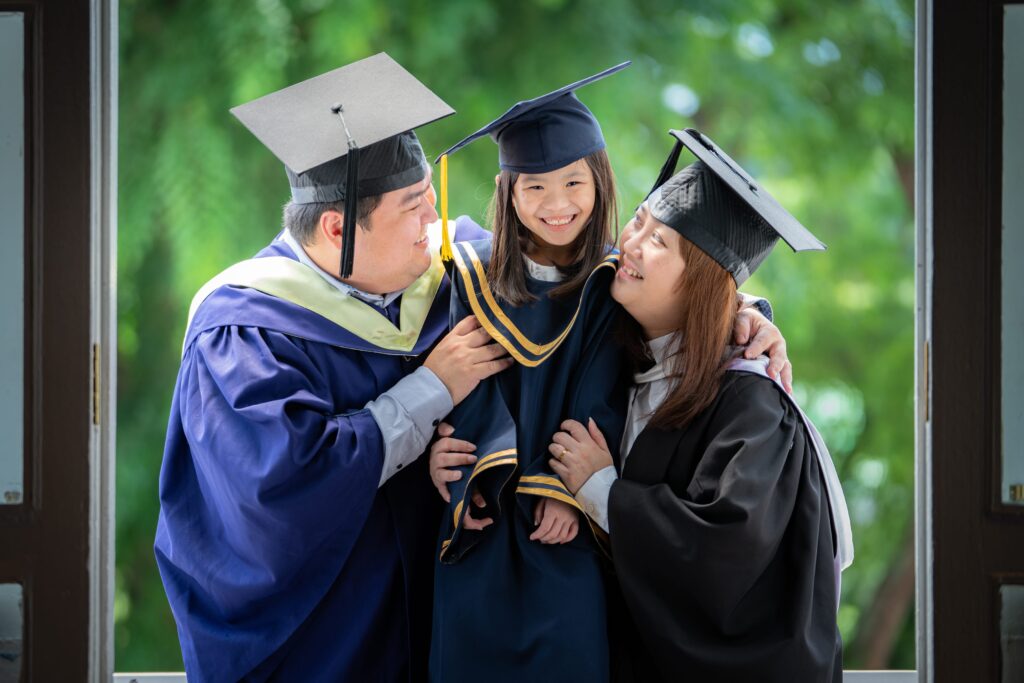 White Room Studio also provides complimentary K2 kindergarten graduation gowns when you book with us!
"Our K2 kindergarten graduation photoshoot experience at White Room Studio was really fun. The unique heritage style decor plus the use of natural backgrounds and sunlight are definitely the best advantages when taking professional photos here

. 

Our photographer, Yan, was friendly and very engaging, which definitely contributed to us being able to relax and therefore able to present the most natural side of ourselves!"

– Lin Weixiong and family
A K2 kindergarten graduation photoshoot is the perfect opportunity to get professional family photos taken, plus it also adds to the nostalgia when your kid finally graduates from university in the future!
2. Spend Quality Family Time Together At White Room Studio

How often we wish for more family time. Not just regular family time at home, but quality family time!

A family photoshoot is also one of the best ways to grow closer together – you can enjoy 1.5 hours of fun and laughter in our studio.
With so many diverse themes and decors to explore in our 2-storey boutique shophouse, you can look forward to bringing home beautiful family and kindergarten graduation portraits!
What's more, you can also take lovely Christmas photos during your K2 graduation photoshoot – White Room Studio's signature European hall will be decorated just for the holidays! See the kind of Christmas keepsakes we can create for you below!
Filled with warm soft sunlight and lines by an entire row of tall and elegant French windows, look no further if you love having a truly unforgettable studio experience with real backdrops, unique props and settings!
3. Choose White Room Studio For K2 Graduation Photos! 🎓

We are renowned for all-day natural light in the studio, which is great for both casual and classic kindergarten graduation photographs! Take a look at these CUTE graduation photos!
You can expect a photoshoot at White Room Studio to be natural and relaxed, with lots of guidance by our professional in-house photographers who work so well with young kids and adults!
Creative directions and posing ideas will be provided as well. Leave your worries at the door – just bring along your biggest smiles and have fun on the day of your shoot!
Before your shoot starts, you can also get comfortable in our brand new guest lounge. Feel free to help yourself to free Wi-Fi, plenty of snacks and drinks (hot water, fresh coffee & tea) in our pantry!
Do let our team know if you need anything else on the day of your session and we'll take care of it for you 😊 Our assistants are always available to lend a hand.
The White Room Experience
Taking a photo is not merely clicking on the shutter. For us, it is designing a photography experience meant to capture the best version of you and your loved ones. Have look at the White Room Experience below:
Hair and Makeup Package
For mummies and daddies, if you'd like to have a personalised makeover session before your shoot, book a private makeup & hair session with our professional makeup artists!
It will take an hour in the comfort of our brand new vanity room, and our makeup team will create a look just for you. We have two dedicated changing rooms as well!
White Room Studio K2 Graduation Photoshoot Details

The package is $490 for 4 pax ($20/extra pax). We recommend bringing 2 outfits (1 formal, 1 casual) to photograph in.
The shoot will start with family and kids in the K2 graduation gown. Our photographer will take a variety of shots in different settings, such as family with K2 grad, mom with grad, dad with grad, K2 graduate solo. Afterwards, you can change into casual wear for more photos!
You can also choose up to 4 different studio settings (backgrounds) you like! Make your kid's preschool graduation experience a meaningful one today ❤️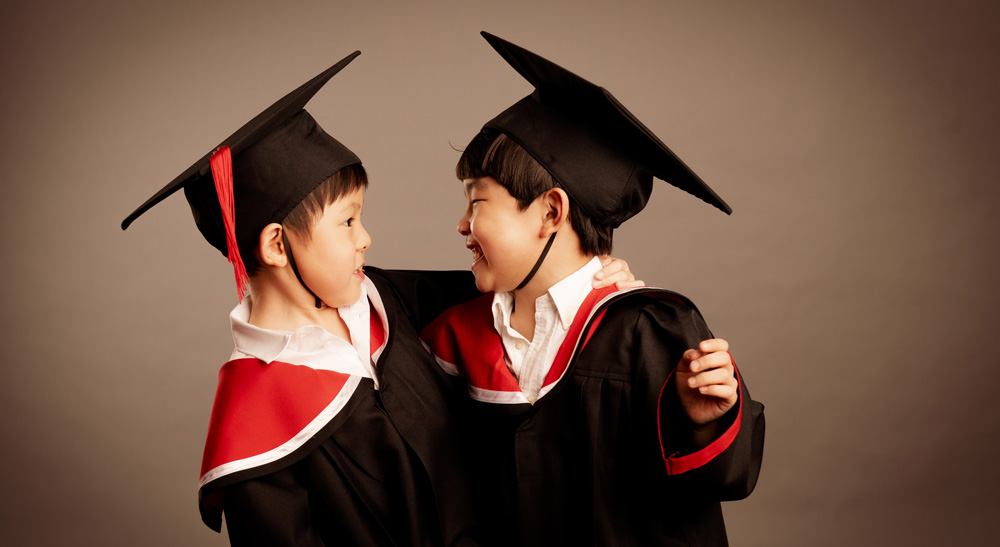 For more pro tips and advice on what to wear and how to prepare for your shoot, browse through our exclusive Family Portraiture Lookbook.
Download our Rate Card:
Contact us to book your shoot:
"Dear all at White Room Studio, we had an enjoyable morning doing the photo shoot. Photographer Justin was absolutely fantastic, very professional yet super good at calming our nerves – we were all relaxed and full of laughter! We felt at home. Good bonding time for the family too. Our sincere thanks to the studio assistant who quietly and patiently ensured our attire were in place. Looking forward to the photos. The warmth and professionalism displayed by the entire team throughout the whole process from before, during and after the photo shoot was fantastic. I would definitely recommend White Room Studio as we had fun celebrating our son's graduation!"

– Mrs Lee and Family