VOTED BEST OF SINGAPORE
PORTRAIT PHOTOGRAPHY STUDIO
Hello from
White Room Studio!
Since 2009, White Room Studio has grown into a renowned photography studio in Singapore. As a boutique family-run team, family values are at the heart of what we do!
Heart and soul are invested into creating a welcoming yet unique natural light shophouse-studio environment, curating a thoughtfully-designed experience of portraiture when you visit White Room Studio.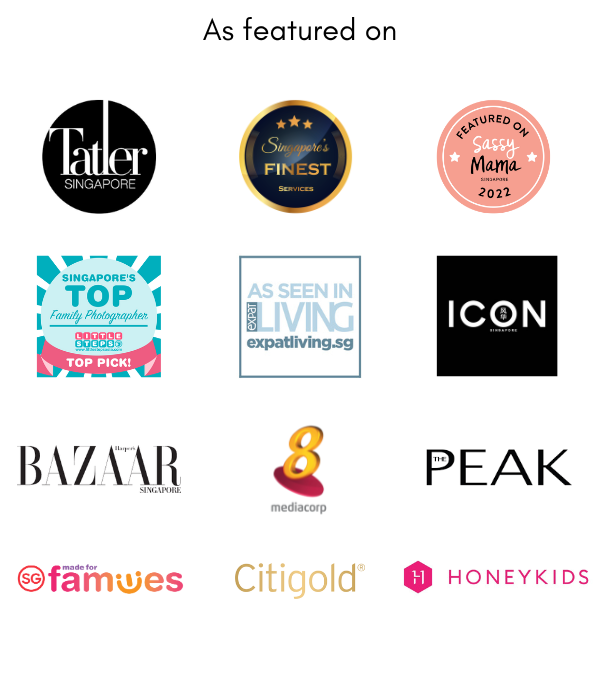 Our 2400 square foot studio nestled in the historic enclave of River Valley is the ideal place to explore all sorts of creative angles that make great lifelong family keepsakes.
Nature and history is infused into every inch of White Room Studio – we have an open balcony bathed in all-day natural light, a classical walkway with an arch, an European-inspired hall with tall windows. A Peranakan wall, adorned with textured richness and vibrant tiles, adds a touch of cultural splendor.
With each corner thoughtfully designed for maximum artistry, our photographers bring your vision to life. Explore our gallery below and witness the magic of White Room Studio for yourself!
Gallery
From family and kids, graduation, first year birthday cake smash, newborn, pet, couple, pre-wedding to corporate, we photograph all that is important in life to you.
We approach each photoshoot with creative care, embracing the individuality of each and every person who steps into White Room Studio. 
Having photographed more than 10,000 families, we understand just what you seek in your photos. Natural smiles, real fun & laughter, candid moments frozen in time — all for you to relive and cherish over and over again.
What Our Clients Say
Did a family shoot for my baby and myself with Justin and Verona at White Room Studio back in August - the shoot went pretty smoothly even with an increasingly tired 2 month old infant, with good posing directions from Justin while Verona helped to make sure my baby was comfortable and looking at the camera. Loved the set-up at the studio and we didn't have to wait long in between for the different set-ups.
My experience with White Room Studio for our recent graduation/family photoshoot was fantastic, and a big part of that was due to our photographer, Jia Ming. Jia Ming was incredibly skilled at directing the photoshoot. They made us feel comfortable and guided us through poses that turned out great. Their friendly and patient approach helped us relax and resulted in genuine, heartfelt smiles in our photos. Jia Ming's attention to detail and ability to find the right angles produced beautiful shots that we'll treasure. Their passion for photography was evident, and it reflected in the final images. Thanks to Jia Ming and the White Room Studio team, we have graduation photos that capture the moment perfectly. I highly recommend them for their professionalism and Jia Ming's excellent direction. It made our photoshoot a memorable experience.
Had a lovely experience doing a family photoshoot with White Room Studio - all photos turned out to be amazing. Our photographer Jia Meng was great in engaging the family and everyone was very comfortable during the shoot. The studio had lovely backdrops too. Overall great service, including before, during and after the shoot! Highly recommend to anyone looking to do a shoot, especially if it's your first time 🙂
Fun & friendly photoshoot with Yating. She made us feel welcome & comfortable during the shoot. Photo viewing service was also great with Dan. Professional & helpful in choosing the photos. Thank you guys.
Hernie Andersen
2023-09-11
We were blown away by the level of skill and artistry when we got to see the photos. Each image was a work of art, reflecting the joy and tenderness we felt at the time. Randy, our photographer captured the emotions and created everlasting memories that we will cherish for the rest of our lives. We wholeheartedly recommend White Room Studio to anyone seeking extraordinary photographs and an unforgettable experience.
A very special experience for the whole family! Yan, our photographer, guided us through the whole process. Her directions and pointers on how we could pose made our time there super fun! Much joy and laughter during the session. Highly recommended, thank you for the memorable time:)
My family and I came here for a photoshoot to commemorate my sisters graduation with Yan as our photographer helping us out. She was extremely knowledgable, helping us get the best pictures. The photography session was really fun and enjoyable, leaving us extremely satisfied with a memorable experience. We loved the photos taken, they were high quality and very well edited. Highly recommend coming here to get your photos taken to commemorate an occasion with your friends and family.
We had originally booked a newborn slot earlier but had to reschedule last minute and the team was so accommodating. On the day of the photoshoot, our daughter was fussing (and crying) and we were worried that we were not able to take any good photos but lo and behold, the talented photog, Justin assisted by the talented baby whisper, Verona - they both managed to calm our baby down. Both were very professional, patient and accommodating. 5 star! Thanks Justin and Verona for helping us create lasting memories!
We did a follow up baby photo shoot (post maternity shoot with White Room Studio) with Justin and Verona, and had an extremely incredible time. Verona is a super 'baby whisperer' and able to soothe our wailing daughter during the photo shoot session. Justin was very patient and understanding, and the end result were all extremely gorgeous. We ended up getting all the digital print because we couldn't resist! Highly recommend Justin and Verona for baby shoot!
Good experience
In the Limelight
Thank You!
TATLER'S BEST OF SINGAPORE 2023
7TH YEAR RUNNING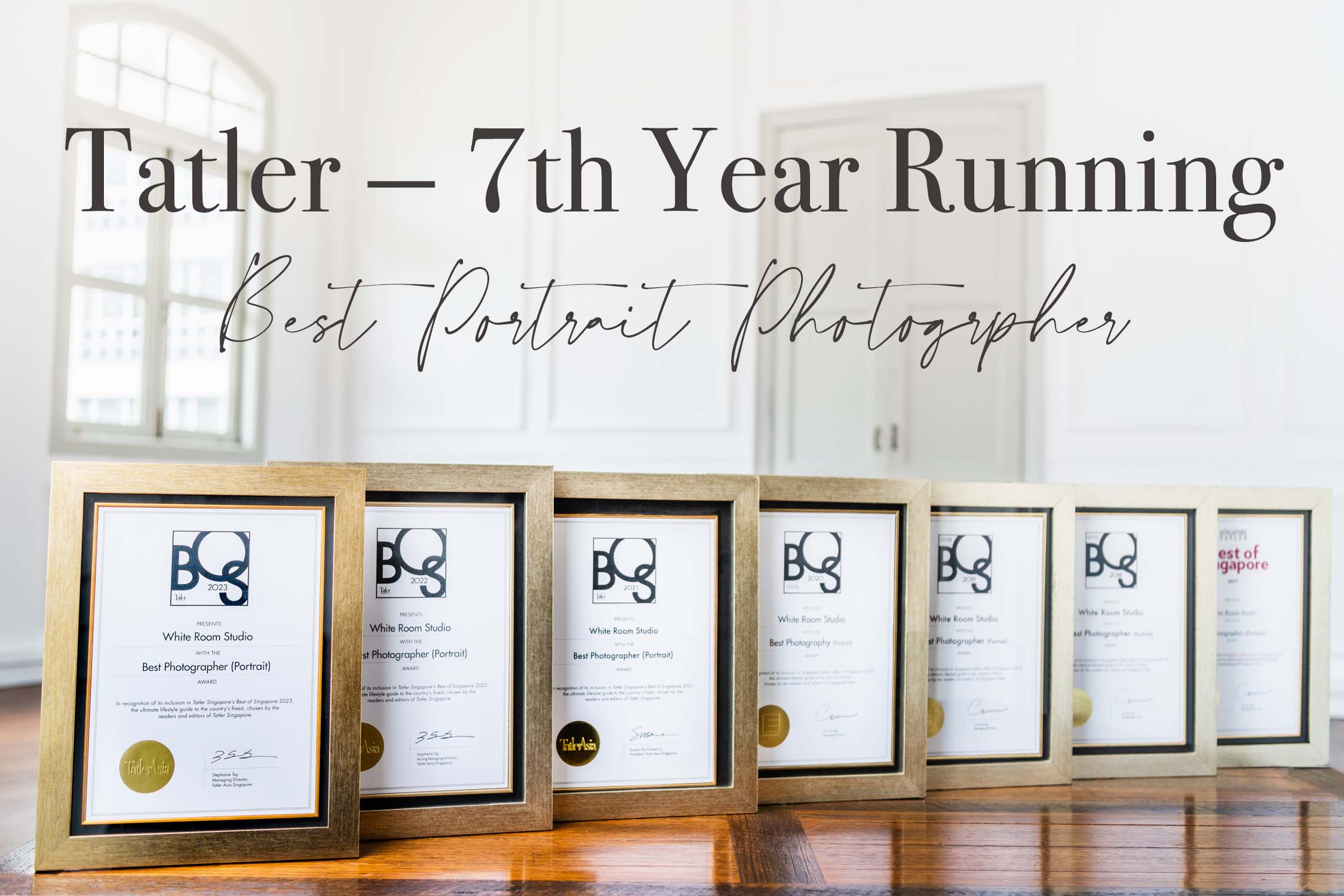 White Room Studio's style is one that embraces the moments of spontaneity. For so much of the history of photography, portraiture has been characterized by stiff, unnatural poses. Although for a long time, stagnant poses were the only technically possible way of capturing human subjects, technology has come a long way since then and we've embraced the shift towards more natural portraiture. We strive to capture the expressions of life that are real, natural, and reflective of you and your loved ones, and the photos we take create an impact because they carry with them an emotion that is open, fun, and real. At White Room Studio, we feel fortunate to witness and capture the intimacies and expressions of love.
Minimal posing is encouraged and we use little if any props in our sessions. Rather, we seek to draw out the natural you and celebrate each person's unique self so that you can look back on your photographs with fond memories in years to come. Featured in magazines island-wide, White Room Studio is situated in a Peranakan shophouse full of nostalgic character thus giving a wide range of warmth, natural lighting and atmosphere to explore. Whether they're shooting in the studio or the great outdoors, our professional photographers make themselves part of the family during the session, capturing what is real and emotional. Their skills bring together a unique fine art quality to their portraiture work, giving you a photographic experience like no other.