Graduation Photography & Photoshoots
Grads, this is your moment! Graduation season is the day where your hard work and long nights finally pay off. We're here to capture your "I made it!" moment, forever immortalized in images of you in your gown.

We also provide a wide selection of graduation gowns when you book with us. Check out our free Graduation Portraiture Lookbook for tips on how to prepare for your shoot, plus hairstyling & makeup!
Come and experience White Room Studio for yourself — we'll make sure you have an extraordinary time with us. To make you feel right at home, unwind in our spacious guest lounge, and enjoy complimentary coffee, tea, and Wi-Fi.
A graduation photoshoot at White Room Studio is the perfect occasion to make memories and celebrate your academic journey. Parents, here are 3 reasons why a graduation shoot is the best gift for your child!
Rates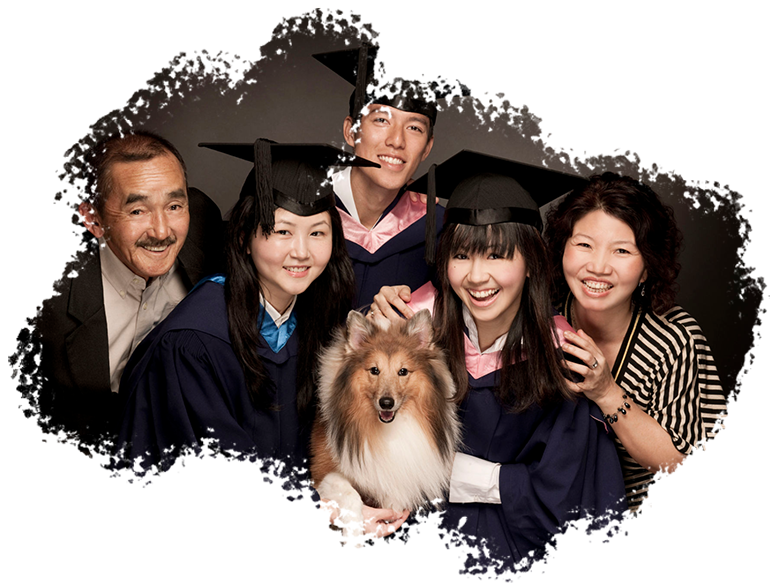 Reviews
"It was a very enjoyable and professional graduation photoshoot throughout the entire process, from the shoot to collection! Kudos to our graduation photographer for making us feel very comfortable so that she could capture many lovely candid moments 🙂 Will definitely come back in the future for more "
Jillian Chan
"Great experience at this graduation and family photo studio for my graduation family photoshoot! Our graduation photographer, was amazing and very helpful. Also, love how they go beyond the traditional graduation photoshoots, and also take more interesting and modern lifestyle shots as well!"
Denise Wee
"Decided to get my graduation portraiture taken at White Room Studio and it was such a unique experience. My family and I thoroughly enjoyed ourselves and we connected with Delun really well. Despite minimal posing and no props, the photos turned out absolutely beautiful. Very good customer experience pre and post photoshoot. Happy 10 year anniversary, White Room Studio!"
Nurul Pauzi
"It was a pleasant shooting for my graduation + mini family photos and I really enjoy it. It wasn't easy to handle a 10 months baby gal during the shooting but surprisingly all the photos turn out very nice! Thank you White Room Studio for your professionalism and patience. Good service and keep it up!"
Agnes Koou
GRADUATION CONVOCATION PHOTOGRAPHY A CELEBRATION OF LIFE'S MILESTONES
Your graduation signifies the end of one chapter of your life, and there is no better way to mark this exceptional achievement than images of you in your gown. Every milestone is a moment of joy for all parents, and your graduation is a wonderful photo opportunity to capture the joy and excitement of the moment. For a moment as significant as your graduation, you want everything to be perfect, including the photos.
Your pose in every photo shot reveals your personality and feelings at the time. Our photographers will ensure the environment is ideal for you and your entourage, and that you'll have enough space for different shots. Our studios are of different sizes and cater to various lighting options that will ensure you remain as excited during the photo session as you were during the graduation event.