You have only less than 10 seconds to grab your viewer's attention when they land on your corporate website.
When Time is of Essence 
For this reason, photography plays a huge role in the business world. Brand images have the power to raise brand awareness, influence decision-makers, and convert prospects into clients.
Branding — Your Most Important Asset
When it comes to branding, your staff are your most important assets to represent your company, especially in the recruitment industry. Kerry Consulting, a leading Search and Selection firm headquartered in Singapore, engaged White Room Studio as part of their branding campaign. The brief was simple: they required branding photos of their staff and office at Suntec City for their revamped corporate website.
Impactful Visual Storytelling 
At White Room Studio we believe every brand, no matter how big or small, has a story to tell. Kerry Consulting has a reputation of being one of the most experienced and largest recruitment firms in the Southeast Asian region, and we wanted to create meaningful images that speak volumes about their brand.
For this branding campaign, Chief Photographer Dan, along with Photographers Delun and Felicia, directed and delivered professional portraits for Kerry Consulting.
Read on to find out how White Room Studio executed their brand campaign through a compelling, thoughtfully curated suite of visuals.
Welcome to Kerry Consulting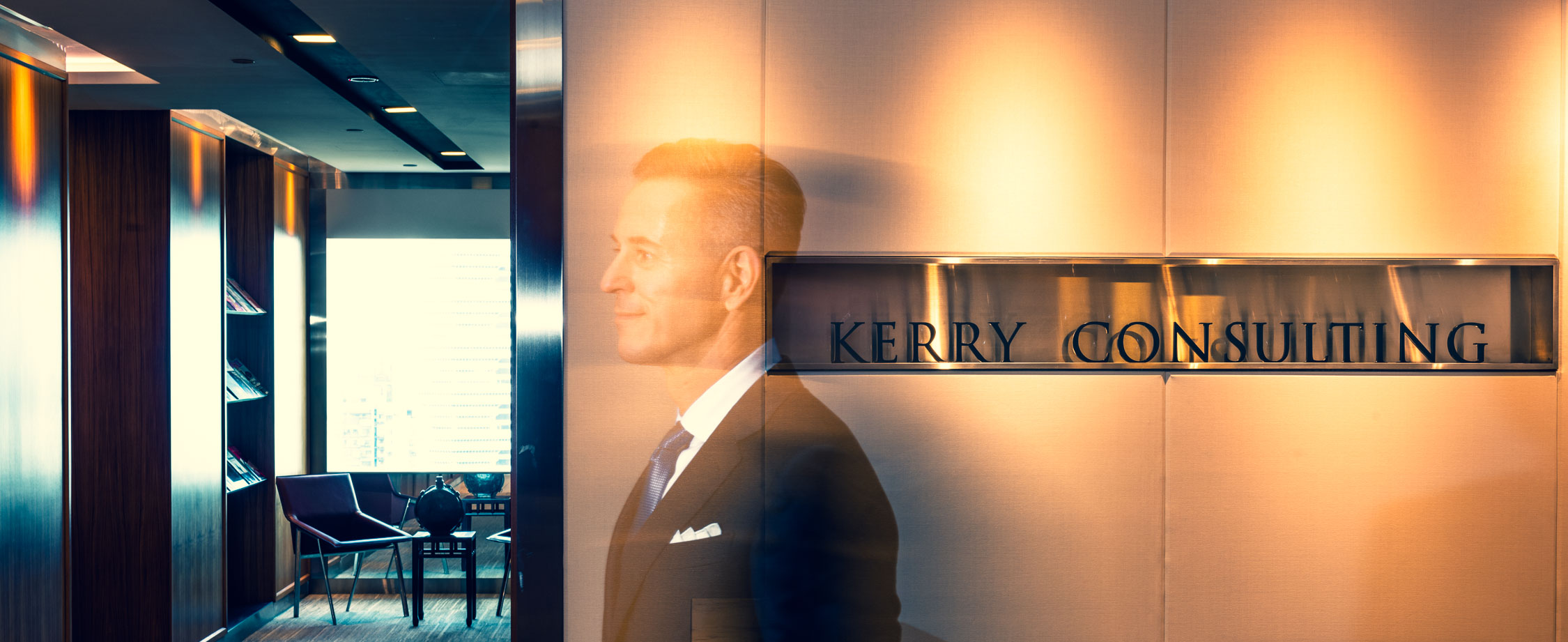 Pictured: Kerry Consulting is always on the move
Reinforcing The Brand Identity
The reception area is a space that sets the tone of the company, a first point of contact for every client or candidate, that will create a lasting impression on visitors. The intention was to reinforce their brand identity and capture the hustle and bustle of a typical day at Kerry Consulting. The photos of the reception immediately draw attention to the company's signage and projects a modern, upbeat work culture.
Pictured: White Room Studio captures a typical busy day at Kerry Consulting's office in Singapore.
Accentuating Professionalism
To highlight the approachability and professionalism of the consultants at Kerry Consulting, Photographer Dan took these portrait headshots using warm lighting and tones. An advantage of portrait headshots is that it maintains the focus on the subject while portraying their style and outfits. These photos below give a strong impression of their capabilities as consultants, and their commitment to providing premium services to clients.
Pictured: Suiting up for business appointments
Highlighting Corporate Dynamism and Trust
These action shots help to illustrate the professional relationship Kerry consultants have with their clients and candidates: a collaboration based on trust and understanding.
There is often a general worry that corporate photography can come across as stiff and overly theatric. However, with the right expertise and direction from our photographers, corporate photography can result in authentic and dynamic portraits, just like the photos below.
Pictured: At Kerry Consulting, we're always ready to help and advise
Pictured: It is never a dull day at work as a consultant
Consultants in Action
These lifestyle portraits were taken at Kerry Consulting's Singapore office, which show their consultants thoroughly engaged in a discussion. Using the corporate surroundings rather than a studio set-up for such shots makes the employees feel more at ease, creating more spontaneous interactions both on camera and behind the scenes.
Focusing on the synergy between their employees and their body language, Photographer Dan strives to capture the true nature of their consultants at work. This set of imagery helps to define their brand and it also evokes credibility in the recruitment industry, where people are at the heart of the recruitment process.
Premier Location for a Premier Company
Being situated in Suntec City, these outdoor business photos above showcase Kerry Consulting's longstanding presence in one of the largest commercial developments in Singapore.
Dan also took the opportunity to highlight Suntec City's iconic office towers. "I was inspired by the towers' strong perspectives lines, which help to project the strength of Singapore's economy as the business hub of the region," he explains.
The staff at Kerry Consulting all had one thing in common: confidence. The business suits worn by the men for this shoot were generously sponsored by Zegna, an Italian luxury menswear brand. "The suits are simply an extension of their confidence," Dan adds. "No one had to stop and pose for the photos – as they were crossing the sidewalk, I only reminded of how they truly belonged here in this commercial district."
From their impeccable attire to the relaxed, assured smiles on their faces, each consultant radiates a confident energy as seen from this collection of branding photos.
On the Website
The photos played a major role in the success of Kerry Consulting's branding campaign as a premium recruitment firm in Singapore. Take a look at how the brand photos are being used on their
new corporate website
!


About White Room Studio
White Room Studio has a legacy of 14 years and counting in the corporate portraiture scene. Besides Kerry Consulting, we have also worked with large multinational companies, fast-growing startups, small and medium-sized enterprises, and professionals from every industry.
Uplift your commercial presence with great branding photography – contact us for a custom quote today and we'll get back to you shortly!