Chinese New Year is a time for celebration and joy, and what better way to capture those moments than with a fun and engaging photoshoot!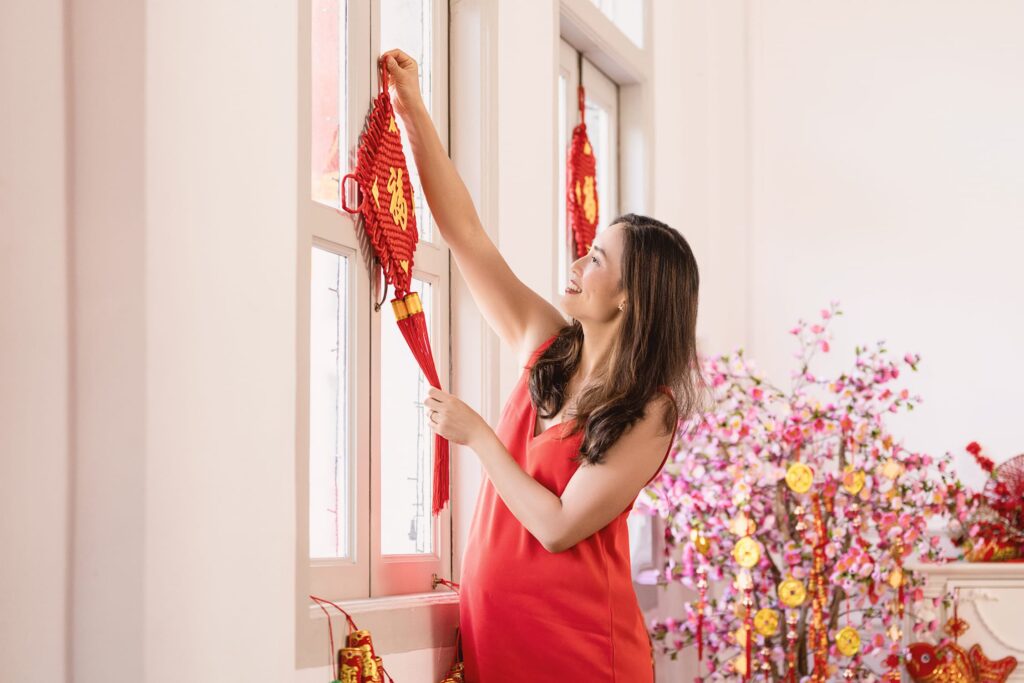 Charlotte is looking forward to celebrating Chinese New Year in Singapore for the first time!
Join us in a spectacular celebration that's a feast for the eyes. Step into a vast collection of blooms and fall in love with hundreds of enchanting and elegant floral displays suspended from the ceiling, bathed in natural light.
We have reimagined what spring this year means to us: new beginnings and fresh starts blossoming everywhere, and all the possibilities they bring. Make new traditions, laugh along with your loved ones – and bring home portraits you will cherish!
With more than 75 years of combined portraiture experience, our team is highly imaginative at creating family keepsakes that will be passed down for decades.
Capture the joy on your grandparents' faces as they share stories and memories with the younger generation!
So let's usher in the Year of the Rabbit together, and get ready to experience fun at the finest family photo studio in Singapore!
Why is Chinese New Year the best time to do a family photoshoot?
Chinese New Year marks the start of the lunar calendar and is a time for families to come together, share meals, and exchange greetings. One way to remember and celebrate the festivities together is of course, a family photoshoot!
Charlotte shares with us why doing a Chinese New Year photoshoot is especially meaningful for her:
"We only recently moved to Singapore from Hong Kong. I have always loved the all-out festive decorations and atmosphere during Chinese New Year in Hong Kong, and I really miss that living in a new, diverse city. I wanted to do a festive shoot with my (growing) family to find that feeling I miss and to celebrate our new life here. My daughter Tillie loved the flowery Chinese New Year decorations. I thought it was very cute when she ran from one corner of the studio to the next exploring everything!" 🌸

Discover what a Chinese New Year family photoshoot looks like here at White Room Studio!
Each family photoshoot at White Room Studio is filled with 1.5 hours of love and laughter!
We will first start off with big family group shots, with everyone gathered together in front of a beautiful backdrop of handcrafted floral arrangements and red auspicious decorations! We'll also capture heartwarming moments between family members, or partners, making for some beautiful romantic shots.
To add an extra touch of authenticity and to stay true to the essence of Chinese New Year, you can also colour coordinate family outfits in lucky colours!
What should I wear for a Chinese New Year photoshoot?
Tradition dictates that red, pink, and gold are the colors of the holiday, so you'll want to incorporate those into your wardrobe choices.
Think about coordinating your outfits so that everyone is on the same page and the colors complement each other. Consider adding in traditional Chinese elements, such as qipao dresses/cheongsams for ladies and tang suits or shirts with mandarin collars for men. Kids will look especially adorable in the mini versions of these!
Which time slot is best for a Chinese New Year family photoshoot?
We will reopen on the 24th of January during the CNY period!

The earliest photo session starts at 9am and the latest is 5pm. When it comes to taking pictures, the natural light is like a magic wand that makes everything look beautiful! (5pm is the latest because we want to enjoy as much natural light as possible!)
Imagine a dark, gloomy room where the only light is coming from a small lamp. The picture you take in that room will look dull, flat, and uninteresting. But now, imagine the same room with big windows letting in lots of natural light – just like our studio! The pictures taken will then look bright, vibrant, and full of life!
Final tips for your Chinese New Year family photoshoot..
1. Make sure everyone knows what time and place to meet!
2. Decide on what everyone will wear for the photoshoot. Try to stick to a color scheme or theme to make the photos cohesive – here's a free Lookbook with more helpful advice!
3. Have fun: Remember, this is supposed to be a fun and memorable experience for everyone. Don't be afraid to let loose and be silly during the photoshoot. The best photos are often the ones where everyone is laughing and having a good time!
With a little bit of planning and a lot of excitement, your Chinese New Year photoshoot is sure to be a hit.
Whether you're capturing memories with your immediate family or with extended relatives, these photos will be a beloved keepsake for years to come.
So grab your best outfits, round up your loved ones, and get ready to make some unforgettable memories! Chat with us and book a shoot!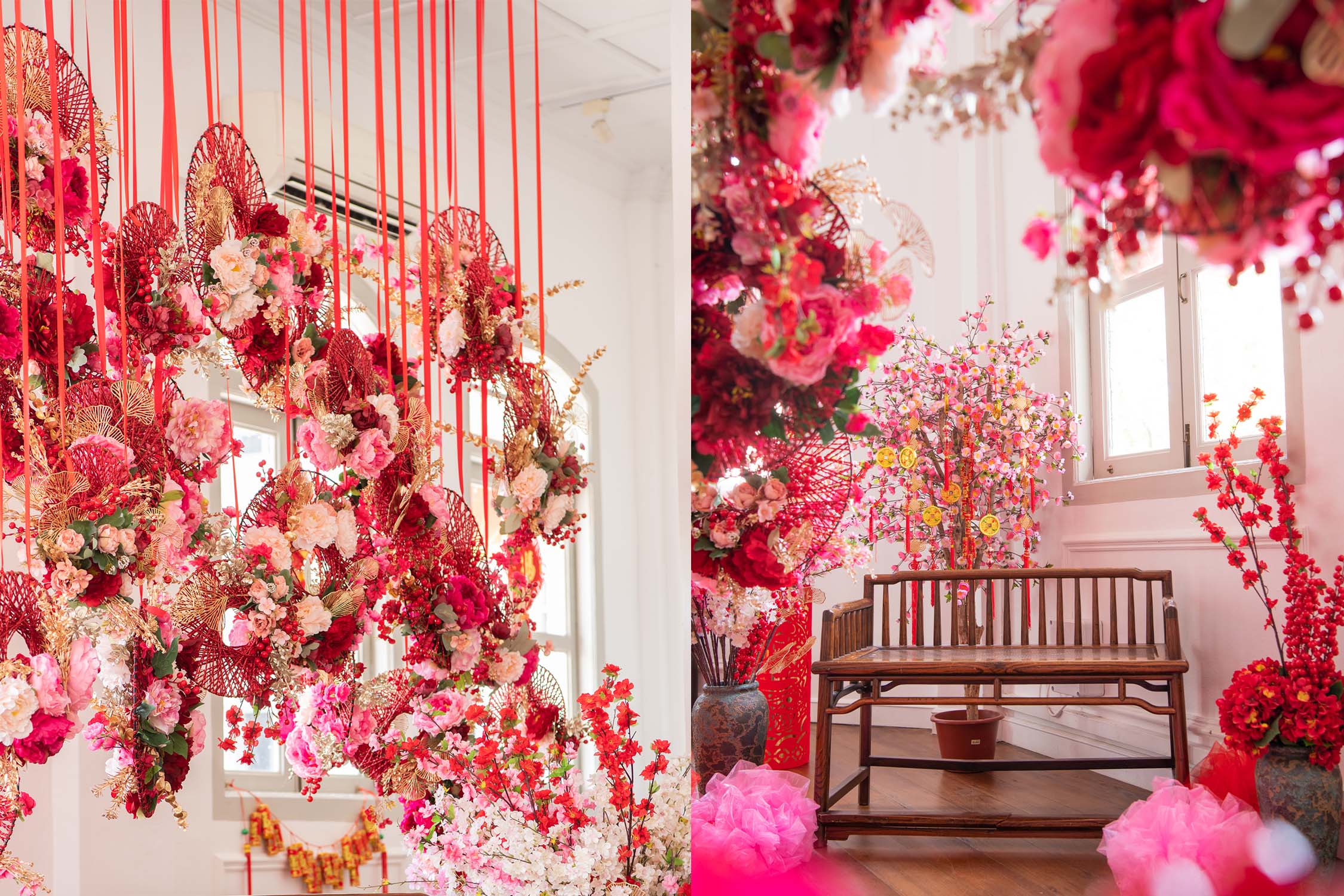 The White Room Experience
Taking a photo is not merely clicking on the shutter. For us, it is designing a photography experience meant to capture the best version of you and your loved ones. Have a look at the White Room Experience below:
Hair and Makeup Package
If you'd like to have professional hairstyling and makeup done for this Chinese New Year photoshoot, our makeup artists will create a personalised look just for you! It will take an hour in the privacy of our brand new vanity room, where you can relax in comfort.
We also have two fully equipped changing rooms! For more ideas on what to wear and how to prepare, download our Family Portraiture Lookbook.
White Room Studio Chinese New Year Photoshoot Package Details
Our Chinese New Year Studio Package starts from $490 for up to 4 pax ($20/extra pax).
We highly recommend you prepare 2 outfits: 1 Chinese New Year outfit + 1 smart casual outfit!
These CNY decorations will still available for a month after Chinese New Year. Photo appointments are limited, so do book your photoshoot early!
See our Rate Card: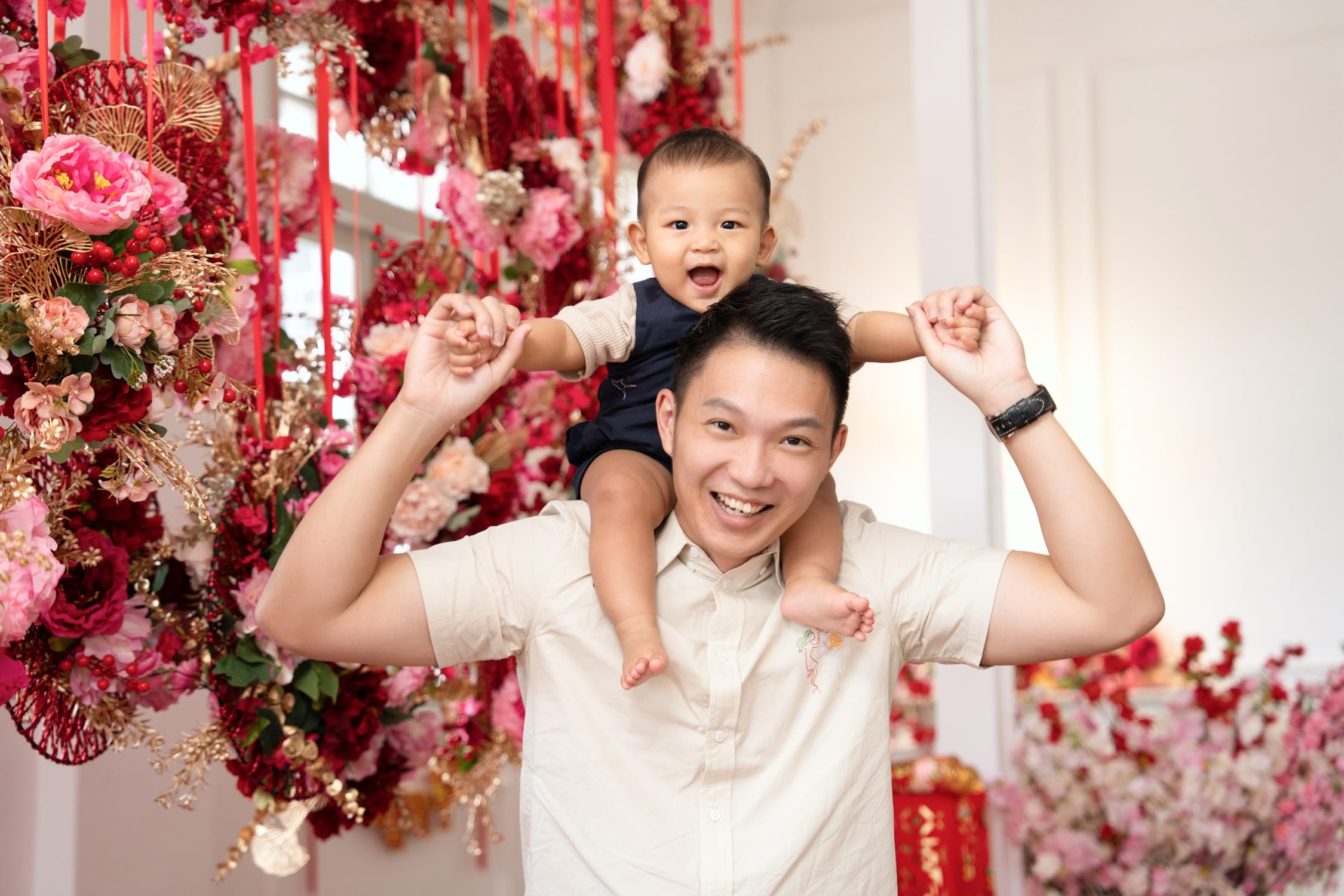 Contact us to book your shoot!
Feel free to visit our Facebook and Instagram page for all the latest updates.
"Chinese New Year means.. reunion! This year is really meaningful especially because my brother is visiting from the UK. Coming together, family means accepting each other despite our differences and knowing we always got each other's backs! The family photos turned out beautiful. 🥰 My favourite moment was I saw when my baby niece running around and having fun with us during the shoot!"
–  Weixuan and family