The metal door swings open silently and Dan enters business-like into the bustle of a multi-generation family preparing for their photography portrait. Greeting clients with smiles and hellos, he puts down his sling bag, turns towards the mirror to bind his shoulder-length hair into a ponytail; and then dives straight into the shoot with little ceremony. 
Within the next 2 hours, this award-winning photographer will have orchestrated a wide range of family poses for his clients; charmed, goaded and encouraged every family member to bring out their best smile in order to capture their best angles. It will turn out to be an emotional shoot which is open, fun and real; taken in a bespoke studio full of sunlight, warmth and nostalgia.
Yet another family portraiture session out of the thousands photographed by Dan over the span of a decade.
In 2009, Dan teamed up with his sister to form White Room Studio, and has never looked back. Being the other founder of the studio and the de-facto mentor/trainer of a long line of professional photographers, he is that master photographer who is well-versed in most popular genres of photography. One genre, however, still remains his favourite and most memorable.
"Family Portraits capture authentic moments that are about you and your family, and the love and connection you have to one another." Dan confesses, when asked about his personal thoughts on this topic. "People do not realise the importance and amazing health benefits of regularly taking such portraits."
It was so hard to get him to smile
"With Jason and his family, I got the chance to get him to loosen up and have an amazing experience throughout my photography sessions. It was a great feeling to be able to draw out the fun and real side of clients who would normally not display such candid emotions on a daily basis."
"During their first shoot, Jason's wife confided to me that it was really hard to get Jason to smile in front of a camera. Lo and behold – I turned out to be the first and only photographer who managed to make him not only smile but also laugh out loud in front of the camera!"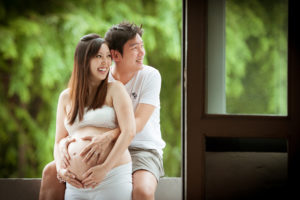 "Jason's family expanded over the next few years, and through that time, they returned for 6 more shoots – both Maternity and Newborn sessions. Their youngest kid is now 1 year old, and their oldest is currently at Primary 1."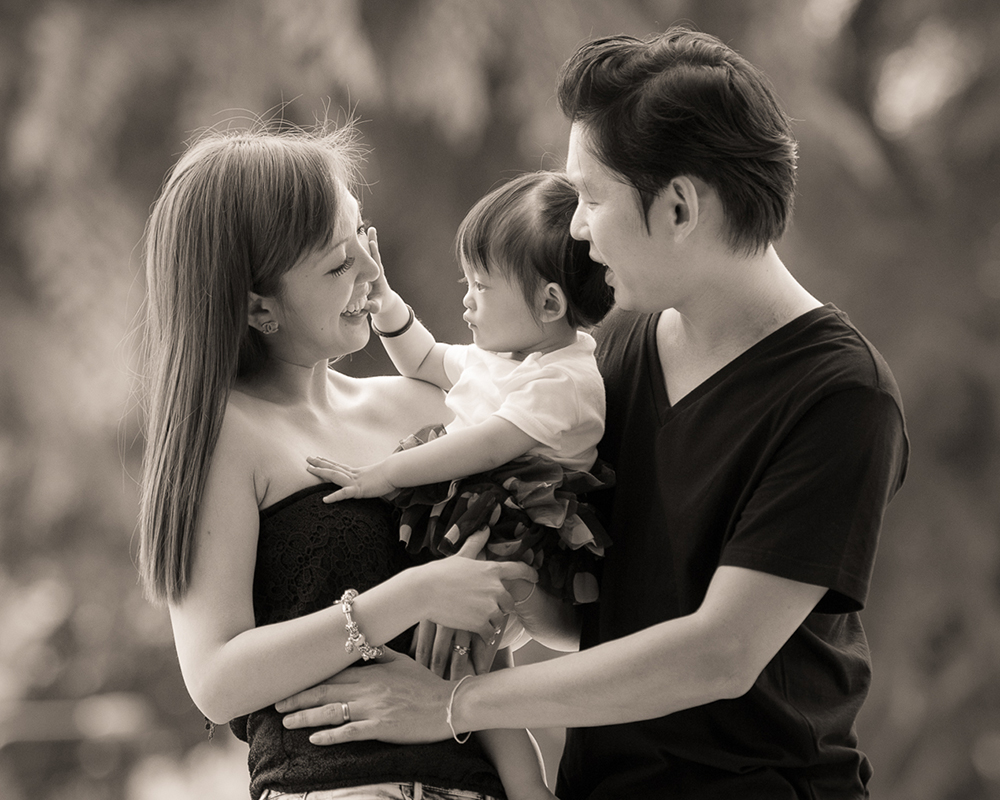 "Needless to say, this family loved their pictures so much that they would purchase the entire set of images for every single family shoot."
Related: PREPARING FOR A PERANAKAN FAMILY PHOTO-SHOOT
Reliving the Memories
"Many families come to take their portraits to chronicle milestones in their lives. These normally include graduations, birthdays or even wedding anniversaries. Essentially, I help them capture their treasured memories in time with my pictures."
"As a photographer of people, I love having the opportunity to see how much my clients have changed from the images I took many years ago. The images I take now will freeze precious moments in time that they can look on later in life and reflect fondly upon as well – especially pictures of children who have grown from infancy or relatives who have aged gracefully since the previous shoot."
"This family called to thank me for their family shoot, because they understood that years from now, their children would value having them in the photographs just as much as they wanted to chronicle the best moments in their children's lives."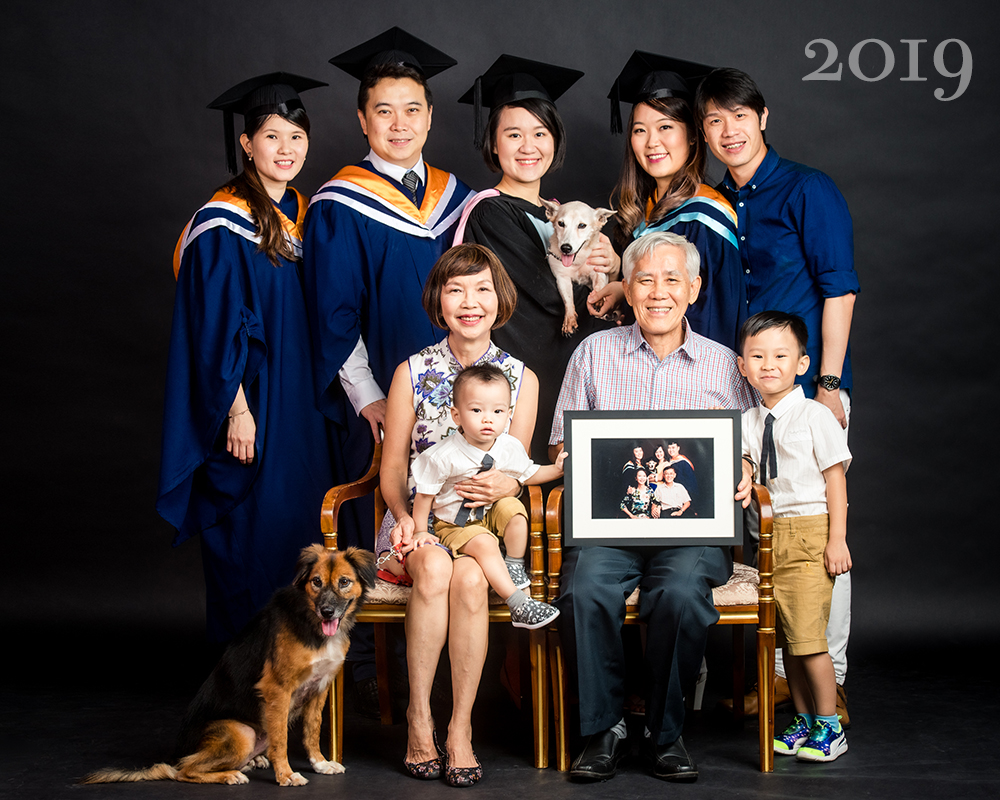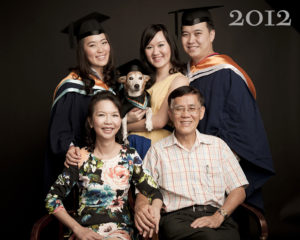 A 2019 portrait showing the family holding up an earlier 2012 portrait. Notice how they have changed after a span of 7 years.
"In this fantastic picture, you can see the family taking the same picture years later while holding up its predecessor, which was taken years ago. This is a subtle, yet amazing nod to the passage of time, and how memories can be captured. It was heartwarming and a great honor to be the photographer who actually took both pictures!"
"Taking a walk down memory lane is always a great way to lift your mood. This is why people will get out old pictures or albums to reminisce over the good old times. This is also why I take great satisfaction in immortalising their memories in gorgeous canvas, metal or even acrylic displays."
The Healing Properties of photographs
"Much has been written about the healing properties of photographs. But I did not fully understand the concept until a few clients showed me how the portraits I took for them actually afforded some sort of healing (mentally or emotionally) for them and their loved ones"
The Ng Family, Year 2014

MY FATHER HAS PASSED ON RECENTLY, AND WE ARE GLAD TO HAVE HAD THIS PIECE OF BEAUTIFUL MEMORY IN OUR HEARTS AND MINDS. HIS FUNERAL PHOTO, AND THE ONE ON HIS EPITAPH NOW, IS ONE TAKEN BY YOUR TEAM.
"More than one family has contacted me months or years after their shoot to seek photos of their loved ones after their passing. The emotional healing value of owning pictures of a lost relative or a pet cannot be over-estimated."
The Importance of Family Portraits
"Family portraits capture sincere emotions and family relationships, and they are treasured memories which can be viewed anytime when placed on a wall or mantle. Over the years, I am convinced that family portraiture is a very meaningful genre that can not only bring joy, but can also bring comfort and healing when times are hard."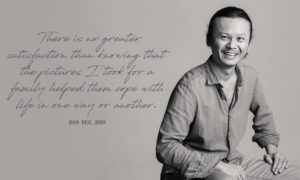 "There is no greater satisfaction than knowing that the pictures I took for a family helped them cope with life in one way or another. It vindicates the work I am doing and the calling I have chosen in a huge way."
Important note : Apart from an experienced photographer, you will also need a great studio which is able to deliver your pictures in high quality photographic displays like frames, canvas or even photo-albums. If you are interested in scheduling a professional family photoshoot, you can contact Dan at +65 62357037 or enquiry@whiteroomstudio.com.sg to find out more.
Browse through our amazing gallery and feel the experience our clients have with White Room Studio.