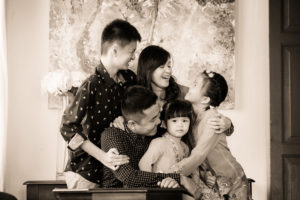 Peranakan tradition is a melting pot of cultures, which gives rise to exquisitely detailed aesthetics full of eye-catching and vibrant colors. This is why a Peranakan-themed photography session is such a great idea for a family looking for a unique experience that is full of nostalgic ethnic flavor. Right here, we take a close look at this unique culture and what is needed to pull off an authentic Peranakan photo shoot – how to wear and pose like a Peranakan Lady, and where to have that photography session.
History
The Peranakan is an ethnic group called Baba-Nyonya or Straits-born Chinese in Singapore, and their culture is so closely intertwined with our country's that some view them as "truly indigenous" in Singapore. This unique ethnic group can be traced as far back as the 15th century when Chinese immigrants began settling here in increasing numbers and taking on Batak and Balinese wives. Being primarily English educated, their descendants were often traders who served as intermediaries between the locals and the British who embraced both the local Malaysian/Chinese cultures, as well as that of the colonial British.
Over time, the culture took root in many aspects of Singaporean life – from traditional cuisine, to architecture, to even local fashion. The Peranakan population grew to be fairly wealthy and many became the elites of Singapore; even taking up key positions in the government. As such, they displayed this wealth upon the facades of their homes and within their eclectic blend of fashion, which drew inspiration from the distant west and from patterns popular with East Asian nobility.
Dressing like a Peranakan
The colorful and vibrant fashion usually worn by Peranakan women are central to their unique, ethnic blend of styles. While men will normally go for Batik prints, more elaborate options are available to the women.
Peranakans in Singapore were a
head of their time, and their households were traditionally run by the females (the Nyonyas), who were empowered by education and were highly skilled in sewing, cooking, embroidery, beadwork and more. Proud of their heritage, the matriarchy incorporated their aesthetics into the sarong Kebaya; a tubular batik skirt worn with a fitted blouse and their beautiful jewellery.
Related: 8 PREPARATION TIPS FOR A CHINESE NEW YEAR FAMILY STUDIO SHOOT
The Nyonya Kebaya
Specific to Peranakan women, the Nyonya Kebaya sports a svelte form, cropped length, translucent texture and elaborate embroidered decoration.
It is known to be sexier, distinctive and more diverse than other Kebaya and has recently experienced a major revival, paying compliment to modern wardrobes all around Asia.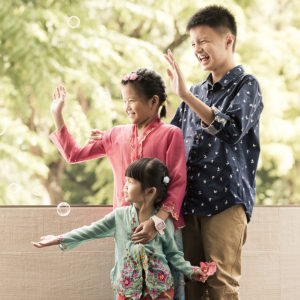 The Baju Panjang (Long Dress) is paired with a batik sarong (batik wrap-around skirt) and 3 kerosang (brooches). The ensemble is completed with hand-made Peranakan beaded slippers called Kasot Manek which are adorned with tiny faceted glass cut beads, known as Manek Potong. The Peranakan Kebaya is still proudly worn by Peranakan women in many East Asian countries today and its image strongly resonates within the Singaporean culture – from the iconic Singapore Girl to local primetime TV shows like "the Little Nonya".
Along Arab Street are some of the popular shops where you can begin your hunt for that perfect Nyonya Kebaya outfit.
Nyonya Jewelry
Nyonyas wear bangles and bracelets; either simple gold bands or ornately crafted with precious stones like intans (rough-cut diamonds) to complement their Kebaya outfits. Chains with pendants & elaborate necklaces shaped in traditional flora and fauna motifs, along with detachable gold buttons and belts of silver are fashionable for grand occasions as well.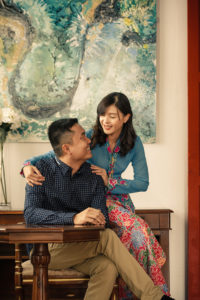 Nyonya Matriarchs will use special hairpins (called the "kerosang th'oe") in sets of five or seven to keep their chignons in place.
Old Nyonya jewelry were usually influenced by Chinese traditions and culture born from significant and auspicious symbols. An example will be a unique Nyonya ear stud called the "Hong Boey" which is shaped like the tail of the legendary Phoenix.
Start with well-known sellers like Eden & Elie (https://edenandelie.com/) and Chinoiserie Blu (Noel Building, Playfair Road) for a good range of ethnic Peranakan jewelry.
Posing in Peranakan Elegance
A lot of thought is put into getting the right pose, look and angle for that perfect Nyonya portrait. Much rides on expression, angles, perfect lighting, together with perfect make-up and hair as well. Here are 6 pro-tips to get that outstanding pose in front of the camera during your Peranakan Family shoot.
Keep both elbows up – this way, one will look slimmer in front of the lens.
Tighten your back muscles to ensure a better posture and this will portray more confidence in your pictures, which in turn will make you look good in your portraitures.
Ladies should wear heels of a certain height, which will lengthen their calves, accentuating their hips and making them look more sensual.
Raise your tongue to the roof of your mouth. This makes the neck muscles contract involuntarily and this will cause the chin line to become more clearly defined, eliminating double chins.
A proud posture is another way to outline the chin line. Put your shoulders down and pull your head up, straining the neck. This makes your face look better and eliminates any skin imperfections.
Look to the direction of the camera and unfocus your eyes. The resulting effect is that of looking into yourself, creating that mysterious, dreamy gaze.
Where to take Peranakan-themed Family Portraitures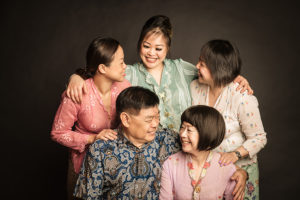 As the Peranakan prospered in Singapore, they incorporated their ethnic identity onto the facade of their homes. This gave rise to beautiful, vividly colored two-storey shophouses and terrace houses complete with ornate facades, intricate motifs and ceramic tiles which can be found all over Singapore. There are many examples of these heritage properties around River Valley Road, Emerald Hill or the Joo Chiat (Katong) area, and their rich, robust designs, abundant with traditional decorations, have sometimes been dubbed as the "Chinese Baroque".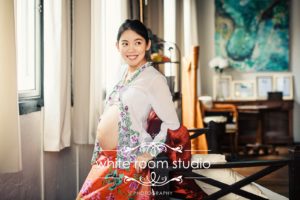 The architecture styles of these houses were classically inspired. Genuine Malay-styled timber fascia boards are found within and Chinese inspired bas relief depicting animals are incorporated under large second-storey side windows, which drench the interior with abundant sunlight during the day. For that truly experiential and inspirational photography session while fully decked in Peranakan splendor, there is no better place to take your pictures than within these traditional houses.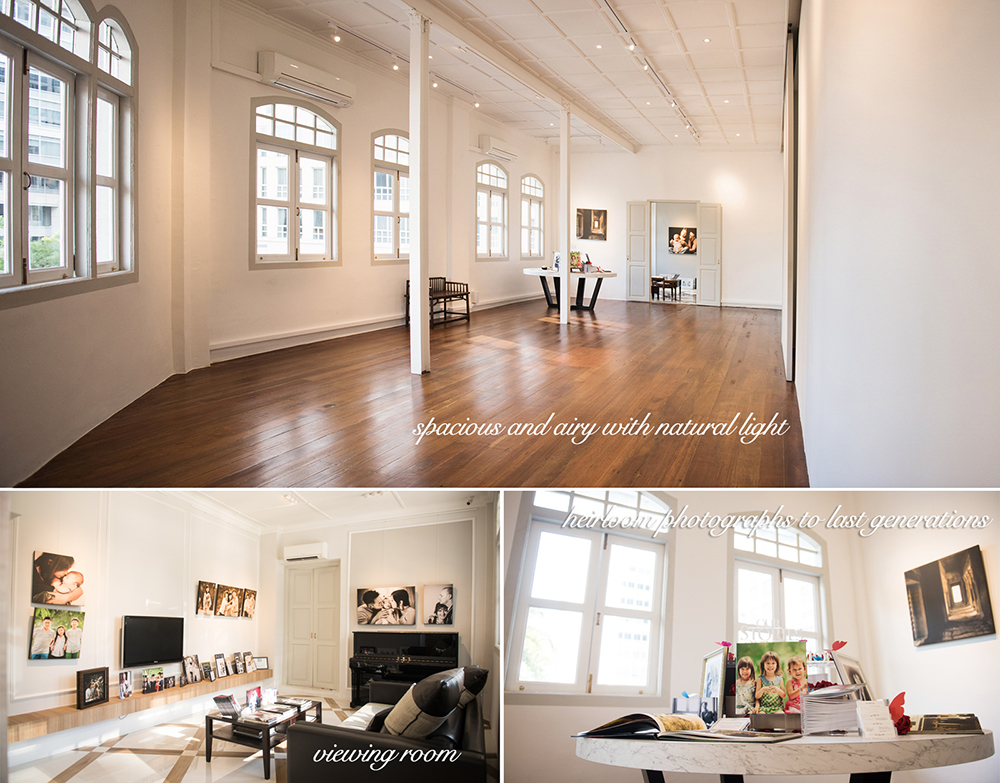 A studio like White Room Studio will be an excellent choice for a Peranakan-themed family photoshoot, as it is strategically located in the heart of centrally-accessible River Valley Road and has been the go-to portraiture studio for many families as well as corporate professionals. It is situated in a Peranakan heritage shophouse which has been around since 1927, and has large windows, bright sunlight and a balcony overlooking Fort Canning Hill.
Find out more about having your Peranakan-themed shoot at White Room Studio here.  Call us at +65 62357037, whatsapp +65 87696003 or email info@whiteroomstudio.com.sgto find out more!
You may also browse through our amazing gallery and feel the experience our clients have with White Room Studio.