A GARDEN SHOOT
WITH WHITE ROOM STUDIO
F
amily portraitures create meaningful moments for both parents and their children. White Room Studio shares with us this amazing shoot with the Bundgaard family at the beautiful Singapore Botanical Gardens. Inscribed as a UNESCO World Heritage Site in 2015, The Gardens is the first and only tropical botanic garden on the UNESCO's World Heritage List. There was no better place to host the Bungaard's 3rd family shoot.
The shoot lasted for a little over an hour, and I felt perfectly at ease working with this family as they had been coming back to White Room Studio for their family portraits for the past 4 years. This session was meant to celebrate the first year of their 4th child, but her 3 elder siblings also brought an abundance of energy and joy with them, making the shoot a really fun and unforgettable experience.
Photographing the Bundgaard family is always a fun experience, having shot them twice before, there's already rapport between them and me. No ice-breaker needed there! We met early in the morning and boy were the kiddos excited to start exploring the park!
It was amazing to see how much the kids had grown over just a span of a year! Why, the 'newborn' I just photographed is already a feisty one year old toddler with her own likes and dislikes! Arya (the eldest) was a toddler when I first met her, and today she's a school-going little lady able to hold adult-like conversations with me.
Commencing early in the morning to capture the morning sun,we let the kids dictate the pace and spots for the shoot, trailing them as they began their exploration from the Botany Centre. When they stopped at a particular spot to play, that was when we would begin shooting candid and natural shots of the family, stopping only when the kids were off again.
I love how the picture shows the different personalities of each kid, from the dainty firstborn, to the cheeky only boy, shy little third baby and feisty fourth baby. Such a heirloom photograph Im sure they will cherish when they are all grown!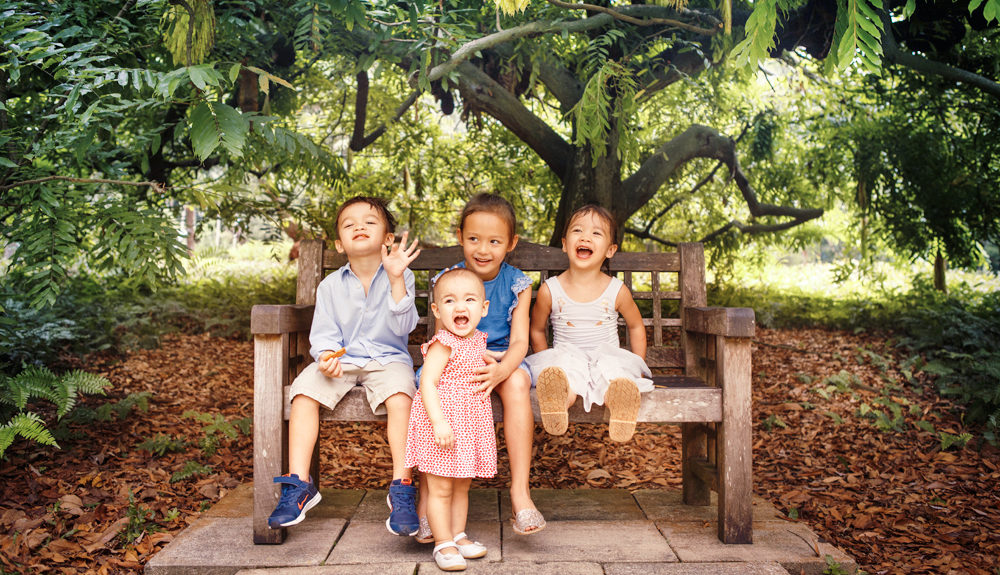 Amidst the fallen leaves, the scene resembled autumn upon a golden field. A few really gorgeous pictures were taken here.
We sang songs, played peek-a-boo and blew bubbles to make it a fun session for the kids and within minutes, I got lots of relaxed candid pictures of the kids. To me, these are more priceless than "posed" pictures!
It is the Bungaard tradition to have each of their children to be photographed when they reach their first year of age, in the beautiful outdoors amidst greenery. It was challenging trying to get a toddler to stay still for the pictures, but that was not my expectation!
White Room Studio's Favourite Picture