"Will I look huge in the photos?" "I'm not confident with posing or being in front of a camera.." These are just some of the common worries we hear from mums who are keen on doing a maternity photoshoot.
So if you're reading this – we get it! Going for a photoshoot can seem really intimidating, but it's our job to make you feel totally at ease. And we promise we will!
Did you know that you can enjoy $100 off your newborn package when you reserve both maternity & newborn photoshoots at the same time?
Don't forget to check out our blog on What To Expect For Your Newborn Photoshoot – we have plenty of tips and advice for a great photo session!
The White Room Studio team has been creating intimate, elegant, and powerful pregnancy portraits for over 2,000 mothers for more than 13 years in Singapore. 
This blog will take you through all your burning questions about maternity photography:
When is the best time for a maternity photoshoot?
What should I wear for a maternity photoshoot?
What can I expect for my maternity photoshoot?
Can I do an outdoors maternity photoshoot?
What can I expect for my maternity photoshoot at White Room Studio?
Feel the magic of motherhood through these stunning pregnancy portraits below, and get inspired by amazing poses and ideas for your next session with us!
When is the best time for a maternity photoshoot at White Room Studio?
The best time for a maternity photoshoot is when mum-to-bes are 32-36 weeks into their pregnancies. Tummy is a good size. For example, if your EDD (Estimated Due Date) is 25 August, the best time for pregnancy portraits will be the week of 11-18 July.
In the last month of pregnancy (37-40 weeks), some mums may start to feel more tired and heavy. We also do not want to miss having the maternity photoshoot done if the baby decides to arrive early, so we recommend booking a date not too close to your EDD!
When you come for your maternity photoshoot, you want to show off that gorgeous silhouette of your pregnant body in its third trimester.
This is the period to embrace those beautiful curves! Just look at these maternity portraits taken right at White Room Studio:
Enjoy the beautiful spaces White Room Studio has to offer – sunshine, balcony view, and more! Get your little one to join in for a heartwarming family shot too.
What should I wear for a maternity photoshoot?
We have a free selection of long, flowy fabrics to style you and your baby bump. However, we highly recommend bringing 2-3 outfits to achieve a wider variety of pregnancy portraits!
Pick stretchy, comfy maternity dresses that hug the baby bump – they photograph well on camera!
Here are some tried and tested tips to help you better prepare for your maternity photoshoot:
Earthy, neutral, or pastel colours work best.
1. You can wear white tube tops or spaghetti strap tops, with flare long skirts, or sarong / loose pants. Some moms wear figure-hugging one-pieces to accentuate their figures.
2. Add some colours to your outfit! Muted colours are preferable, for instance, lavender with light grey, pastel blue with soft browns.
4. White Room Studio provides different coloured fabrics for semi-nude artistic shots. Do bring nipple shields or nude bras and nude g-strings if you're keen on some tasteful maternity nude portraits.
5. Appropriate shoes for each outfit are important. Or you can go barefoot for studio backdrops as well!
Last but not least, feel free to bring along any personal items/ heirlooms that you can use as a prop! Jorina and her husband brought a copy of their baby's ultrasound scan to be photographed, which was incredibly meaningful.
Pictured: Jorina and Alan also brought a custom plaque to document their baby's developmental milestone. Gladys and her husband prepared an embroidered pillow and baby shoes — We love it when clients get creative! 
Can I do a home / outdoors maternity photoshoot?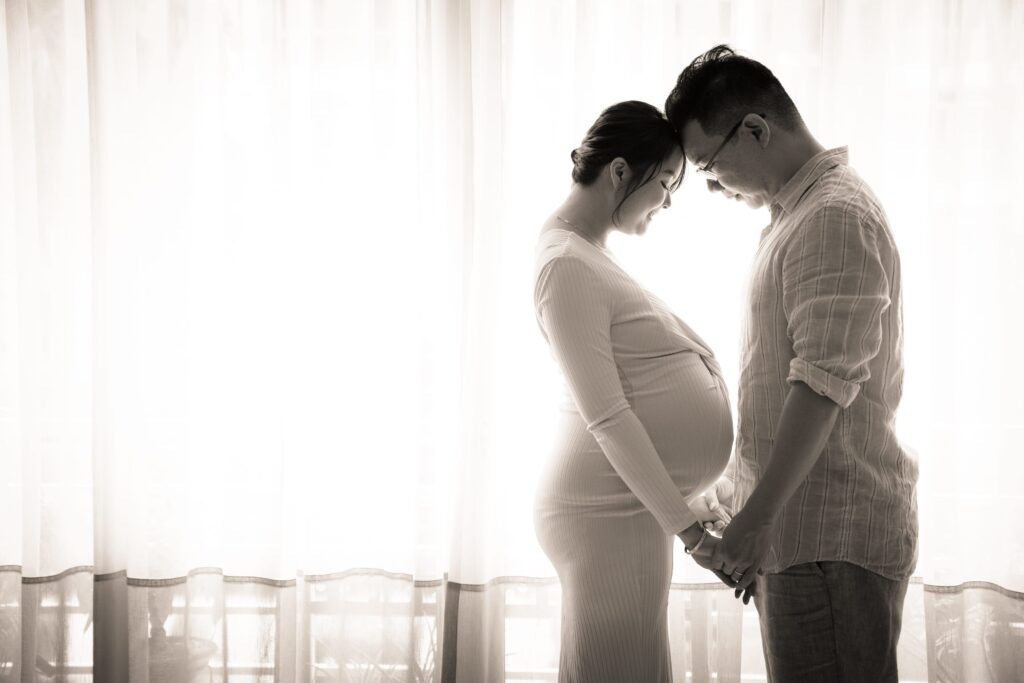 Yes! Gladys and Ken's maternity photoshoot (pictured above) was shot at their lovely home.
We have also traveled to popular outdoor locations within Singapore such as Marina at Keppel Bay, Green Corridor, Fort Canning Hill. The miracle of carrying a new life is so poetically illustrated in these portraits.
What can I expect for my maternity photoshoot package at White Room Studio?
Experience a 1.5 hour photoshoot with a choice of 4 different studio settings!
The maternity photoshoot will begin with couple and family shots – mummy and daddy, or parents together with kids. Solo shots for mummy will be toward the end of the session, where we'll experiment with different styles to bring out the beauty of your pregnancy.
Before your shoot, our maternity photographer will give you a call to discuss your vision for your pregnancy portraits, and get to know you a little better. We want our clients to have the photos you have always dreamt of.
Your pets can join in your maternity photoshoot! Dogs and cats are part of the family too, and often they make sweet companions for your newborn.
Why choose White Room Studio for a maternity photoshoot?
White Room Studio is situated in the thick of lush greenery right by the iconic Fort Canning Park, and only 5 minutes away from downtown Singapore! (That makes us easily accessible by MRT, bus, or car!)
Soft, natural light floods all 2400 sq ft of our shophouse-studio, allowing us to create truly impressive maternity photography.
Having been in the portraiture scene for over a decade, we have watched countless families grow under our roof. From their first child to their first grandchild. It's extremely touching for us to see clients return for another shoot with a bigger family.
We welcome mums-to-be to return for a newborn photoshoot. Baby's soft wrinkled skin, tiny hands and feet, and their precious sleeping expressions are all captured for you to cherish forever. It reminds us of this quote by New York Times bestseller Jen Hatmaker:
"You will never have this day with your children again. Tomorrow, they will be a little older than they were today. This day is a gift. Just breathe, notice, study their faces and little feet. Pay attention. Relish the charms of the present. Enjoy today. It will be over before you know it."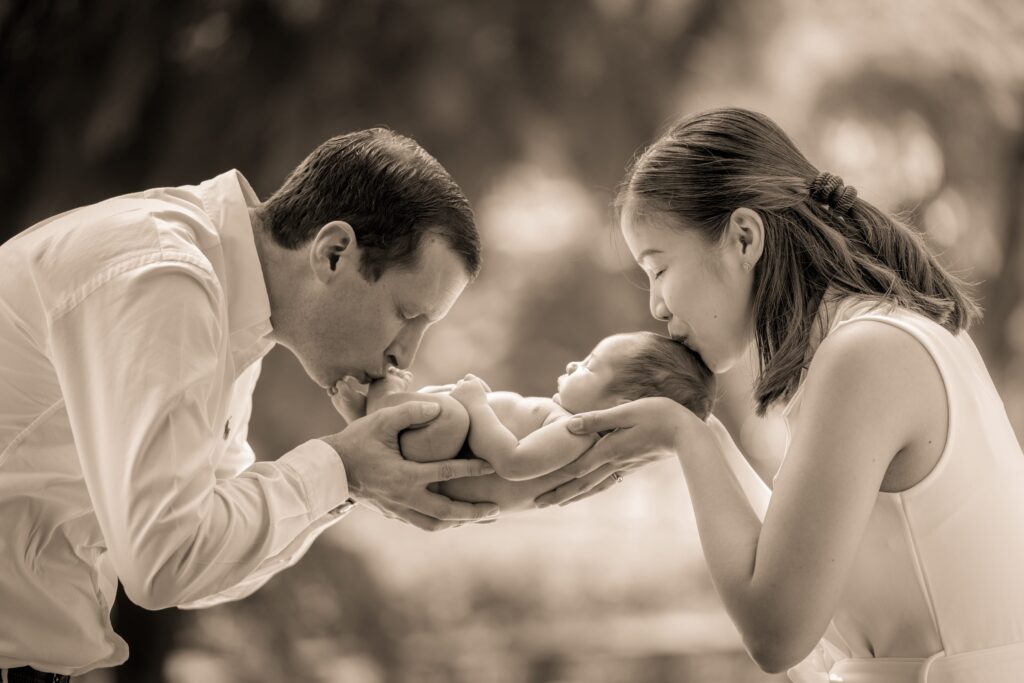 "Family is all the people I care about. It doesn't have to be by blood relations. Family sticks together, have each other's back. And family is where pure love thrives.

Being a parent… is a lot of sacrifices, a lot of tears, and heartache. But at the same time, it has so much love and joyful moments. These moments were captured in our maternity, newborn, and family photoshoots over 10 years with White Room Studio — because White Room Studio has become family to us. ❤️"

–  Sing Yee, mother of 3 and client of White Room Studio since 2011
Babies grow really fast and before you know it, it'll be their first birthday.
Why not celebrate with a cake smash photoshoot? Birthday cake and decorations are included in the cake smash photoshoot package, so all you need to do is just bring your SMILES!
Visit our cake smash photography gallery to see the amazing first birthday photos we can create for you.
Your comfort is very important to us, which is why we have created a fully air-conditioned guest lounge, complete with a well-stocked pantry. If you need a coffee or tea, just help yourself! Or give our studio assistants a heads up so we can serve you better 😀
Hair and Makeup Package For Maternity Photoshoot
You'll have complete privacy during your maternity photoshoot. Our dedicated changing rooms are also well-equipped with everything you need, and our photographer will give you directions on how to pose and more.
For more professional pre-shoot advice, download this Maternity Lookbook!
If you'd like to have a professional makeup artist create a personalised look for you, consider booking a private hairstyling & makeup session ($150/pax) with our esteemed makeup artists. It will take about an hour in the comforts of our cosy vanity room.
Our team will be here to guide you every step of the way!
The White Room Experience

Taking a photo is not merely clicking on the shutter. For us, it is designing a photography experience meant to capture the best version of you and your loved ones. Have look at the White Room Experience below:
White Room Studio Maternity Photoshoot Details
Our Maternity Package starts from $490 and includes 4 pax ($20/extra pax). Older kids and pets are welcome!
When you reserve both maternity & newborn photoshoots at the same time, you can enjoy $100 off your newborn package!
Download the Rate card below: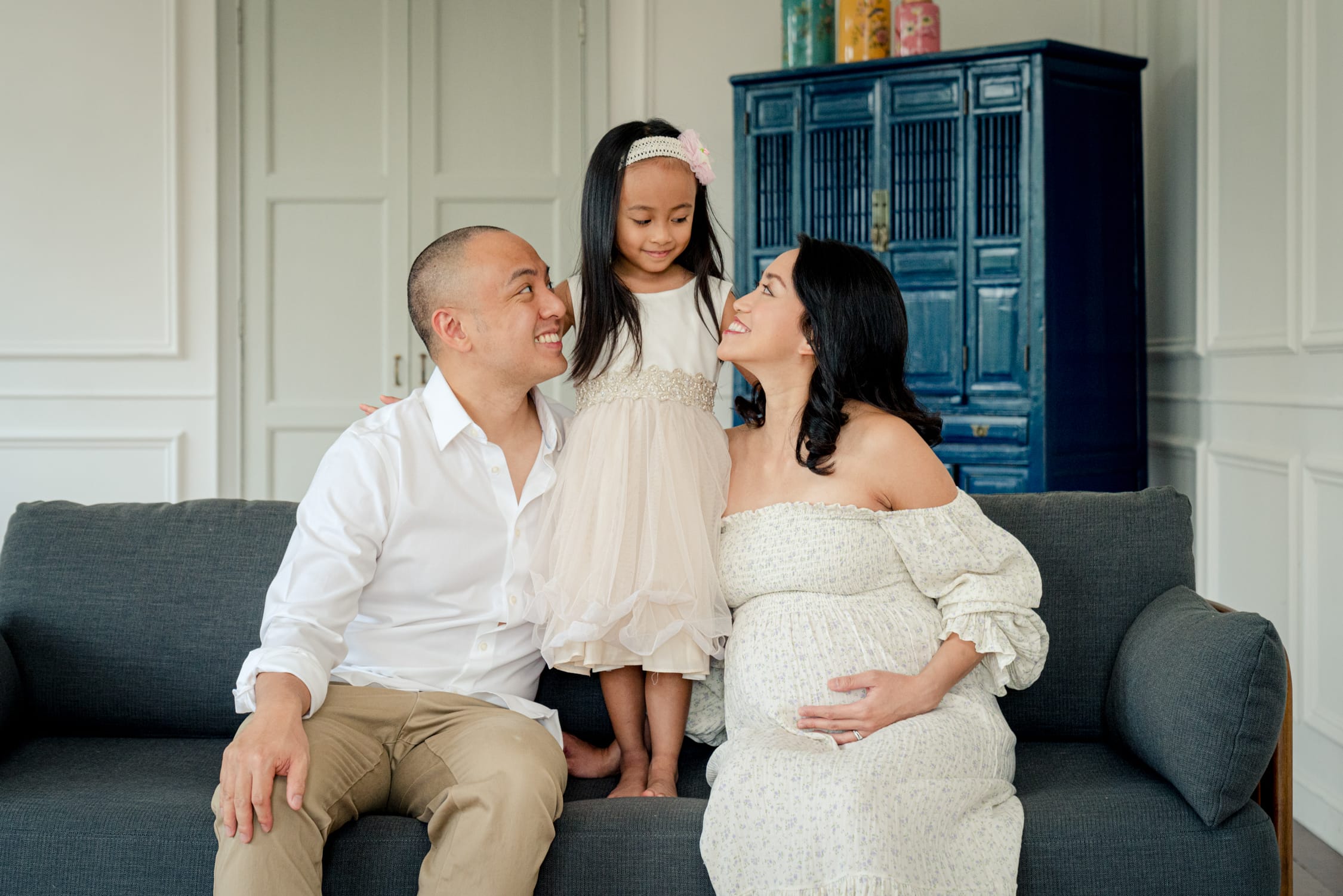 Contact us to book your shoot!
Want to see more great maternity photographs taken by White Room Studio? Take a peek at our Maternity Photography Gallery!
Check out our FAQ and Instagram page for the latest updates.
"We did our maternity photoshoot with White Room Studio. Loved the whole experience and process very much – from the photoshoot to choosing the photos! Yan was our photographer and Dan helped us with the package/ photo selection. Yan is really very professional, nice & bubbly – made not just us, but my 2-year-old son felt comfortable and enjoyed the shoot throughout. Her energy and the way she plays with my 1st son is 100/100 (appreciate it a lot!). Really happy with the outcome of the photos as it really captures the moments, whether laughter/ showing how much we love our first born/ anticipation we have for our upcoming baby.

Would definitely recommend White Room Studio to my family and friends & we look forward to another newborn/ family shoot with you all!"

–  Joycelyn and Ryan