Congratulations on your new bundle of joy! Whether you are a first-time or an experienced parent, welcoming a newborn baby into the family is always an exciting event.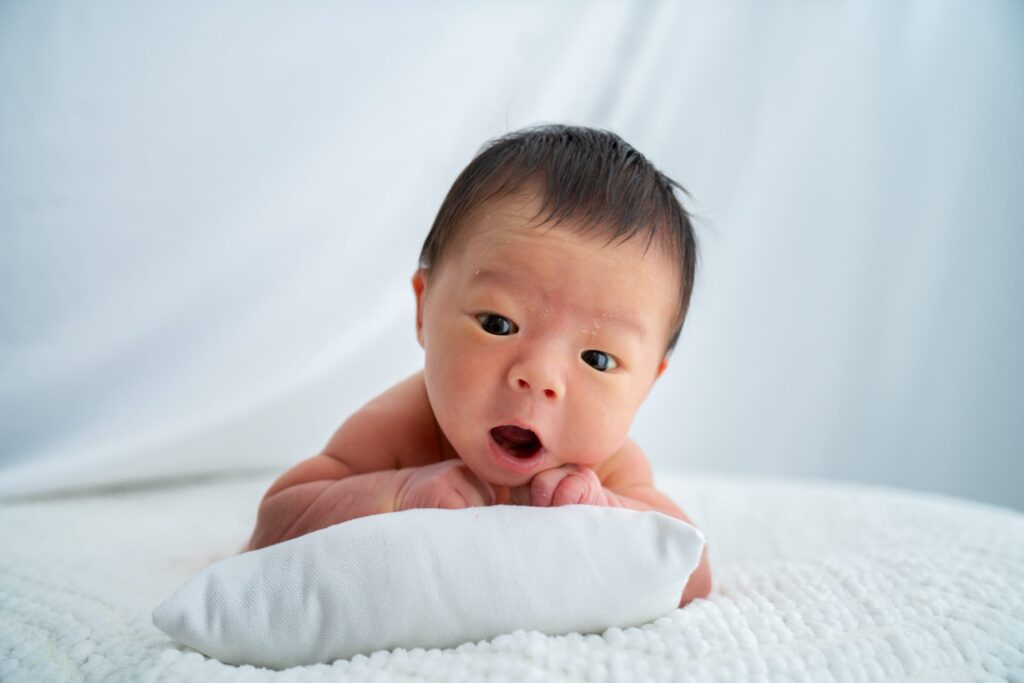 Just look at this adorable newborn portrait of baby Harvey – White Room Studio is renowned for its abundant natural light that allow us to achieve incredible pictures.
Getting beautiful and artistic portraits taken of your newborn is one of the best ways to immortalise this joyous occasion.
With more than 13 years of experience photographing babies in Singapore, we are committed to making your family and newborn photoshoot a memorable one.
Our professional photographers at White Room Studio prioritise comfort & safety, so you can be sure that your newborn is in good hands! Crying, sleepy, or fully alert newborn? We give you advice from years of working with little ones:
When is the best time for a newborn photoshoot?
What should I prepare for a newborn photoshoot?
Are props and blankets included in the newborn photoshoot package?
What can I expect for my newborn photoshoot at White Room Studio?
Can I do a home photoshoot with my newborn?
Read on to find out what to expect for your first newborn photoshoot in our spacious 2400 sq ft shophouse!
When is the best time for a newborn photoshoot?
The best time for your newborn to be photographed is when they are 5 to 15 days old! This is when they can be comfortably swaddled and curled up into that "in the womb" position for intricate pictures.
What happens if they are more than 15 days old? We can still capture a variety of newborn-esque poses – babies can be photographed up until they are 2 to 3 months old. When they are around that age, we are also able to grab more expressions and dynamic poses!
We simply LOVE meeting newborns! Look at those curious eyes, little hands and feet!
As much as possible, we highly recommend the 2-hour collection for babies between 0 to 6 months old. This will allow ample time for parents to take breaks in between to feed or change baby. Newborns get hungry easily during the newborn photoshoot, and top-up feeds are essential during the shoot to pacify hungry baby!
What should I prepare for a newborn photoshoot?
Bringing along your milk and diaper bag with all the essentials is a MUST! We can't stress enough the importance of giving your newborn a full feed (which can take up to 45-60 minutes) just before you leave home for the photo studio!
This way, you will have lots of time during the 2-hour photoshoot, and only need to give baby top-up feeds in between change of settings. Parents may be worried about keeping baby's feeding schedule to fixed timing, but just for this special day of the newborn photoshoot, a fully fed baby just before the shoot helps with the success of the shoot tremendously!
If the baby is fed well, they are more likely enter deep sleep, which makes wrapping and posing them so much easier!
At White Room Studio, your comfort is very important to us, which is why we have created a guest lounge with a well-stocked pantry, giving you maximum privacy for tending to the baby.
No worries if your baby sleeps or stays awake throughout the shoot: we can capture stunning close-ups of their developing features!
Here is another tip for moms and dads: dressing baby in a slip-on or button-up romper makes changing in/out of outfits a lot easier later!
If there is a favourite hat, hairband, mittens or blankets knitted by mum, or heirloom clothing kept by grandparents, bring these along for the newborn photoshoot! For example, we had an Irish grandma who brought her son's one-month-old red shoes for grandbaby's newborn photoshoot, that made the photos so special! In another shoot, parents brought along a carefully kept blanket which was used by the mum as a newborn, that made such a meaningful prop for the photoshoot, instead of generic ones!
Enjoy nature within the studio's open air balcony, complete with wooden floorboards that add rustic charm to newborn photos.
Are props and blankets included in the newborn photoshoot package?
Yes! We provide a complimentary selection of blankets, wraps, and baskets when you book a newborn shoot at White Room Studio.
Take a look at these gorgeous newborn photos below!
Our photographers are also skilled in carrying and swaddling newborn babies, so just sit back, relax, and we'll take care of the rest!
You will also get to pick a favourite colour (swaddle and blanket), and type of basket you prefer for your newborn.
What can I expect for my newborn photoshoot at White Room Studio?
Newborn photography is equally challenging and rewarding, as each baby is unique and will react differently in a new environment. We understand this, and strive to ensure each photoshoot is enjoyable for you and your child.
Skin-to-skin: A newborn photoshoot is also a precious opportunity to physically and emotionally bond with your baby. 
When you arrive at our photo studio nestled in the heart of River Valley, you will notice that it is situated in a Peranakan shophouse. The large windows bring in a lot of natural light and breeze, making the space a cosy and intimate setting for a newborn photoshoot.
During your 2 hour newborn photoshoot, your photographer will explore several different settings, ranging from natural light settings like our balcony, Peranakan corner, and our sun-drenched European hall on the top floor, as well as classic studio backdrops.
We will start with a variety of family photos: mom and dad with baby, mom with baby, dad with baby, sibling with baby. Once those are covered, we will move on to baby solos (baby in wrap and basket, baby in the nude, etc)
There will also be small breaks for changing nappies, feeding baby, or just resting!
Directions (posing advice & more) will be given to you by the photographer and there are dedicated studio assistants on hand to make sure the shoot runs smoothly. You can download this Newborn Portraiture Lookbook for professional pre-shoot advice!
For the newborn photoshoot, do prepare 2 outfit changes. Here are some suggestions!
White tops (blouses and shirts)
Dreamy flowing long dresses for more romantic feel or light coloured yoga pants for mom, light khaki pants for dad for a more casual look
Pastel colours and light neutrals are ideal
Appropriate shoes for parents (avoid slippers or sandals)
It is very important baby's clothes fit well! Just for the shoot, do purchase clothing that isn't too oversized for baby.
Come ready – everyone should dress in the first set of clothing to the studio!
Melvin on being a father to a newborn: "My experience as a new parent so far is tiring but so fulfilling. Being first time parents, it has been such a steep learning curve. Getting to know Olivia and understanding her cues has us occupied throughout the day and night! No matter how tired we are, our hearts are so full when we see her smile! ❤️" 

Can I do a home photoshoot with my newborn?
Absolutely! We understand that raising a newborn is hard work, and the first few weeks are hectic at best. White Room Studio photographers are parents themselves, and they understand the challenges new parents go through!
If you would like to do a photoshoot in the comforts of your residence, do check out these lovely photos from Kim & Brian's home photoshoot, with their baby girl Victoria! Home and outdoor shoots are an additional $150 on top of the package. Full details below.
The White Room Experience

Taking a photo is not merely clicking on the shutter. For us, it is designing a photography experience meant to capture the best version of you and your loved ones. Have look at the White Room Experience below:
Moms, if you'd like to look extra glamorous for your shoot, consider booking a hairstyling & makeup session ($150/pax) with our professional makeup artists. It will take about an hour, and you can relax in our brand new vanity room as well!
You will also have access to a fully equipped changing room with everything you need for a photoshoot. Feel free to use our garment hangers, steam iron, etc.

White Room Studio Newborn Photoshoot Details
Our Newborn Package starts from $550 and includes 4 pax ($20/extra pax).
It includes 2 hours of quality family time in White Room Studio! We recommend you to prepare 2-3 outfits. Older kids and pets are welcome too!
When you reserve both maternity & newborn photoshoots at the same time, you can enjoy $100 off your newborn package!
Download the Rate Card below:
Contact us to book your shoot!
"Being a mother is definitely one of the hardest jobs I ever had, but also the most rewarding one. One of the first few things I learnt about being a mom is you will never get enough sleep but it is all worth it!

5 years ago, I took my graduation photos with my family in White Room Studio after doing research on different studios in Singapore. I still remember our photographer teaching us many poses for family shots and we still use them these days, like putting our hands on our parents' shoulders. We have never done that before until we had our official "family portrait training"!

One of my all time favourites is the White Room Studio "signature balcony". It brings back all the memories with my family and now I am creating new ones with my newborn. Definitely looking forward to creating more memories with White Room Studio!

–  Miki and Baby Caia