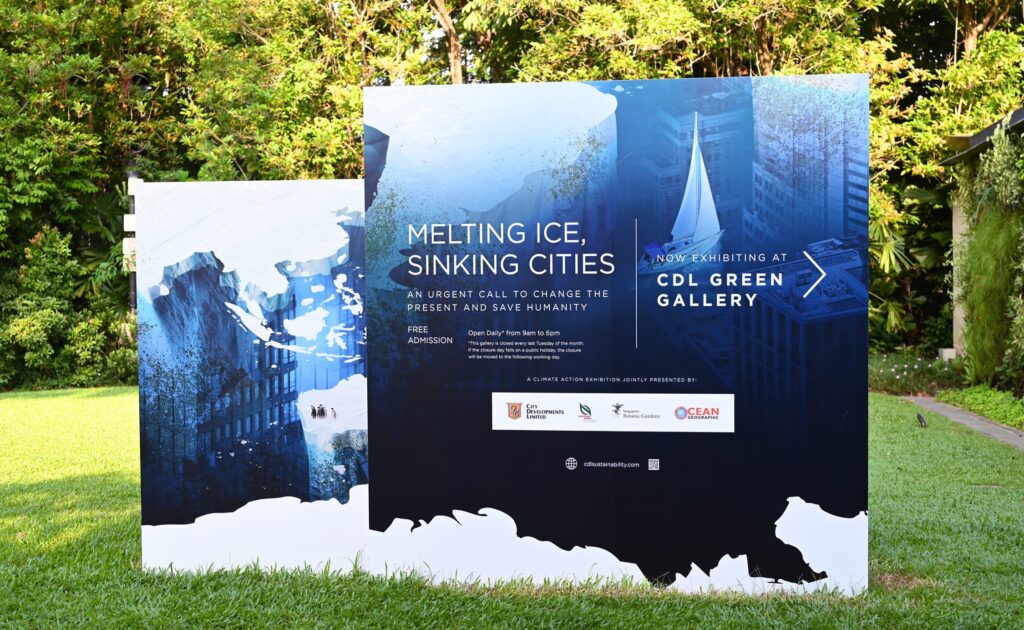 We are thrilled to share the exciting news of White Room Studio's sponsorship of the captivating 'Melting Ice, Sinking Cities' Exhibition, which opened its doors on Friday, June 23rd at the enchanting CDL Green Gallery nestled within Singapore's beautiful Botanic Gardens.
This wonderful partnership perfectly aligns with White Room Studio's commitment to combat climate change, fueled by the recent establishment of our Environmental, Social & Governance (ESG) practice.
We believe in the power of art and collaboration to raise awareness and ignite positive change for our planet. Representatives from White Room Studio had the privilege of attending the grand opening of the exhibition, which featured insights from Ocean Geographic Society's Antarctic Climate Expedition in 2023.
Among the esteemed guests of honor were Ms. Indranee Rajah, Minister in the Prime Minister's Office, Second Minister for Finance and Second Minister for National Development, Dr. Sylvia Earle, the esteemed oceanographer and climate scientist and Michael Aw, a celebrated environmentalist, author and marine photographer.
Michael Aw has long been recognised for his tireless efforts in raising awareness about the critical issues facing our planet. With his keen eye and artistic flair, he has dedicated his life to capturing the essence of fragile ecosystems and endangered species, invoking a sense of awe and wonder in all who view his work.
His vision for the Antarctica Climate Expedition (ACE) is not only to document the breathtaking landscapes but also to inspire action and mobilise global communities towards effective climate change solutions.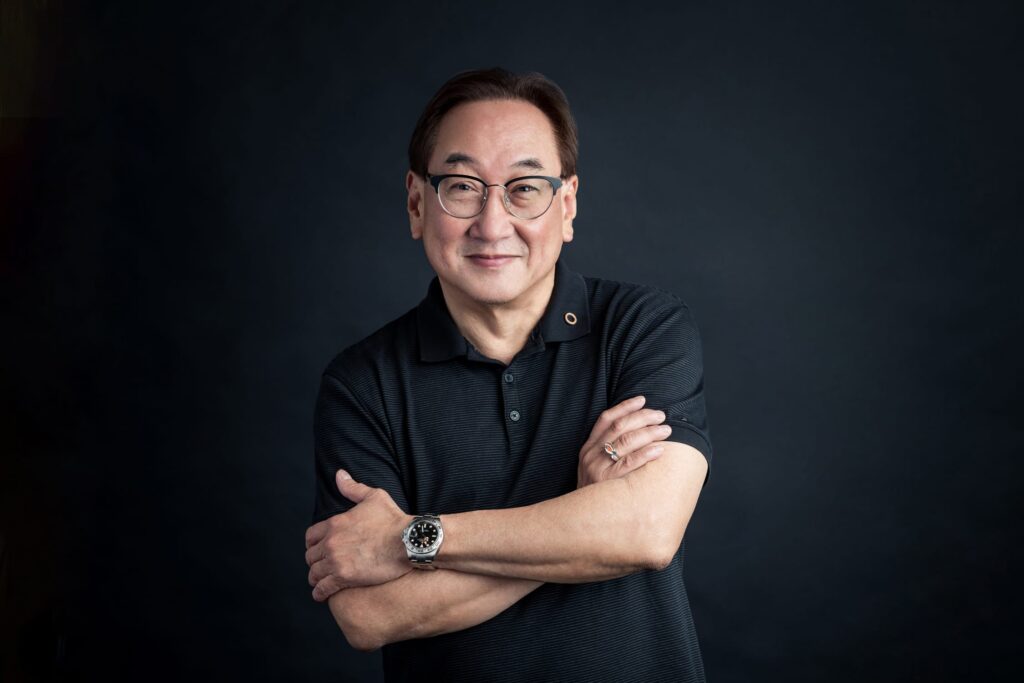 As the brainchild and producer of the entire project, Michael Aw's passion and determination have inspired countless individuals and organisations to unite in the quest for environmental sustainability. Credit: White Room Studio

This extraordinary venture seeks to shed light on the urgent climate crisis that our planet faces, using the captivating beauty of Antarctica as a backdrop.
Dr Sylvia Earle and Elaine Lim unites for a portrait at the exhibition's opening.

"Through our sponsorship of the thought-provoking 'Melting Ice, Sinking Cities' exhibition, we endeavor to exemplify our resolve to foster a brighter, more sustainable future for everyone," expressed Elaine Lim, Co-founder and Creative Director at White Room Studio.
After an extensive and meticulous global screening process, Elaine was selected as one of the 120 ambassadors from over 20 countries to participate in ACE. Elaine's passion for environmental conservation and her expertise in photography make her an exceptional addition to the team.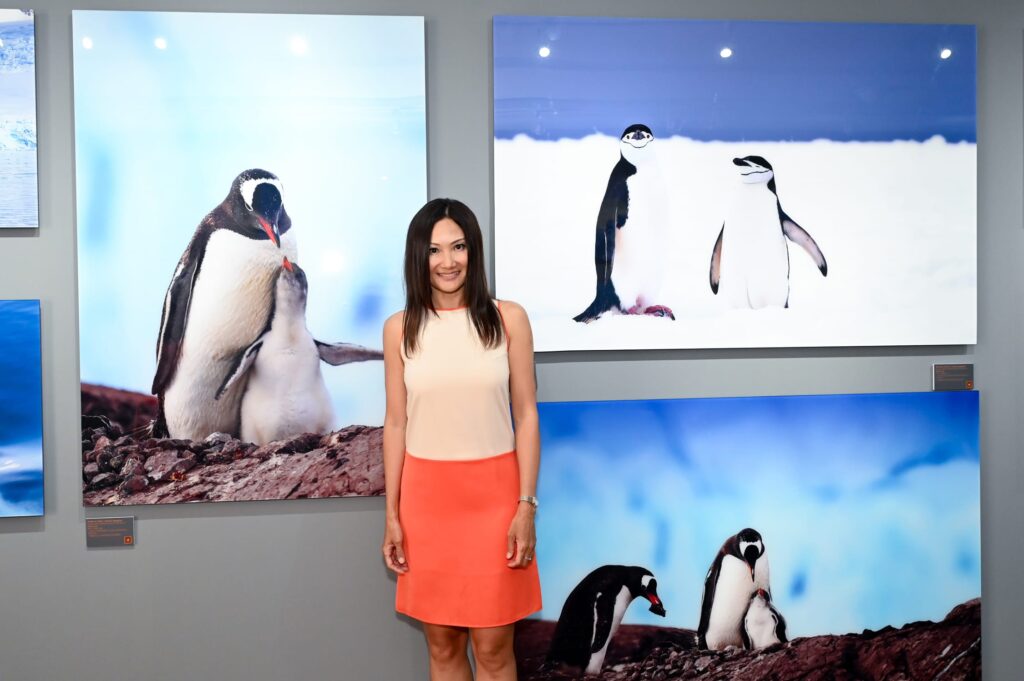 Left: "Mother & Child" Recess Cove, West Antarctic Peninsula – Elaine Lim | Bottom right: "We are a Family" Recess Cove, West Antarctic Peninsula – Elaine Lim
"Through the lens of photography, we strive to illuminate the urgent reality of the climate crisis, capturing its essence in images that evoke emotions, inspire action, and ignite a collective consciousness. We believe that every click has the power to raise awareness and propel meaningful change for a sustainable world." She adds.
"Glacier's Last Stand" (left) and Neko Harbour, West Antarctic Peninsula (right) by Elaine Lim

During a momentous ceremony held to mark the opening of the CDL Green Gallery, two time capsules were ceremoniously planted outside the grounds of Botanic Gardens.
These capsules, embodying the team's collective hopes and aspirations, will remain undisturbed until the years 2050 and 2099 when they are set to be unveiled.
We asked Elaine what she had written in the first letter, sharing her thoughts on where humanity will be at its current trajectory:
Being here now at the coldest continent on planet earth, I witnessed glacier melting and iceberg calving, and even saw greenery growing on an island. Polluting wars. Blatant use of single use plastics and cheap non-biodegradable material. Many other global, shortsighted behaviors humanity practices as of now in 2023, makes me think it would take a major overhaul to be able to see a significant change in direction from where we are heading by 2050. I believe It's still possible to make changes, and that is why we are here now on this climate expedition, to use our individual voices collectively, to try to create a global reaction to the urgency of the climate crisis we face.
In a second letter to loved ones on hopes for the world at the end of the century, Elaine wrote:
2099

 

76 years from when I write this letter, Hillary, I'll be long gone, and you'll be 88 years old. How will the world that you live in be then? I wonder what would be the state of the world left for you, and your children. I'd love coral reefs to be thriving, our oceans and forests to be bursting with life. I'd love for humanity, the most powerful, most resourceful, imaginative and emotional animals on earth, to have learned how to live in harmony with our one and only planet. May Earth retain its beauty for you, Hillary.
With Elaine's two letters inside the two capsules, these symbolise our unwavering commitment to preserving our planet and serve as a poignant reminder of the legacy we strive to leave for future generations.
Dan Yeo, Co-founder of White Room Studio, emphasised, "The 'Melting Ice, Sinking Cities' exhibition powerfully highlights the pivotal role each of us plays in addressing pressing environmental issues. At White Room Studio, we are committed to inspiring practical change and shaping a sustainable future for generations to come."
In addition to our sponsorship, we are delighted to announce that White Room Studio has generously sponsored a 6-foot Italian grand piano along with Fazioli Pianoforti and Emmanuel & Sons. 'Rhapsody for a Changing Antarctic', a 7-minute piano piece specially created for the Antarctic expedition, was performed by the talented 12-year-old Hillary Yifei O'Sullivan on that piano.
The enchanting melodies played by Hillary provided a harmonious backdrop for Minister Ms Indranee Rajah, Dr Sylvia Earle and all distinguished guests, and will be played during opening hours of the exhibition as well, thus inviting visitors to immerse themselves fully in the exhibition's transformative experience!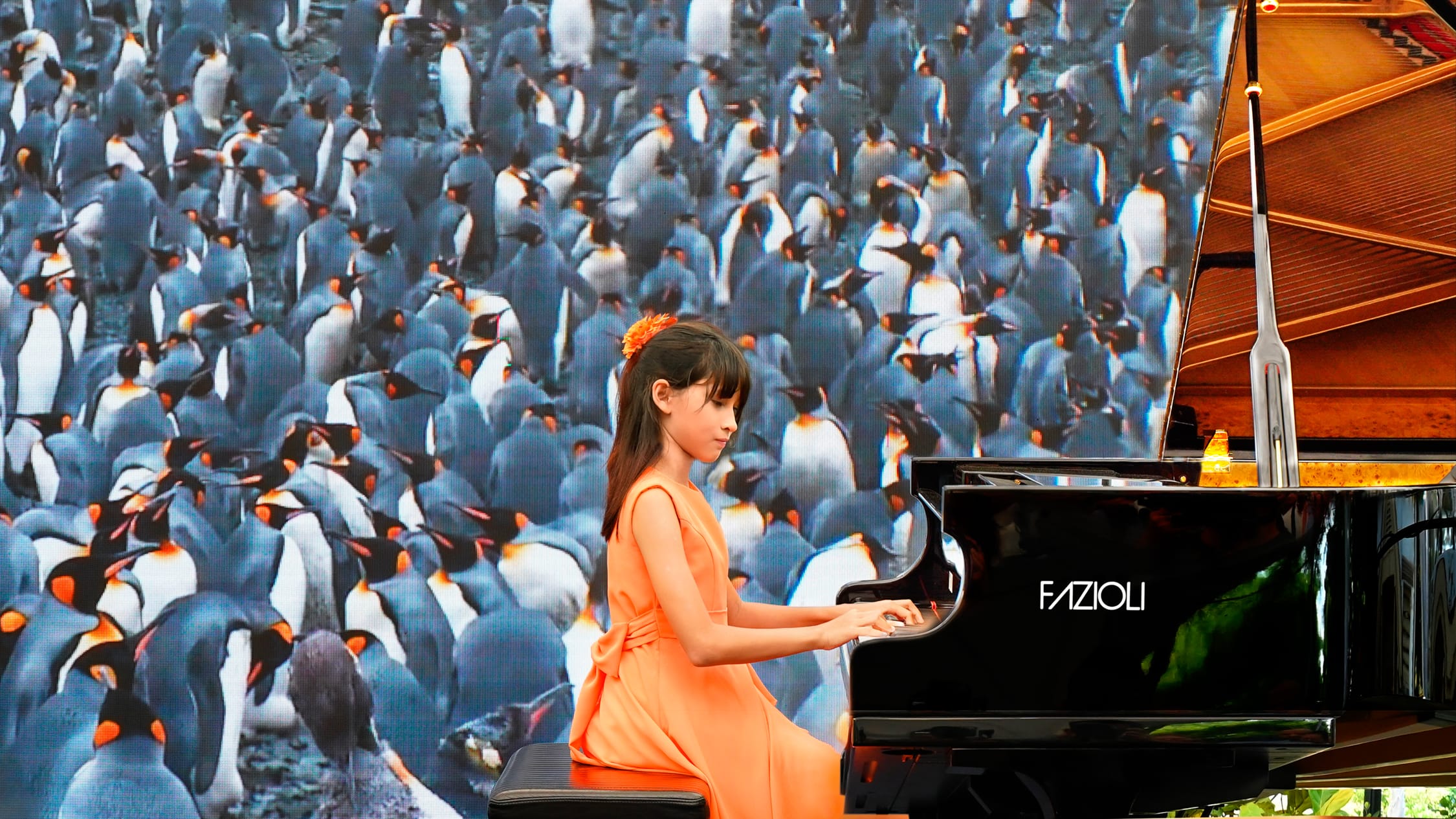 White Room Studio is excited to have embarked on this meaningful journey with Ocean Geographic Society and City Developments Limited in promoting climate awareness and action in Singapore.
Together, we aspire to inspire and foster hope, encouraging everyone to embrace their role in preserving our precious planet. By harnessing the power of art, photography, and collaboration, we are confident in our ability to shape a brighter and sustainable future for all!