Welcome mums and dads! If you're reading this… we've got you covered!

Create lasting memories to witness your child growth with a cake smash photoshoot, so you can look back at these images and relive the excitement and innocence of their first birthday.
Pictured: A baby celebrating her first birthday with a cake smash photoshoot taken at White Room Studio's balcony!

With over 75 years of combined experience, our dedicated team has photographed all the unbridled joy, mess, and pure innocence of little ones.
Baby's first birthday is a milestone to remember, and what better way to commemorate it than with a cake smash photoshoot?
In this guide, we'll take you through the steps to plan and execute the perfect cake smash photoshoot in our 2400 sq ft shophouse, creating memories to cherish for a lifetime.
What is Cake Smash Photography?
Cake smash photography is a popular and playful genre of photography that typically captures a baby's first experience with a birthday cake.
The beauty of cake smash photography lies in its unscripted and messy nature to document this milestone – Your child's joy, curiosity, and messiness as they explore and interact with a beautifully decorated cake on their first birthday.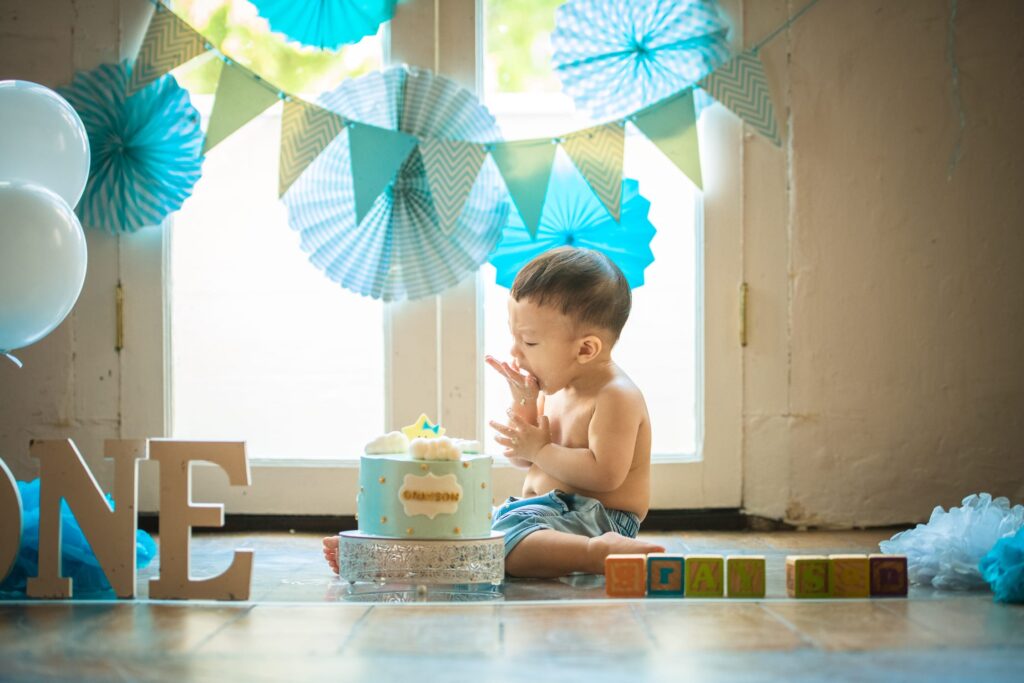 Why Should You Have a Cake Smash Photoshoot?
Your baby's first birthday is a significant milestone, marking their transition from infancy to toddlerhood.
A cake smash photoshoot provides a unique and joyful way to celebrate this special moment. Capturing the essence of innocence, curiosity and the child's genuine expressions of surprise, delight, confusion, and, sometimes, even a bit of frustration, all contribute to the charm of these photos.
For
7 years
running, White Room Studio have been honoured as
Tatler's Best Portrait Photographer
 and in 2023, we received the prestigious
Gold award
in
Expat Living's Reader's Choice Awards
. These achievements reflect our steadfast dedication to creating experiences that make a lasting impression in your heart and your living space.
View this post on Instagram
Frequently Asked Questions (FAQs) About Cake Smash Photoshoot in Singapore

To start, we've compiled a list of frequently asked questions to provide you with valuable information regarding cake smash photoshoot for a memorable and meaningful studio family photoshoot experience with White Room Studio! View our Cake Smash Photoshoot Gallery here.
1) What can I expect from a Cake Smash photoshoot at White Room Studio?
Experience a 1.5 hour photoshoot with a choice of 4 different studio setting!
The cake smash photoshoot package will begin with capturing a full-filled combination of kids, family and kids, and parent-child combinations.
Let's save the most scrumptious part for later! Cake smashing will be scheduled for the second half of the photoshoot, to allow your child to be comfortable with the setting and the photographer.
This way,  they're all smiles and giggles when it's time to dive into that delicious cake!
Before your shoot, you may select the theme of your choice from White Room Studio's signature setups and cake of your choice!
Directions (posing advice & more) will be given to you by the professional family photographers and there are dedicated studio assistants on hand to make sure the shoot runs smoothly. You can download this Cake Smash Portraiture Lookbook for professional pre-shoot advice!
2) Can my extended family/ pet join the Cake Smash photoshoot?
Yes, of course! Everyone is welcome to join the shoot with the birthday star! At White Room Studio, family values are at the heart of what we do! Being present during the photoshoot and engaging with your child during the cake smash session creates memorable moments that you'll cherish.
Dogs and cats are part of the family too, and often they make sweet companions for your kids.
3) What should I prepare for a Cake Smash photoshoot?
Smashing cakes could be a mess everywhere, not only for your child but for parents as well! We highly recommend preparing 2-3 outfits for a variety of family portraits and one extra outfit to change your child out of after they had a fun time with the cake!
A well-rested baby is more likely to be in a good mood and enjoy the cake smash photoshoot, to capture their genuine reactions. Cake smashing can be a novel and sometimes intimidating experience for your baby.
To help them get started and embrace the messy fun, we would advise parents to bring your baby's favorite snacks to the photoshoot. Placing these treats on top of the cake can pique their interest and encourage them to explore the cake.
At White Room Studio, your comfort is very important to us, which is why we have created a guest lounge with a well-stocked pantry, providing you with a space to relax and unwind while you savor the snacks and drinks at your leisure.
4) Can I order a cake from an external vendor and use it for the Cake Smash photoshoot with White Room Studio?
Absolutely! We understand that some parents do have a preferred vendor or designs and we respect that!
However, if you don't have a cake vendor in mind, White Room Studio has partnered with Caramelloz, a local artisanal bakery to bring you 8 unique custom cakes for your cake smash photoshoot, so you can get creative with the design and colour! You can even request for the birthday cakes to be made egg-less, dairy-free, or sugar-free in case of any allergies.

Choose the perfect Cake Smash theme for your baby's big day!

5) Can I opt for an outdoor Cake Smash photoshoot?
Our client Yao shares her favourite moment during her son's Outdoor Cake Smash photoshoot:

My favourite moment during the photoshoot was when Toby tasted the cream and found himself liking it very much, and then decided to share it with his dad and me. I was so touched."

The White Room Experience

Taking a photo is not merely clicking on the shutter. For us, it is designing a photography experience meant to capture the best version of you and your loved ones. Have a look at the White Room Experience below:
Moms, if you'd like to look extra glamorous for your shoot, consider booking a hairstyling & makeup session with our professional makeup artists. It will take about an hour, and you can relax in our brand new vanity room as well!
You will also have access to a fully equipped changing room with everything you need for a photoshoot, giving you maximum privacy. Feel free to use our garment hangers, steam iron, etc.

White Room Studio Cake Smash Photoshoot Details
Our Cake Smash Package starts from $590 and includes 4 pax ($20/extra pax), a unique birthday theme and your choice of cake.
It includes 1.5 hours of quality family time in White Room Studio! 
Download the Rate Card below:
Contact us to book your shoot!
It's hard to pick a favorite moment, but what's most memorable during this cake smash photoshoot was seeing the kids smile and enjoying the session. No stress or pressure at all!

Thank you White Room Studio! " –  Xiao Fan

Vera Siertsema
2023-11-10
Great session with photographer Justin. Loved the different photo corners and the staff was very patient. The assistant Brendan also went out of his way to make our little boy smile. Thanks for a great photo shoot team!
Very kind, patient and professional team! Great experience that helped us create beautiful memories!
Exceptional experience at this White Room Studio! Our photographer Randy demonstrated outstanding skills, brilliantly capturing precious moments during our baby's cake smash session. Kudos to the warm and naturally lit studio, offering fantastic backgrounds. As a Korean, I initially considered flying to Korea for the photoshoot but found this gem in Singapore – not only did it save on travel costs, but it exceeded expectations. Delighted to have discovered this studio for our special milestone. Highly recommended
My experience at White Room studio for a photoshoot was absolutely amazing. From booking the session, to the photoshoot itself, and selecting the photos, everything was a breeze. Justin and Delun were outstanding, and I love the photos. Thank you so much!
Great family photo session with white room studio - we captured so many beautiful moments with my toddler and dog. Highly recommended!
I had a great experience shooting at White Room Studio. The staffs were super friendly and professional. My parents and I felt very comfortable and we were able to enjoy the entire photoshoot. I would surely come back here for my family photoshoots in the future! 🙂
Had a session with Yan, she made it so easy on the whole process. Love the results, review session was fun as well. Thanks team!
Had a wonderful time with Yan who made us laugh and feel so relaxed! The whole experience was fantastic and we were also very happy with the results. Very professional team and we're so glad that we found White Room Studio. Highly recommended!!
My family had a photoshoot with Justin. It was a mad house with 3 dogs but he was able to control the situation perfectly and made us feel at ease in front of the camera. Awkwardness runs in the family so it was amazing that we looked as good as we did. Loved every single one of the photos so it was very hard to narrow down to just 4 (I guess that's a good problem to have). They were also very understanding and accommodating about my family not being able to attend in person for the photo selection and sent us a contact list. Can't wait to receive the photos in higher resolution!
Excellent photography! Enjoyed the session and the photos have turned out extremely beautiful! Thanks Jia Meng & White Room Studio!