Singapore is known for its photogenic and iconic destinations that are visited by millions of tourists each year. These outdoor photoshoot locations are widely sought for memorable selfies and pictures because they are aesthetically eye-catching and importantly, uniquely Singaporean.
The Best Family Outdoor Photoshoot Locations in Singapore
Local professional photographers have their go-to or personal favorites when it comes to locations that will produce gorgeous pictures. Several salient factors affect their picks and these include the presence of classic, iconic, and even futuristic structures of bespoke or eclectic design; places which are not too crowded, complete with some shade (a photoshoot under the hot relentless sun is no joke!); having sufficient but soft lighting for that glowy, dewy effect; and being aesthetically attractive heritage sites which enjoy some historical prominence.
In this blog, we present our Top 6 Picks this year for the Best Outdoor Photoshoot Locations that our photographers swear by. Read on and we hope you find them informative!
Established in 1859 by the Agri-Horticultural Society, this 160-year old garden is the oldest in Singapore and is a treasure trove for lovers of plants and the outdoors. It is the first tropical, and only the third botanic garden to be on the UNESCO World Heritage listing, and has won numerous tourism awards over the years.
Here, our preferred area will be The Gallop Extension, the sprawling new 80,000 m² addition to the Botanic Gardens! Constructed with the goal of conservation and education in mind, the new extension includes a nature play garden, and a 120-year-old colonial bungalow that houses a Forest Discovery Centre. How exciting!
Check out more beautiful family photos at Botanic Gardens taken by White Room Studio.
Next, we have the Atbara – Singapore's oldest surviving building from the colonial era – with history and grandeur infused into every inch of the house. Don't the large, tall windows remind you of the third floor at White Room Studio? We just love the soft, abundant natural light during golden hour.
Of course, how could we forget about The Bandstand, the iconic landmark of Botanic Gardens! The gazebo has the right amount of shade, shelter and well-placed pathways around it which makes photoshoots a breeze. Importantly, it is a place where the trained eye will be able to spot some great angles for that perfect shot!
There is no better backdrop for an outdoor photoshoot than Singapore's world-class city skyline. With Marina Bay Sands and its uniquely recognizable sky park, the skyline has been featured in blockbuster movies like Crazy Rich Asians, Independence Day: Resurgence, and Hitman: Agent 47.
There are many great places around the city center where you can capture that perfect picture of this vista of modernization, and our favorite spot is undoubtedly the Marina Barrage. A top choice for an outdoor photoshoot!
Essentially a dam built at the confluence of 5 rivers across the Marina Channel, the Marina Barrage is not only an epitome of environmental engineering but also an excellent place to look at Singapore's skyline from fresh, alternative angles.
At the top of this water reservoir, you will be able to capture the other side of Marina Bay Sands, the Supertree Grove, the two domes of Gardens by the Bay, and the reservoir's distinct dual curvature – essentially a largely different look of the city skyline, for those who are looking for outdoor shots which are extra-ordinary.
Of the 3, the Bay South Garden is the largest and most popular. It showcases the best of tropical horticulture and garden artistry and boasts of iconic landmarks which have appeared in popular media frequently. It has an orchid that takes root at the waterfront conservatories, while the leaves (landforms), shoots (paths, roads, and link ways), and secondary roots (water, energy, and communication lines) then form an integrated network with blooms at key intersections.
This is one of Singapore's latest and most popular destinations. The Gardens by the Bay is a nature park spanning 101 hectares of reclaimed land in Central Singapore and consists of 3 waterfront gardens.
For outdoor photoshoots, the inside of the Flower Dome, listed on the 2015 Guinness World Records as the largest glass greenhouse in the world; is a personal favorite for us. This is primarily due to the unique flowers and plants contained within presenting some truly spectacular colors, and the air-conditioned environment which is conducive for extensive photography sessions.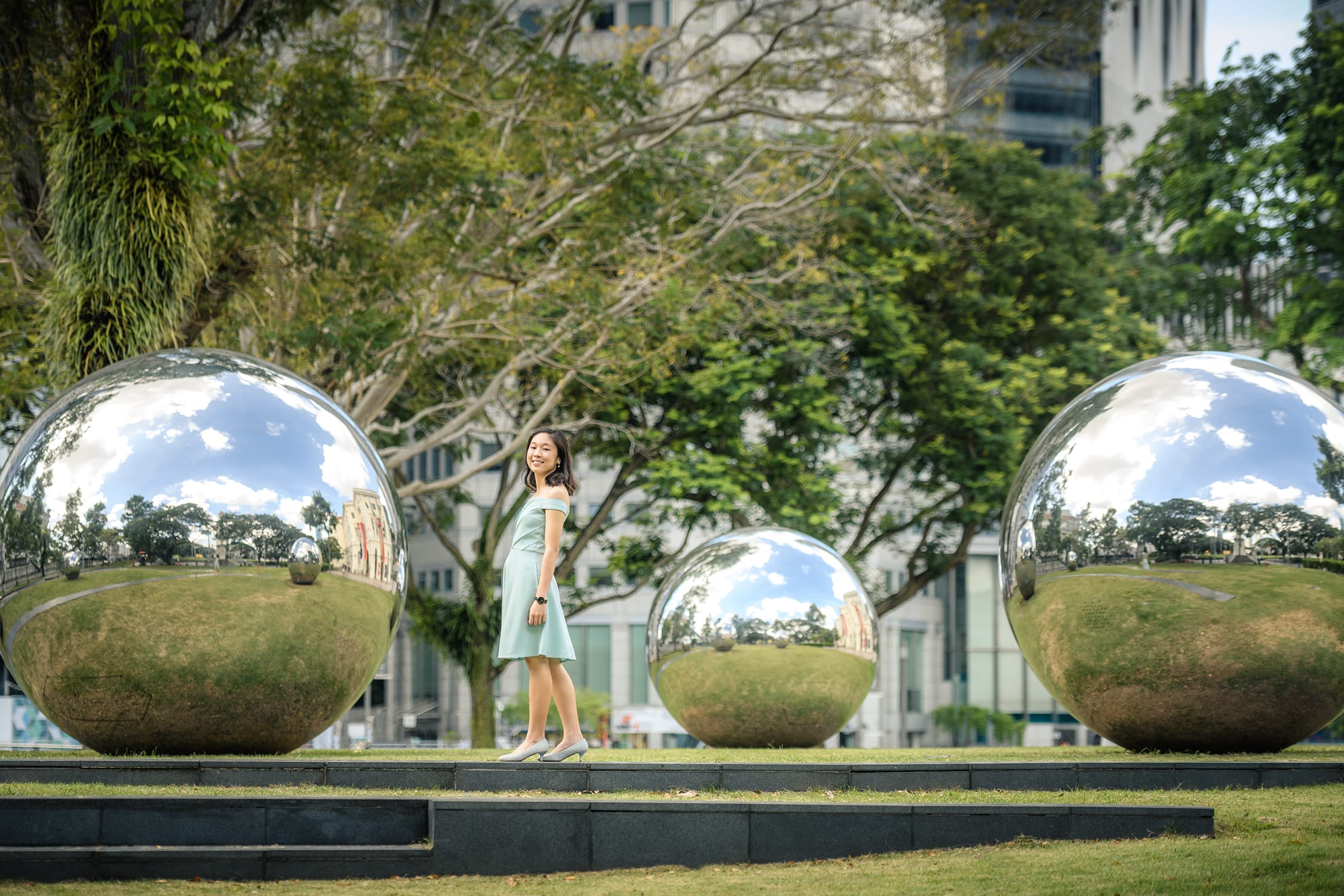 An architectural sight to behold, the National Gallery is the largest and most well-known museum in Singapore, showcasing the visual arts of the Eastern region. It is internationally recognized as the heart of Singapore's arts and culture scene, almost drawing a whopping 2 million visitors each year!
Born from the hands of a gifted Italian artist, the building's stately columns and elaborate relief panels offer excellent photographic perspective as light and shadow dance in perfect harmony around it throughout the day.
The classical design of the gallery is awe-inspiring to say the least, and it comes as no surprise this outdoor location is one of the most sought-after venues for glamour and pre-wedding photoshoots. It's a place favoured by White Room Studio photographers too!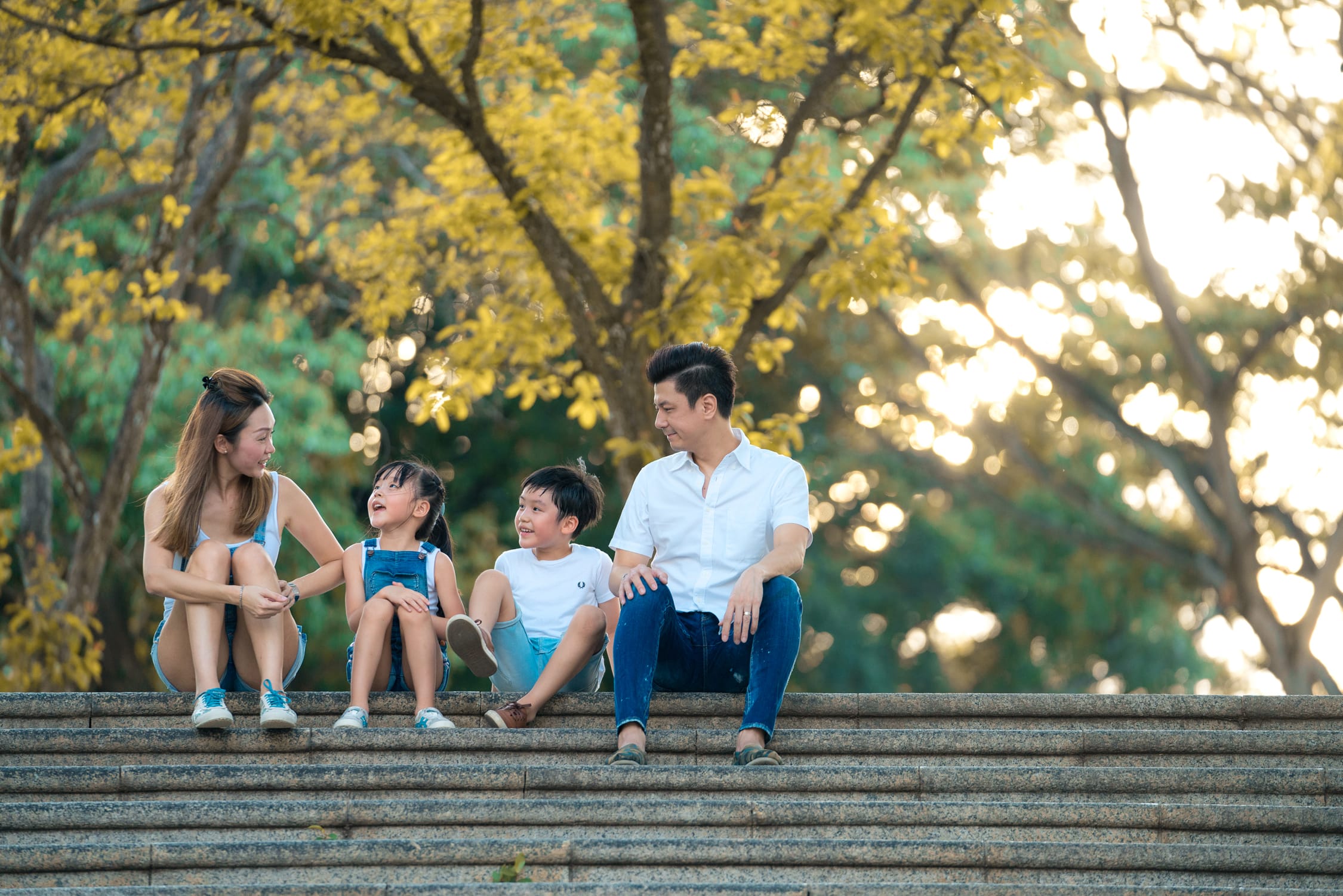 The main Fort Canning Park area, where the Fort Canning Arts Centre can be found full of surprises if the photographer is looking for shots that are full of light, greenery, and fascinating historical monuments. Recreated historical gardens restore the heritage of the area and provide nature playgrounds where kids get to enjoy play equipment that blends into the environment. This is a perfect place for the photographer to capture both adults and kids at play.
Closer to home, we are no strangers to taking pictures before the verdant greenery, 18th-century gateways, and charming colonial structures upon Fort Canning Hill. Upon this storied landmark, you can find photographic inspiration from artifacts dating back all the way to the time of ancient Malay kings, the British and Japanese from WW2, and our country's founding leaders. It is now a park where children run endlessly in the sunlight and where the world's biggest musical acts play to a charmed audience upon the lawn's gentle slopes.
One of our favourite secret spots for outdoor photoshoots resides under the tall heritage trees. Apart from their leafy canopies which provide ample shade, golden sunlight springs through their leaves as well – producing stunning photos!
If historical preeminence is the order of the day, our pick is Fullerton Square. Located in the downtown core of Singapore's central region, this was the site for one of Singapore's earliest fortifications in 1829 (Fort Fullerton). Today, it is a busy thoroughfare leading into our commercial centre, Raffles Place. This area has figured in volumes of historical records and houses many heritage buildings and structures hailing back to the 1800s.
We love capturing this majestic building from the Anderson Bridge, which in itself is an architectural beauty. Built in 1910, the elegant bridge displays an excellent combination of intricate plaster and metalwork unmatched by any other bridge locally. It comprises three steel arches with supporting steel ribs extending across them, two rusticated archways, and a fluted pier at each end.
The old-world charm of this location is sure to add a beautiful note to your heirloom photographs!
The Fullerton Hotel, a 5-star luxury hotel currently sits in place of the fort and is considered one of the best historical architectures to have in your photo backdrop. Being the winner of architectural heritage awards, it features neo-classical designs, high-ceiling verandas, restored Shanghai plastered panels, and windows houses in timber frames. Its lofty portico over the main entrance boasts trophy designs as well as the Royal Coat of Arms.
White Room Studio, Your One-Stop Professional Photography Studio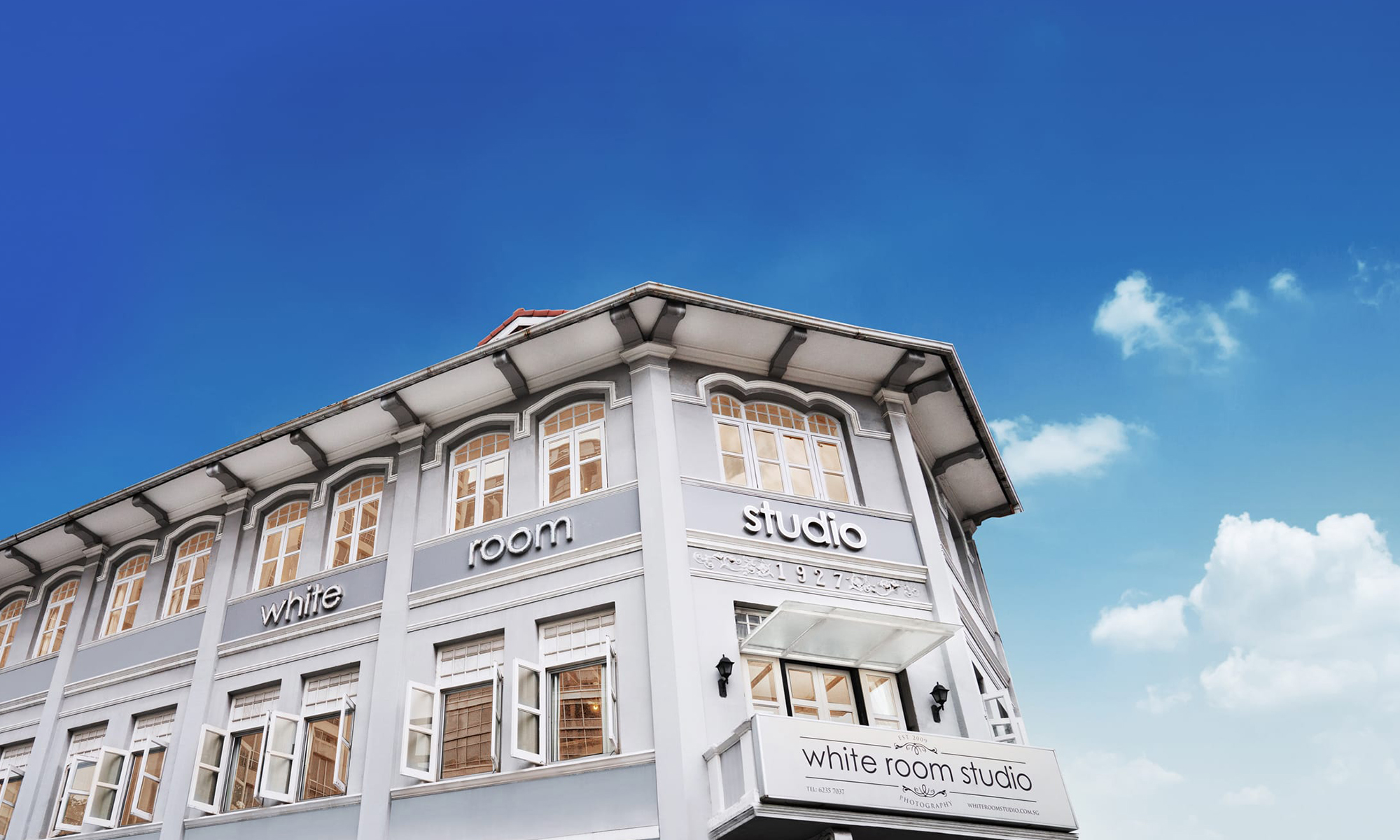 And finally for those who prefer somewhere indoors and air-conditioned, look no further than White Room Studio, which is just across the road from Fort Canning Hill. Already into its 14th year of establishment, and an iconic destination in its own right, this award-winning professional photography studio has created numerous unforgettable portraitures for clients from all walks of life.
The White Room Experience
Taking a photo is not merely clicking on the shutter. For us, it is designing a photography experience meant to capture the best version of you and your loved ones. Have a look at the White Room Experience below:
White Room Studio is situated in a Peranakan shophouse which is full of nostalgic character with warm sunlight and big windows. Genuine rustic wooden boards from 1927 run across the entire studio space and a balcony overlooking Fort Canning Park. Within these bespoke settings, professional photographers are ready to capture natural and impactful pictures of you which are full of real emotion.
Naturally, there exists beyond this list, other hidden gems around Singapore which are excellent for professional photography – rest assured that we will try to cover more of them in future blogs.
We hope you have enjoyed this read, and maybe learned a bit more about some of Singapore's landmarks!
Get pro tips and advice on what to wear in our exclusive Family Portraiture Lookbook.
Download our Rate Card below: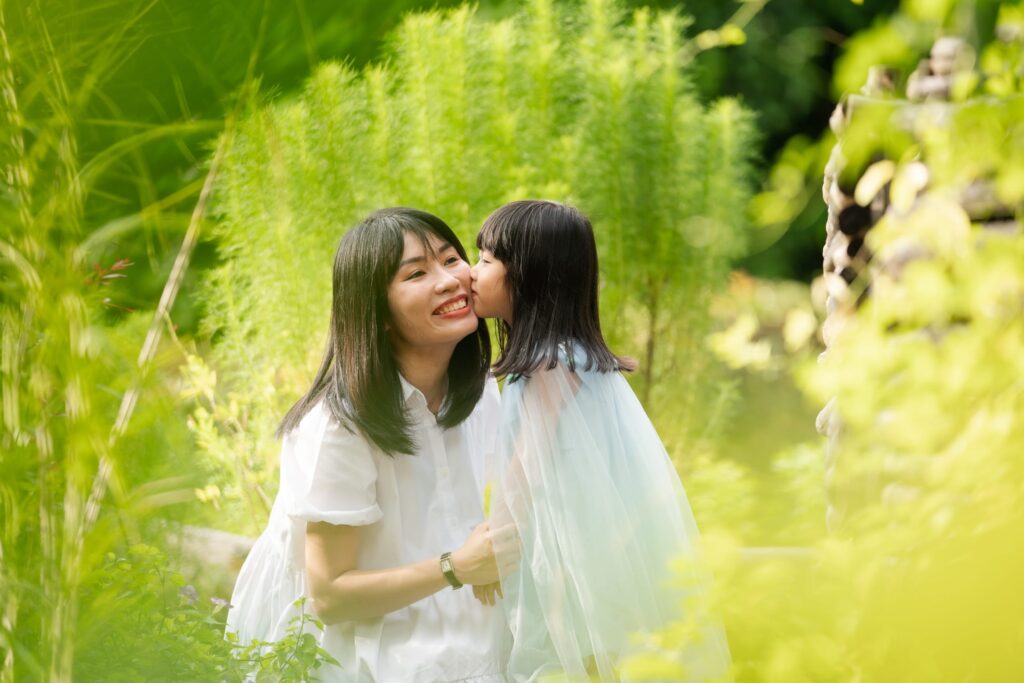 Contact us to book your shoot!
"After two years of not being able to see each other, we were blessed to have a global reunion in Singapore. There was much to celebrate after two years in this outdoor family photoshoot – my sister's engagement, our daughter meeting her grandparents, aunt and uncle-to-be, and godfather for the first time. Wrangling 8 adults, a five-year-old, a baby, and a stubborn Shiba is no easy feat, but our family photographer Yan not only managed to keep everyone on-task, but she also took beautiful photos that perfectly captured this happy reunion!"

– Irene Liu & family