We had the privilege of meeting Crystal one Friday afternoon at White Room Studio amidst her appointments and busy schedule. Although it was the first time we met, Crystal's warm and inviting presence immediately made us feel right at home.
Today, we are excited to share the story of how we had the pleasure of capturing her essence through corporate photography!
There's a common myth that hovers over corporate photography like a rain cloud on a sunny day. It's the idea that when you step in front of the camera in a corporate setting, you must put on a serious face and stifle any hint of personality or humour. However, the truth couldn't be more different.
In fact, the essence of great corporate photography lies in capturing not just your professional persona but also the real you—the person behind the title.
Laughter, smiles, and glimpses of your personality can transform a stiff, uninspiring headshot into an engaging and relatable image.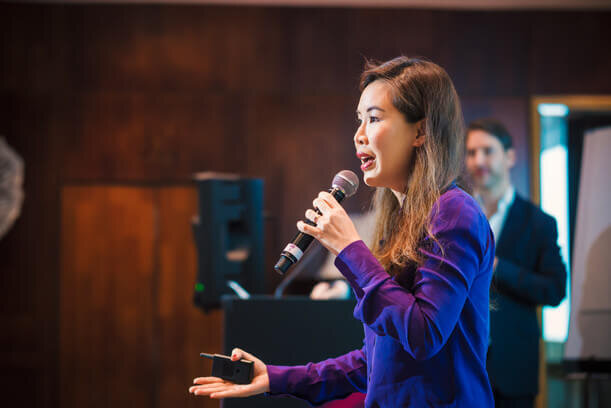 Photo courtesy of Crystal Lim-Lange

Even though Crystal is no stranger to being photographed and being in front of the camera, we knew we had to still capture the genuine, unguarded moments that make her unique.
This meant encouraging her to be herself, to laugh, and to let her personality shine through. We wanted to show the world the real Crystal, not just the professional facade, and the results were stunningly authentic portraits that perfectly encapsulated her charisma and warmth.
The Powerhouse Behind the Name

A distinguished leadership and talent development expert, prolific writer, and dedicated educator, Crystal's journey has been highlighted by remarkable achievements. She has earned the prestigious recognition of being a "LinkedIn Top Voice" not once, but twice–in 2020 and 2022. This coveted accolade is a testament to her role as one of LinkedIn's foremost industry thought leaders.
It is clear that Crystal's influence extends far beyond accolades, as she partners with leading organisations to nurture and empower their workforce. Her expertise in workplace culture, offsite strategies, and training encompassing resilience, high-performance, and social emotional intelligence is invaluable.
Renowned for her captivating public speaking prowess, Crystal consistently leaves a profound impact on audiences.
Crystal's expertise also shines through when it comes to connecting with her audience on a personal level. She regularly treats her followers to bite-sized, easy-to-understand videos where she shares her wisdom effortlessly.
View this post on Instagram
As the visionary founder of Forest Wolf, a groundbreaking talent development consultancy, Crystal merges her profound insights into psychology with a wealth of experience in orchestrating large-scale systems change. Her unique approach revolutionises the way businesses harness their human potential and foster growth.
The White Room Studio Experience

Since Crystal is not just a name but a driving force behind transformative change in the realms of leadership and talent development, we knew we had to convey her influence beyond the boardroom.
Our naturally lit studio shophouse served as the perfect backdrop for this endeavor.
This classic Continental-style setting on the third floor of White Room Studio echoes Crystal's genuine and transparent approach, symbolising her ability to bring out the best in others, just as the natural light accentuates her authentic brilliance.
Yan is a lightning fast photographer and great at getting candid and natural shots! It was a pleasant and enjoyable corporate photography session!" — Crystal Lim-Lange
Unleash Your Professional Presence

If you want to look your best like Crystal, check out the full package details below:
PACKAGE DETAILS
Our Corporate Portraiture Package is priced at $390 for 1 pax and it includes 2 outfits photographed and 2 backdrops of your choice!
You will enjoy 30 minutes of artistic photography in our two-storey shophouse studio, be it headshots or a personal branding session.
From a selection of corporate headshots, half-body and full body shots, you will receive 3 retouched soft copies ideal for LinkedIn, CV, or your website!
Personalised hairstyling and makeup services are also available. At White Room Studio, we also have a fully equipped changing room with a garment steamer, plus a spacious executive guest lounge and pantry for you to get ready before your shoot!
If you wish, we recommend that you bring along any props that may highlight your profession and expertise.
Send us a message via the form below and we'll get back to you shortly!