When it comes to freezing in time those magical family moments or basking in the glory of your academic milestones, there's nothing quite like a professional photoshoot.
But here's the kicker — why settle for the ordinary when you can embark on an epic outdoor family photoshoot? And if you're seeking a location that blends culture, history, and aesthetics, look no further than the National Gallery Singapore.
While you might associate the gallery with its awe-inspiring interior collections, its exterior offers an equally magnificent backdrop for your family or graduation photoshoot. We'll explore why the National Gallery is one of our team's favourite outdoor locations to shoot at!
(We want to make it clear that this blog is not sponsored by National Gallery Singapore or affiliated businesses. Our goal is to provide unbiased and helpful information to families in Singapore, who are interested in capturing precious moments with their loved ones. Our recommendations are based on genuine admiration for the venue and its potential for creating unforgettable family memories!)
Why choose National Gallery Singapore for an outdoor family photoshoot?
The National Gallery Singapore stands as an architectural marvel in the heart of the city. Its neoclassical design exudes elegance and grandeur. The building's timeless beauty, with its Corinthian columns and intricate detailing, can add depth and drama to your pictures.
Besides the aesthetic appeal, we were also curious why Hui Koon decided to pick this location for his family's outdoor photoshoot.
Full circle: Hui Koon and his wife smiling for a portrait together outside National Gallery.
The National Gallery is a national monument and signifies the country's journey to independence. My wife and myself also had our pictures taken there when we graduated. I suppose this signifies our (and our daughter's) journey to our (and her) independence. It's also like life has come a full circle for us — we graduated and are coming to an end of our career soon." — Hui Koon

Look Ma, I did it! Nicole celebrated her academic achievement right where her mother celebrated hers.

The Best Photo Spots at National Gallery Singapore

What sets the National Gallery Singapore apart is its unique blend of historical and contemporary elements. The building was once home to the Supreme Court and has been carefully restored to preserve its colonial-era charm.
This blend of old-world and modern architecture creates a visual contrast that can make your photos pop.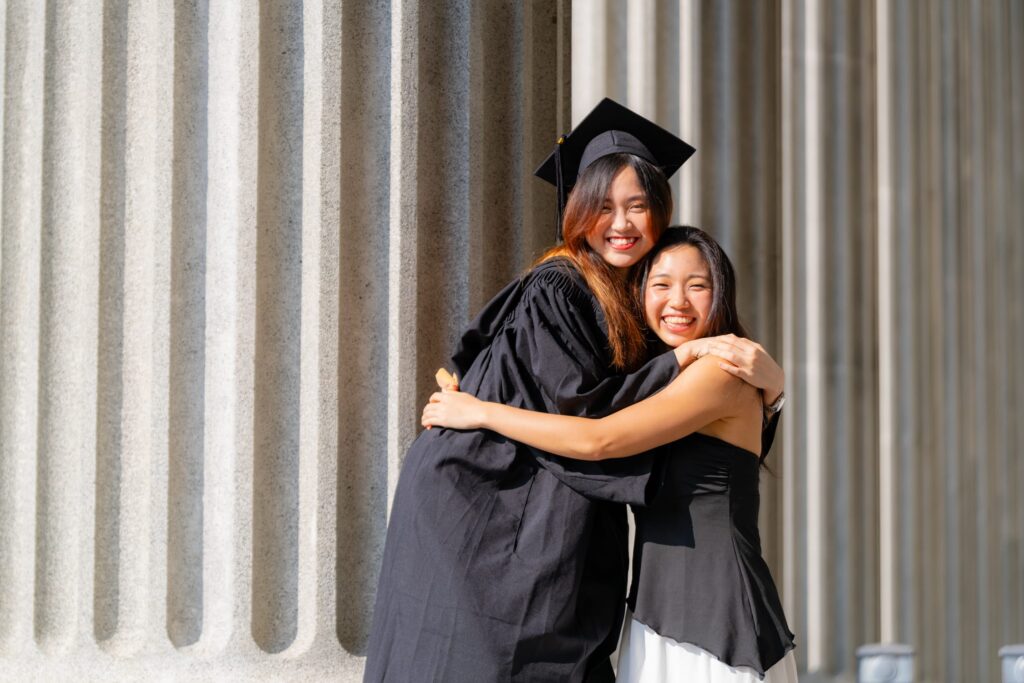 You can also capture candid family moments on the steps, against the grand entrance, or under the impressive portico. The gallery's courtyard and gardens also provide a picturesque setting for group shots, individual portraits, or intimate family photography.
A blend of old and new: The Teo family looks towards the future on this happy occasion. Hui Koon adds, "Education in Singapore has always been known to be tough and rigorous. This 'commencement' marks her achievements in her education and heading towards adulthood as a working person, contributing to the needs of society and fulfilling her innermost passions."

White Room Tip 💡

To make the most of your outdoor photoshoot at the National Gallery Singapore, consider the time of day and weather conditions. The soft glow of early morning or the natural lighting of the golden hour can work wonders for your family photos.
Each corner has a story to tell, from the secrets whispered by the graceful doorways to the tales of history etched into the majestic columns.
"It's our family's first professional photoshoot after more than two decades. Just couldn't find the time to do it. This photoshoot wouldn't have taken place if my younger daughter wasn't going away for her exchange." Hui Koon says.

Planning a photoshoot can sometimes feel like solving a logistical puzzle. But here's the good news: the National Gallery Singapore is a breeze to access. Nestled in the Civic District, it's a stone's throw away from public transportation, and parking options are aplenty.
Convenience is key to a stress-free photoshoot, leaving you with more time to capture those perfect shots and make memories.
At White Room Studio, our approach revolves around producing authentic and documentary-style photographs that authentically convey your one-of-a-kind narrative.
We firmly believe that the essence of family photography resides in the unscripted laughter, the sincere embraces, and the real connections that naturally occur, free from artificial poses or contrivances.
Now, pose: Alyanna stuns in her blue dress while Megan embodies classic chic.

Book a Family Photoshoot at National Gallery Singapore

As we conclude this exploration of National Gallery, we trust you've enjoyed the journey and developed a new appreciation for this remarkable locale. Add the National Gallery into your list of family graduation photoshoot pitstops.
If you're eager to set forth on another thrilling expedition, why not dive into our guide "Top Locations for an Outdoor Photoshoot in Singapore"!
At White Room Studio, our family photoshoots are a leisurely 1.5-hour affair at a location of your choice, ensuring that you can cherish quality time together while we weave our photographic magic.
Besides the great outdoors, you can an indoor family photoshoot in our exquisite 2,400 square-foot Peranakan studio-shophouse. Bathed in abundant natural light, this versatile space boasts a diverse range of settings, providing limitless creative potential for your family portraits.
As an added bonus, our clients enjoy exclusive access to our brand-new guest lounge, a dedicated hair and makeup room, as well as comfortable changing rooms within the studio.
Discover more about the White Room Studio experience here.
Chat with us, and watch as we transform your dream family portraits into a beautiful reality!
Download our Rate Card below to receive the full package details:
Contact us to book your shoot!
Vera Siertsema
2023-11-10
Great session with photographer Justin. Loved the different photo corners and the staff was very patient. The assistant Brendan also went out of his way to make our little boy smile. Thanks for a great photo shoot team!
Very kind, patient and professional team! Great experience that helped us create beautiful memories!
Exceptional experience at this White Room Studio! Our photographer Randy demonstrated outstanding skills, brilliantly capturing precious moments during our baby's cake smash session. Kudos to the warm and naturally lit studio, offering fantastic backgrounds. As a Korean, I initially considered flying to Korea for the photoshoot but found this gem in Singapore – not only did it save on travel costs, but it exceeded expectations. Delighted to have discovered this studio for our special milestone. Highly recommended
My experience at White Room studio for a photoshoot was absolutely amazing. From booking the session, to the photoshoot itself, and selecting the photos, everything was a breeze. Justin and Delun were outstanding, and I love the photos. Thank you so much!
Great family photo session with white room studio - we captured so many beautiful moments with my toddler and dog. Highly recommended!
I had a great experience shooting at White Room Studio. The staffs were super friendly and professional. My parents and I felt very comfortable and we were able to enjoy the entire photoshoot. I would surely come back here for my family photoshoots in the future! 🙂
Had a session with Yan, she made it so easy on the whole process. Love the results, review session was fun as well. Thanks team!
Had a wonderful time with Yan who made us laugh and feel so relaxed! The whole experience was fantastic and we were also very happy with the results. Very professional team and we're so glad that we found White Room Studio. Highly recommended!!
My family had a photoshoot with Justin. It was a mad house with 3 dogs but he was able to control the situation perfectly and made us feel at ease in front of the camera. Awkwardness runs in the family so it was amazing that we looked as good as we did. Loved every single one of the photos so it was very hard to narrow down to just 4 (I guess that's a good problem to have). They were also very understanding and accommodating about my family not being able to attend in person for the photo selection and sent us a contact list. Can't wait to receive the photos in higher resolution!
Excellent photography! Enjoyed the session and the photos have turned out extremely beautiful! Thanks Jia Meng & White Room Studio!