Preserving memories is important for families of all sizes. When different generations come together, it's a unique opportunity to capture memories that will last a lifetime!
Whether you're celebrating a big family milestone or just want to have some beautiful photos to hang on your wall, a multi-generation family photoshoot is the best way to do it.
Here's why White Room Studio is the leading multi generation family photo studio for 13 years in Singapore >>>
All Kinds of Unique Studio Settings For A Multi Generation Family 📸

It's not easy for all the generations of a family to get together in one place. Extra large family? No problem! White Room Studio is situated within a restored colonial shophouse that can accommodate up to 40 pax!
The signature balcony, elegant European-style floor, and Peranakan corner are some of our most iconic settings. With tall windows that drench the studio in soft natural light during the day, families can expect a warm and homely environment to spend quality time together.
Susie's family – all 27 members – gathered at White Room Studio for a memorable multi generation shot!

White Room Studio also offers traditional studio backdrops that grandparents usually prefer! Both the young and old will get to experience the best of modern and classic settings in one photo studio, right here in Singapore.
Rest and Relax in the Studio's Brand New Amenities

🤗



When you arrive at White Room Studio for your multi generation family photoshoot, you can also enjoy the comforts of our air-conditioned guest lounge and well-stocked pantry!
Fresh coffee, tea and water are provided, and feel free to help yourself to some light snacks throughout your shoot! Our clients' comfort is extremely important to us, and this is why we have created dedicated spaces to feel refreshed in between the multi generation family photo taking session.
The Beauty of A Multi Generation Family Photoshoot

I think the fact that all 16 of us could gather as one big group to take our family portraits was very meaningful and precious to us. Especially after the past 2.5 years where we were not able to meet up as a family for gatherings or festivals. That was really painful to go through. Our dad has not been well for the past year and seeing him so happy with the family and grandchildren was definitely the icing on the cake! The family photoshoot was also very well carried out and all of us had a wonderful time spent together and it wasn't stressful at all!" — Carlsen Tay

We recently had the privilege to welcome Carlsen's extended family to White Room Studio, and what he said really spoke to our hearts, and the importance of what we do as family photographers.
Weathering different trials, supporting one another through hardships and enjoying the good times – this is what makes every multi generation family so special!
The head of the Tay household – Carlsen's father – smiling throughout the multi generation photoshoot with his grandchildren!
What To Expect For Your Multi Generation Family Photoshoot

During your multi generation family photoshoot, your photographer will be exploring a variety of shots within the studio! We'll start with family group shots and different family pairings, such as grandparents together, grandparents with grandkids, siblings or cousins together, etc.
When there are also more than 12 pax joining the shoot, the session will be extended complimentary to 2 hours instead of the usual 1.5 hours, to allow more time for photo taking. That means more smiles and laughter too!
Expect a combination of fun-filled casual family photos and classy portraits!
Can I choose to do an outdoors multi generation photoshoot?

Yes of course! You're welcome to pick any location of your choice, even at home. Check out our top picks for an outdoor family photoshoot, or see the photos we created for Irene's family and Chris' folks below!
Can I combine my multi generation family photo with a graduation photoshoot?

Definitely! We highly recommend doing both in one session as you'll get a wide combination of different settings, poses and outfits (formal photos with graduation gowns).
Discover the graduation photos we have taken for thousands of graduates over the years. Graduation gowns and hats from selected universities are provided as well, so do let our studio team know what you need in advance!
Towards the end of the shoot, you'll be able to take solo graduate portraits in your academic regalia!
Can I bring my pet along for my multi generation family photoshoot?
Yes! Make your photo session extra memorable – after all, these furry friends are family too! White Room Studio is a pet-friendly photo studio and our team has lots of professional experience in pet photography.
Download our Rate Card below for full details and pricing for a range of displays.
Frame and mount your multi generation family photos at home, where you can appreciate those precious memories every day!
White Room Studio's canvases are guaranteed to last for 75 years, so you are merely passing on your family keepsakes to the next generation.
The White Room Experience
Taking a photo is not merely clicking on the shutter. For us, it is designing a photography experience meant to capture the best version of you and your loved ones. Have look at the White Room Experience below:
Hairstyling & Makeup Package💄
You can book a hairstyling and makeup appointment, and it'll take an hour in our vanity room. Our professional makeup artists will create a personalised look perfect for a family photoshoot!
Our changing rooms are also equipped with hangers, steam iron – everything you need to be fully prepared!
Why choose White Room Studio for a multi generation family photoshoot?
Photographing a large group of people of all ages – getting them to smile, look at the camera and interact – is a challenge for any photographer. But given their 70 combined years of experience, White Room Studio photographers are highly trained, even comfortable, in capturing the brilliance of a multi generation family!
Moreover, for the past 6 years (2017-2022), White Room Studio has also been awarded Tatler's Best of Singapore "Best Portrait Photographer" 🏆
We will also guide everyone on posing, giving you tips and ideas so that we can capture the real heartfelt and candid moments all on camera.
Our studio is located in downtown Singapore, making it easy for everyone to come and take some amazing family photos.
It can be challenging to coordinate everyone's schedules for a shoot – but as the saying goes, "If not now, then when?"
"Family means a lot to me as we are all living separately between three cities in two countries. While the family is growing, the chances of meeting up with everyone are getting lesser. So we really appreciate the quality bonding time during this multi generation family photoshoot!

We decisively booked with White Room Studio after browsing through the studio's photo galleries and we like it. During the shoot, our family photographer, Randy, and his team are very professional in capturing happiness, candid moments and suggesting ideas for different shots! 😊"

–  Willim & Halim, 11 pax multi generation family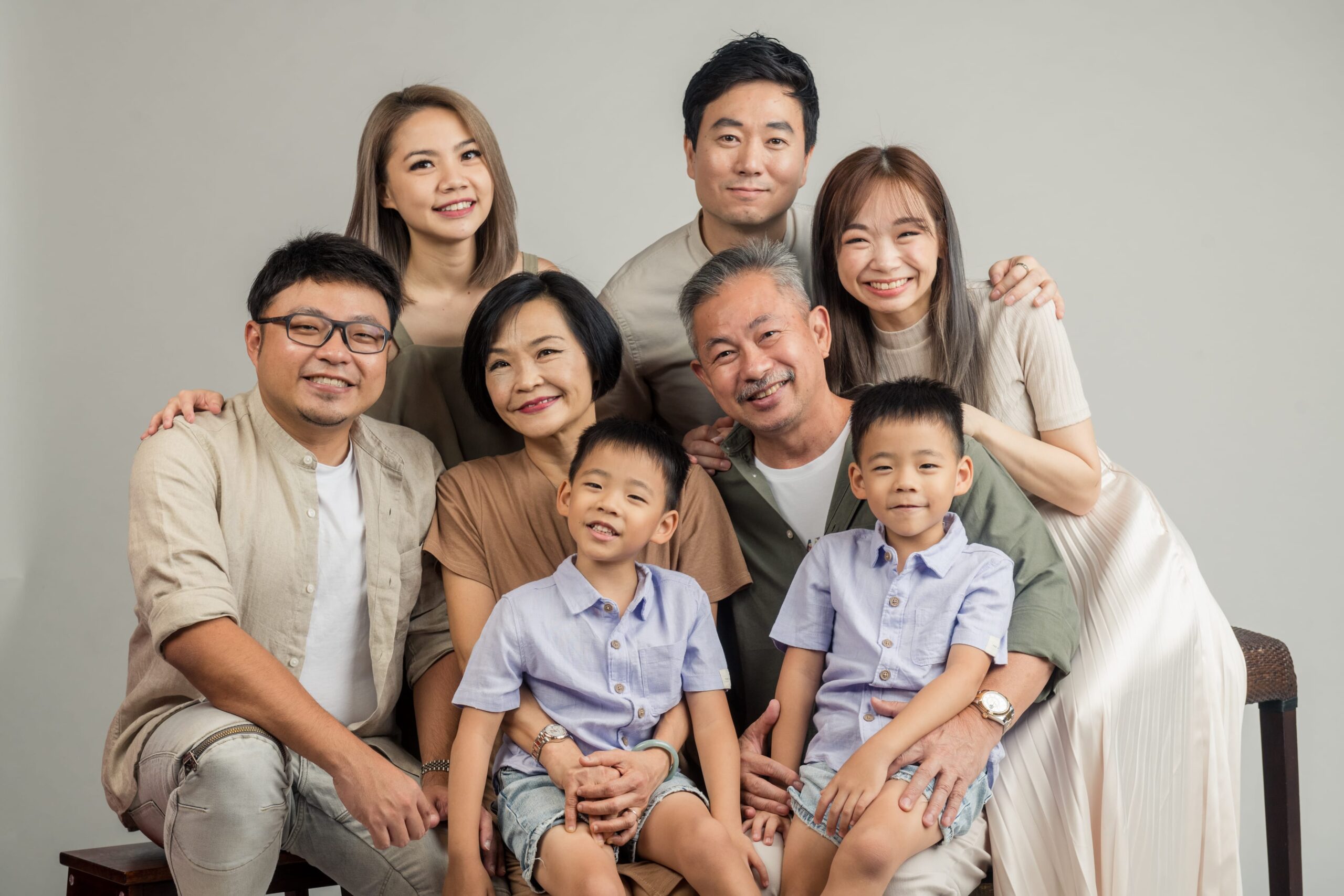 Contact us to book your shoot!