In the first of this series, White Room Studio shares the best of Singapore for an outdoor family photoshoot.
Follow us as we take you through the colourful history of Tiong Bahru and the great photo spots it has to offer – some hidden, some well-known!
Our special thanks to Yin Horng, Louis, Fay, Zenn, and Buddy the Pomeranian for this feature – now, 𝙇𝙀𝙏'𝙎 𝙂𝙊 𝙏𝙊 𝙏𝙄𝙊𝙉𝙂 𝘽𝘼𝙃𝙍𝙐!
Why go to Tiong Bahru for an outdoor family photoshoot?
Having done many outdoor family photoshoots all around Singapore – from the world-famous Botanic Gardens to the iconic Fort Canning Park – we simply had to ask, why Tiong Bahru?
Tiong Bahru is 'classic' and brings fond memories to many Singaporeans." — Yin Horng
Indeed, this neighbourhood is the oldest estate on our little red dot, making it a true classic amongst an increasingly urban housing landscape. Today, Tiong Bahru is often frequented for its interesting medley of pre-war flats, a wet market, and chic cafes sandwiched between every corner.
The Best Photo Spots in Tiong Bahru
Armed with her trusty camera and lots of energy, White Room Studio's photographer Yan met Yin Horng's family bright and early. At 9.30am, the natural light is best for an outdoor photography session, and it's not too hot either!
A walk down memory lane, or Eng Watt Street: stepping into the Tiong Bahru's enchanting maze of shophouses and eateries.

Bird Singing Corner Mural
This exquisite mural by local street artist Yip Yew Chong pays homage to the bygone days of Tiong Bahru!
In the past, countless bird lovers would flock to Tiong Bahru and gather round for bird-singing activities. This mural vividly depicts a scene from the 1980s, showing how the locals used to hang out with their beloved birds and chit chat with like-minded pals over a cup of kopi.
Although it has been long replaced by a hotel, today, you can catch a glimpse of the former bird singing corner at 61 Seng Poh Lane.
Horse-Shoe Flats at Moh Guan Terrace
Did you know that Tiong Bahru's namesake actually comes from a mix of the Hokkien dialect and Malay?
'Tiong' — 'tomb' in Hokkien

'Bahru' — 'new' in Malay
Together, the two words means 'new cemetery' — since the area used to be a burial ground, these two words were chosen to reflect its origin.
Photo credit: Roots, National Heritage Board.
As you take a stroll along Moh Guan Terrace and Guan Chuan Street, a row of curved flats stand out amongst a uniform landscape of public housing.
They were actually built around 1939-1940, around the beginning of the Second World War. Some blocks even hold an air raid shelter.
Before the Housing Development Board (HDB) existed, there was the Singapore Improvement Trust (SIT). They based the design of these flats on a shophouse plan resembling the shape of a horse-shoe! 🧲
In terms of architecture, the flats are a blend of Nanyang style and Streamline Moderne (also known as Art Moderne).
The former has distinct vintage influences using light colours while the latter emerged from the 1930s and focuses on smooth, rounded edges with low, horizontal lines.
The buildings at Tiong Bahru also have attached flat rooftops, air-wells and spiral staircases (which double up as fire escapes). We love how aesthetically pleasing these elements are!
There are around 20 blocks of SIT-built flats which have been granted conservation status, and this attests to their rich historical significance to the area.
Shophouses and Back Alleys
The quaint back alleys of Tiong Bahru have a rustic character all of their own, and they are the perfect setting to do some exploring off the beaten track!
The old world charm of the estate really shows up in the portraits, and weathered textures like brick and metal add a nostalgic feel to the images when photographed. Under Photographer Yan's creative eye and meticulous direction, Buddy the Pomeranian also got to share the spotlight with his sisters!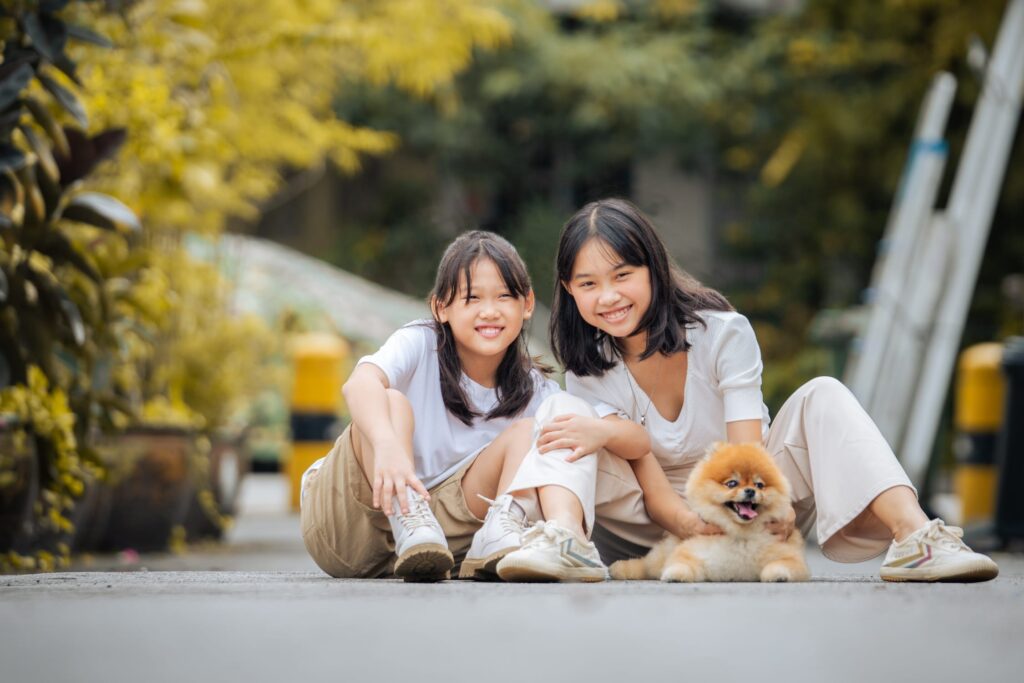 The Green Corridor
Turn the corner and you'll see that green spaces are everywhere in this neighbourhood. Lush greenery line the five-foot ways, plus the potted plants and blooms from gardening enthusiasts are just a vibrant sight to behold!
Amidst the hustle and bustle on weekends, our favourite spot to slow down and take a walk is the hidden path in front of Tiong Bahru market. The thick foliage makes a beautiful backdrop for some gorgeous outdoor family photos – see for yourself!
Upon a closer look, each shop or flat has its unique personality, and you can tell the residents have made every effort to embrace nature as part of their home.
Not only is Tiong Bahru family-friendly (the parks and playgrounds are popular with the kids), the area is brimming with culture. Some boutique art galleries, bookstores, and vinyl stores have set up shop there, which contributes to the lively art scene.
Over the course of a few decades, Tiong Bahru has been revitalized from a lowland swamp into a hip enclave. It is clear that this mature estate is one of the most sought-after locations for locals and expats wishing to make their home there!
Coincidentally, this outdoor shoot is Yin Horng's 3rd family shoot with White Room Studio – their first was in 2014! We find out what brings her back each time – to that, she says, "We never get tired looking at photos from the first two shoots! :)"
We hope you've enjoyed taking a short trip around Tiong Bahru with us, and discovered so much more about this captivating little town!
If you're still up for an adventure, why not check out our Top Locations for An Outdoor Photoshoot in Singapore too?
A family photoshoot with White Room Studio is 1.5 hours of quality time at any outdoor location of your choice!
Or if you prefer, consider doing an indoor family photoshoot at our 2,400 sq ft Peranakan studio-shophouse. There is plenty of natural light and a variety of beautiful spaces to play around with!
What's more, clients have access to a brand new guest lounge, makeup room and changing rooms within the studio. You'll be well looked after – your comfort is our priority!
Let us know what we can do for you and we'll make your dream family portraits come true!
Download our Rate Card below to receive the full package details:
Contact us to book your shoot!