PICTURE THIS: A serene oasis nestled on Sentosa Island, where lush greenery meets opulent luxury, and every corner whispers elegance.
The Capella Hotel Singapore is not just a destination for relaxation and indulgence; it's also the perfect backdrop for capturing timeless family memories.
In this article, we'll explore why Capella Hotel Singapore is an exceptional choice for a family photoshoot. Whether you're a local or an expat family, get ready to discover the enchanting world of family photography at this stunning location!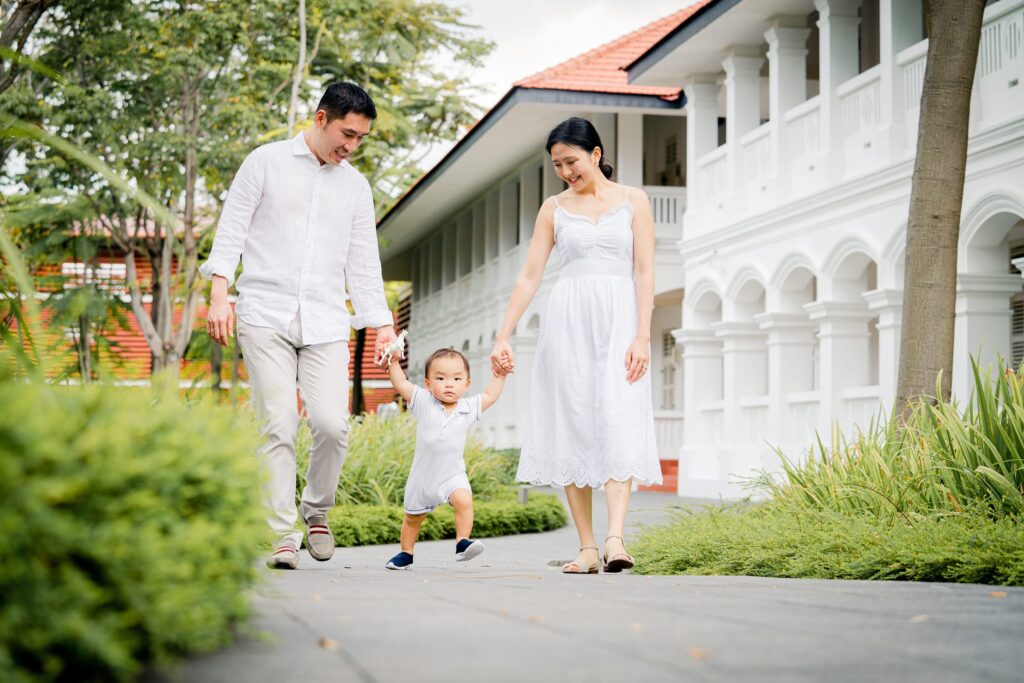 (We want to make it clear that this blog is not sponsored by Capella Hotel or any affiliated businesses. Our goal is to provide unbiased and helpful information to families in Singapore, who are interested in capturing precious moments with their loved ones. Our recommendations are based on genuine admiration for the venue and its potential for creating unforgettable family memories!)
Why choose Capella Hotel for an outdoor family photoshoot?
Capella Hotel Singapore boasts an exquisite blend of restored contemporary architecture and colonial charm. Surrounded by 30 acres of rainforest, this secluded paradise offers a myriad of locations for your family photoshoot.
From the grand entrance lined with palm trees to the tranquil cascading pools and breathtaking sea views, you'll be spoilt for choice when it comes to stunning backdrops.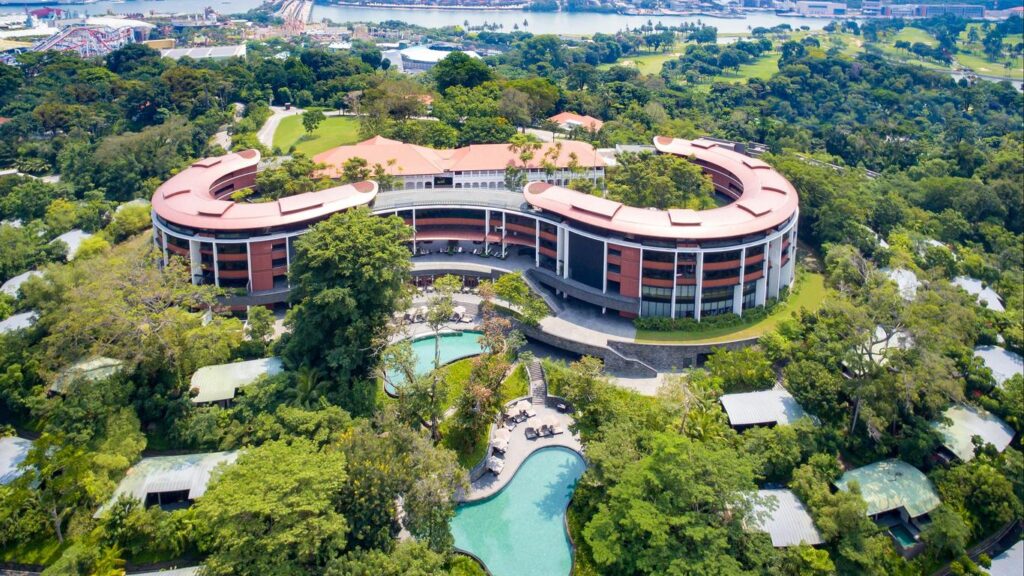 We've always dreamt of a family photoshoot that captures the essence of our love amidst the beauty of nature and luxury. Capella Singapore's ambiance and picturesque landscaping provide the ideal setting for our vision. Plus, we enjoyed plenty of unforgettable staycations at Capella, so we knew it was the perfect place to turn our cherished moments into lifelong keepsakes. — The Tan Family
The Best Photo Spots in Capella Hotel

Why settle for a standard family photoshoot when you can turn it into a day of adventure and fun at Capella Hotel? Start your day with a leisurely stroll through the hotel's lush gardens, allowing your children to explore and play freely!
Take a look at the portraits featuring Lay Seng, Chermain, and their adorable baby boy, Emmanuel!
Basking in the tropical greenery around the hotel offers a tranquil escape from the urban buzz of Singapore, making it the best possible weekend getaway.
Below, Stephanie and Joseph's boys also loved playing at the well-paved walkways, and it was the highlight of their day. Meanwhile, Amanda and Amber enjoyed some quality time outdoors, hand in hand!
Little feet, boundless laughter, and endless memories on Capella Hotel's pristine lawns.
White Room Tip 💡

When planning your family photoshoot at Capella Hotel, don't forget to request the necessary permit from the hotel's management to ensure a smooth and hassle-free experience!
Capella Hotel Entrance
The striking façade of the hotel, with its clean lines and white-washed exteriors, pays homage to Singapore's colonial heritage while exuding a modern, luxurious vibe.
As you approach the venue, you'll be welcomed by an inviting blend of open spaces that seamlessly connect the indoors with the greenery outside.
With their everlasting architectural elegance and balanced design, these structures provide a perfect frame for creating harmonious compositions. The symmetrical lines, classic columns, and well-preserved historical elements add a touch of sophistication to your family photos, elevating them to a level of ageless beauty.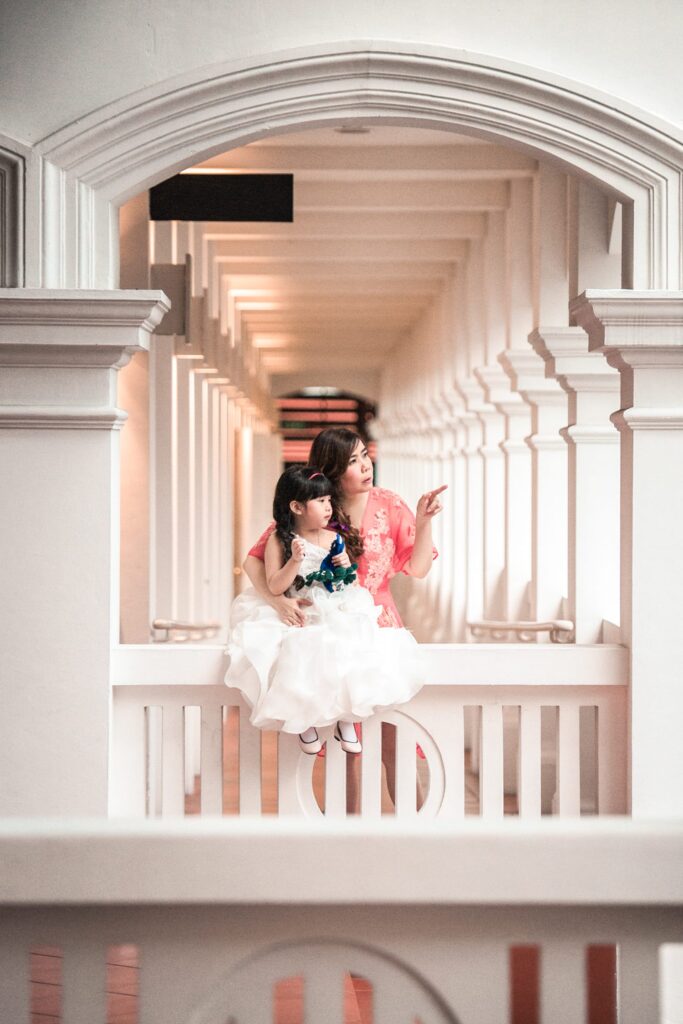 Capella Hotel Driveway
If you venture a bit further on the hotel grounds, there's an artistic touch waiting to frame your family portraits: the captivating stone feature wall. As Lay Seng's family gathers in front of this intriguing backdrop, the dance of light and texture creates depth and texture that's pleasing to the eye.
When you choose White Room Studio for your family photoshoot, we prioritise those unscripted moments that naturally unfold when your family comes together.
Our approach is all about creating natural and documentary-style photos that truly reflect your unique story. We believe that the beauty of family lies in the spontaneous laughter, the heartfelt embraces, and the genuine connections that happen without posing.
Book a Family Photoshoot at Capella Hotel
We hope you've enjoyed this delightful journey through Capella Hotel with us and have gained a deeper appreciation for this extraordinary venue.
If you're ready to embark on another exciting adventure, why not explore our "Top Locations for an Outdoor Photoshoot in Singapore"?
At White Room Studio, we offer you the opportunity to capture your family's unique moments in the great outdoors. Our family photoshoots last for 1.5 hours at a location of your choice, ensuring that you have quality time together while we work our magic behind the lens.
Alternatively, you can opt for an indoor family photoshoot at our stunning 2,400 sq ft Peranakan studio-shophouse. The space is flooded with natural light, and its diverse array of beautiful settings provides endless creative possibilities for your family portraits.
What's more, clients have access to a brand new guest lounge, hair and makeup room and changing rooms within the studio. Read about what to expect with White Room Studio here.
Share your vision with us, and we'll turn your dream family portraits into a reality!
Download our Rate Card below to receive the full package details: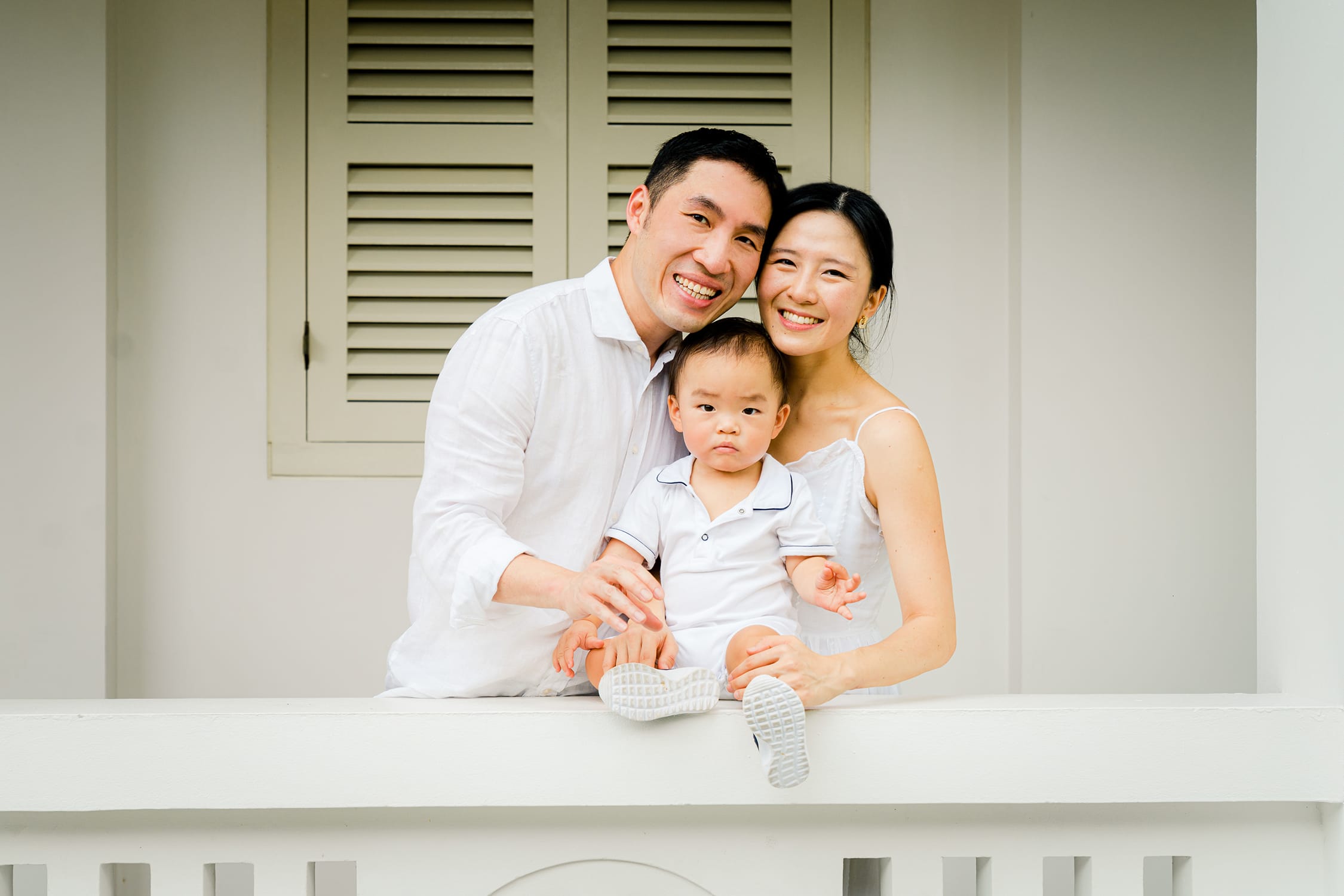 Contact us to book your shoot!
Did a family shoot for my baby and myself with Justin and Verona at White Room Studio back in August - the shoot went pretty smoothly even with an increasingly tired 2 month old infant, with good posing directions from Justin while Verona helped to make sure my baby was comfortable and looking at the camera. Loved the set-up at the studio and we didn't have to wait long in between for the different set-ups.
My experience with White Room Studio for our recent graduation/family photoshoot was fantastic, and a big part of that was due to our photographer, Jia Ming. Jia Ming was incredibly skilled at directing the photoshoot. They made us feel comfortable and guided us through poses that turned out great. Their friendly and patient approach helped us relax and resulted in genuine, heartfelt smiles in our photos. Jia Ming's attention to detail and ability to find the right angles produced beautiful shots that we'll treasure. Their passion for photography was evident, and it reflected in the final images. Thanks to Jia Ming and the White Room Studio team, we have graduation photos that capture the moment perfectly. I highly recommend them for their professionalism and Jia Ming's excellent direction. It made our photoshoot a memorable experience.
Had a lovely experience doing a family photoshoot with White Room Studio - all photos turned out to be amazing. Our photographer Jia Meng was great in engaging the family and everyone was very comfortable during the shoot. The studio had lovely backdrops too. Overall great service, including before, during and after the shoot! Highly recommend to anyone looking to do a shoot, especially if it's your first time 🙂
Fun & friendly photoshoot with Yating. She made us feel welcome & comfortable during the shoot. Photo viewing service was also great with Dan. Professional & helpful in choosing the photos. Thank you guys.
Hernie Andersen
2023-09-11
We were blown away by the level of skill and artistry when we got to see the photos. Each image was a work of art, reflecting the joy and tenderness we felt at the time. Randy, our photographer captured the emotions and created everlasting memories that we will cherish for the rest of our lives. We wholeheartedly recommend White Room Studio to anyone seeking extraordinary photographs and an unforgettable experience.
A very special experience for the whole family! Yan, our photographer, guided us through the whole process. Her directions and pointers on how we could pose made our time there super fun! Much joy and laughter during the session. Highly recommended, thank you for the memorable time:)
My family and I came here for a photoshoot to commemorate my sisters graduation with Yan as our photographer helping us out. She was extremely knowledgable, helping us get the best pictures. The photography session was really fun and enjoyable, leaving us extremely satisfied with a memorable experience. We loved the photos taken, they were high quality and very well edited. Highly recommend coming here to get your photos taken to commemorate an occasion with your friends and family.
We had originally booked a newborn slot earlier but had to reschedule last minute and the team was so accommodating. On the day of the photoshoot, our daughter was fussing (and crying) and we were worried that we were not able to take any good photos but lo and behold, the talented photog, Justin assisted by the talented baby whisper, Verona - they both managed to calm our baby down. Both were very professional, patient and accommodating. 5 star! Thanks Justin and Verona for helping us create lasting memories!
We did a follow up baby photo shoot (post maternity shoot with White Room Studio) with Justin and Verona, and had an extremely incredible time. Verona is a super 'baby whisperer' and able to soothe our wailing daughter during the photo shoot session. Justin was very patient and understanding, and the end result were all extremely gorgeous. We ended up getting all the digital print because we couldn't resist! Highly recommend Justin and Verona for baby shoot!
Good experience