Want to learn practical tips for improving your well-being and resilience in overcoming challenges?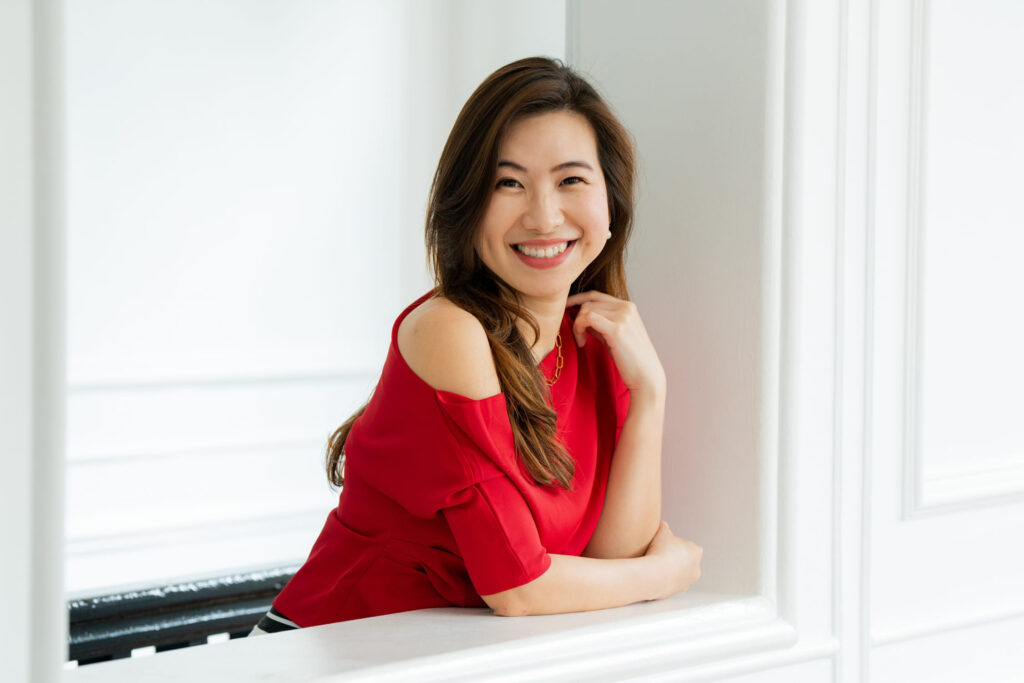 In this feature, we have the pleasure of speaking with Ratna Juita, CEO and Founder of The Mindgem, a learning and development organisation.
With a background as a TEDx speaker, facilitator, and trainer, Ratna has overcome personal struggles and transformed them into catalysts for her own growth — from conquering her trauma to navigating imposter syndrome, she has applied principles of well-being, mindfulness, and self-compassion to surmount obstacles in her life.
Having overcome her personal struggles, Ratna also volunteers to empower young women leaders and shares her insights on pressing well-being issues and tips for improvement.
Additionally, she discusses the importance of professional headshots with White Room Studio. Read on below!
1. ​Can you introduce yourself, plus a bit about your background and what led you to become a well-being strategist, mentor, and coach?

Hello, I'm Ratna! As CEO and Founder of The Mindgem, a mission-driven learning and development organization, I aim to empower individuals and organizations to build a sustainable well-being and resilience as a strategy for personal fulfillment and organisational success. I'm also a TEDx speaker, facilitator and trainer.
My journey to becoming a well-being strategist started with my biggest personal struggle, dealing with public speaking trauma. When I was 13 years old, during my English oral test, I had to recite poetry in front of the class, I was overwhelmed with anxiety which left me unable to say a single word, I was startled, trembled, I went back to my seat and I cried. I failed my final year English oral test. That incident crashed my self-confidence.
Every time I had to present in public, I recalled that trauma and I couldn't present well. I was looking out for ways to overcome this trauma, and I was introduced to Toastmaster, a Public Speaking club. Toastmasters helps me in overcoming my fear of public speaking. I joined several Public Speaking competitions and win some of them.
Pictured: Ratna's numerous awards from her public speaking journey

Apart from Toastmasters, the practice of Mindfulness was the catalyst for my life transformation. It helps me to heal from my public speaking trauma and at the same time learn to be more at ease with the anxiety that comes before speaking. After years of learning and practicing, and witnessing the change, one of my friends invited me to share my experience.
From one workshop to many, I discovered my calling in helping others to overcome similar challenges. That was the beginning of my journey of teaching mindfulness and well-being to the people around me and the community. I started getting speaking and training gigs from corporates while working full-time then.
During Covid, where people struggle with their mental health and well-being, I felt called to support more people, thus I decided to turn my side hustle into full-time business, empowering people and organisations to elevate their well-being and discover their full potential.
Pictured: Ratna smiling for a headshot at White Room Studio's guest lounge and open-air balcony

2. In your opinion, what are some of the most pressing issues facing people's well-being today? As LinkedIn's Top Voice last year, can you share some tips or advice for people who are looking to improve their well-being but aren't sure where to start?

In my opinion, one of the most pressing issues facing people's well-being today is the constant pressure to perform and succeed in a world that never stops. This can lead to burnout, anxiety, and depression, among other mental health issues.
To combat this, my advice would be to come back to our inner compass and evaluate what is truly important for us, define success on our own terms, and focus on building healthy habits that nourish our body and mind, like getting enough sleep, eating well, meditation and exercising regularly.
Surround yourself with positive and supportive people, and don't be afraid to ask for help when you need it. Start small! Tiny habits that are done consistently can have a big impact on one's overall well-being.
Pictured: Ratna practicing meditation at White Room Studio's signature European-inspired arch wall

These habits can be as simple as drinking more water each day, taking a short walk, practicing mindfulness for a few minutes, or even just taking a deep breath and pausing for a moment to check in with oneself. By starting with small, achievable actions, one can build momentum and increase their confidence in making positive changes.
Over time, these tiny habits can add up to significant improvements in mental and physical health, relationships, and overall quality of life. So, don't underestimate the power of starting small and taking consistent action.
Pictured: Ratna hosting a mindfulness and well-being workshop at two different corporate events

Can you talk about a time when you had to overcome a significant obstacle or challenge in your own life, and how you applied the principles of well-being to do so?

As an immigrant who barely spoke English when I first came to Singapore, I was struggling a lot with low self-esteem and imposter syndrome. I received hurtful comments from people that my English was bad, which were detrimental to my personal and professional growth.
I created my own mental prison, lived in a label created by others and trapped in that invisible glass ceiling. It created so much emotional pain!
Pictured: Ratna looking stunning against White Room Studio's plush red wall, which adds a touch of luxe to a professional portrait

When I learn to lean into discomfort, embrace my imperfections, recognise my inner critics, acknowledge its presence and brave enough to step into my space to chart the future on my own terms, better things are unfolding :
♦️ Transforming my fear into fuel that drives me to make a better life for myself – spoke on TEDx, featured by CNA 938 & recognised as LinkedIn Top Voice
♦️ Starting my training and consulting in Singapore 🇸🇬, elevating employees well-being and empowering diversity, equity and inclusions at the workplace (so no one had to experience what I went through)
♦️ Empowering our young future women leaders to have the courage to chart their own career and dream a little bigger
The practice of mindfulness and self-compassion has allowed me to feel safe with my imperfections, look into it with kindness and slowly build inner trust and resources to help me discover the infinite possibilities of my full potential and growth.
Pictured: Ratna enjoying the comfort of White Room Studio's unique studio setting – the perfect sofa backdrop creates a relaxed, wholesome look

In your free time, you also volunteer to grow and build a community of young women leaders. Could you tell us more about what motivated you and how you got started?

Growing up I didn't have a good role model, I was struggling to find my life and career direction and somewhat felt lost. I chanced upon a Facebook ad that promotes Women Mentorship and curiosity led me to apply for it as we get to be mentored by some of the most accomplished women leaders in Singapore.
Since then, I have been volunteering with Young Women Leadership's Connection for the past 5 years, from being a mentee to participate in a Pay-It-Forward Mentorship to mentor the younger female students to help them discover their career aspirations.
I also serve in the Executive Committee as Recruitment Director, grow and build the community of Young Women Leaders who are passionate in making a positive difference in the community and helping them to navigate different phases of their life transitions.
I believe that women are natural leaders and have the power to create positive change in the world. Through my work with this community, I hope to inspire and uplift the next generation of women leaders.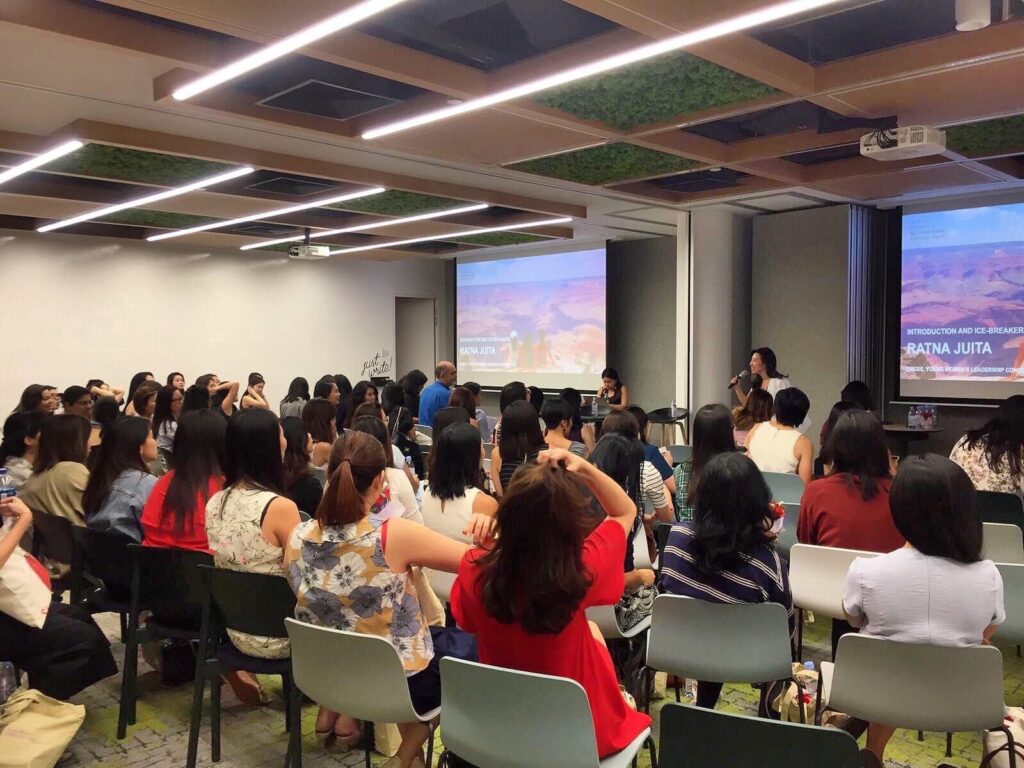 Pictured: Ratna in action during an International Women's Day event in 2019

How important are professional headshots to you and why?
Headshots and professional portraits are incredibly important to me because they are a representation of who I am and what I stand for. I want my professional brand to convey confidence, calm, professionalism, and authenticity. It helps present myself in the best possible light, establish a strong personal brand, and make a positive first impression on potential clients.
Pictured: Ratna looking radiant in her personal branding photos as she reveals her best self in front of the camera

How was your corporate photoshoot experience like at White Room Studio – did you have a vision of what you wanted and did our team achieve it?

I chose to have my corporate photoshoot at White Room Studio, and I must say, I was blown away by the professionalism and creativity of their team.
I totally enjoyed the entire corporate photography session at White Room Studio. My photographer Yan was simply amazing, and her talent and passion for photography shone through in every shot. She was able to capture the essence of my personality and bring out my best features in a way that I never thought possible. I felt completely at ease throughout the shoot, and Yan's direction and guidance were invaluable in creating the perfect shots.
Verona, who was assisting Yan during the shoot, made sure that everything ran smoothly and that I was comfortable throughout the entire session. Her attention to detail and willingness to go above and beyond to ensure that everything was perfect really made a difference in my experience.
Overall, the team at White Room Studio exceeded my expectations. Their professionalism, expertise, and passion for their craft really shone through in every aspect of the experience. I am absolutely thrilled with the final results of the shoot. Thank you, White Room Studio!
***
Unleash Your Professional Presence

If you want to look your best like Ratna, check out the full package details below:
PACKAGE DETAILS
Our Corporate Portraiture Package is priced at $390 for 1 pax and it includes 2 outfits photographed and 2 backdrops of your choice!
You will enjoy 30 minutes of artistic photography in our two-storey shophouse studio, be it headshots or a personal branding session.
From a selection of corporate headshots, half-body and full body shots, you will receive 3 retouched soft copies ideal for LinkedIn, CV, or your website!
Personalised hairstyling and makeup services are also available. At White Room Studio, we also have a fully equipped changing room with a garment steamer, plus a spacious executive guest lounge and pantry for you to get ready before your shoot!
If you wish, we recommend that you bring along any props that may highlight your profession and expertise.
Send us a message via the form below and we'll get back to you shortly!