For parents-to-be who couldn't get professional maternity photos taken during Singapore's circuit breaker, the next 2 blogs are just for you! This guide will show you how you can take brilliant maternity photos at home using your smartphone. Okay, it's not going to be anywhere near the kind of photographs we produce professionally using professional cameras, but with some pro tips from us, we hope to guide you towards creating great memories of these now-or-never milestones and not give it a miss!
What's more, during this circuit breaker period, contact us anytime via whatsapp +6587696003 if you need any hands-on advice while you're trying this out and we'll be more than happy to give some real-time tips, totally free!
For you guys out there wanting to do family/pet/makeover/couple/graduation and other non-urgent shoots, please wait for us! The studio will be open soon 🙂
Disclaimer: All photos in this blog were taken with professional camera, for illustration purposes only.
---
The best time for maternity photos is usually 32-36 weeks into pregnancy. If you're reading this blog, you're probably in the later weeks, and don't worry! It'll still be good.


What You Need
Smartphone
iPhones or Andriod smartphones, they have amazing capabilities for you to shoot creatively. Why do photographers use SLRs then, you may ask. We seek the finest pixel quality which phones simply are not made to have! Photos taken by smartphones look great on the small screen, and can also print out well in small postcard prints, but even with the high resolution available in phones nowadays, once they are blown up you'll be able to see the lack of sharpness, details, tonal gradation, limited dynamic range, the fake shallow depth of field when used in Portrait mode etc. However, it is very easy to use, so snap away, and you will be able to produce good results for a visual treat for your social media.

Hair & Makeup
Just a simple day-to-day makeup for mum-to-be, neat and natural hair styling for both of you will do. As the photos will all be taken with natural light, makeup that is too heavy, lipstick that's too red will not turn out as well.
Wardrobe & Accessories
No you can't go shopping! Work with what you have at home. Sarongs, crop tops, wraps, or if you prefer not to show skin, a tight fitting outfit. Even flowy yoga pants with a fitting top will be ok so long as you feel relaxed. Do avoid loose clothing as you'll just be looking big and not show off the curves of belly shots.
Let's not forget accessories! Sometimes a striking pendant or pair of earrings can bring more elegance into a shot as well.

Props
We're not a fan of too much propping, however little personal touches actually brings something special into maternity photos. Eg, mittens you've knitted, or tiny baby shoes awaiting baby's arrival, or a quilt blanket from grandparents.
Kids & Pets
Older children can be a great help! They can help to take photos of Mum & Dad. I can hear you say, hmmm. are you sure?? Ok… this will be age dependent 🙂
How about pets? Sometimes clients feel overwhelmed and say to us, no no i'm not going to bring my dogs or cats. Being crazy about animals, I truty feel that it IS worth the little extra effort to incorporate pets in your family photos. Even if it's just for a few snaps, do it! I would leave shots with pets right at the end.

Who's the Photographer?
Dad-To-Be . Mum-To-Be . Helper . Self Timer
In many shots it'll probably be the hubby taking shots of wifey and kids. Then swap roles!
For family shots, try to get your domestic helper to help. The trick is to set the angle and zoom, take a photo and show her what's included in the frame (from this lamp to that wall), remind your helper to shoot from high or low, and then keep snapping! Ask your helper to take like 50 snaps while you smile, look at the camera, look at each other, hug, heads close together etc. You can then sieve through those snaps and probably can get 4-5 good ones out of the lot.

It'll also be great if you have a phone tripod, and you can set the phone to 10sec timer, compose, and then run into the scene and break into a smile.

Okay! We're now ready!
---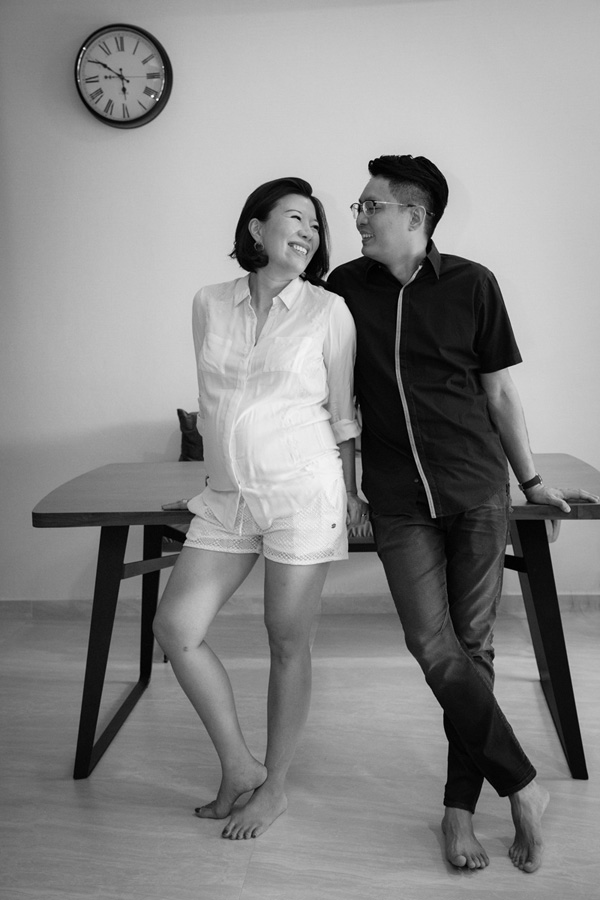 Couple Shots – Here you will need the tripod/older kid/helper. A nice angle is if you're seated and the phone is positioned slightly higher than your heads. Keep your foreheads close together and look in the same direction. For example, look at belly, or into the distance, or into the camera, and look at each other smiling.

LIFESTYLE SHOTS AROUND YOUR HOME
Choose spots in your home which are bright. If the room is dark, standing next to a window or balcony will be lovely for some contrasty side light shots. The great thing with a home shoot is that it's so personal, so places like your bed, sofa, balcony, dining set, even the kitchen can be great spots.
HOW TO POSE
If I was asked to stand and relax, I always feel really uncomfortable and don't know which leg to put my weight on, where to place my arms, where to look, and just tense up and give a fake smile. I know how awkward it is for most people to be in front of a camera! Best thing to do? Find something to lean against or be seated. Lean against a furniture, or a wall, or doorway, and you'll immediately feel more "in control" and have a sense of direction. The poses will come naturally from there and suddenly you'll have a place to position your hands, you may naturally cross your legs, or look into a camera naturally. Try it!
HOW ABOUT OLDER KIDS?
"Stand there. No, I mean there. There! Okay… now… look at Daddy and smile… No! Don't run away!"
With toddlers, things take on a life of their own, so go with the flow! You'll need to follow them rather than make them stay in one spot. Be where they are, smile, and don't get too stressed when the kids do not do as you told them. Just remember to keep the bump present and smile, don't frown. The trick with kids is to take many many shots in a go, do not think that you'll get it right with just 1 click!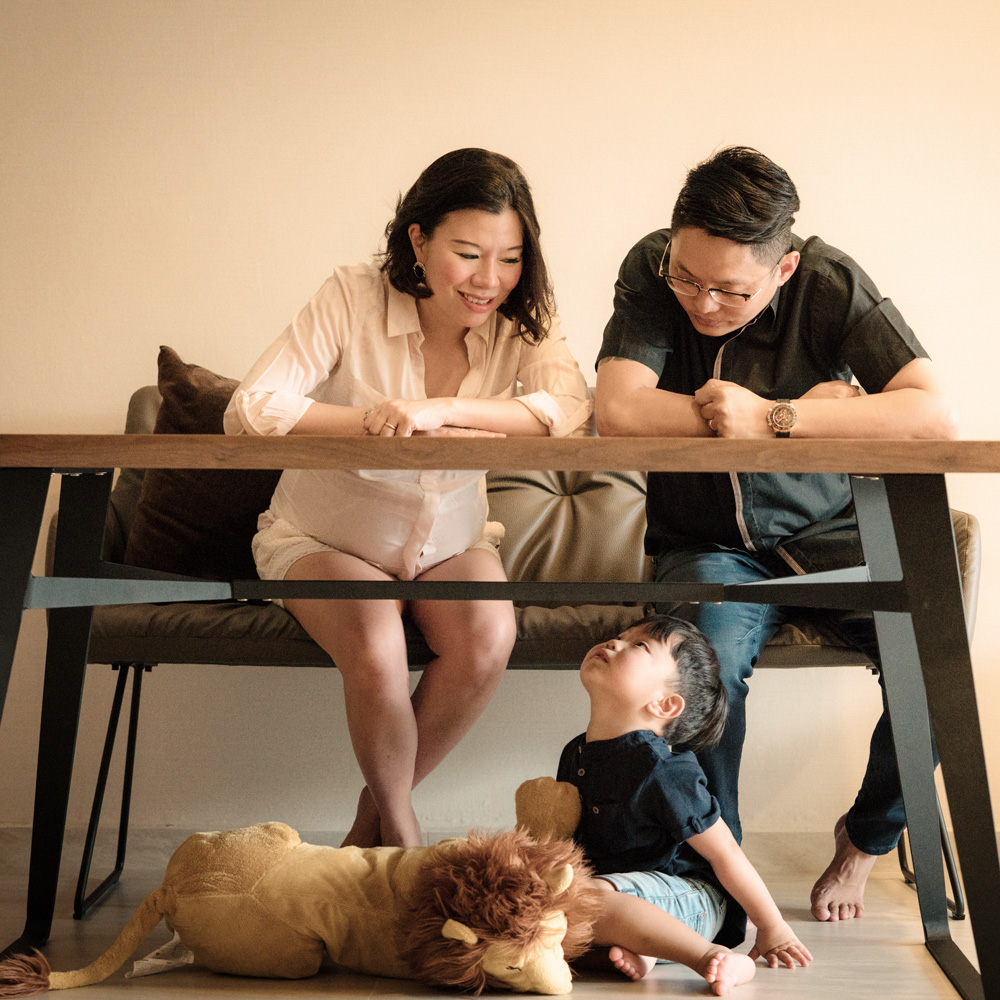 WINDOW LIGHTING
For drama and contrast, stand, sit or lean next to a window or balcony doors. Photographer: If you position yourself so that you and subject forms a parallel line to the window, you'll have a brighter light on subject. If you stand very slightly say 1m away from the window, there'll be more dark shadows for a dramatic effect. If you stand to form a perpendicular line with your subject, this will create a backlit silhouette shot which is awesome for belly shots!
Window Natural Light – stand 1m away from window and using curtains to further soften the sunlight coming through the windows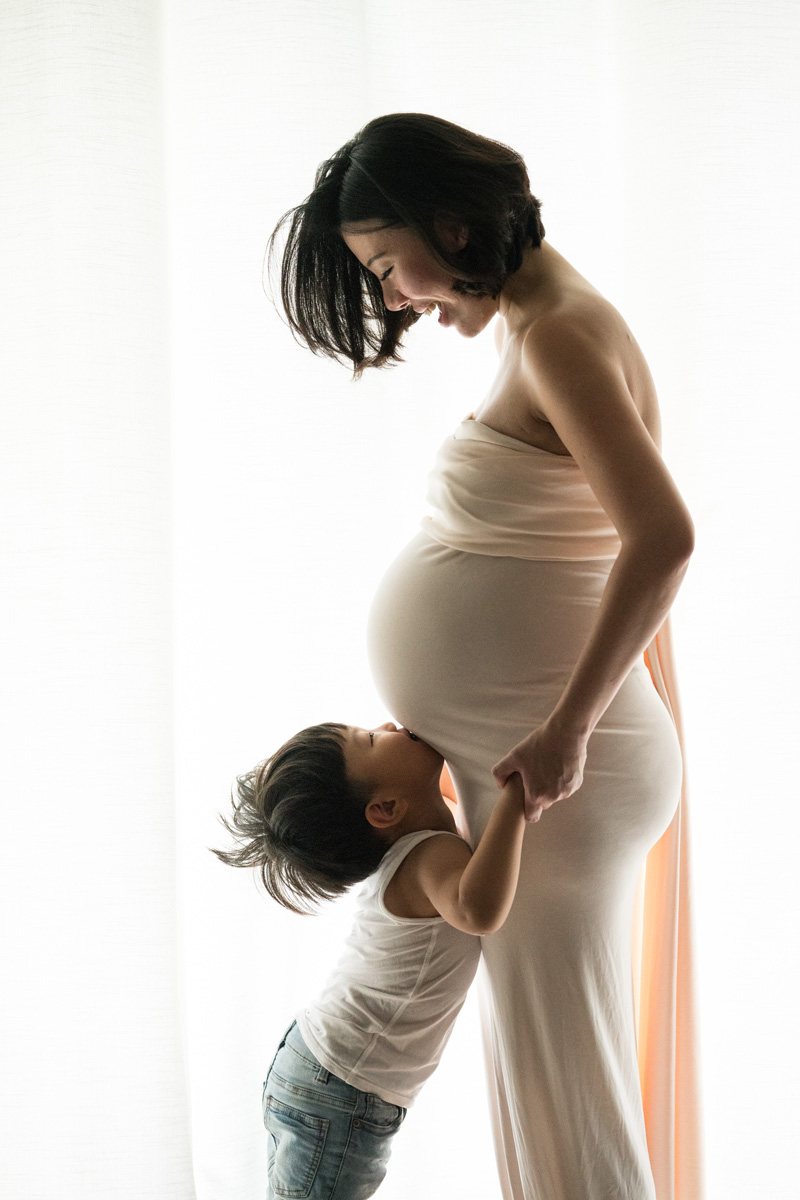 Beware the double chin! – When looking down at belly, make sure your head isn't completely tilted at a weird angle, this can create the horrid double chin. It helps to slightly extend the neck out whilst looking down, and a small trick is to very slightly bite the very tip of your tongue whilst looking down. You can still smile!
AT THE BALCONY
Here are 2 examples of backlit shots taken facing the balcony. The silhouette effect on dad and son creates a dramatic and cool effect, coupled with them smiling and looking at each other whilst playing tug-of-war creates the feel of naturalness in the snap.
For this second photo, the image was later brightened in edit to give a light-infused feel that matches the intimate moment of mother and son sitting at the balcony 🙂
Related: A MOTHER'S LOVE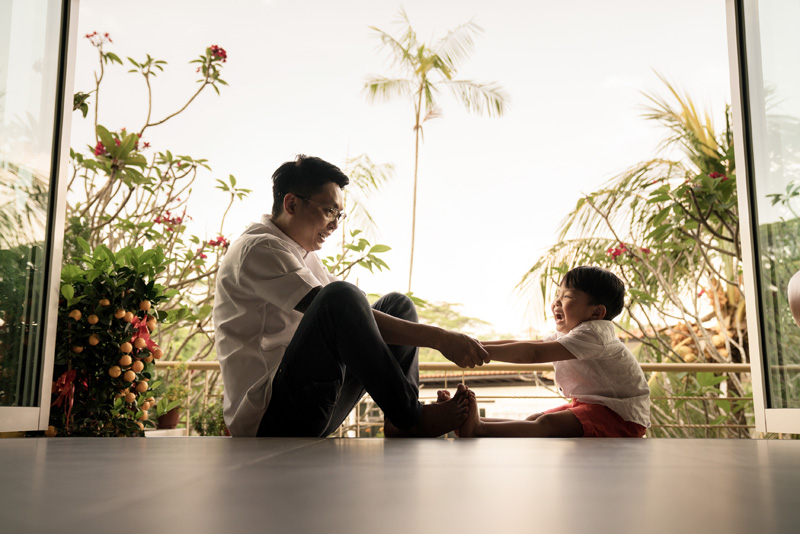 Keep It Natural – Try to take shots where you're not looking into the phone! This immediately creates a feel of naturalness, a stolen moment, and people get drawn into the smiles, the pensive thoughts behind the eyes, and feel the love between the family.
Rule of Thirds – Our natural tendency is to place the faces smacked right in the middle of your frame. Try something different, and place the subjects 1/3 away from the left or right. This creates a dynamic balance between subject and space.
FACE THE SKY . BE IN THE SHADE

Find a spot where you can be facing the sky, but not in the sunlight! Sit at the steps of your doorway, or at the balcony. You want to be in the shade for this, and not have direct sunlight falling on your faces. Why? Harsh sunlight causes unpleasant shadows especially under your eyes, nose and chin, and bring out all the veins and expression lines with overexposed cheeks and nose tips. Not good! However, if you're in the shade but facing the sky, the light from the sky will evenly lit your faces in a soft desirable glow and such photos are hard to fail.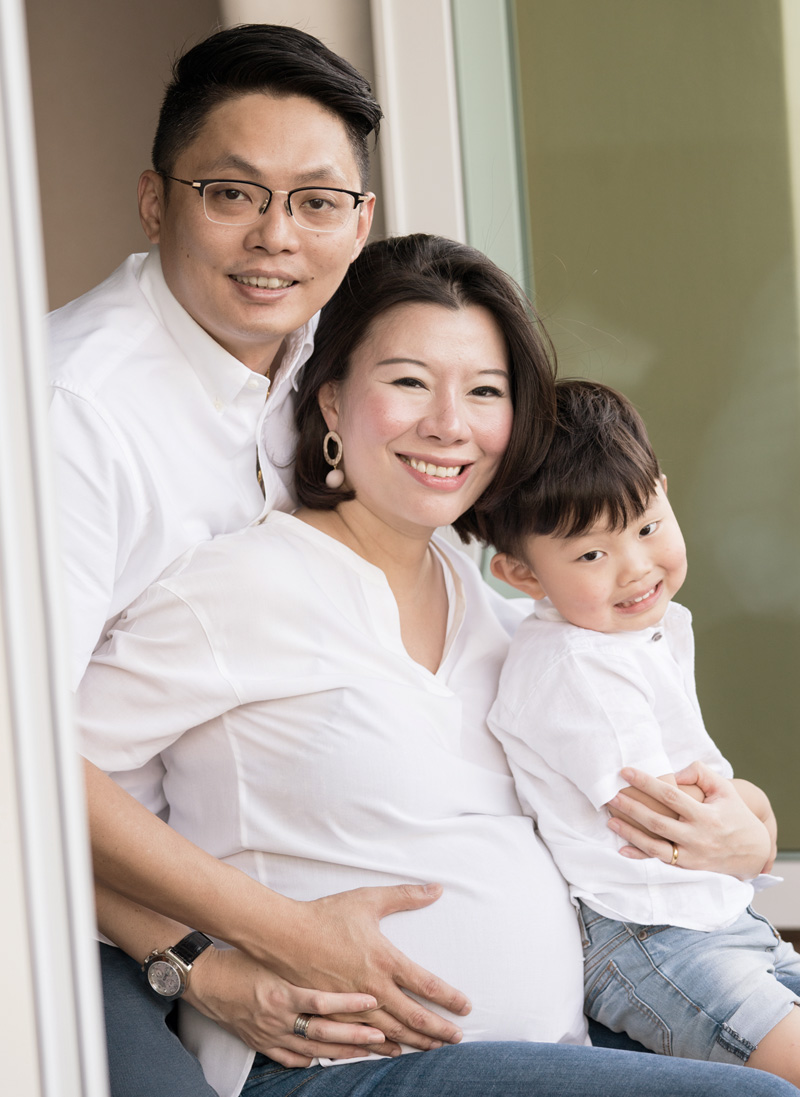 Eye Contact with a Smile – When looking into the phone, try to imagine that you're looking beyond the phone, over the shoulders of your phtotographer. Be mindful to relax your shoulder and breath normally. Then slowly break into a smile, or a laugh, or tilt your head back into a gaffe! Everyone loves a classic shot like that. Get your older kids to stand behind photographer and make some funny faces to help!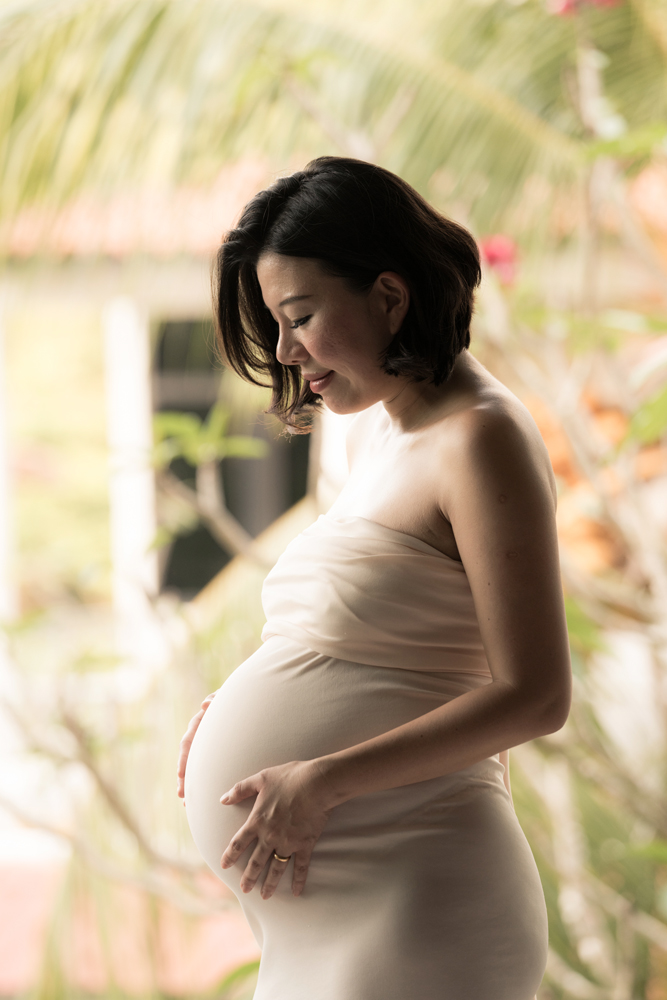 Hands on Belly – You can make a heart shape with your hands, or just position one hand at the top and one at the bottom of your bump. Photos can be taken straight on (if belly is big enough), or at a slight angle so that the bump is more obvious, and also at a full 90 degree to see the entire protrusion of baby bump.
USE PORTRAIT MODE IN YOUR SMARTPHONE
You know those lovely photos where the background is blurred and the subject is clear? For those of you who know a little about photography, we're taking about achieving a shallow depth of field, and creating bokeh in the blurred background. Without getting too technical, this is easily achieved with your phones! Okay, it's an artificially created effect digitally in phones, wouldn't look good it you try to blow this photo up big (the edging is atrocious!) but it's great for a little wow factor nevertheless. It can be a little tricky using the Portrait Mode, your subject needs to be at a certain distance away. Make sure to focus on your subject by touching the screen on her first. Choose a background which doesn't have too much contrast. A brightly lit or lighter colored background like facing outside of a window works well.