Thinking of taking your headshots outdoors? You've made a great choice! Outdoor corporate headshots offer a unique opportunity to capture professional and dynamic images while showcasing the beauty of the surrounding environment.
Looking towards the future as a group: outdoor corporate headshots offer a refreshing and visually appealing alternative to traditional indoor portraits.
And if you're in Singapore, a city known for its stunning architecture, lush parks, and vibrant landscapes, the options are aplenty. But before you venture out, it's important to consider a few key factors that will help you choose the perfect location. (Or if you already have a place in mind, why not check out these Top 5 Outdoor Locations in Singapore For Your Next Corporate Photoshoot?)
In this blog, we'll explore the key considerations to keep in mind when selecting a location for your outdoor corporate headshot session. From aligning with your brand image to conveying the desired atmosphere, we will guide you through the process of finding the ideal backdrop that will enhance the visual impact of your headshots.
So, let's dive in!
What atmosphere should be conveyed in the headshots?

The atmosphere of the location should reflect the desired mood or tone of the corporate headshots. For a professional and formal atmosphere, selecting locations such as business districts or corporate parks can be suitable.
Conversely, if a more relaxed and creative atmosphere is desired, parks or scenic areas might be more appropriate. Consider the target audience and the message the company wants to convey through the headshots!
Pictured: Tiffany is a Integrative Wellness Physician and Medical Director who is passionate about health and wellness, education, leadership, and women empowerment.
Through these outdoor headshots, she sought to convey the message that as a doctor, she not only possesses the expertise to guide individuals on their path to optimal health but also encourages them to identify their full potential and strive towards becoming their best selves.
How does the brand image affect the choice of location?
The chosen location should align with the company's brand image and values, or your personal brand. For instance, if the company is in the technology industry and wants to convey a modern and innovative image, selecting a backdrop with sleek architecture or a futuristic skyline would be appropriate.
On the other hand, if the company has a more traditional and conservative brand, a classic and elegant setting might be more suitable.
Pictured: Group photo of staff from a Search & Selection firm (left) and a group photo of engineers from a IT company (right).

As you can see above, the group shot taken of a Search & Selection firm, taken in a meeting room, exudes professionalism and a focused environment. In contrast, the group photo of engineers set against a backdrop of lush greenery, showcases a harmonious blend of technical expertise and a connection with nature.
These deliberate choices in outdoor corporate photography reflect the distinct personalities and work environments of each group, highlighting the Search & Selection firm's emphasis on professionalism and the IT company's incorporation of a vibrant nature-inspired atmosphere into their corporate culture.
Capturing outdoor corporate headshots in a warehouse exudes a raw industrial charm, while shooting them outside a corporate office building adds a touch of sophistication amidst the bustling urban landscape.
What is the aesthetic appeal of the location?

Choosing a location with aesthetic appeal is crucial for creating visually striking headshots. An architectural landmark can add a sense of sophistication and professionalism to the images, while a natural landscape can provide a refreshing and organic backdrop.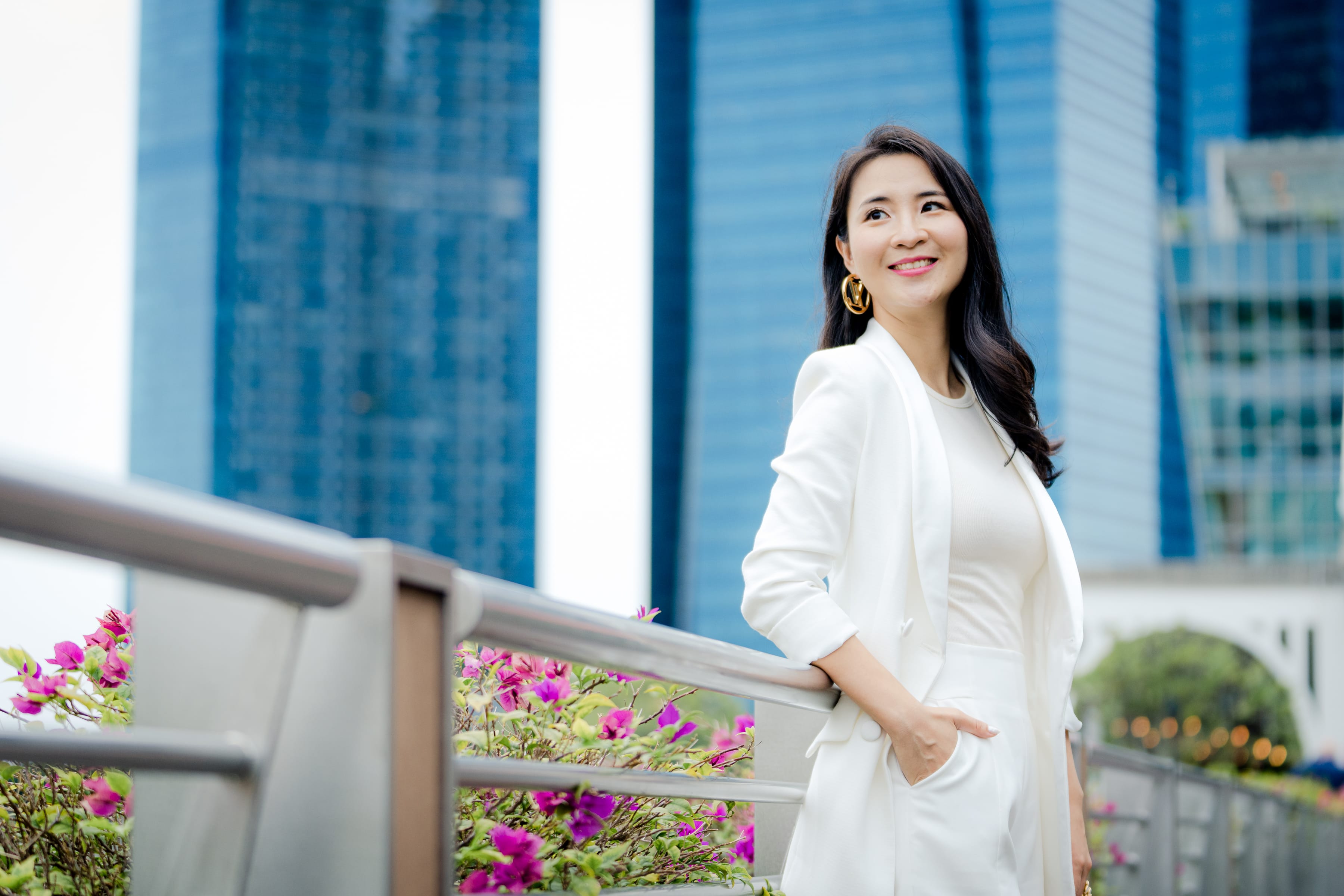 Whether you choose to frame the shots with the skyline or take advantage of the lush greenery and promenades, Marina Bay offers a visually captivating environment that enhances the overall aesthetic appeal of your corporate headshots, making them truly stand out.
Natural light is a photographer's best friend – taking your headshots outdoors will naturally give your photos a warm and approachable feel.
Additionally, outdoor locations offer a wide range of diverse settings, allowing you to capture professional headshots that align with your unique style and brand image. However, if you're looking for a studio setting that offer both indoor and outdoor aesthetics, consider White Room Studio!
White Room Studio – Your One-Stop Corporate Photo Studio
Nestled in the historical enclave of River Valley Road, White Room Studio has thoughtfully crafted a unique natural light shophouse-studio environment, the perfect backdrop for corporate portraits.
You'll have the opportunity to utilise our open-air balcony that overlooks the greenery of Singapore's iconic Fort Canning Park, European-inspired space with an arch walkway, the rustic and homely interiors of a colonial era shophouse and many more!
With an abundance of furniture to experiment with, ample natural light streaming through the windows of our Peranakan-inspired shophouse, and versatile settings spread across two storeys, you'll have endless possibilities to capture professional and dynamic images with our professional photographers.
Plus, enjoy the comfort of air conditioning throughout the session, ensuring a pleasant and relaxed environment for your corporate headshots!
PACKAGE DETAILS
Our Corporate Portraiture Package is priced at $390 for 1 pax and it includes 2 outfits photographed and 2 backdrops of your choice!
You will enjoy 30 minutes of artistic photography in our two-storey shophouse studio, be it headshots or a personal branding session.
From a selection of corporate headshots, half-body and full body shots, you will receive 3 retouched soft copies ideal for LinkedIn, CV, or your website!
Personalised hairstyling and makeup services are also available. At White Room Studio, we also have a fully equipped changing room with a garment steamer, plus a spacious executive guest lounge and pantry for you to get ready before your shoot!
If you wish, we recommend that you bring along any props that may highlight your profession and expertise.
Send us a message via the form below and we'll get back to you shortly!