Hari Raya is a day of joyous celebration to mark the end of the holy month for all Muslims. Why not make it more memorable by doing a family photoshoot? It's a wonderful way to bond with the family and will get everyone into the spirit of Hari Raya!
Bring your family together for a delightful and festive Eid gathering at White Room Studio!
Our studio is located in the heart of the city, easily accessible by public transport, and is Muslim-family friendly. Recently renovated, the studio is spread over 2 floors of a Peranakan shophouse.
We have specially created genuine concepts and themes that are rich in the cultural history of Singapore as well as with nature just for you!
To help you get started, we answered your Frequently Asked Questions about a Hari Raya photoshoot below:
What should I wear for a Hari Raya photoshoot?
How many people can join the Hari Raya photoshoot?
When is the best time for a Hari Raya photoshoot?
Read on to see photos that celebrate this joyous occasion!
What Should I Wear for a Hari Raya Photoshoot?
Come dressed in your beautiful and colourful Hari Raya baju! A key tip is to make sure everyone is wearing a range of different secondary colours to keep it visually interesting. Go for patterned fabrics such as batik, or interesting textures that will stand out when photographed.
This will complement the entire family perfectly and everyone will look cohesive, which is exactly the effect you want when taking a group portrait.
White Room Studio is the first photography studio in Singapore with a unique Peranakan concept! Each Peranakan tile is handpicked for its intricate design, and the entire corner on the second floor is decorated to reflect our local Malay and Chinese heritage. 
A perfect photo spot for Hari Raya family photos!
When you arrive on the third floor of White Room Studio, you'll be greeted by a spacious loft filled with natural light pouring in through the tall windows!
Here, we have created a one-of-a-kind studio setting with European-inspired elements. It makes the ideal classy background to bring out the vibrant textures and colours of each family's outfits.
Our elegant arch and ultra cosy sofas are picture-perfect for a family reunion. Just look at the photos below!
Before your Hari Raya family photoshoot, you can discuss what you would like to photograph with the photographer. We can always start the family shoot with some solemn yet meaningful moments of the young seeking forgiveness from the elderly and each other, followed by family portraits and finally some fun and fashionable shots of each individual!
You can also bring your fun props / family heirlooms along for the Hari Raya photoshoot. We guarantee an enjoyable and fun-filled session for both kids and grandparents!
"The photoshoot with White Room Studio was well taken cared of from the beginning till the end. They have a professional touch from the time you mention that you want a photoshoot session. You will receive the company rate card and they will share the details in a very patient manner. They were very friendly and approachable and did not force anything but help you make your decision. Our coffee table book was a hit when we showed it to our relatives during Eid! You will somehow see that this studio has great class above the rest, they take on the job with finesse and make you feel great. To those who like to take amazing photos, with great service and effort, come to the studio and they will show you what I'm talking about. All I can say, it is top-notch and ready to take on the world. Great job White Room Studio! After all great customer service is what we all want from any service."

– Muhd Aziz Hakim & Family
How Many People Can Join the Hari Raya Photoshoot?
You'll be pleased to know that there are NO restrictions on the number of people that can join a family Hari Raya photoshoot! Big and multi-generation families are welcome — we can accommodate up to 40 pax in our spacious two-storey studio!
Apart from wearing traditional Hari Raya baju, we recommend preparing some casual outfits to have a wider variety of photographs!
You can change up to 3 outfits, with different colour schemes to match multiple studio settings!
We have plenty of backdrops for classic portraits and it's perfect for grandparents and families who prefer clean, looking-at-camera-and-smiling shots. We cater to that too!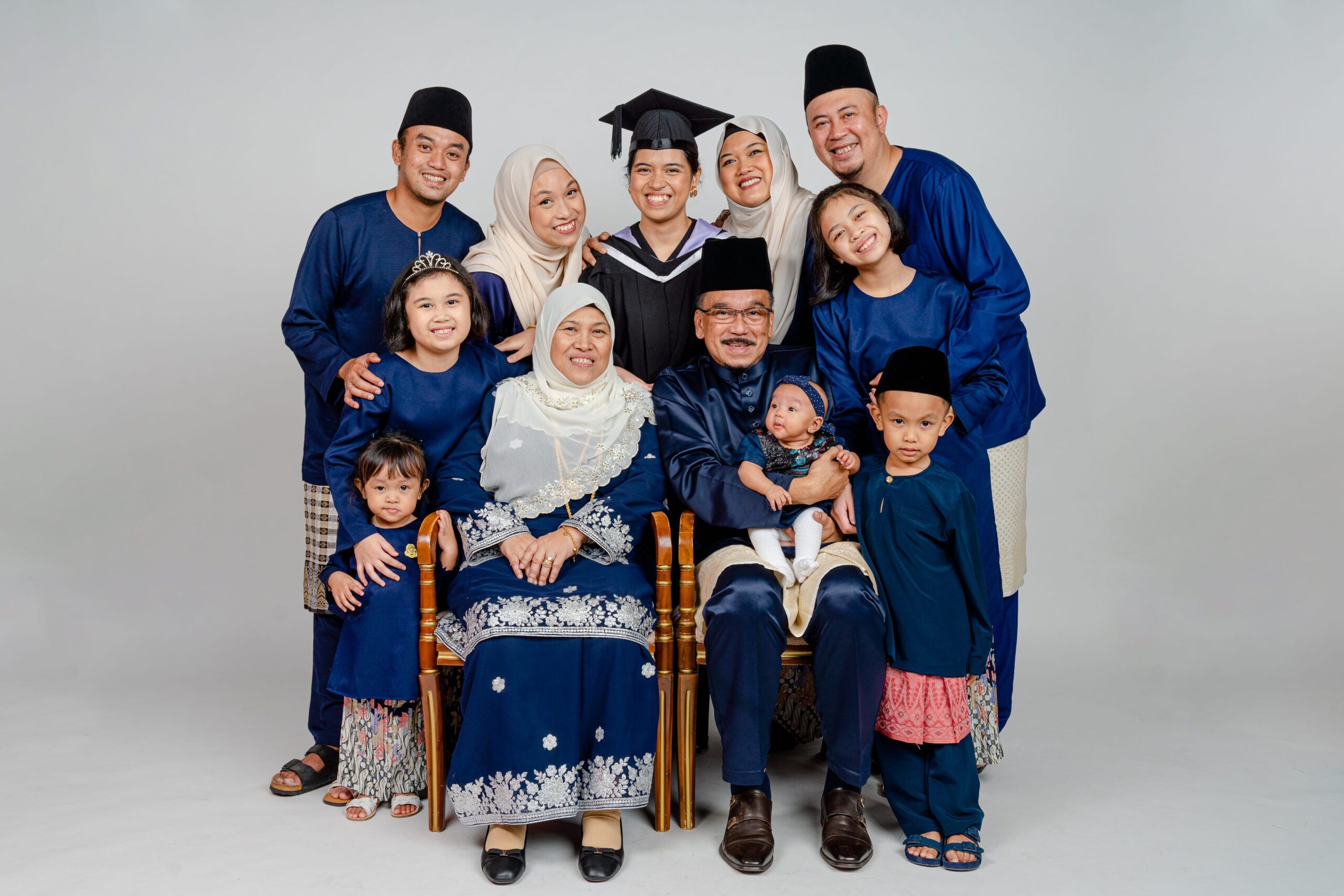 If you need a quick refreshment or a take a break during your shoot, our newly renovated guest lounge is the place for you.
Relax in the comfort of our air-conditioned lounge complete with a pantry full of Halal-certified snacks and drinks, just for White Room Studio clients! This will keep young kids happy and full of energy for the photoshoot.
You are also welcome to drop by 10-15 minutes earlier before your shoot to get ready first!
We also have dedicated changing rooms, including a garment steamer, hangers, safety pins and more. Everyone will be well looked after, and if you need anything else, our studio assistants are available to attend to your request.
When is the Best Time for a Hari Raya Photoshoot?
For a weekend photoshoot during Eid, we suggest booking at least 1-2 months in advance!
It is actually really quick to book a Hari Raya photoshoot on weekdays, do reach out to us 1 week before to make a reservation!
Come prepared for a wonderful time and soak into the colourful decor of our studio with your loved ones for your Hari Raya family photoshoot! Check out these recent shoots in our studio!
See our full product catalog for beautifully crafted family memorabilia such as canvases, frames, acrylic displays, and photo albums. Made with the highest quality, they are meant to last for generations and will not fade over decades!
Make this Hari Raya more colourful and cheerful to mark a new beginning for you and your loved ones! More details below.
The White Room Experience
Taking a photo is not merely clicking on the shutter. For us, it is designing a photography experience meant to capture the best version of you and your loved ones. Have a look at the White Room Experience below:
If you'd like to have a personalised makeover for your photoshoot, book a private makeup & hairstyling session with our professional makeup artists in the comforts of our cosy vanity room!
Feel free to use our changing rooms to get ready – everything you need (garment hangers, steam iron, etc) is prepared for you!
Family & Hari Raya Photoshoot Package Details

Our Eid Studio Package starts from $490 for up to 4 pax ($20/extra pax) and includes 1.5 hours of amazing fun and laughter in White Room Studio!
We highly recommended preparing 3 outfits (1 more traditional Hari Raya baju, 1 casual Hari Raya baju, and 1 other light-coloured, relaxed outfit for a variety of family portraits)!
Do bring along any other props you like for the shoot to personalize your family photos!
Download our Rate Card below: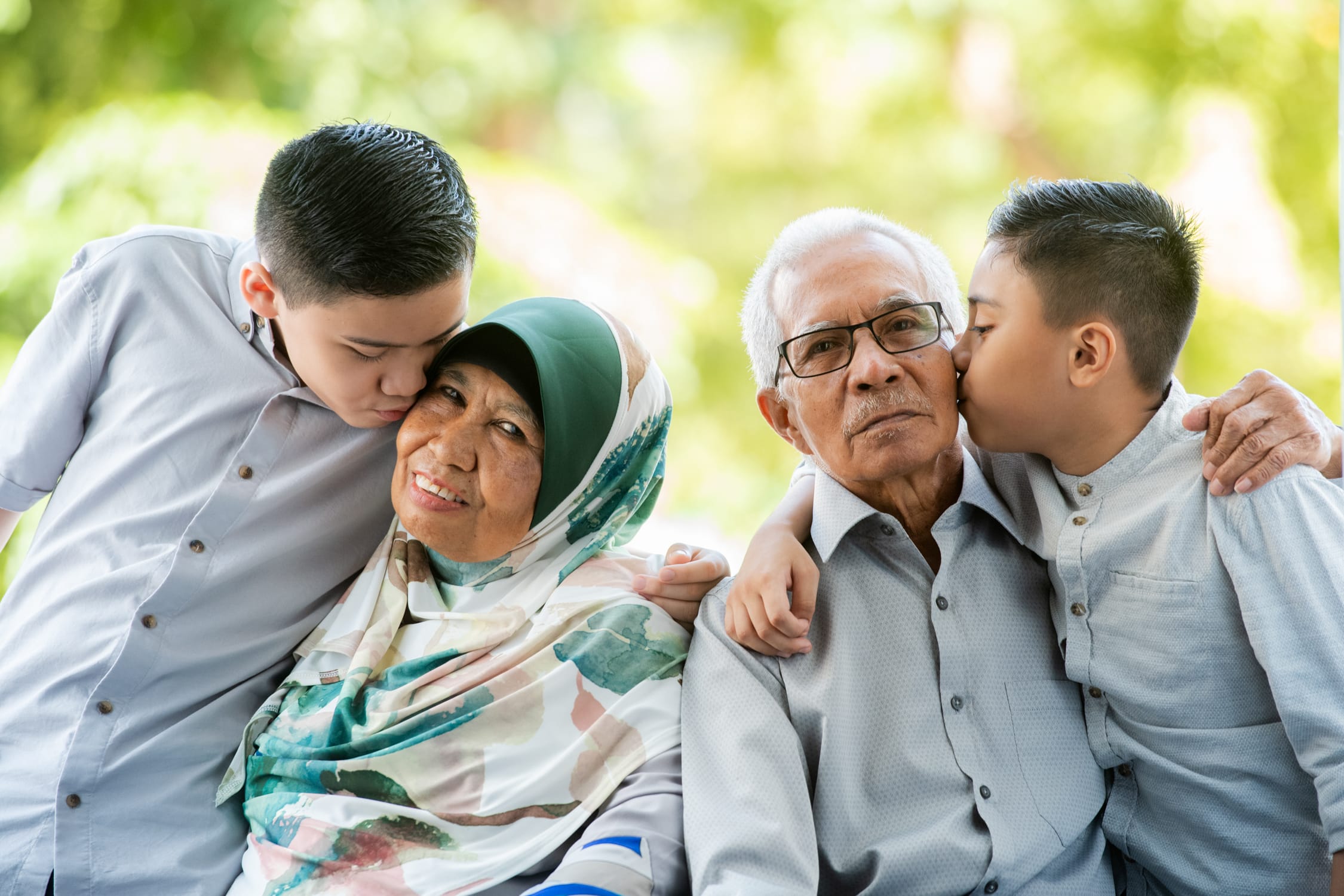 Contact us to book your shoot!
"Memories of a FAMILY DAY ❤️, not just a family photoshoot. The pictures are happy and so reflective of the relationships between different family members, with cheeky glances, knowing looks, giggles, laughter, and friendship. I will really treasure these pictures and the wonderful way our family photographer, De Lun, captured the essence of my precious family.

The main thing I love is that he captured my sons the way that they really are!!

I highly recommend White Room Studio!

Not forgetting the studio ambiance, decor, and natural light – they all gave us the feeling of relaxation. Thumbs up!! 👍🏼👍🏼👍🏼👍🏼👍🏼"

– Yana Rosli & Family