Cake smash photoshoots have become a sensation in recent years, and it's easy to see why! These cake smash sessions blend creativity, innocence, and unadulterated delight, turning an ordinary birthday photoshoot into a magical experience.
Imagine your little prince or princess diving into a beautifully decorated cake, relishing its taste, and making adorable memories that will become a precious keepsake for years to come.
While cake smash photoshoots sound enchanting, we understand that not all kids are immediately comfortable with the idea of smashing into a cake. The texture, the mess, and the unfamiliarity might be a bit overwhelming for some tiny tots.
But fear not! We've got you covered with some helpful strategies (condensed into 5 sweet tips) to ease your child into the cake smashing fun — moms and dads, you can enjoy and have fun too!
The Magic of A Family and Cake Smash Photoshoot 🍰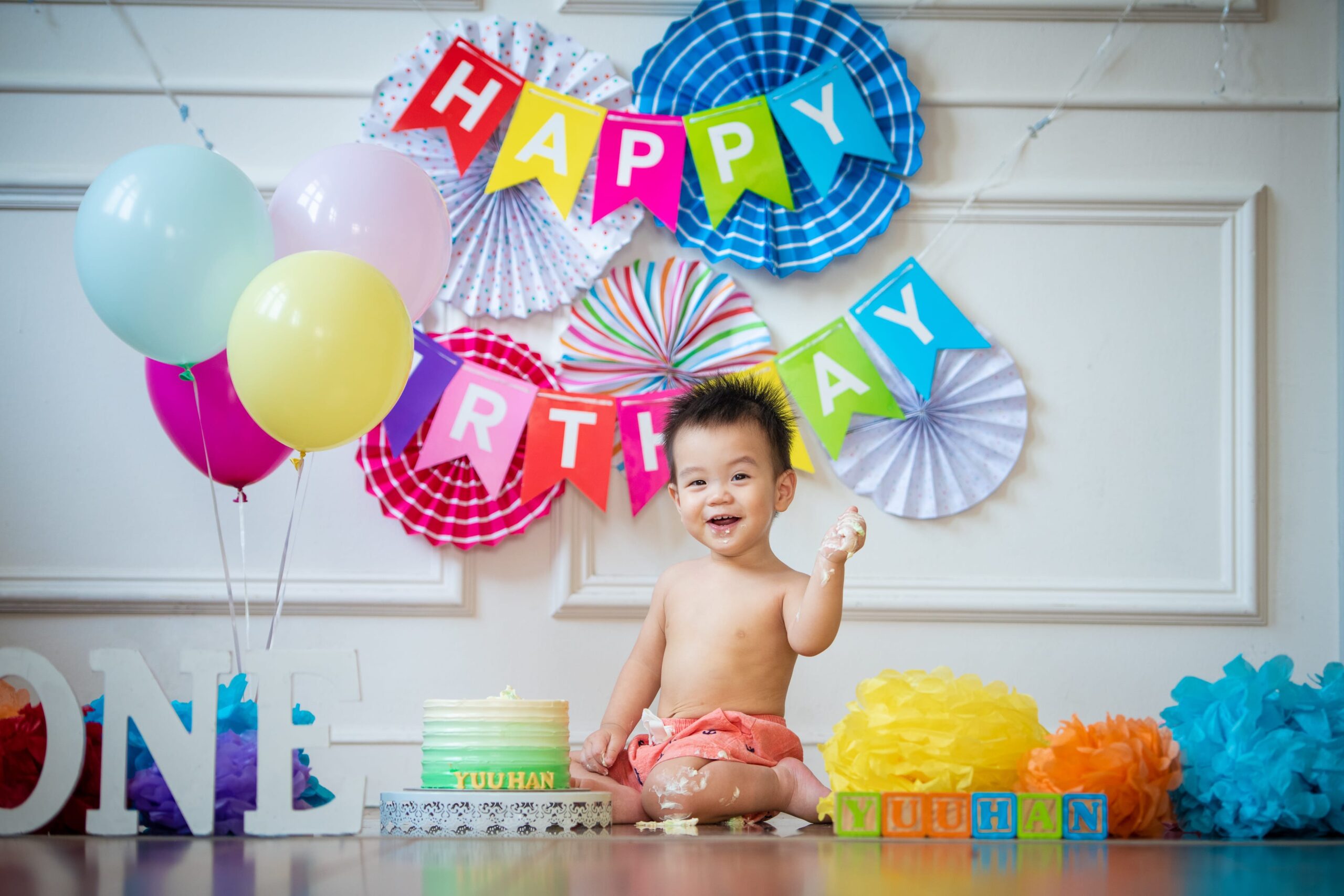 Your child's first birthday is a major milestone, not just for them but for you as parents as well. It marks the completion of a remarkable journey during which you witnessed their growth and development.
Traditional birthday parties are wonderful, but a cake smash shoot adds a touch of uniqueness and creativity to your child's special day. Instead of the typical cake-cutting ceremony, a cake smash allows your little one to express themselves freely, exploring new textures and flavours in a playful and engaging manner.
Mei Ting surprises Mason with his sweet treat (left) while Angeline enjoys a bite of cake with baby Grayson (right).

Our cake smash photoshoot at White Room Studio was an experience we will treasure forever! At first, we were a bit unsure if our child would enjoy it, but the team at the studio put all our worries at ease. They guided us through the preparation process, ensuring we had the perfect cake and theme that matched our little one's personality. The moment Vera dove into the cake, her face lit up with excitement, and we knew we made the right decision. The photographs captured every adorable expression, and we can't help but smile every time we look at them." – Charmaine

#1 Is Your Child Cake-Shy? No Worries!

🎂



Before the photoshoot, about one to two weeks earlier, introduce your child to the texture of cake by allowing them to touch and play with a small piece at home. Turn it into a fun sensory activity, and who knows, they might even get a taste for it!
Create a playful environment by introducing the cake as a prop during playtime. Let your child explore it with their hands, perhaps even allowing them to dip their fingers in icing. This can help build familiarity and curiosity.
#2 Pick Your Perfect Flavour!

🎂



At our cake smash sessions, we ensure every moment is tastefully photographed with love and care. The best part? Each cake is uniquely designed! Your baby gets to have their very own birthday cake, crafted in collaboration with our artisanal bakery.
To make the experience worry-free, let us know about any dietary restrictions or food allergies your child may have. We can create a sugarless and/or eggless cake tailored just for them.
Rest assured, you won't have to fret about additional costs, as the cake and decorations are all covered in the package. Enjoy the celebration without any extra hassle!
You can customise the shoot to fit your preferences and number of pax joining in as well. Download our Rate Card below to find out more:
#3 Pick Your Party Aesthetic! 🎉

Next, don't forget a theme for the photoshoot that reflects your child's interests or a story that you wish to tell. We offer a variety of props to enhance the ambiance and create vibrant setups for captivating pictures.
Balloons add a touch of fun and can also serve as exciting props for your little one to interact with during the photoshoot.
Bryan and Nicolette share their thoughts with us:
We loved the bright and vibrant decorations, they set the perfect tone for a cake smash! Our baby was mesmerised by the colourful surroundings. It was a joy to see Valerie being so happy, and we couldn't help but join in the fun!

As parents, these photos hold immense sentimental value for us. Thank you White Room Studio for making our little one's first birthday so special and unforgettable!"
These four themes are White Room Studio's signature setups, and if you'd like to bring your own decorations, feel free to do so!
#4 Time It Right! 💤

We all know how crucial naptime is for our little bundles of joy. A well-rested child is more likely to be alert, engaged, and ready to explore the cake with enthusiasm. They are also more relaxed and comfortable, and this creates a cooperative environment with the photographer where we strive to capture those playful expressions and genuine interactions.
By scheduling the photoshoot after a nap, you're setting the stage for a happy and energetic cake smash session, where your child's radiant smiles and laughter shine through every frame.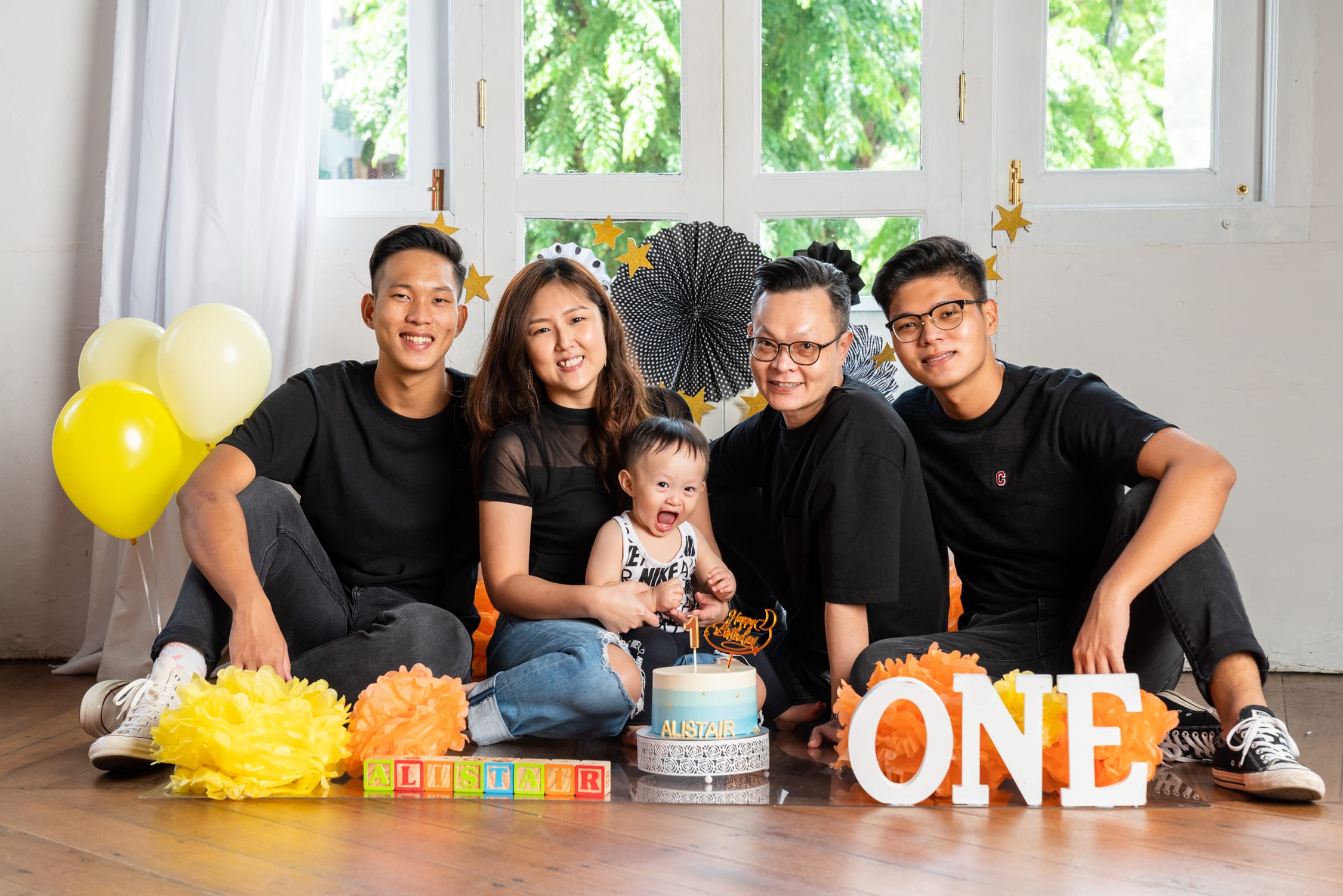 #5 Celebrating Love Beyond the Cake 💕

We understand that the joy of celebrating your child's first birthday extends beyond the cake smashing moment. While the cake steals the show, the love that surrounds your little one is equally magical, and we are all about capturing that enchanting essence!
Picture this: before the decorations go up and the smashing begins, we'll sneak in some time to let your family bonds take the spotlight. It's like a spontaneous dance-off, where we capture those impromptu snuggles, mischievous giggles, and loving glances. These family portraits are the icing on the cake – the touch that elevates your child's first birthday photoshoot to a realm of heartfelt memories.
We encourage you to be yourselves, let loose, and embrace the joy of the moment. No forced poses or stiff smiles here! Instead, we'll blend into the background like stealthy paparazzi (the friendly, camera-wielding kind) and let the magic happen naturally. Trust us; it's in those candid, unscripted moments where your unique family tale unfolds.
A Blissful Cake Smash Photoshoot at White Room Studio

Toddlers are known for their unpredictable and adorable expressions. During a cake smash session, your child might show a range of emotions, from curiosity to hesitation, from excitement to surprise. Our team is dedicated to ensuring a memorable cake smash photoshoot that not only captures beautiful images but also creates an enjoyable and stress-free experience for both you and your child.
Remember to choose the right studio, plan your outfits, schedule hair and makeup and most importantly, have fun!
We suggest booking at least 2 months in advance for a weekend photoshoot! It's also really easy to book a cake smash photoshoot on weekdays – you can reach out to us 2 weeks before to make a reservation!
The White Room Experience
Taking a photo is not merely clicking on the shutter. For us, it is designing a photography experience meant to capture the best version of you and your loved ones. Have a look at the White Room Experience below:
If you'd like to have a personalised makeover for your photoshoot, book a private makeup & hairstyling session with our professional makeup artists in the comforts of our cosy vanity room!
Feel free to use our changing rooms to get ready – everything you need (garment hangers, steam iron, etc) is prepared for you!
Amenities You Can Expect At White Room Studio
Our newly refurbished guest lounge provides the ideal place to unwind and relax while taking a series of fantastic photos with us.
You can take a breather in our cool, air-conditioned lounge, complete with a pantry packed with treats only for our amazing White Room Studio clients. It's especially great for families with little ones who need a boost of energy during the shoot!
Everyone will be well looked after, and if you need anything else, our studio assistants are available to attend to your requests.
First Birthday Photoshoot Package Details

Our First Birthday Cake Smash Studio Package starts from $590 for up to 4 pax ($20/extra pax) and includes 1.5 hours of amazing fun and laughter in White Room Studio!
We highly recommended preparing 2 outfits for a variety of family portraits! Not sure how to prepare, or what to wear? Check out this complimentary Cake Smash Lookbook for more ideas!
Download our Rate Card below:
Contact us to book your shoot!
Did a family shoot for my baby and myself with Justin and Verona at White Room Studio back in August - the shoot went pretty smoothly even with an increasingly tired 2 month old infant, with good posing directions from Justin while Verona helped to make sure my baby was comfortable and looking at the camera. Loved the set-up at the studio and we didn't have to wait long in between for the different set-ups.
My experience with White Room Studio for our recent graduation/family photoshoot was fantastic, and a big part of that was due to our photographer, Jia Ming. Jia Ming was incredibly skilled at directing the photoshoot. They made us feel comfortable and guided us through poses that turned out great. Their friendly and patient approach helped us relax and resulted in genuine, heartfelt smiles in our photos. Jia Ming's attention to detail and ability to find the right angles produced beautiful shots that we'll treasure. Their passion for photography was evident, and it reflected in the final images. Thanks to Jia Ming and the White Room Studio team, we have graduation photos that capture the moment perfectly. I highly recommend them for their professionalism and Jia Ming's excellent direction. It made our photoshoot a memorable experience.
Had a lovely experience doing a family photoshoot with White Room Studio - all photos turned out to be amazing. Our photographer Jia Meng was great in engaging the family and everyone was very comfortable during the shoot. The studio had lovely backdrops too. Overall great service, including before, during and after the shoot! Highly recommend to anyone looking to do a shoot, especially if it's your first time 🙂
Fun & friendly photoshoot with Yating. She made us feel welcome & comfortable during the shoot. Photo viewing service was also great with Dan. Professional & helpful in choosing the photos. Thank you guys.
Hernie Andersen
2023-09-11
We were blown away by the level of skill and artistry when we got to see the photos. Each image was a work of art, reflecting the joy and tenderness we felt at the time. Randy, our photographer captured the emotions and created everlasting memories that we will cherish for the rest of our lives. We wholeheartedly recommend White Room Studio to anyone seeking extraordinary photographs and an unforgettable experience.
A very special experience for the whole family! Yan, our photographer, guided us through the whole process. Her directions and pointers on how we could pose made our time there super fun! Much joy and laughter during the session. Highly recommended, thank you for the memorable time:)
My family and I came here for a photoshoot to commemorate my sisters graduation with Yan as our photographer helping us out. She was extremely knowledgable, helping us get the best pictures. The photography session was really fun and enjoyable, leaving us extremely satisfied with a memorable experience. We loved the photos taken, they were high quality and very well edited. Highly recommend coming here to get your photos taken to commemorate an occasion with your friends and family.
We had originally booked a newborn slot earlier but had to reschedule last minute and the team was so accommodating. On the day of the photoshoot, our daughter was fussing (and crying) and we were worried that we were not able to take any good photos but lo and behold, the talented photog, Justin assisted by the talented baby whisper, Verona - they both managed to calm our baby down. Both were very professional, patient and accommodating. 5 star! Thanks Justin and Verona for helping us create lasting memories!
We did a follow up baby photo shoot (post maternity shoot with White Room Studio) with Justin and Verona, and had an extremely incredible time. Verona is a super 'baby whisperer' and able to soothe our wailing daughter during the photo shoot session. Justin was very patient and understanding, and the end result were all extremely gorgeous. We ended up getting all the digital print because we couldn't resist! Highly recommend Justin and Verona for baby shoot!
Good experience