Did you know that the first black-and-white photograph was taken in the 1880s? We have come a long way since then!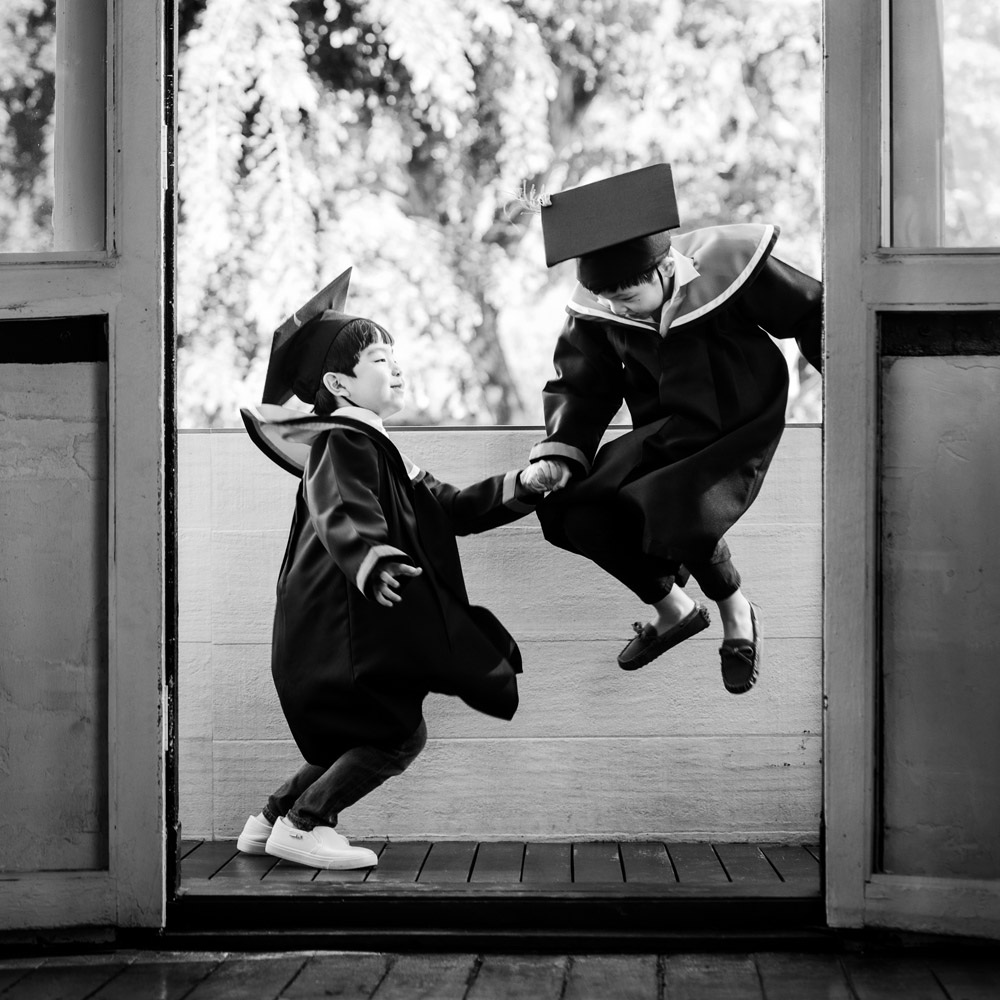 Fast forward two centuries later. Black-and-white photos are making their comeback, in a time where self-driving cars and futuristic smartphones are popular on the streets. What has changed?
Simply put, black-and-white photos have never really gone out of style – they just took a backseat when colour photography made its debut.
As much as we love coloured portraits, more people are starting to favour black-and-white photos for its stripped down simplicity.
We live in a world full of colours. However, black-and-white photography leaves us to interpret the yin and yang of light and shadow, an invitation to a colourless realm.
An abstract take on reality, a B&W photograph naturally becomes something more artistic – it has an enduring look and feel that withstands the test of time.
If you're wondering how to prepare for a black-and-white photo session, read on for White Room Studio's ultimate guide to a B&W photoshoot!
What's different about a black and white photoshoot?

When it comes to black-and-white photography, less is more. It allows us to focus solely on the spectrum of blacks, whites and greys. Suddenly, vibrant colours are transformed into light, shape, texture, and contrast. One might think that without colour, there's hardly any emotion left in the photograph. But it is quite the opposite!
The different tones of a black-and-white shoot can influence the mood of the portrait and evoke certain emotions. Warmer tones add an element of nostalgia, bringing us back to the good old days. It can also elicit a more sentimental feeling as well. The use of lighting can even add a certain dramatic flair to the portrait, such as the ones below.
On the other hand, cooler tones can easily conjure a mood of calmness and serenity. Take for example, this family portrait reflects the cherished bond between a grandparent and her grandchildren.
At White Room Studio, we focus on the real and candid bonds shared between subjects, and each photo is true to the emotions at that time!
Here's another photo with cool tones that portrays the joy of first-time parents, the quiet unconditional love they will shower on a new life.
While warm and cold tones are opposites of each other, they both form an important palette of black-and-white photography. Depending on the theme you're going for, the colour of your outfits can play around with these tones too.
What to wear from your wardrobe for a black and white photoshoot?
Let's get down to the basics! Wearing plain black or white will definitely show up well in B&W photos. Wedding photography and artistic portraits perfectly illustrate this – the contrast of black on white will translate clearly, even on darker backdrops.
Pairing white shirts with jeans is also a casual outfit combo that will not go outdated. Although you may have an affinity for colourful clothing, keeping the colour scheme consistent for everyone will result in a clean and classic portrait. Long, light-coloured dresses also show up well in B&W photographs. Just look at the portraits below!
As for do's and don'ts, try to avoid stripes and other big patterns. Instead, go for textured fabrics like chiffon, wool and corduroy – they will photograph nicely and lend a fine-art quality to the overall image.
It also helps to make sure that your clothes are ironed and there are minimal creases. At White Room Studio, we have a fully equipped changing room with a garment steamer. Each package includes up to 2 outfit changes, so you're free to change into any outfit of your choice! For maternity and newborn shoots, we provide fabrics and blanket wraps that will look tasteful and elegant in a B&W shoot.
Make-up matters for a black and white photoshoot! 
Even if you don't engage a professional makeup artist, you might be curious about the make-up prep for a B&W photo session. Here are some beauty tips to help you look flattering in your portraits!
To achieve the right contrast between your skin tone and features, you can choose a matte foundation one shade lighter than your complexion. The focus of a portrait is often the eyes, so eyeshadow and any eye makeup should be applied delicately. To up your game, you can also apply one or two coats of mascara to your lashes.
We encourage you to bring your makeup bag along during your photo session. You never know when a quick touch up here or there can help you look better in your portraits.
Are you ready for your black and white photoshoot?
Call us or drop us an email to book your photoshoot today! More details below:
White Room Studio Black and White Photoshoot Details
Our Family Studio Package starts from $490 for up to 4 pax ($20/extra pax). It includes 1.5 hours of amazing fun and laughter in White Room Studio!
We highly recommend you prepare 2-3 outfits, relaxed ones for casual family portraits and formal outfits for corporate-style shots!
Get exclusive advice on what to wear and how to prepare in our Family Portraiture Lookbook.
Download our Rate Card:
Check out our FAQ and Instagram page for the latest updates.
Loved our experience with White Room Studio so much! Yan was amazing with our baby girl – she was such a professional and made sure everyone was comfortable, including my husband and I.

The studio is so nice too, I must say – the whole vibe is very chill and it translates well in picture. In terms of service, it's impeccable. Everyone was pleasant in Whatsapp while booking and in person during the shoot.

The pics turned out so great and the experience was just as amazing. Will definitely recommend.

–  Vanessa Tiu-Bernabe and Family