We love meeting graduates and celebrating their "I Made It" moment!
Since 2009, White Room Studio has been capturing thousands of graduation portraits and is Singapore's leading photo studio specializing in giving you the best graduation photoshoot experience!
We are your one-stop graduation photography studio, which means everything you need is right in our 2,400 square-foot sun-drenched, natural light Peranakan shophouse.

From styling and makeup services to graduation gown preparation, White Room Studio has it all covered for you. Our concierge team will guide you every step of the way, so you just need to bring your biggest smiles! Read on >>>
Complimentary Graduation Gowns and Caps For Photoshoot 🎓

Graduation gowns and caps from the following universities and schools are provided free-of-charge when you book with us:
National University of Singapore (NUS)
Nanyang Technological University of Singapore (NTU)
NIE Master's
Singapore Institute of Technology (SIT)
SMU (Singapore Management University)
SUSS (Singapore University of Social Sciences)
SIM
RMIT
MDIS
King's College
Curtin University
Monash University
Murdoch University
University of Queensland
University of London
University of Exeter
All Polytechnics in Singapore
… And many more! Reach out to us if your university graduation gown isn't listed above. Our team is happy to tailor graduation gowns at no additional cost upon request (subject to availability). ☺️
If you have already purchased / rented a gown, no worries! You're welcome to bring your own gown along and get ready in our changing rooms where we have safety pins, hangers at your disposal.
Bask in the comfort of our air-conditioned guest lounge and well-stocked pantry too! We know it can get warm wearing a graduation gown, so feel free to help yourself to light refreshments throughout your shoot!
Flexible Graduation Photoshoot Packages 👩‍🎓👨‍🎓
We understand that you may want to explore a few options for your first family and graduation photoshoot, which is why we have created different packages for this milestone! You can choose from 3 Graduation Collections:
Graduation Photoshoot Collection A
Includes 1.5 hours of photography (up to 4 pax) and a choice of 3 backdrops in our award-winning studio
2-3 outfit changes
4 retouched soft copies and 4 prints (one 8"x12" & three 5"X7" hard copies)
Curated viewing session of your best photographs
Graduation Photoshoot Collection B
Includes 1.5 hours of photography (up to 4 pax) and a choice of 3 backdrops in our award-winning studio
2-3 outfit changes
4 retouched soft copies and 4 prints (one 8"x12" & three 5"X7" hard copies)
The 8"X12" print comes in an archival frame from our catalog
Curated viewing session of your best photographs
At White Room Studio, we only use conservation framing to frame your photos, the same used by museums and art galleries. This means your photos will not fade or yellow over decades.
During your photo viewing session, you'll be able to view the samples in person and we can advise you on bespoke designs available.
Graduation Photoshoot Collection C
Includes 1.5 hours of photography and a choice of 3 backdrops in our award-winning studio
2-3 outfit changes
4 retouched soft copies and 4 prints (one 8"x12" & three 5"X7" hard copies)
One 12"x16" ready-to-hang canvas
Curated viewing session of your best photographs
Sourced from renewable forests, our canvases carry a fade-proof guarantee of at least 75 years. We only use the best materials to craft your graduation keepsake.
If you can't decide on a package yet, you can select Collection A – it's totally fine to change your mind later!
During your graduation photoshoot, your photographer will be exploring a variety of shots within the studio! We'll start with family group shots and different family pairings, such as grandparents together (heartfelt multigenerational shots), parents with graduate, mom with graduate, dad with graduate, siblings only.
You can expect a combination of fun casual family portraits and classy, formal photos with the graduation gown!
Towards the end of the shoot, there will be time for solo graduate shots where you'll be able to flaunt the full academic regalia!
Do bring along your fur kid to make this graduation photoshoot extra memorable! White Room Studio is pet-friendly and our team has worked with lots of animals before to capture the right moments 📸
All White Room Studio graduation photoshoot packages are customizable, speak to us if you wish to make it outdoors or change the sizes of the prints.
Download our rate card below for more details and price list for our full range of displays.
The White Room Experience
Taking a photo is not merely clicking on the shutter. For us, it is designing a photography experience meant to capture the best version of you and your loved ones. Have a look at the White Room Experience below:
Hairstyling & Makeup Package for Graduation Photoshoot 💄
We know you want to look your best for this special occasion! You can book a hairstyling and makeup package, and it'll take an hour. Our esteemed makeup artist, who has been with White Room Studio for 10 years, will create a look that's perfect for a graduation photoshoot!
For more professional pre-shoot advice and outfit ideas, download our exclusive Graduation Lookbook.
Why choose White Room Studio for a graduation photoshoot?
White Room Studio has photographed 7,000 graduates and counting over the past 14 years! With more than 15 different backdrops to choose from (Peranakan, Classic European, Rustic, Nature & Greenery and Cool Studio etc), you'll have no lack of creative angles taken during your graduation photoshoot!
We have also been awarded Tatler's Best of Singapore "Best Portrait Photographer" for more than 7 years running! 🏆
Hear from one of our recent clients, Karthi, whom we had the privilege to welcome:
"It was my family's first time taking a photoshoot. I was pretty hesitant and overwhelmed to choose a studio within a short time and to schedule my family of 11 on the same date. I came across White Room Studio on Google and from the start, the studio staff were able to answer my queries for my family and graduation photoshoot. The studio was really helpful in re-arranging another photoshoot date when we couldn't make it due to personal reasons.

On the day of the shoot, our photographer was excellent! He is very friendly, energetic and happily directed my big family and even my toddler cousin. It was a pleasant experience working with the studio. My family loved the experience. Everyone enjoyed the time at the studio and couldn't wait to see the photos.

During the viewing session, Elaine was helpful and patient with the selection process. We got pretty indecisive as there are too many high quality beautiful photos! The photos turned out better than I expected and I couldn't be more happier that I chose White Room Studio for my university graduation photos. It's an experience we will remember and now we have beautiful photos to display in our homes ☺️ Thank you to the staff for making this an enjoyable experience! 😊"

–  Karthi, happy graduate, Class of 2022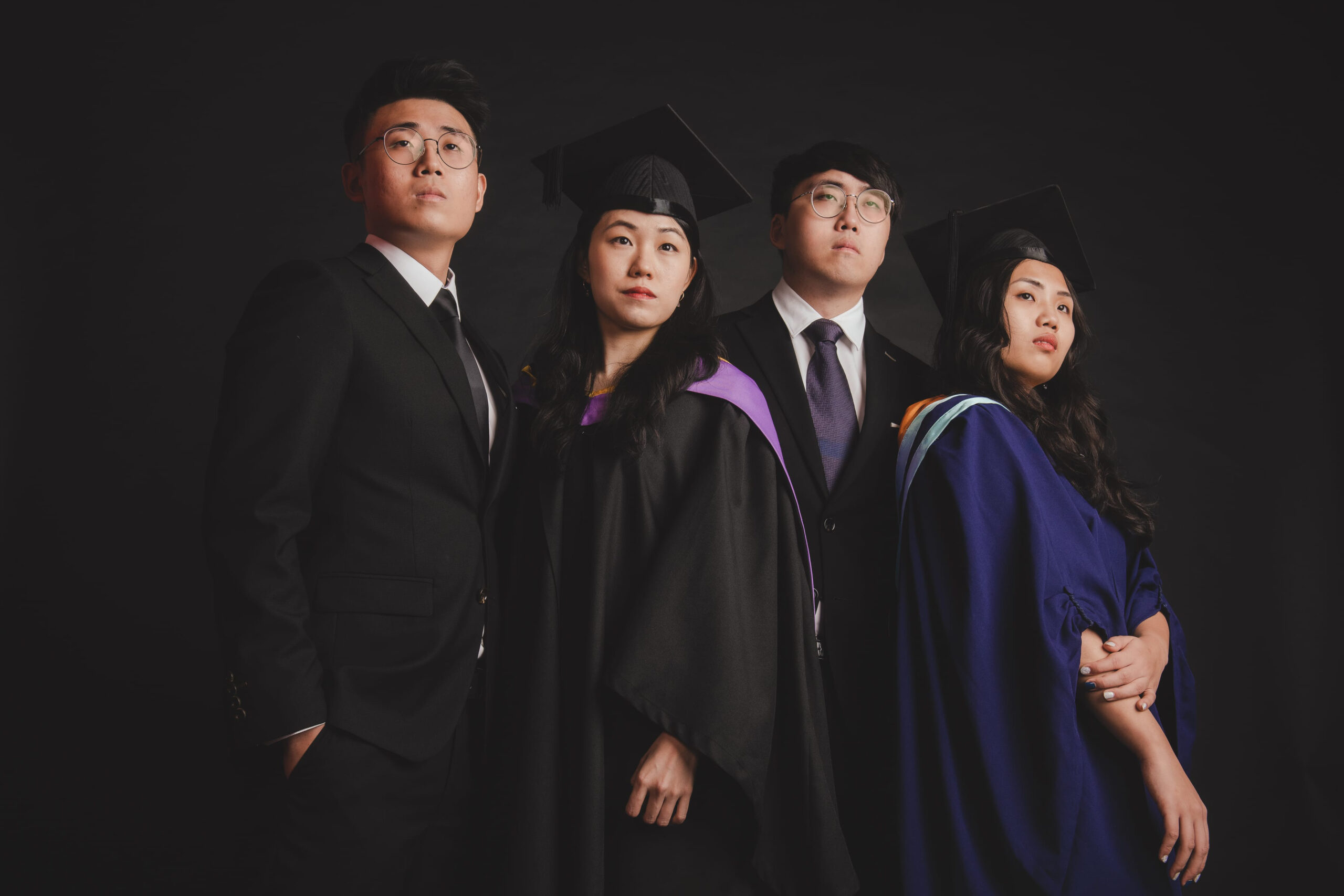 Contact us to book your shoot!