Hari Raya Puasa falls on April 22 this year! We're here to help you capture the essence of Eid al-Fitr, which is a season marked by togetherness, gratitude, and forgiveness.
A family Hari Raya photoshoot is not only a great way to celebrate Eid but also a way to preserve memories for years to come.
These pictures can be printed and framed as displays at home, or used to create a beautiful photo album that can be passed down through generations.
What's more, we are Muslim-family friendly and the studio spans across 2 floors of a restored Peranakan shophouse. White Room Studio is located in central Singapore, easy to get by car or train (we're just 3 minutes walk away from Fort Canning MRT!)
Expect stunning architecture and unique heritage concepts within the studio for your Hari Raya portraiture session – check out these beautiful family portraits below celebrating the joy of Eid!
Get inspired for your upcoming photoshoot:

Outfit Ideas for Your Hari Raya Family Photoshoot!

A Hari Raya photoshoot is the best occasion to feature your best traditional Malay outfits, such as Baju Melayu and Baju Kurung! It's also the perfect opportunity for families to showcase their cultural heritage during a time of festivities.
We'll capture various poses and combinations during the 1.5 hour Hari Raya family photoshoot, so there will be a variety of different settings for your selection later on!
Razi's family all dressed up in gorgeous shades of beige and green, except for the elders who looked stately and impressive in full black. This was a smart outfit choice as the elders really complemented the younger generations in the group family portrait – everyone looked cohesive!
View this post on Instagram
Watch: Hasna's family had so much fun at White Room Studio during their Eid photoshoot!
Mdm Azizah's tribe (pictured above) turned up for their Hari Raya photoshoot in elegant shades of teal, which provided the perfect contrast against the airy, naturally lit third floor of White Room Studio.
She says, "I just loved the spontaneity, love and fun written on the faces of the people whose photos were seen on White Room Studio's website. That made me choose White Room Studio. I can see the love, spontaneity and fun on the faces of my family members too. Thank you for the wonderful pictures!
Camilla's clan looked incredible in matching shades of pretty pink and purple, with patterned lace and fine batik adorning their outfits. As a whole, they shine together at the open-air balcony setting of White Room Studio, against a backdrop of bright greenery.
On the other hand, if you wish to dress up in something less colourful, try earth tones: more muted and less saturated, these colours hardly distract the viewer from the portrait, allowing you and your family to stand out as the focus of the photo.
Moreover, earth tones tend to complement a wide variety of skin tones, making them a safe choice for group portraits!
Double The Joy: Combining A Graduation and Hari Raya Photoshoot!
Combining a graduation and a family Hari Raya photoshoot to celebrate Eid can be an excellent way to mark two important events in your life. We also provide complimentary graduation gowns and hats for your photo session with us! (Simply let our friendly staff members know which ones you require!)
Faizzah's family showed up in a glamorous red for this momentous occasion – a powerful and bold colour.
As you can see, red adds a pop of vibrancy and draws attention to the subjects in the photo. When incorporated well, red can make a family photo stand out and add an extra level of depth and meaning to the portrait!
Mdm Azizah tells us about why she decided to do a graduation and Hari Raya shoot at the same time (picture below):
I was the first in my family and among all my cousins to graduate from a university. This was more than 30 years ago. My parents did not have the means to pay for my education but thankfully, help came in many forms. I felt blessed. Now, one after another, our children went through the same journey. More blessings… That's why we decided to take a family photo. We just went with the flow and were tickled by the questions asked by our very skilled photographer, Delun, to make us feel comfortable and laugh.
For grandparents and families who prefer clean backgrounds, classic looking-at-camera-and-smiling shots, we also have a range of backdrops to suit their preference too!
Nazurah recently celebrated her academic milestone, in a sweet portrait with her sister (top right).
Services You Can Expect At White Room Studio

Our newly renovated guest lounge is the perfect spot for a quick break or refreshment during your photo shoot!
You can relax in comfort in our air-conditioned lounge, which includes a pantry stocked with Halal-certified snacks and drinks exclusively for White Room Studio clients. This is especially convenient for families with young children who need to keep their energy levels up during the shoot!
We also have dedicated changing rooms, including a garment steamer, hangers, safety pins and more. Everyone will be well looked after, and if you need anything else, our studio assistants are available to attend to your request.
When is the Best Time To Do A Hari Raya Photoshoot?
We suggest booking at least 1-2 months in advance for a weekend photoshoot during Eid!
It's also really easy to book a Hari Raya photoshoot on weekdays – you can reach out to us 1 week before to make a reservation!
Bask in the wonderful studio atmosphere at White Room Studio with your loved ones! Don't check out this opportunity to make some memories this year. Have a look at these recent shoots in our studio!
We also took the opportunity to capture some Aris' family in non-traditional casual and formal outfits, which made a great collection of photos to select from!
A Hari Raya photoshoot is also a great time to do a maternity photoshoot, especially for mums-to-be whose bumps are already showing! More details on the customer journey and shoot packages below.
The White Room Experience
Taking a photo is not merely clicking on the shutter. For us, it is designing a photography experience meant to capture the best version of you and your loved ones. Have a look at the White Room Experience below:
If you'd like to have a personalised makeover for your photoshoot, book a private makeup & hairstyling session with our professional makeup artists in the comforts of our cosy vanity room!
Feel free to use our changing rooms to get ready – everything you need (garment hangers, steam iron, etc) is prepared for you!
Family & Hari Raya Photoshoot Package Details

Our Eid Studio Package starts from $490 for up to 4 pax ($20/extra pax) and includes 1.5 hours of amazing fun and laughter in White Room Studio!
We highly recommended preparing 3 outfits (1 more traditional Hari Raya baju, 1 casual Hari Raya baju, and 1 other light-coloured, relaxed outfit for a variety of family portraits)!
Do bring along any other props you like for the shoot to personalize your family photos!
Download our Rate Card below: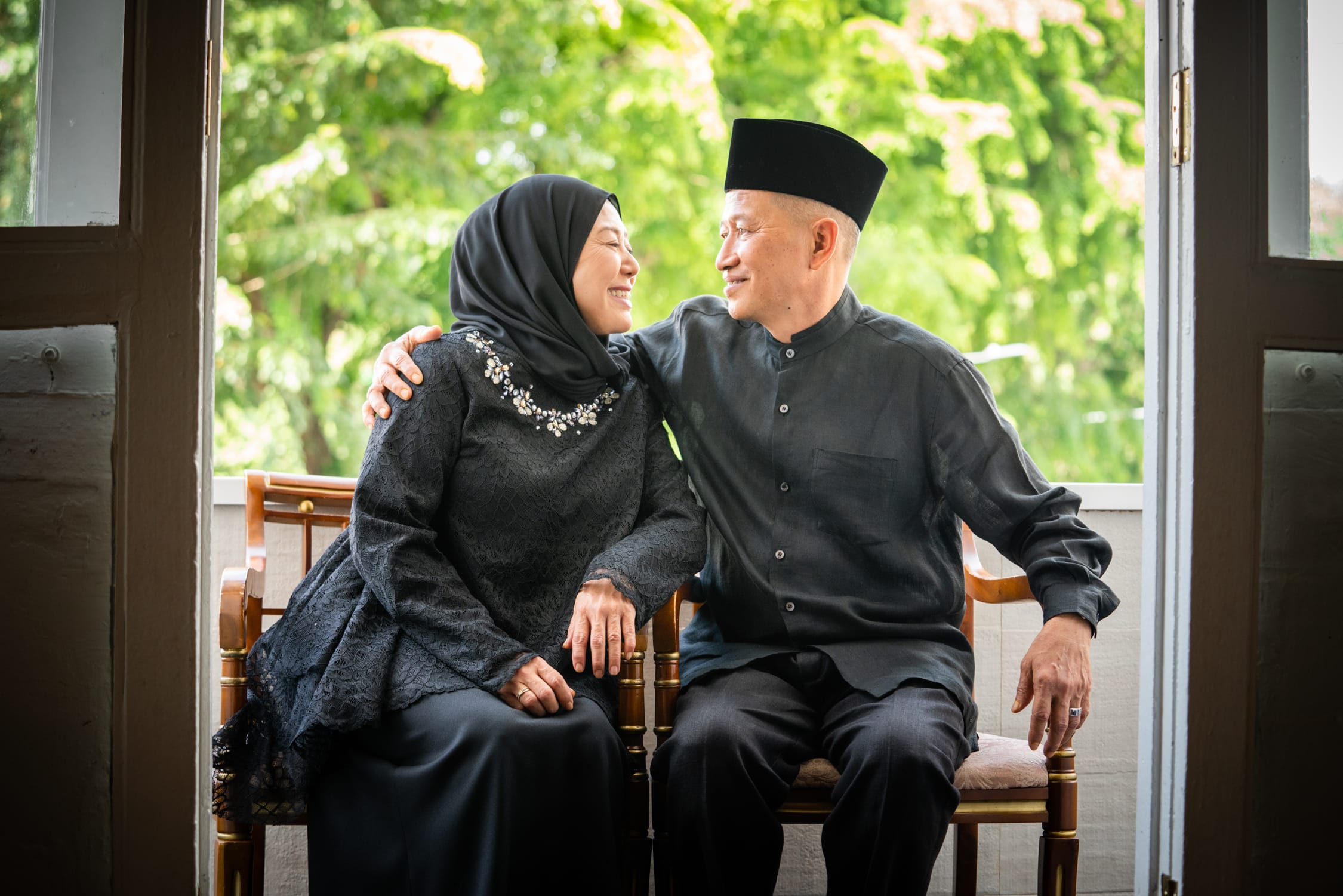 Contact us to book your shoot!