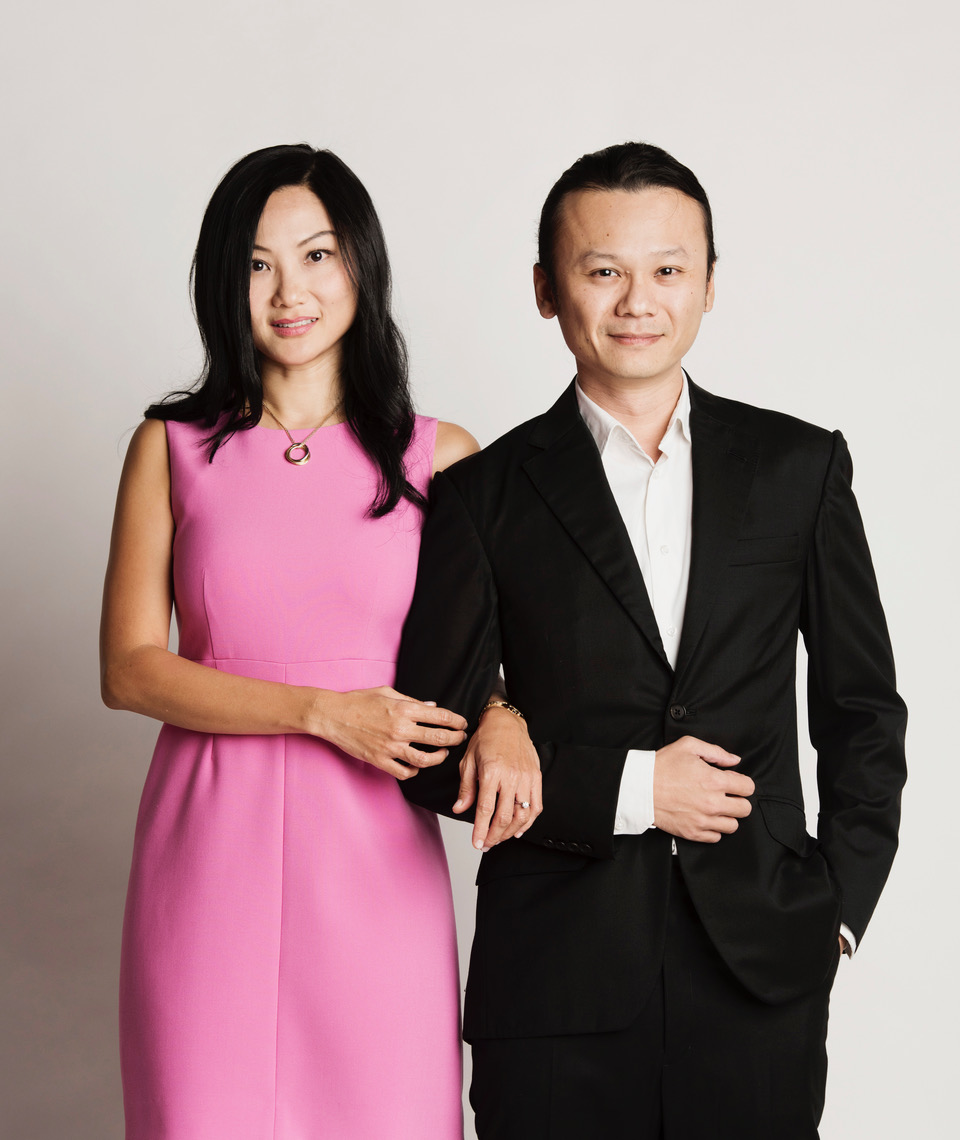 There are a number of questions which our White Room Studio professionals are frequently asked on a daily basis. These range from questions like what to wear, to the best time of the day for that perfect shot; and are usually advice which our photographers should readily provide as a testament to their professional credibility.
This blog post addresses the most common questions asked by clients here in White Room Studio, and we hope you find them informative and useful for your preparation and planning of future photo-shoots with us. Our veteran photographers (Elaine and Dan) couldn't resist contributing some some valuable snippets as well and we hope you will find them entertaining.
What are your photographer's educational and professional background?
Elaine studied Commercial Photography in RMIT, Australia. Since 2002, she has been a finalist of the Nikon Award at the Australian Centre of Photography, NSW; and received awards from the Black and White Magazine from the United States as well as the AIPP (Australia Institute of Professional Photography).
She has worked with major photographic galleries and studios in Sydney for nearly 6 years before coming back to Singapore to found White Room Studio.
Dan studied photography in NAFA Singapore, Nanyang Academy of Fine Arts. He started his own studio in 2007 and is recognized in multiple photography magazines as an authority in his field. He has taught art and sculpture through the Singapore Arts Community and is actively involved in the local arts scene.
What made you want to be a photographer?
Elaine: I bought a Film SLR camera in 2000 to go backpacking in Japan during the Sydney Olympic school holidays. Since then, I became obsessed with photography! Setting up White Room Studio with my brother Dan Yeo is a dream come true. Working in photography which is my passion drives me to give 100% of myself into creating beautiful photos for my clients. I love pets and children, I love celebration, and most importantly, I love knowing that I've made a beautiful moment in someone's life, timeless in the form of imagery.
What is your favorite kind of photography session right now?
Elaine: I love newborn shoots. As a mother, nothing feels better than capturing that perfect moment between mommies and their bundles of joy.
Dan: I love all kinds of shoots. Every shoot has its moment of perfection which is waiting for me to capture it.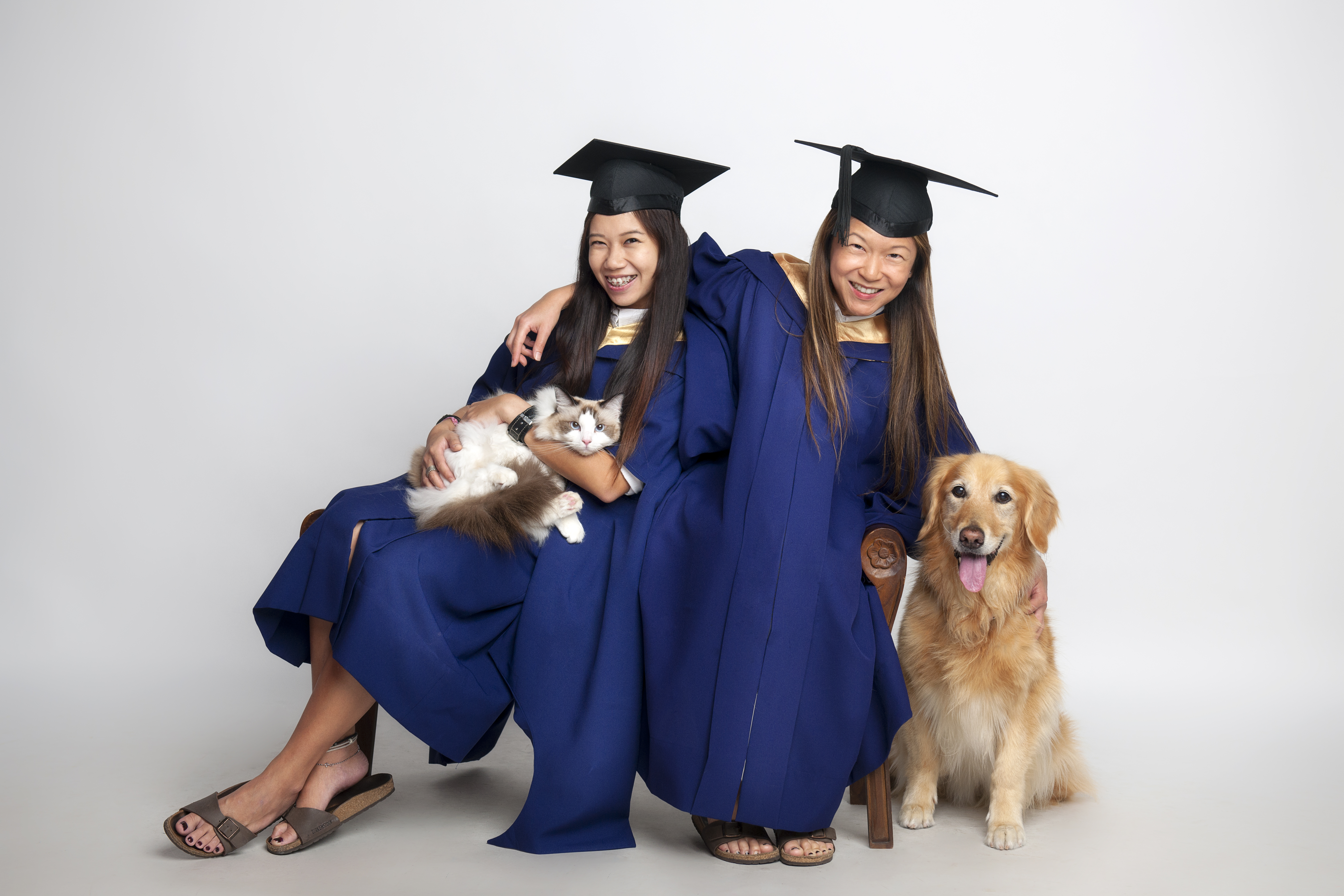 What brand do you favor for your go-to camera? And why?
Elaine: Right now, Sony! Specifically the Alpha 7iii. It has the best sensor in the market now!
Dan: We have Nikon, Canon and Sony professional systems in the studio. Each brand has its own advantages over the others and the best camera system is chosen for each shoot.
How do I find your studio?
Our Address: 219 River Valley Road . Level 2, Singapore 238277
We are located on the 2nd floor corner shophouse next to UE Square, 5 minutes from Fort Canning MRT station, and buses 32, 54 and 195 drops you off at the doorstep. There's an underground car park right next to us, (and many nice local pubs & restaurants). so we're really easy to get to.
Still having difficulty finding us? Call us at 62357037
Our opening hours:
10am to 7pm Mondays to Fridays
10am to 6.30am on Sundays
What are the tricks or tactics you employ to engage with energetic kids during a shoot?
Dan: We utilize a plethora of tricks to engage with your kids. Four methods have proven to be particularly useful: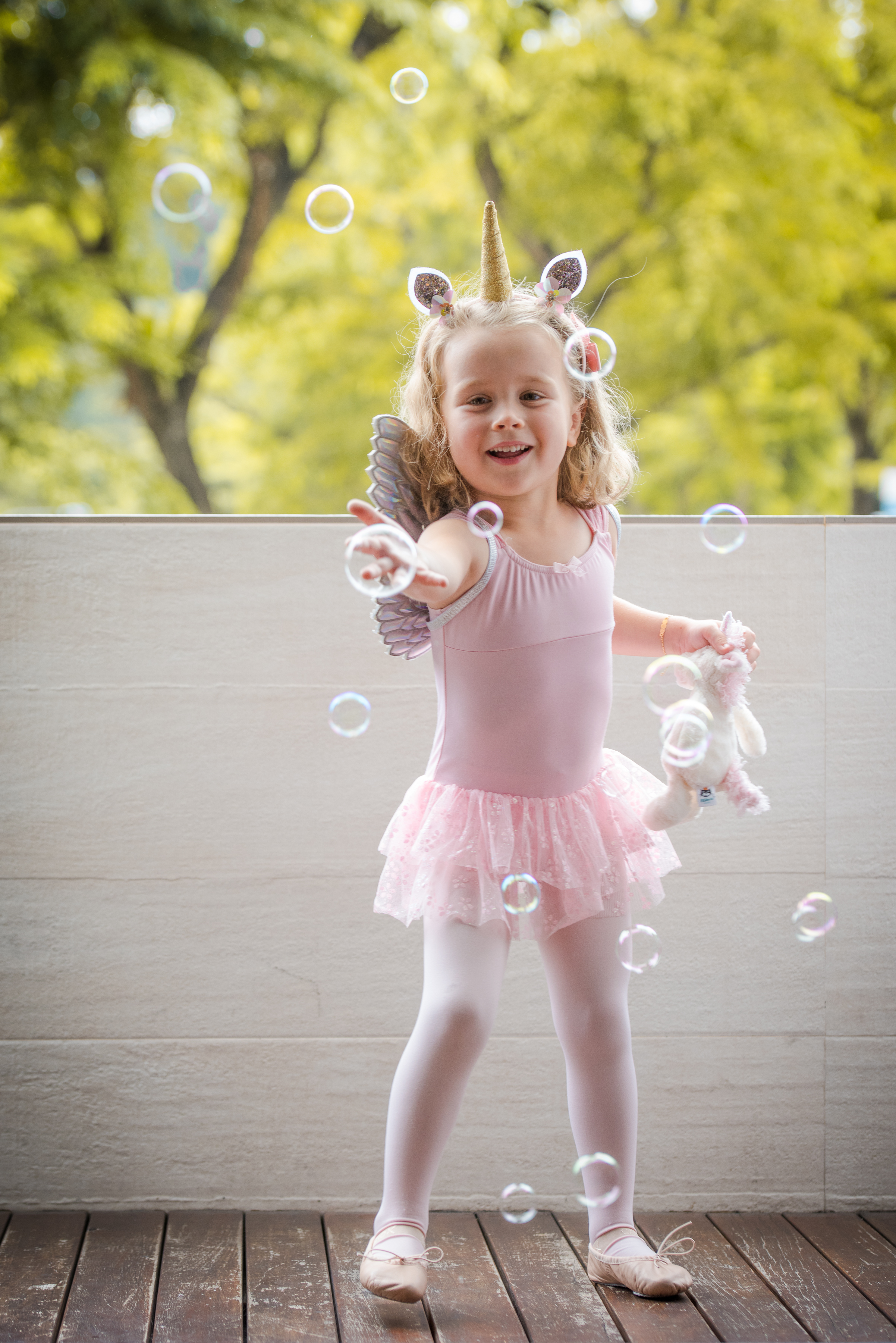 Singing some songs has had great effect to draw the attention of more active children. At times, our photographers ended the day with hoarse vocal chords just to get that great family shots.
Actively engaging these children works wonders as well. Speaking, joking and laughing with them has enabled our photographers to get the children more participative in their shoots.
There is something about soap bubbles floating around the family that draws the attention of the most energetic of children. They are captivated by them and often try to catch them, producing the signature shots which White Room Studio is known for.
There are props used by the photographers; from child-friendly wooden cars to wooden rocking horses to keep the children in one place for that perfect shot. Sometimes, families are encouraged to bring their own props – items which their children always play with, to enhance that feeling of familiarity during the shoot.
What should clients prepare before a shoot?
Dan: Make sure everyone is well-rested, well-fed and relaxed. Ample time should be allowed to get ready for the shoot, and some outfit co-ordination is welcome.
Our style is about the interaction between subjects in a natural environment, thus use of props is minimal. However if there are some props you would like to play with feel free to bring them along. Can be cute, can be personal and meaningful. Or just bring smiles!
Should I engage a professional makeup artist for the shoot?
Elaine: Your usual daily make-up might not suffice for a professional photo session. As such, it is advisable to engage a make-up artist to prepare you for the shoot.
Top reasons why using a make-up artist is recommended include:
Less stress on your preparations before the shoot
The make-up artists know best how to present your best look for a professional photo-shoot
They use higher quality of make-up
you will feel more confident and authentic during the shoot.
you look more polished and professional during the shoot.
White Room Studio will help you engage a professional make-up artist as an optional add on to your photography package. Come speak with us to find out more!
What is the best timing for a photoshoot at White Room Studio?
Dan: Overlooking Fort Canning Park, the studio gives the look and feel of being outdoors with an abundance of warm natural light and different creative corners for an intimate, cosy portrait session. The natural light on bright sunny mornings and afternoons (10am to 5pm) streaming through the studio's big windows will therefore be the best timing for a shoot in our studio. Weather with clear skies naturally will be highly desired as well.
Can I bring my pets for a shoot at White Room Studio?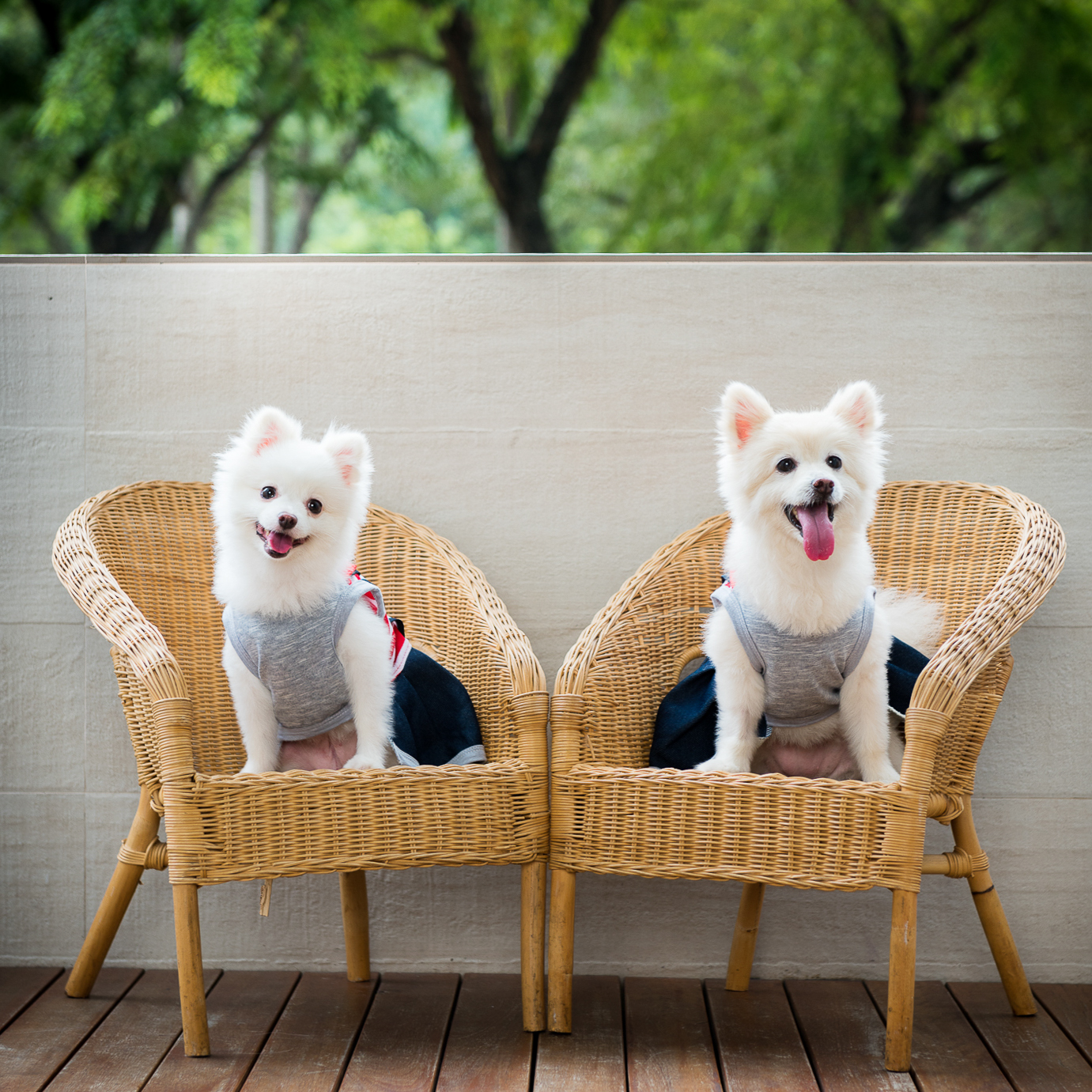 Elaine: Absolutely! In fact, we strongly encourage you to. White Room Studio is one of the more well-known local studios for pet photography. We have families bringing in their family dog or cat for their shoots on a weekly basis. Dan, our Director of Photography has even been featured in Pet Magazine for his work on pet photography and his team has countless ideas to bring out the best in your pet!
How good are you with kids?
Elaine: Dan had a harp and drums ready to get the kids to warm up. Once they did, they had fun playing hide and seek around the billowing curtains and gave Dan opportunities for natural-looking shots. He made funny faces and let the kids look at their photos in his camera. He had the kids crawling on the floor, and even got down on his tummy to take the shots. The kids enjoyed themselves in the 90-minute session.
Dan: There were lots to choose from – single and group shots, colour, black and white, and sepia. There were pictures of the kids in front of the curtains, crawling on the floor, sitting on the sofa, playing with the musical instruments. I took advantage of the daylight that streamed into the studio to take some great shots.
Elaine: A client gave some feedback that Dan captured the kids' natural playful expressions well and used the daylight to his advantage for some good shots. It's nice that he blurred the background to make some photos more interesting and to let the focus be on the kids' expressions. In short, we are very good with kids with the experience to back up that claim.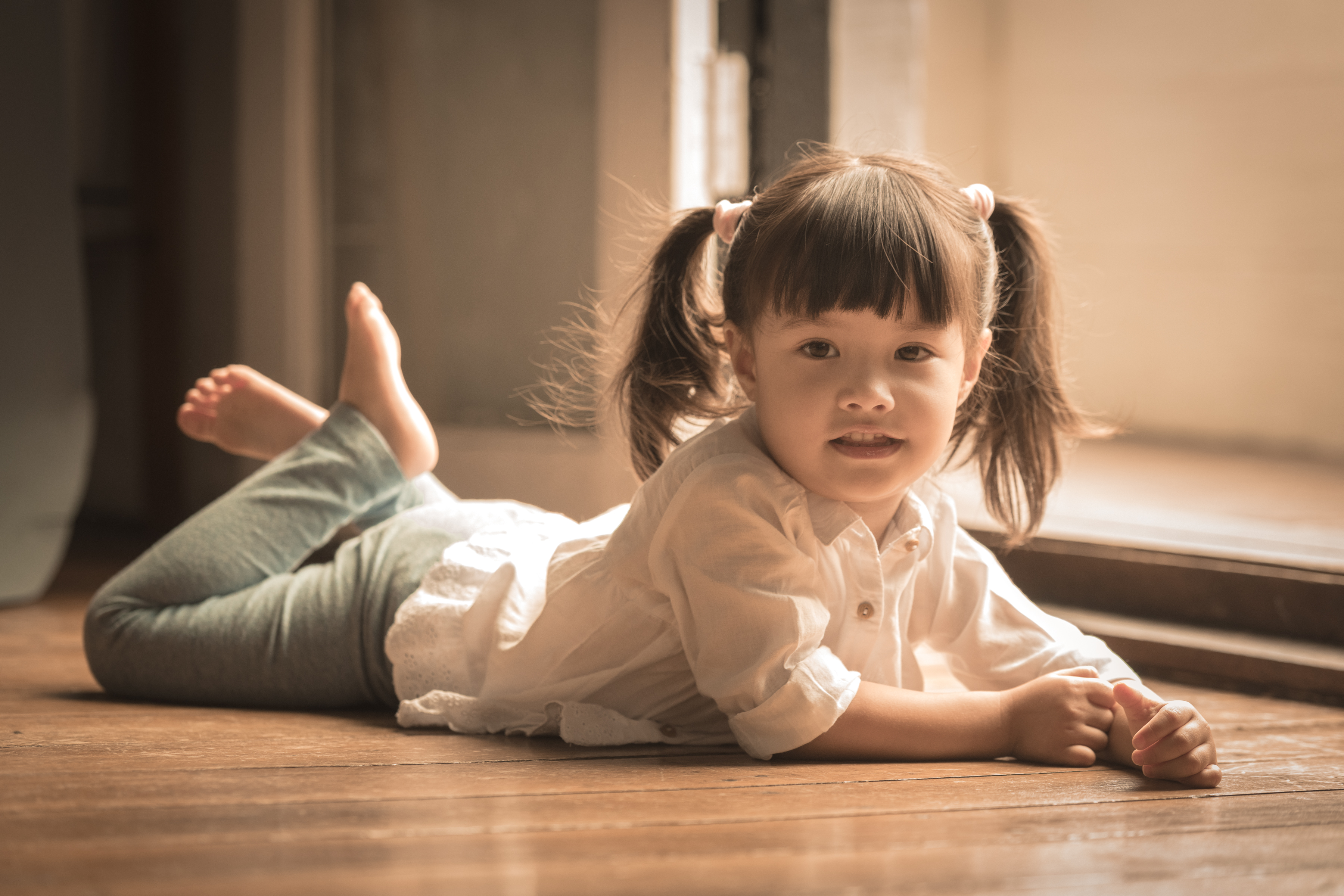 What about teenagers who hate to be photographed?
Dan: We talk to them about what's cool and what's the latest, and a lot of the time, the teens end up seeing their photographers as someone who's pretty cool! Laughing and joking with them, etc
How do you manage the elders (grandparents) who are not used to being photographed and may not understand what the photographer wants?
Elaine: They love being told how good, happy, funny, loving they look!! So many clients would tell us after their family shoot that they've never seen their parents or grandparents smile so happily for the camera, let alone kiss each other! Getting the elderly couple to settle into a hug always brings so much laughter to everyone and the entire studio literally light up with delight.
Related: TAKING A PORTRAITURE WITH WHITE ROOM STUDIO
What makes graduation portraits from White Room Studio different from other studios?
Elaine: Say bye-bye to stuffy fake library backdrops and stuffy stiff poses! White Room Studio gives you a fun-filled natural experience in our natural light studio with your family and a fine art Graduation portrait to keep for years.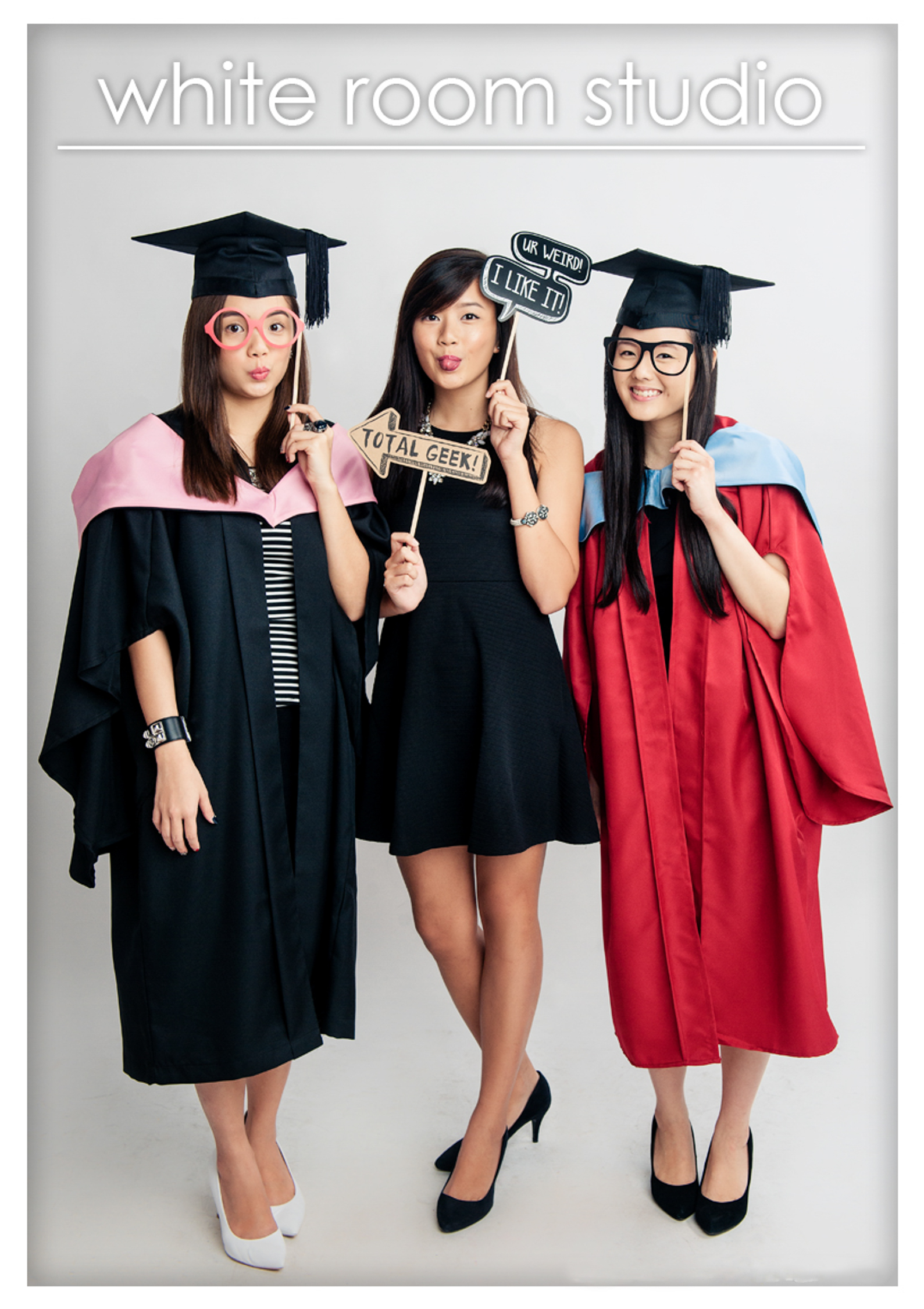 Do you shoot for pre-weddings?
Elaine: Yes! We simply love photographing the chemistry between couples; the love expressed in their eyes and laughter, the tenderness expressed in their hugs and kisses. We have couples coming in all year round to capture their relationship or celebrate their happy days, like their engagement days. Our creative direction has given rise to many epic poses which inspired couples to use them for their subsequent wedding portraitures. (And yes, they come back to take those with us as well!)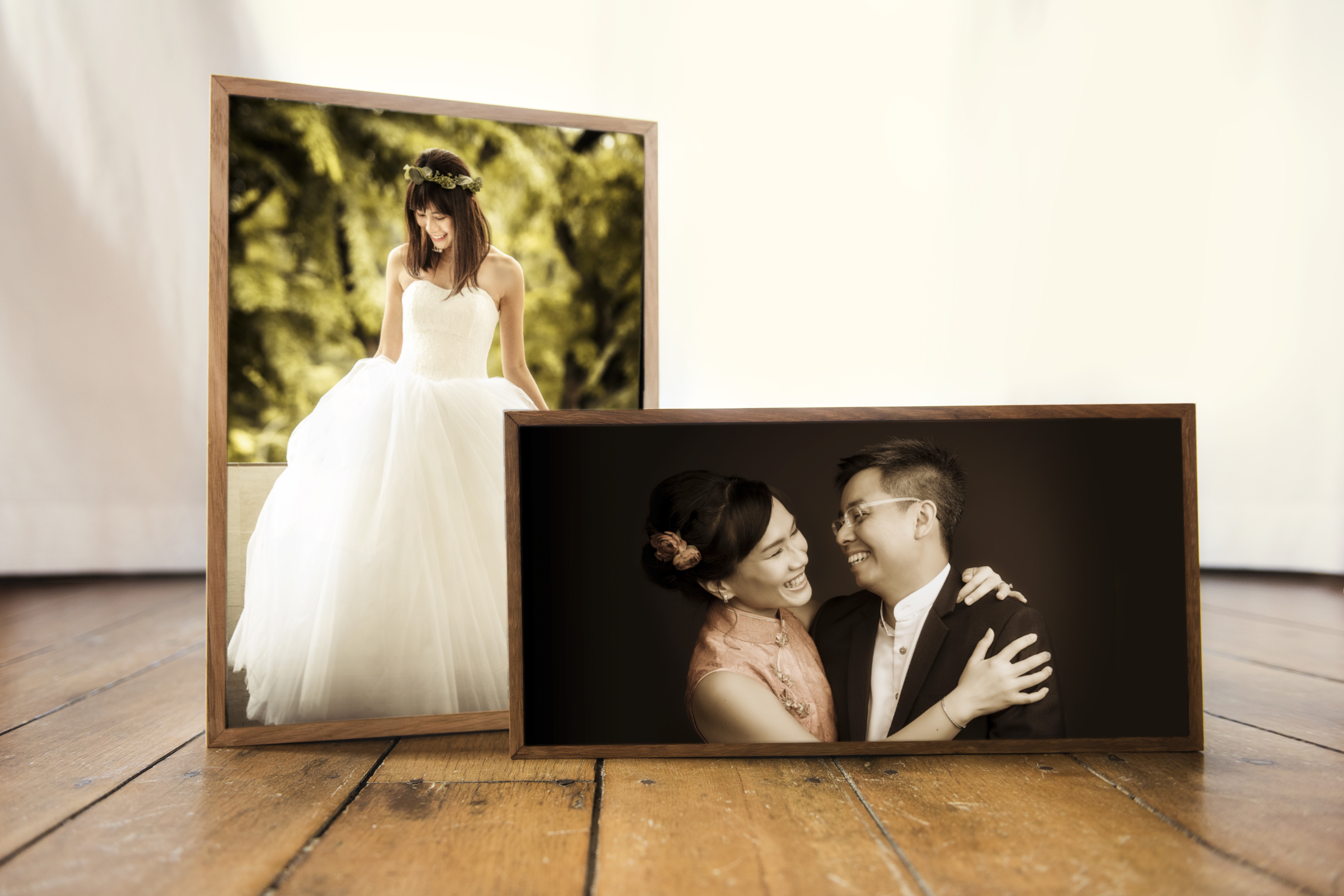 Professional Hair and Make-up service is available before the shoot as well. Just give us a call in advance to arrange it!
How about corporate shoots? Do you do them as well?
Dan: White Room studio has been active in Singapore's photography scene for more than 9 years. Through this time, the studio has garnered numerous high profile corporate clients including: Chanel Singapore, Christian Dior Pte Ltd, HP Singapore, Dell Singapore, Mount Elizabeth Hospital, National Library of Singapore, Singapore Ministry of Law, American Chamber of Commerce (AMCHAM), Merril Lynch Global Services and more.
Our corporate packages range from basic professional headshots for corporate profiles; to more artistic sessions for the discerning CEO and industry artists like chefs, life coachers etc.
What is the viewing session for?
Elaine: A viewing session will be organised after the shoot. This usually lasts about an hour, when you are invited to enjoy the photographs in the comfort of our viewing gallery, Third Room.
We will facilitate the process of choosing the best photographs to adorn the walls and shelves of your home, and our expert eyes in seeking heart-warming sequences will give invaluable insight into the best ways to present your photographs.
During these sessions you may choose from our range of frames, canvas and photo-albums to complement your selections.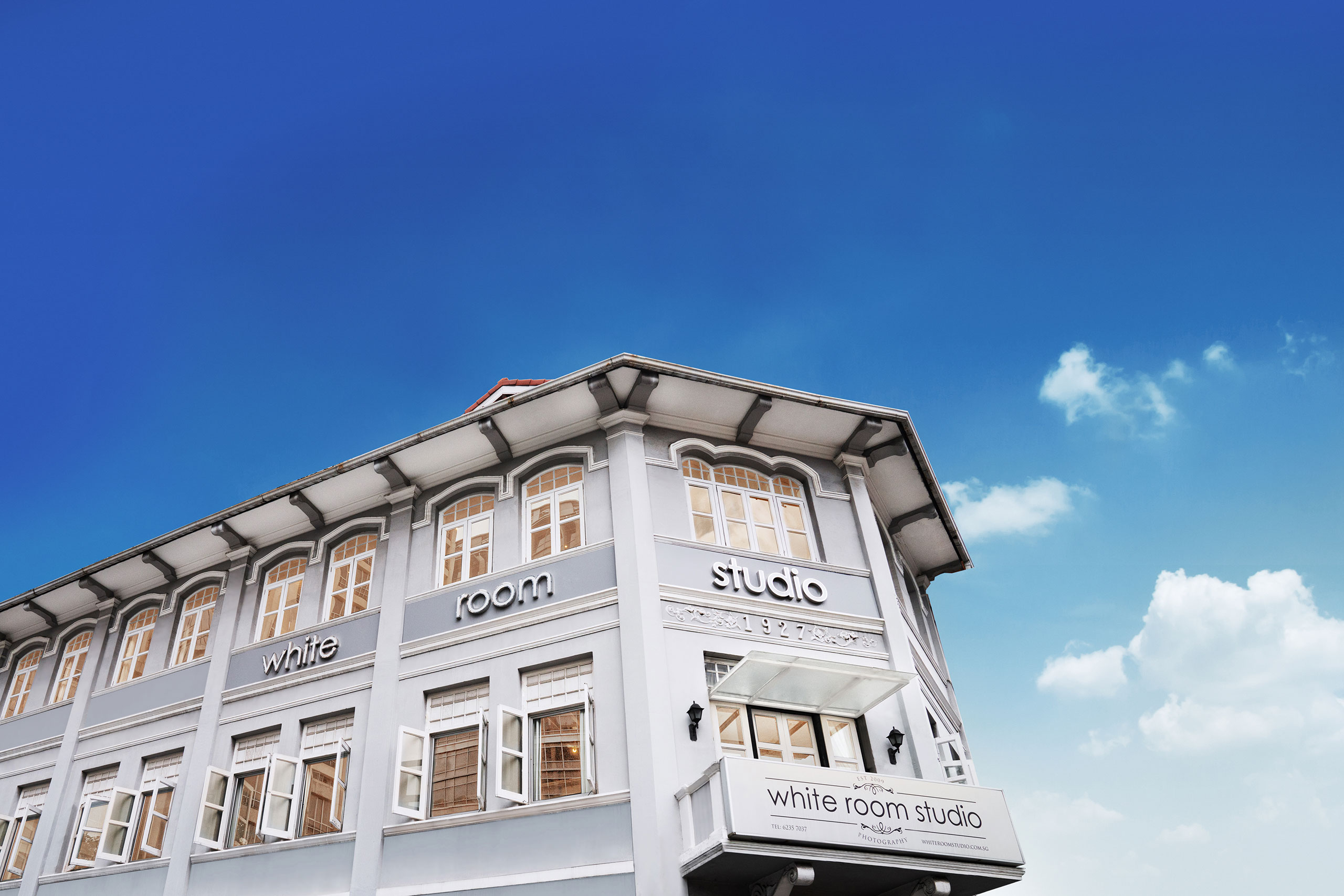 Will my photographs be retouched?
Dan: Yes, your selected photos according to our packages will be beautifully retouched! There's a broad spectrum when it comes to retouching! The style we prefer is natural and soft, however just let us know if you have specific ideas on retouching and our professional skills in professional retouching will best out the best in you.
Why should I go with White Room Studio for all my shoots?
The more pertinent question is: why not?
There is no other studio in Singapore like White Room Studio!
White Room Studio is situated in a Peranakan shophouse full of nostalgic character thus giving a wide range of warmth, natural lighting and atmosphere to explore. Our professional photographers are trained to capture real and emotional moments with their cameras. Their skills bring together a unique fine art quality to their portraiture work, giving you a photographic experience like no other.
Additionally, our accolades speak for themselves. These are the awards won by our photographers and studio over the years:
To find out more about what White Room Studio can offer, call or email us today at:
Phone: +65 62357037
Call us at +65 62357037, whatsapp +65 87696003 or email info@whiteroomstudio.com.sg to book a photoshoot today! Meanwhile, have a look on our website and facebook page.
You may also browse through our amazing gallery and feel the experience our clients have with White Room Studio.
You may also browse through our amazing gallery and feel the experience our clients have with White Room Studio.
email: info@whiterooms