Still thinking of ushering in the Lunar New Year with multi-generational shoots or simply dress up for some extraordinary colourful portraiture shots? Check out our new décor embracing the enchanted warmth of natural lights and rainbow-coloured lanterns, where tradition meets modern elegance.
Holler down to White Room Studio and celebrate 2021 Chinese New Year CNY with a truly out-of-the-world multi generation family and kids photoshoot! We have specially curated the craziest, most festive and colourful CNY art installation just for your next Chinese New Year family portrait session!
Our Modern Classic Hall on the second floor of our studio is now beautifully decorated with 40 colourful pretty lanterns in different shapes and prints of cherry blossoms to get into the Chinese New Year mood. Each lantern is carefully suspended from the ceiling and these traditional decorations make an enchanting contrast against the studio's modern elegance. These rainbow-coloured lanterns will definitely add vibrance and joy to your shoot, delighting not just kids but also the elders of the family in their most beautiful CNY photoshoot yet.
As if a full height wall of 40 lanterns isn't enough, you'll have a second CNY portrait shoot setup of something that can't be missed during Chinese New Year….. firecrackers! Firecrackers in quantities and sizes big and small, elegantly decorated with the most beautiful bouquets of Chinese Cherry Blossoms in white and pink. Our 2400 sqft of studio space affords an unbelievable luxury of different setups and props.
How many family members can join in a CNY family photoshoot?
Phase 3 means we can have up to 29 pax in a shoot, and up to 10 people unmasked! This couldn't come at a better time as Chinese New Year is just around the corner and families can gather for a multi-generational CNY photoshoot. With a little bit of effort (ok, more than just a little bit!), organize your parents, in-laws, kids, nieces and nephews down for a special family treat for this year's CNY photoshoot!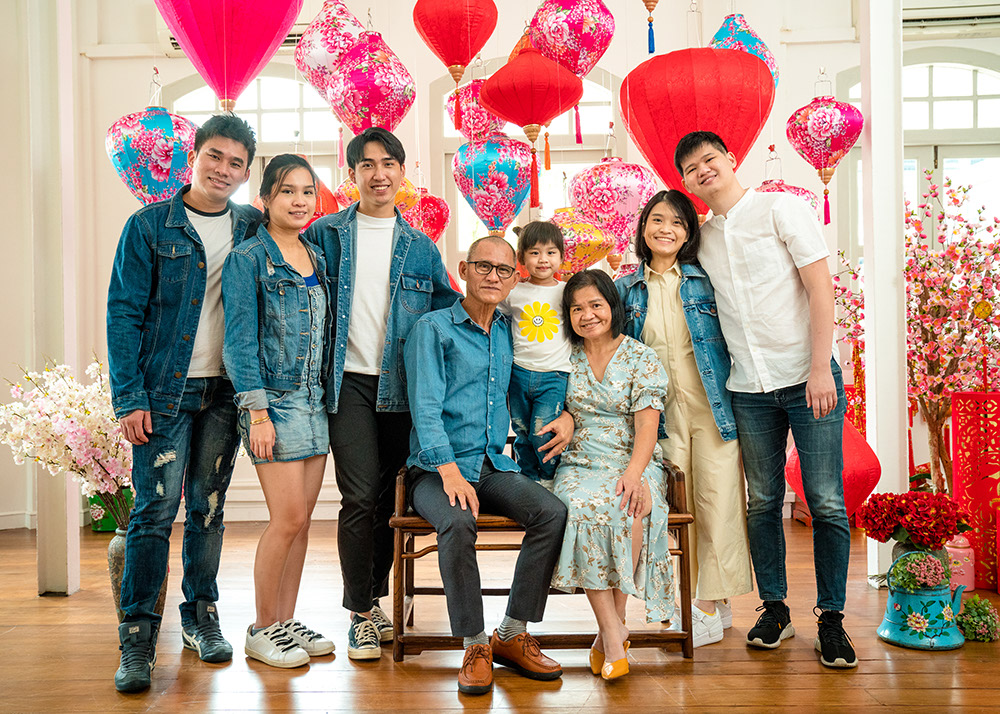 We can achieve various setups for your multi-generational family such as grandparents and grand kids, individual families and individual portraits. You can also bring your precious pet along for the photoshoot. Come prepared for a wonderful time with your loved ones! Check out these recent shoots in our studio!

Besides the hall full of colourful lanterns, you also have the option of having family photos taken against our Peranakan corner for a romantic look, some outdoor-feel family portraits at our balcony against Fort Canning Park adding Greenery & Nature in your photos, under our European Arch for an elegant family photograph, against White Light for a more natural look. Or lie down on our Original Floorboards from 1927 for something rustic and in front of our signature Lux Red Wall for more HUAT!
See the photos below, can you believe that these beautiful family and kids photography are all taken within the comforts of our 2-storey natural light studio space? No need to venture elsewhere!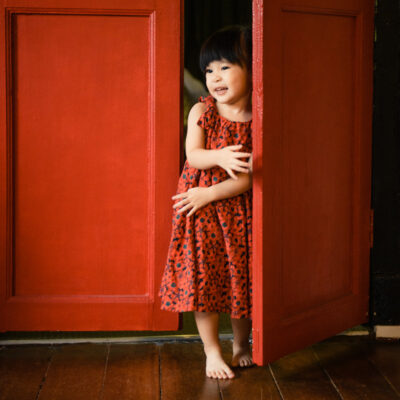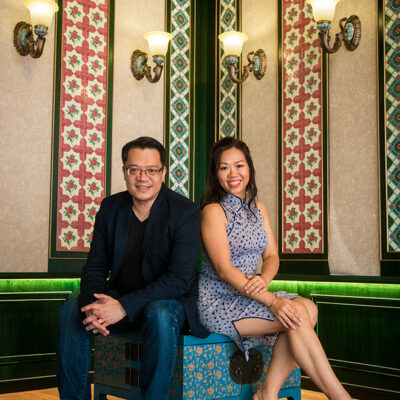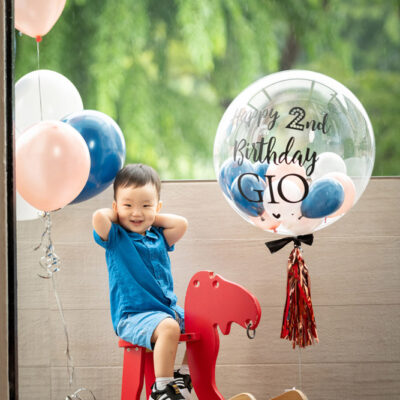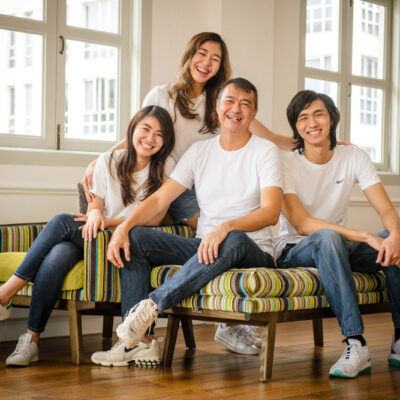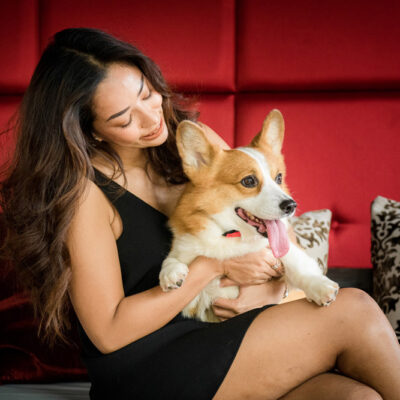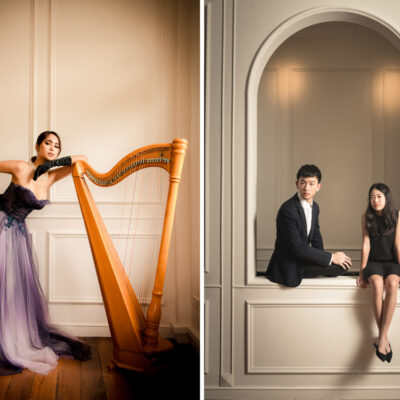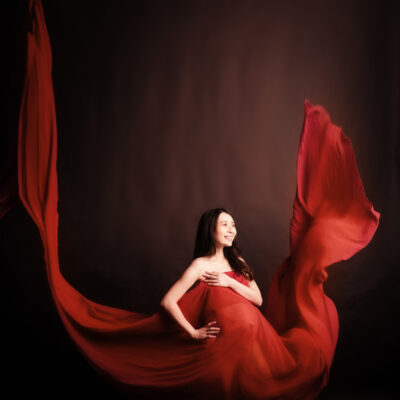 So come down and soak into the mood of colours, family joy and festive spirit this Chinese New Year. May our lanterns shine a blissful light of success for you in the new year ahead!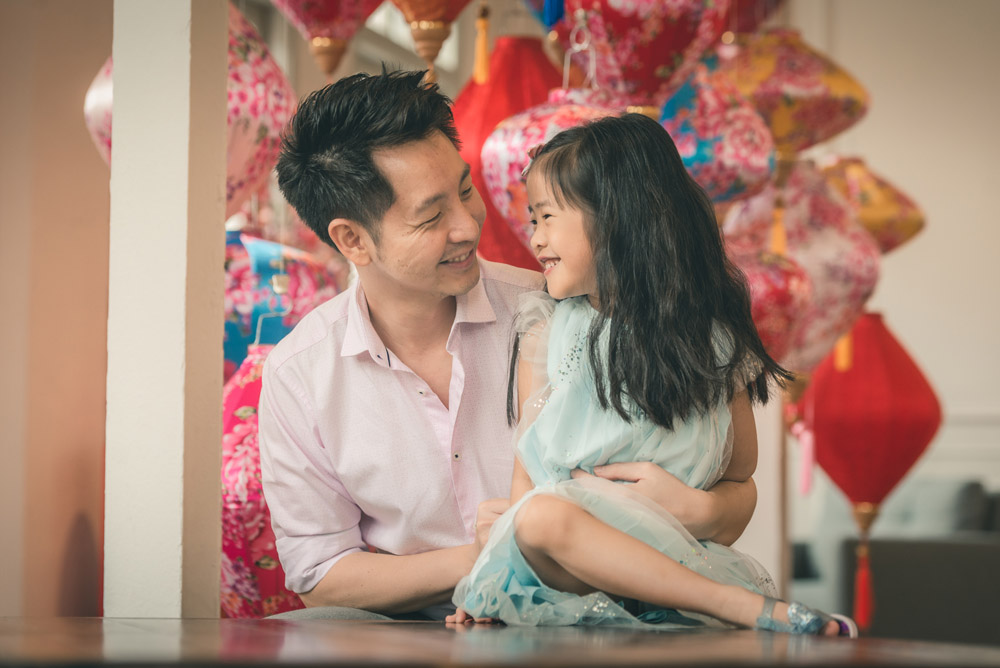 We really enjoyed our experience at White Room Studio for our family's first shoot with our daughter to celebrate her first birthday. Yan, our photographer was very friendly and had amazing rapport with my family. Everything went smoothly from start until the end and I truly appreciate the small details like having our own private changing area. The CNY decorations of colourful lanterns, cherry blossoms and firecrackers were very pretty and tastefully done! Even though my daughter didn't smash her cake at the end, it was funny and entertaining watching her pottering about and enjoying herself like she was at home. 
– Lauren Tang & Family, 2021
TIPS ON WHAT TO WEAR FOR LADIES

If you've read this far and are now dreaming about wearing a cheongsam to complete the festive look, here are some tips on how to pick the right cheongsam for your CNY photoshoot.
Choice of collar: The collar of a cheongsam is 5.5 to 6cm high. If that's too uncomfortable, go for shallower collars of 2.5 to 3cm high.
Sleeves: Cap sleeves are generally more suitable on women with thin arms.
Tightness: The fit of the cheongsam should be comfortable enough for one to eat and sit in. Do a "sit" test to ensure it doesn't ride past mid thigh when sitting and should be able to cross one's legs without difficulty.
Type of skirt: An A-Line skirt will look better on women with heavier bottoms.
Type of fabric: Choose a fabric that has a bit of stretch in it to look well fitted.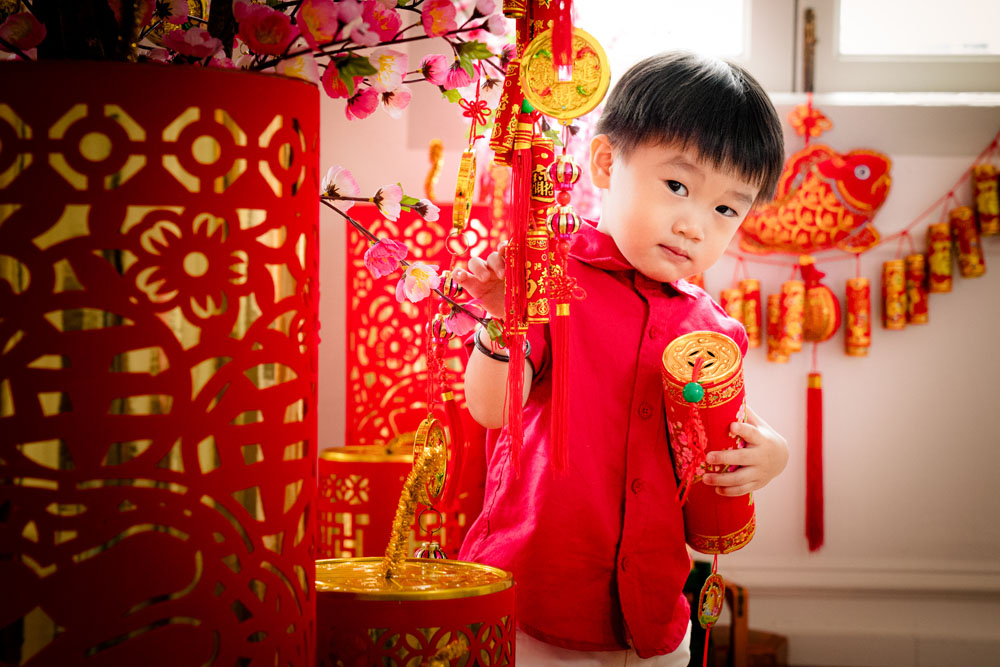 PACKAGE DETAILS

Our CNY Studio Family Package starts from $490 for up to 4 pax ($20/extra pax) and includes 1.5 hour of amazing fun and laughter in White Room Studio! Highly recommended to prepare 2 outfit changes, including a cheongsam outfit for CNY theme, and other more light coloured, relaxed outfits for casual family portraits! Bring along any other props you may like for the shoot to personalize your shoot the way you want 🙂
These CNY decorations will still be up for a month until Chinese New Year, limited sessions left, so… book soon! Call us at 62357037, whatsapp +6587696003 or email info@whiteroomstudio.com.sg to enquire and book your next amazing CNY photoshoot with White Room Studio now!
Wishing everyone a Prosperous & Mighty Year of the Ox!