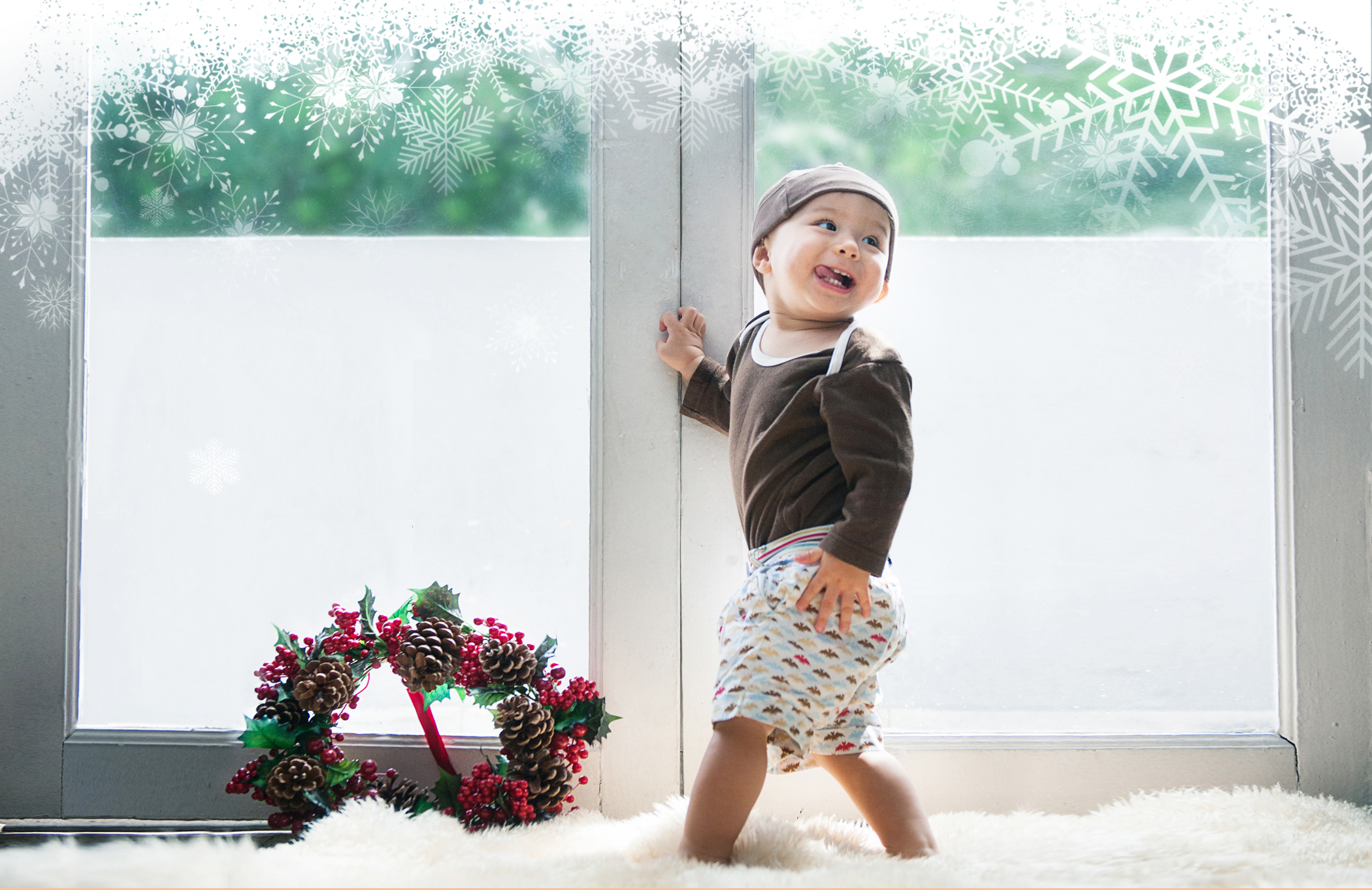 Its going to be that time of the year again, when families break out their Christmas trees and lights, avidly search the internet for Christmas gift ideas for their close relatives, and fuss about that impending Christmas dinner or party.
People of various religions and cultures commemorate this festival in many ways – school is out, work-leaves are taken and relatives fly in from abroad only once a year to catch up with family and friends. Naturally some will feel the need to capture these precious moments with the help of professional portraiture photography and this is where we come in.
Through the years, our photographers have used many simple, natural ideas to introduce a different twist to the usual family Christmas portraits taken in our studio. Here are several quirky, easy DIY photography tips which a family can bring to the photo shoot, making their studio shoot so much more memorable.
1. The Classic Combination : White + Red + Green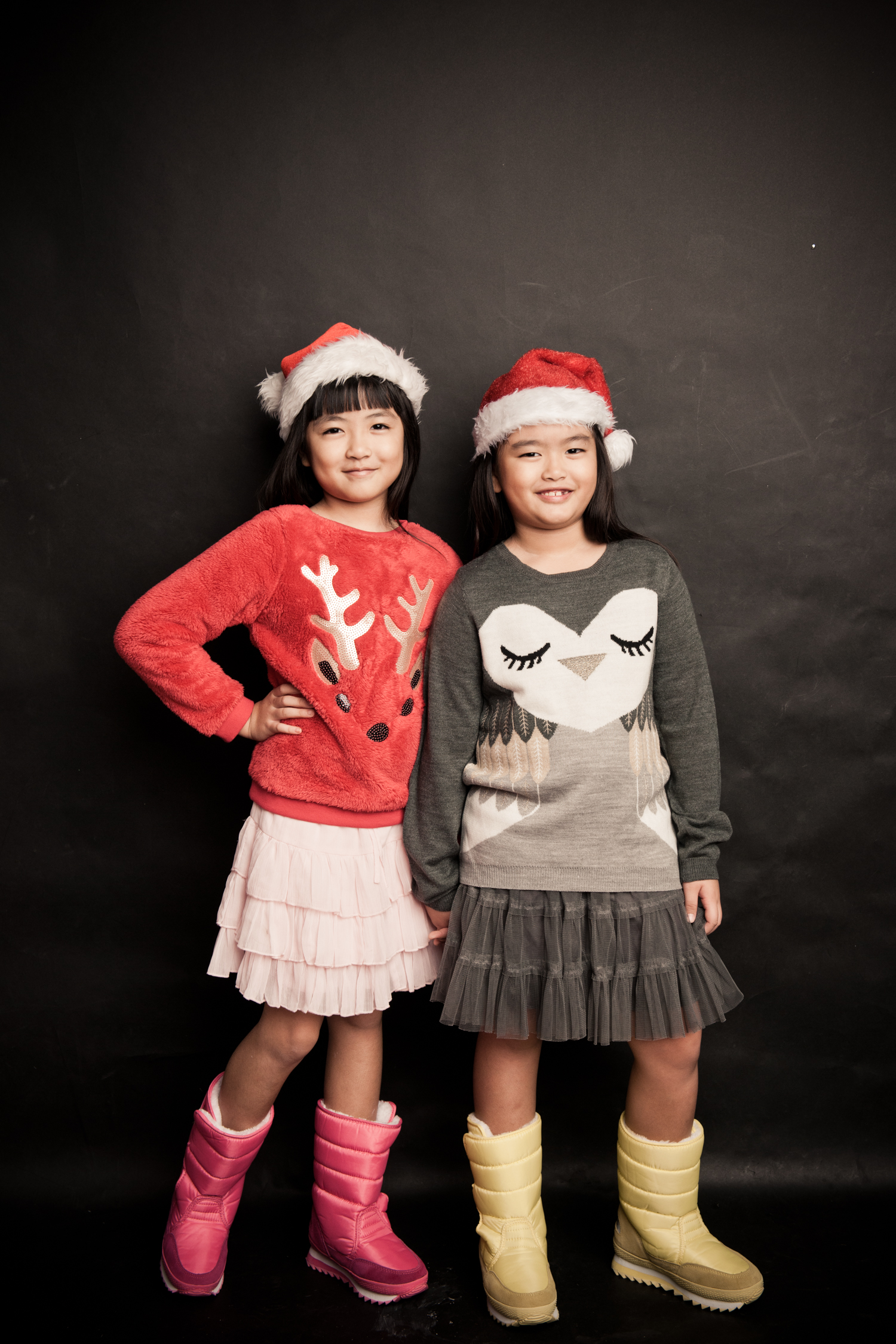 A family can prepare up to 3 outfit changes for a family shoot, and we encourage pastel color co-ordination which makes the pictures much more natural. For the festivities, try the classic yuletide colors, which are naturally vibrant and pleasing to the eye (and to the camera lens)
It is not necessary that these colors are in the clothes. The green can be a spruce in the studio, or the red a festive prop just beside the Christmas tree. If executed properly, this classic color co-ordination never fails to bring across the festive cheer in any picture.
2. Presenting Gifts
The opening of gifts can be that Christmas moment enacted during a photo-shoot. These moments will most likely be filled with an array of emotions, facial expressions and excitement – especially if you've got kids around; bringing about some excellent and unforgettable shots.
Capture young people or children at that time when they give each other gifts and open them. Their emotions of anticipation, excitement, joy, delight (and sometimes even disappointment) are priceless gems for the photographer and these pictures will be a joy to view even years later.
3. Using Christmas props
Children playing with lights or toys are usually the most popular ideas during a photo-shoot because the resulting excitement and delight of the child's emotions usually lead to beautiful and easy photos.
The more unexpected the pose and the emotion of the child can be, the better. The child or baby can sit on a chair, lie on his back or stomach, hide behind a Christmas tree or boxes, throw in the snow artificial snow or silver tinsel, hug a big plush toy, etc.
As Christmas photography ideas, you can also use soft gift boxes, a sleigh with a blanket or a basket where you can put sleeping babies or put older children. Just make sure that your main concerns of safety and absence of a bright flash are addressed.
4. Kisses
Who doesn't like kisses?! And there is nothing nicer or more sincere in a Christmas shoot than delicate sweet kisses against the background of the Christmas tree, snow or wreaths.
Candy Cane Kisses
This is one particular shot which is popular among our photographers:
For newly engaged or married couples, there's nothing more festive than a snog with candy canes and mistletoe and this shot is easy to organize and implement:  get two pieces on candy cane together and pose with your beloved for sweet kissing shot.
5. Slow dancing under the mistletoe
Dancing together on the background of flashing lights and the Christmas tree. What can be more beautiful?
Related: WHAT HAPPENS AFTER THE PHOTOSHOOT – A WHITE ROOM STUDIO X'MAS SPECIAL
6. Cheers for the festivities
Another easy-to-implement shot : Invite the family to take full glasses of champagne and raise them up, proclaiming a toast for the festivities. Don't forget to put on your Santa's caps for full effect.
7. That Magic Ball
A round glass ball gives a very funny reflection, like a crooked mirror. Arrange a few shots to be taken through or off the ball. You can goof around with some funny faces, adding more merriment to your photo-shoot.
8. Masquerade, painted faces on parade
There are few things which are more thematic than a Christmas shoot. For best results, everyone should be in suits and masks.
It will be interesting to capture such mysterious, yet festive photos as group or single shots.
9. Tangle in Christmas Lights
Want something easy and just as effective? Wrap yourself, the kids (or even the pet!) in a couple of fairy lights and see them dazzle for the shoot. Fairy lights always make for a great photoshoot, and they require minimal organizing or planning. Try to use battery-powered Xmas lights if you go with this idea, through. (Safety first!).
Our year-end festive photo studio sessions are running out fast, so call us quickly if you are planning for a holiday portrait shoot with one of Singapore's best, award winning photography studio this year.
To find out more about what White Room Studio can offer, call us at +65 62357037, whatsapp +65 87696003 or email info@whiteroomstudio.com.sg! Meanwhile, have a look on our website and facebook page.
You may also browse through our amazing gallery and feel the experience our clients have with White Room Studio.