Did you know that Chinese New Year starts on 22nd January 2023? It's just right around the corner, so read on to find out how to celebrate Chinese New Year with your family at White Room Studio!
Welcome Chinese New Year in style – just like Jorsia and her baby boy! 
When you step into our 2-storey boutique shophouse studio, you will feel almost as if spring has truly arrived. With an abundance of cherry blossoms, lanterns, and firecrackers in our spacious 2400 sq ft studio, this will be a Lunar New Year to remember!
Even if some family members and relatives only get to see each other once a year, Chinese New Year is a chance for everybody to reconnect and catch up.
Time is precious indeed – a family photoshoot can help you remember this significant event and create fond memories to cherish forever.
So get ready to usher in the Year of the Tiger at White Room Studio, the Finest Natural Light photo studio in Singapore!
Welcome Chinese New Year Together!
Have you ever heard of the saying "Out with the old, in with the new"? Many families will gather as one during this special season. CNY also signals the dawn of many new beginnings, so this is the golden opportunity to renew your Chinese New Year family photos if you have not yet done so!
All the décor you see in the photos are personally sourced from the finest shops in Chinatown. They are also specially handpicked for their great symbolism.
For example, the beautiful handcrafted lanterns suspended from the studio's ceiling represent luck and good fortune! And of course, the more the merrier (or luckier)!
At White Room Studio, our photographers are highly experienced in photographing large families with children and grandparents. We will give you posing tips and ideas, capturing a variety of group shots, which means you get to have the best Chinese New Year family photos for a lifetime.
To help you get started on your Chinese New Year photoshoot prep, check out our Frequently Asked Questions below!
What should I wear for a Chinese New Year photoshoot?
We recommend wearing colour-coordinated outfits as a family! For a Chinese Year New family photoshoot, auspicious colours like red or pink are highly encouraged! You can match these coloured tops with darker bottoms for a better contrast on pictures.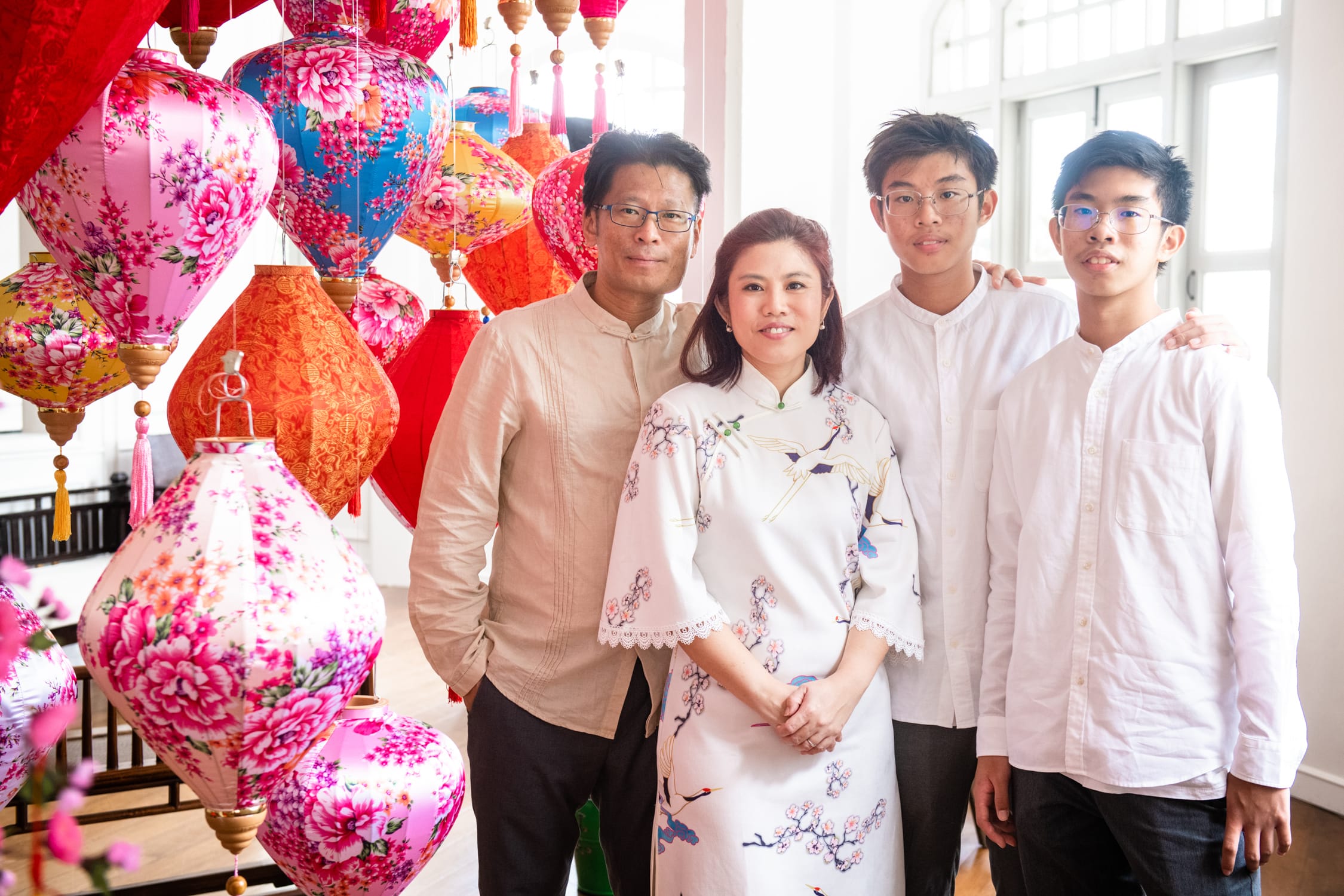 Kids and toddlers can be dressed in brighter colours, while older kids and adults can work with darker shades and accessories as well. Overall, the goal is to achieve a cohesive look in your family photos.
For the men and boys, shirts with mandarin collar or a formal button-up will look stylish on camera. As for the ladies, dresses like cheongsams, Peranakan-style kebayas or modern two-piece outfits are perfect.
Do try to avoid busy or loud patterns on your clothes, simple is best to help you stand out from the decorations in the background!
"We had high expectations for our Chinese New Year family photoshoot, especially after browsing through White Room Studio's photography portfolio. And White Room Studio didn't disappoint Their photographer was very patient and engaging, despite having to chase after 4 kids. We love how the photos turned out and how they captured the moments. 5 stars !"

– Boon Hui & family
How many pax are allowed for Chinese New Year family photoshoot?
There are currently NO restrictions or limit on the number of pax allowed in the studio! We welcome all ages, so feel free to invite your grandparents and relatives to White Room Studio for that long-awaited family portrait!
Our award-winning studio has greeted multi generations over the years – hundreds of families with both the young and old. If there is one thing that can always make grandparents smile, it is their grandchildren. So there is no better time than Chinese New Year to take your family photos with your grandpa and grandma!
What time is best for a Chinese New Year family photoshoot?
Our studio is open from Monday to Sunday. The earliest photoshoot timeslot starts at 9am and the latest is 5pm! Our studio receives all-day natural light thanks to the row of French-style windows on the third floor.
There is plenty of natural sunlight in the morning, and of course you also get the famous "golden hour" in the late afternoon! Natural light gives you a soft and warm glow, which makes you look more flattering in portraits.
To book your shoot, simply let us know which date and time you prefer, and we will take care of the rest for you!
If you wish to find out more about Chinese New Year photoshoots at White Room Studio, check out our previous CNY article here. More info below!
The White Room Experience
Taking a photo is not merely clicking on the shutter. For us, it is designing a photography experience meant to capture the best version of you and your loved ones. Have a look at the White Room Experience below:
Hair and Makeup Package
If you'd like to have professional hairstyling and makeup done for this Chinese New Year photoshoot, our makeup artists will create a personalised look just for you! It will take an hour in the privacy of our brand new vanity room, where you can relax in comfort.
We also have two fully equipped changing rooms! For more ideas on what to wear and how to prepare, download our Family Portraiture Lookbook.
White Room Studio Chinese New Year Photoshoot Package Details
Our Chinese New Year Studio Package starts from $490 for up to 4 pax ($20/extra pax).
It includes 1.5 hours of family fun & laughter in White Room Studio!
We highly recommend you prepare 2 outfits: 1 Chinese New Year outfit + 1 smart casual outfit!
These CNY decorations will still available for a month after Chinese New Year. Photo appointments are limited, so do book your photoshoot early!
See our Rate Card:
Contact us to book your shoot!
Feel free to visit our Facebook and Instagram page for all the latest updates.
"Our photographer, Delun, is very professional and his skills and service are very good. The studio staff are also patient and friendly. The Director of the studio was professional and would sit down to go through the photos with us and give recommendations. Our Chinese New Year family photoshoot was a great success and everyone loves the pictures very much! Highly recommended if you are looking for professional photos with great quality!"

–  Patrick Ngo and family