CELEBRATE YOUR MILESTONE WITH A GRADUATION PHOTOSHOOT!
A
ll those late nights of mugging for exams are finally over, you are now a graduate - congratulations! With or without your convocation ceremony, you can still celebrate this special milestone in your life with your family and friends by doing a graduation photoshoot.
Whether you are doing a photoshoot for yourself or your child's K2 graduation, what matters most is that these are life's achievements that should be documented and treasured for a lifetime. Bring along your family or close friends who motivated and supported you throughout your educational journey, show how much you appreciate them and celebrate this joyous moment together!
At White Room Studio, we keep our photography style natural and candid with minimal props. It's all about being casual, capturing genuine moments and interactions between you and your loved ones. Spread over two floors of sprawling 3000 sq ft space, our recently renovated Peranakan shophouse offers cosy and creatively curated spaces to make your photoshoot unique and stand out from the rest!
We wanted something memorable for my girl's graduation shoot and was so glad that we have chosen White Room Studio. Delun was our photographer, he made all of us feel relaxed, fun & comfortable especially the grandparents and he captures the most natural and best smiles of us.

The photos turn out fantastic, we had a hard time choosing them! Lucky, we had Elaine, who was very professional and was a great help in helping us to filter the photos. She is also very responsive when I texted her for any advice. Surely looking forward to our books and framed pictures!

Would highly recommend White Room Studio to anyone that needs a photo shoot of any nature and kudos to the whole team.

– Josephine Kwok and Family
Graduation gowns and mortarboards can be provided, altered or even tailored and they are included in the cost of the package. We will explore various setups during the photoshoot so you don't have to keep your graduation gown on throughout, we can even photograph you in your casual clothes or in formal attire so that you can have your portraits all ready for your new job or your LinkedIn profile.
Instead of the standard and expected graduation backgrounds that you might get at other studios, we provide natural, rustic and classy themes like these recent shoots!
Make the time to capture the "I made it" moment — forever. Call us or drop us an email to book your Graduation Photoshoot today!
PACKAGE DETAILS
Our Graduation Studio Package starts from $490 for up to 4 pax ($20/extra pax) and includes 1.5 hours of family fun in White Room Studio!
We strongly recommend you to prepare 2 outfit changes, including a formal outfit for corporate shots and relaxed outfits for casual family portraits! Take a peek at our exclusive Graduation Portraiture Lookbook for more pre-shoot advice and outfit ideas 👗👔
For makeup and hairstyling services, you can book a relaxing 1-hour makeover and hair appointment with our in-house makeup artist, who will create a personalised look just for you! Send us a message today to find out more.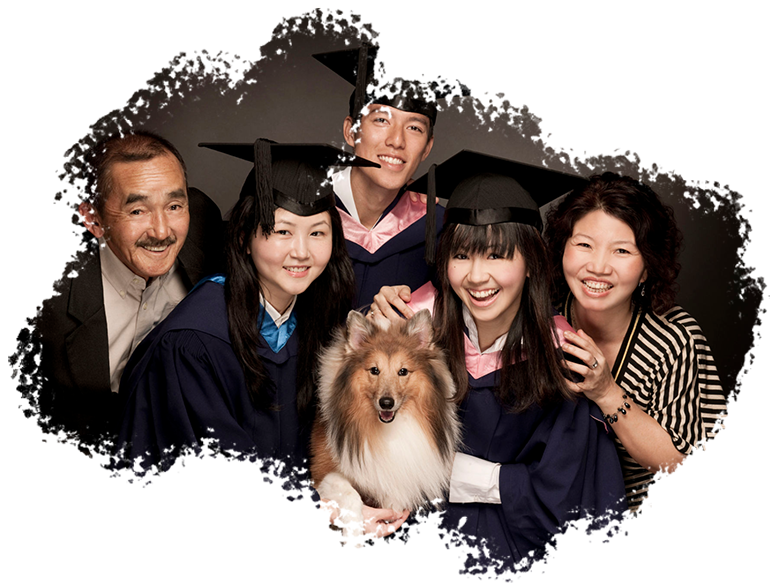 Contact us to book your shoot!