In this blog series, White Room Studio shares the best of Singapore for an outdoor family photoshoot.
Come along with us as we explore the vibrant past of Botanic Gardens and discover its array of amazing photo opportunities!
We would also like to give our special thanks to these families below for making this feature possible – now, 𝙇𝙀𝙏'𝙎 𝙂𝙊 𝙏𝙊 𝘽𝙊𝙏𝘼𝙉𝙄𝘾 𝙂𝘼𝙍𝘿𝙀𝙉𝙎!
Why go to Botanic Gardens for an outdoor family photoshoot?
The Botanic Gardens have been bestowed the title of Singapore's first UNESCO World Heritage Site back in 2015. But did you know that the Gardens have been a significant landmark in Singapore and played an important role in the country's history?
During the colonial period, it served as a center for the cultivation of rubber, a critical industry that contributed significantly to Singapore's economic growth. The Gardens also provided a platform for research and experimentation that helped to establish the country as a global leader in the botanical industry.
Para rubber plantation, Singapore. The first rubber trees were planted in Singapore's Botanic Gardens circa 1877. Credit: National Archives of Singapore.
But beyond this title, one of the great things about Botanic Gardens is that there is a range of interesting and varied settings for photography. From the colourful blooms of flowers to the diversity of trees and shrubs, there are now 82-hectares of greenery to capture unique family photos.
The Best Photo Spots in Botanic Gardens

The Gardens offer a chance for kids to connect with nature in a fun and interactive way, whether it's running through open fields, playing hide and seek amongst the bushes, or discovering hidden ponds and streams. There is just so much to see and do — check out these gorgeous family portraits below!
The Gazebo at Botanic Gardens

Nestled in the heart of the Gardens lies the iconic gazebo, a perfect spot for a casual family photoshoot. Surrounded by majestic green giants, the gazebo's charming design and classic details create a relaxed atmosphere just right for a family outing.
Why not take your pet dog out to Botanic Gardens like Kaja's family did, exploring the sights and smells on your next Sunday stroll?

Basking in the peaceful ambience, you can hear the sound of leaves rustling and branches swaying in the wind. Did you know that the black swing close by the Gazebo is also another popular photo spot?
The swing offers a perfect blend of nature and aesthetics that's sure to elevate your outdoor family photos. So, swing away and let us capture unforgettable moments in this garden oasis!
The Gallop Extension at Botanic Gardens

This serene location was fully completed since 2019 and has been a visitor favourite since then.
One of the most striking features of Gallop Extension is the unique architecture of its structures. R.A.J. Bidwell, the celebrated British architect behind the famed Raffles Hotel and Goodwood Park Hotel in Singapore, was the mastermind behind the design of both houses.
You can enjoy a walk through the pavilions and or explore the inside of a 120-year-old colonial bungalow.
Old but gold: These beautifully-conserved black and white buildings are also home to a Botanical Art Gallery, a Forest Discovery Center, and more!
Taking a Look Around Gallop House

The Gallop House is a must-see destination for anyone looking to immerse themselves in Singapore's rich cultural heritage.

The area is characterized by their distinctive white-washed walls, sloping roofs, and ornate detailing, which are reminiscent of the colonial era! It's an excellent retreat from the heat while still enjoying the abundance of natural sunlight streaming in through the wide windows ☀️
Gallop House is a perfect photo spot for families of all sizes! Chris' multigenerational clan loved the place as much as Yuki's family of 3.

The landscapes you see here inspired by the English Landscape Movement. Bungalows were constructed on hilltops, offering breathtaking views of the surrounding terrain. Moreover, the houses were also named after the English countryside, adding to their allure.
The high-pitched roofs provide ample ventilation and natural light, while the wide verandahs provide shade and a comfortable outdoor space. The detailing, such as Gothic porches and Moorish arches, adds a touch of elegance and sophistication to the overall design.
Together, these create a clean and timeless aesthetic that is perfect for capturing memorable family moments!
"Ah Gong, I made it!": Jane exchanges a loving look with her grandfather. She shares that she had always wanted to make him proud and a graduation photoshoot was the occasion to remember this milestone.

Saga Tree Grove at Botanic Gardens
At the Gallop Extension, there exists a grove of Adenanthera malayan trees, also known as saga trees or Saga Daun Tajam. The grove is located midway between the two colonial bungalows and is marked by several larger-than-life saga seeds!
Keke smiling sweetly during her family photoshoot! Fun fact: the seeds of saga plants serve as a representation of love and are commonly referred to as "xiang si dou" (相思豆) in Mandarin, which translates to "longing peas."

Swan Lake at Botanic Gardens
For those looking for a more romantic or whimsical setting, this idyllic location adds an extra touch of enchantment to any photo session. You can even catch a glimpse of swans, ducks, and other wildlife!
Helen had her maternity photoshoot at the pavilion overlooking Swan Lake – there were so many special moments as a mother-to-be. Her maternity photos turned out every bit as picturesque as she had imagined!
Coming to Botanic Gardens makes for a refreshing change of pace from the hustle and bustle of Singapore! Kids of all ages can appreciate a fun day out here, igniting their curiosity and sense of adventure.
If you're lucky, you might spot some of the wildlife that call the Botanic Gardens home, such as certain species of butterflies or songbirds.
With lots of smiles and a willingness to slow down and enjoy the moment, you can experience quality family time at this renowned world heritage site.
We trust that you had a delightful time accompanying us on a brief excursion around Botanic Gardens, and that you learned a lot about this charming locale!
Keen to find out more local photoshoot locations? Check out our Top Locations for An Outdoor Photoshoot in Singapore now!
Prefer the comfort of an indoor environment instead?
White Room Studio – Finest Natural Light Photo Studio in Singapore
Feel at home in a nostalgic Peranakan shophouse built in 1927 in downtown Singapore, steeped in 100 years of history. 219 River Valley road is an amazing space which works in synergy with the style of White Room Studio!
The space offers the look and feel of being outdoors with different creative concepts for an intimate, cosy portrait session. Our team looks after each step of your photography session with us, so you don't have to.
From the open-air balcony overlooking Fort Canning Park, to the resplendent Peranakan corner, down to the classy European theme on the third floor of the studio, join us for an exceptional portraiture experience!
What's more, clients have access to a brand new guest lounge, makeup room and changing rooms within the studio. You'll be well looked after – your comfort is our priority!
Let us know what we can do for you and we'll make your dream family portraits come true!
Download our Rate Card below to receive the full package details: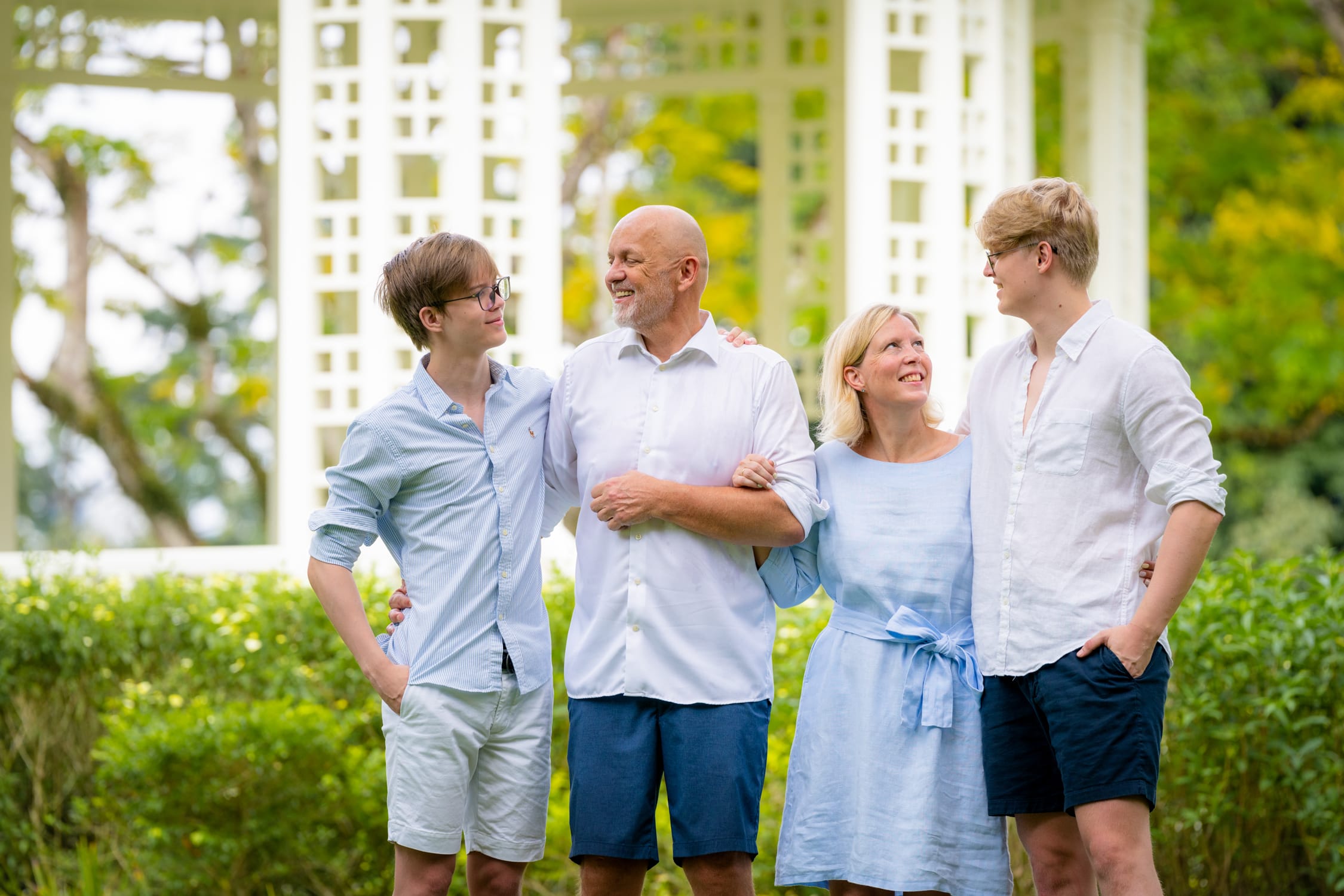 Contact us to book your shoot!