No one knows the importance of putting your kids first better than us, as White Room Studio's photographers are also parents themselves! As full-time parents and professional family photographers, we have a natural affinity with children of all ages, making each family photography and kids photoshoot session an enjoyable adventure.
The school holidays are right around the corner too! Parents, if you're looking for a fun activity to do with your young ones – look no further. White Room Studio is the place to be!
Kids Photoshoot – A Family Activity You'll Always Remember
Kids are so much more intuitive than we think! Sometimes, they may surprise you by pointing out a memory you probably can't remember.
At their age, kids might not recall all the day-to-day experiences or the gifts you gave them, but they will definitely remember the time they spent with you. What matters is, you made them feel happy and important then!
With that being said, kids connect emotionally to experiences and they will express themselves in various ways. They will remember moments that have a great significance to them, moments that affirm their self-worth.
Check out this adorable family photoshoot below!

View this post on Instagram
That's why it's so crucial to always be there for them and document their childhood. A family and kids photoshoot is the best way to do this, especially during this upcoming school holiday! Check out these photos below that showcase the beauty of being a kid!
Immortalizing Their Childhood Through a Kids Photoshoot!
For kids who love to play and are full of energy, our 2400 sq ft studio in downtown Singapore is plenty spacious to keep them engaged for a good 1.5 hours!
Parents, we got you covered too. Our cosy guest lounge and pantry are stocked full of yummy refreshments for kids and adults! Our makeup room and changing rooms are also free-to-use.
Don't hesitate to let us know if you need anything – our studio assistants are always available to attend to your requests throughout your family photoshoot.

With a variety of props like a bubble blower and a beautiful vintage rocking horse, your kids will be delightfully entertained when they enter the studio! There is no lack of creativity in terms of posing and settings. We encourage you to let your imagination run free!
It is really important to us that your kids feel safe and welcome in a new environment. Our photographers jump, play, and laugh together with the kiddos during the family and kids photoshoot, and parents tell us they appreciate it!
"Kudos to our photographer who kept the whole session comfortable, he managed to keep the kids happy. He is also very good at handling young kids!" – Wei Kian Wong
Every Kid is Worth Photographing: Watch 5 kiddos take on the "What's in the Box?" challenge!
Stay tuned til the end of the video as we also capture their priceless reactions!
Professional posing guidance will also be provided. During the family photoshoot, we will achieve a good combination of candid and posed shots. Mom with kids, dad with kids, parents with kids, kids solo portraits, you name it!
Most importantly, we let kids be kids. We believe in just letting them be who they are. That's how White Room Studio has been able to capture the brilliance of every child, no matter how they are like!
Confident, stylish and bold: 7-year-old Kanna steals the spotlight at White Room Studio during her kids photoshoot!
Guess what, White Room Studio is also pet-friendly! So bring your kids and fur kids along, we would love to meet them! Our team is made up of animal lovers as well, making a family and pet photoshoot equally exciting. There will not be a dull moment at all!
How To Prepare For a Family and Kids Photoshoot
Whether indoors or the great outdoors of Singapore, we put our hearts and soul into each award-winning portraiture session. Our goal at White Room Studio is to deliver a family and kids photoshoot that exceeds your expectations. Some useful preparation advice below:
Bring along your kids' favourite stuffed toy or item. This will help to ease them into the photo taking, and make it extra meaningful for them.
For younger kids, do pack an extra change of attire just in case they need it.
Feel free to pack your child's favourite snacks or drinks if they need a pick-me-up in between the shoot. We do have refreshments available, but nothing beats their preferred tidbits!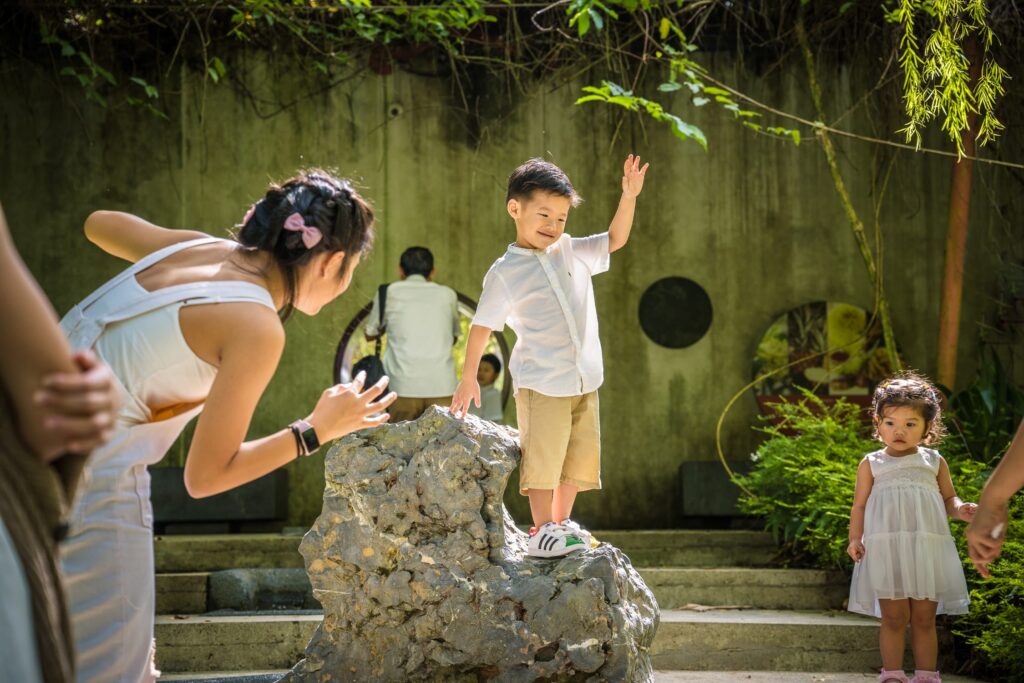 4. Do prepare at least 2 different outfits! We recommend dressing the kiddos in smart casual – the photos will turn out really timeless.
5. Make sure your kid has a restful night's sleep the day before if your shoot is happening the next morning. Or get them to take a nap first so they'll be fully recharged in the afternoon!
The school holidays should be all about fun and making good memories. Come on down to view the studio or ask about a kids photoshoot. More details below:
The White Room Experience
Taking a photo is not merely clicking on the shutter. For us, it is designing a photography experience meant to capture the best version of you and your loved ones. Have a look at the White Room Experience below:
Family and Kids Photoshoot Package Details

White Room Studio's Family & Kids Photoshoot Package starts from $490 for up to 4 pax ($20/extra pax).
It includes 1.5 hours of quality time in the studio! We recommend you prepare 2-3 outfits, and you can dress up in the comforts of our changing room.
Moms and dads, if you want to look extra elegant for this portrait session, you can book a makeup and hairstyling appointment. It will take about an hour!
Our respected professional makeup artist, who has worked with White Room Studio for almost 10 years, will create a stylish look just for you in our brand new vanity room!
Get pro fashion advice and prepare for your photoshoot in our exclusive Family Portraiture Lookbook.
Download our Rate Card below: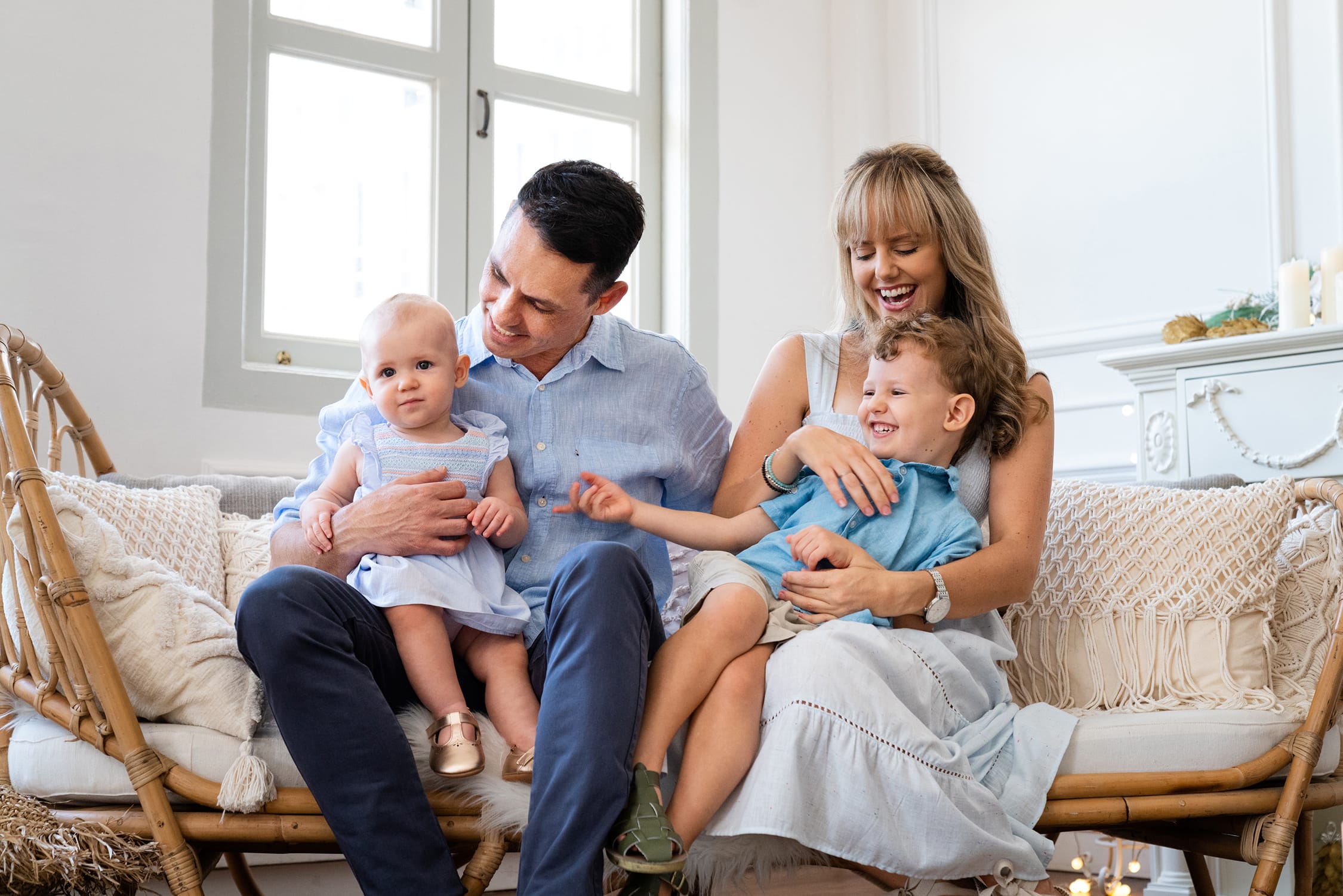 Contact us to book your shoot!
Feel free to visit our Facebook and Instagram page for all the latest updates.
"White Room Studio is an excellent place to snap family and kids photos! We had such a lovely time with the family posing and having fun along the way. Our photographer, Randy, was patient and with 5 kids in tow – we really appreciated it! The studio is gorgeous and serves as a very beautiful setting to our photos.

We are very happy with the outcome of the photos and glad to have new memories up on our wall. Highly recommended!"

–  Valerie Lim and family
Did a family shoot for my baby and myself with Justin and Verona at White Room Studio back in August - the shoot went pretty smoothly even with an increasingly tired 2 month old infant, with good posing directions from Justin while Verona helped to make sure my baby was comfortable and looking at the camera. Loved the set-up at the studio and we didn't have to wait long in between for the different set-ups.
My experience with White Room Studio for our recent graduation/family photoshoot was fantastic, and a big part of that was due to our photographer, Jia Ming. Jia Ming was incredibly skilled at directing the photoshoot. They made us feel comfortable and guided us through poses that turned out great. Their friendly and patient approach helped us relax and resulted in genuine, heartfelt smiles in our photos. Jia Ming's attention to detail and ability to find the right angles produced beautiful shots that we'll treasure. Their passion for photography was evident, and it reflected in the final images. Thanks to Jia Ming and the White Room Studio team, we have graduation photos that capture the moment perfectly. I highly recommend them for their professionalism and Jia Ming's excellent direction. It made our photoshoot a memorable experience.
Had a lovely experience doing a family photoshoot with White Room Studio - all photos turned out to be amazing. Our photographer Jia Meng was great in engaging the family and everyone was very comfortable during the shoot. The studio had lovely backdrops too. Overall great service, including before, during and after the shoot! Highly recommend to anyone looking to do a shoot, especially if it's your first time 🙂
Fun & friendly photoshoot with Yating. She made us feel welcome & comfortable during the shoot. Photo viewing service was also great with Dan. Professional & helpful in choosing the photos. Thank you guys.
Hernie Andersen
2023-09-11
We were blown away by the level of skill and artistry when we got to see the photos. Each image was a work of art, reflecting the joy and tenderness we felt at the time. Randy, our photographer captured the emotions and created everlasting memories that we will cherish for the rest of our lives. We wholeheartedly recommend White Room Studio to anyone seeking extraordinary photographs and an unforgettable experience.
A very special experience for the whole family! Yan, our photographer, guided us through the whole process. Her directions and pointers on how we could pose made our time there super fun! Much joy and laughter during the session. Highly recommended, thank you for the memorable time:)
My family and I came here for a photoshoot to commemorate my sisters graduation with Yan as our photographer helping us out. She was extremely knowledgable, helping us get the best pictures. The photography session was really fun and enjoyable, leaving us extremely satisfied with a memorable experience. We loved the photos taken, they were high quality and very well edited. Highly recommend coming here to get your photos taken to commemorate an occasion with your friends and family.
We had originally booked a newborn slot earlier but had to reschedule last minute and the team was so accommodating. On the day of the photoshoot, our daughter was fussing (and crying) and we were worried that we were not able to take any good photos but lo and behold, the talented photog, Justin assisted by the talented baby whisper, Verona - they both managed to calm our baby down. Both were very professional, patient and accommodating. 5 star! Thanks Justin and Verona for helping us create lasting memories!
We did a follow up baby photo shoot (post maternity shoot with White Room Studio) with Justin and Verona, and had an extremely incredible time. Verona is a super 'baby whisperer' and able to soothe our wailing daughter during the photo shoot session. Justin was very patient and understanding, and the end result were all extremely gorgeous. We ended up getting all the digital print because we couldn't resist! Highly recommend Justin and Verona for baby shoot!
Good experience