CELEBRATE YOUR BABY'S FIRST BIRTHDAY WITH A CAKE SMASH!
F
irst birthdays are so important and are a cause for celebration! Why not make it even more fun and unforgettable by throwing in a cake smash photography session? Cake smash sessions involve giving your baby their very first cake while you watch in amusement as they grab, pull and smash it apart.
Your baby will be happy and excited, and you're guaranteed to have a good laugh celebrating your one-year-old's birthday with a cake smash photoshoot! Cake smash family photo shoots are a perfect way to bring the whole family together. Afterwards, you will walk away with the most adorable photographs that you can cherish forever!
At White Room Studio, we provide the cake, themes and cake smash as well as family photography to capture these special moments and in this blog, we have prepared a guide with some tips for making the most of your baby's cake smash photoshoot session! From why you should do a cake smash shoot, what to expect and how to manage your baby during the session.
Nothing beats watching your baby clumsily walk and hear them squeal in delight while having fun with their cake and getting cream all over themselves!
Why Do a Cake Smash Shoot
Life changes when you have a baby… we all know that! As parents, we are gifted with the most precious gift of love and care. From the moment our little bubs are born, we watch them every day and see how quickly they grow into a special little person. After a year of surviving sleepless nights, laughter and tears, why not throw chubby-cheeks baby and yourselves a little cake smash party and photoshoot to celebrate their first major milestone and document it too?
When To Do a Cake Smash Photo Shoot
Ideally a month before baby's first birthday! If you plan to have the cake smash pictures ready to share on their actual birthday, contact us at least 6 weeks in advance to book a cake smash photoshoot and have photos ready!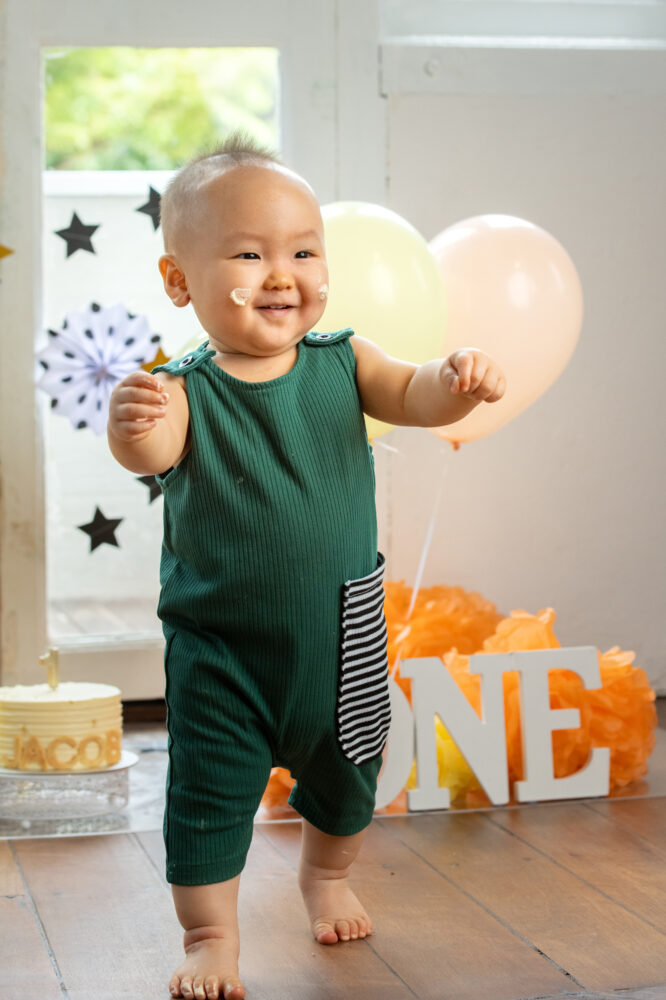 What To Expect In A Cake Smash Photoshoot

Lots of very cute cake smash photographs! During the 1.5 hour session, we will first take a variety of photos that can consist of baby portraits, mom with baby, siblings, pets and the whole family photo before setting up for the cake smash galore! Check out our free Cake Smash Portraiture Lookbook for more details on what to wear and styling advice.
We have various themes that include colourful balloons, delectable cakes (we do take special orders) as well as cute paper decorations to choose from. You can also expect for things to get messy during the cake smash, but not to worry, your baby can easily be wiped down at the end of the session.
Two weeks after the cake smash photoshoot, we will invite you back to view the photographs and make your selection.
During the viewing, you can then decide if you'd like to purchase extra photographs, frames, acrylic blocks or even canvas. We have a wide range of display products to choose from!
Our 2 storey shophouse is illuminated with bright natural light and we can achieve many different looks and backgrounds during the photo shoot. For the family portraits, our hot favourites are the Peranakan Corner, Elegant European Room, and on our balcony with the greenery of Fort Canning in the background. During the cake smash photoshoot session, you have the option of doing it on our balcony, or if it gets too hot, we can also do it inside against the glass door or the natural white door. So come rain or shine, the photo shoot will go on!
We couldn't believe how incredibly lucky we were to have been the photography studio of choice of Mr Jamus Lim, his lovely wife Eneide Alcalde and their cute daughter. It was such a privilege and honour to have captured Mr Lim and his lovely family for their very first family and cake smash photo shoot.
Read their review of our service below:
We had a fantastic experience at White Room Studio for our family's first family shoot with our baby girl to celebrate her first birthday. Dan captured so many beautiful pictures of our little one with his keen eye for detail - and we are incredibly pleased with the results. He and his team are talented, warm and professional creatives who made us and our baby girl feel at ease during the entire session. We highly recommend Dan and the White Room Studio team! - Jamus Lim & Family
How To Manage Your Baby During The Photoshoot

Cake smashing may be something new to your baby and it might take them a while to get into it. You can help by giving them some gentle encouragement and tell them it's OK to smash the cake and you can even join in the fun to show them how it's done!
Our photographers are also very experienced at photographing, handling babies and giving clear direction so just leave your worries behind and just have a good time. Our staff is also around to give a helping hand to anything you may need during the cake smash photo session.
Most of the time, once everyone starts singing Happy Birthday and clapping their hands, the baby will just know what needs to be done!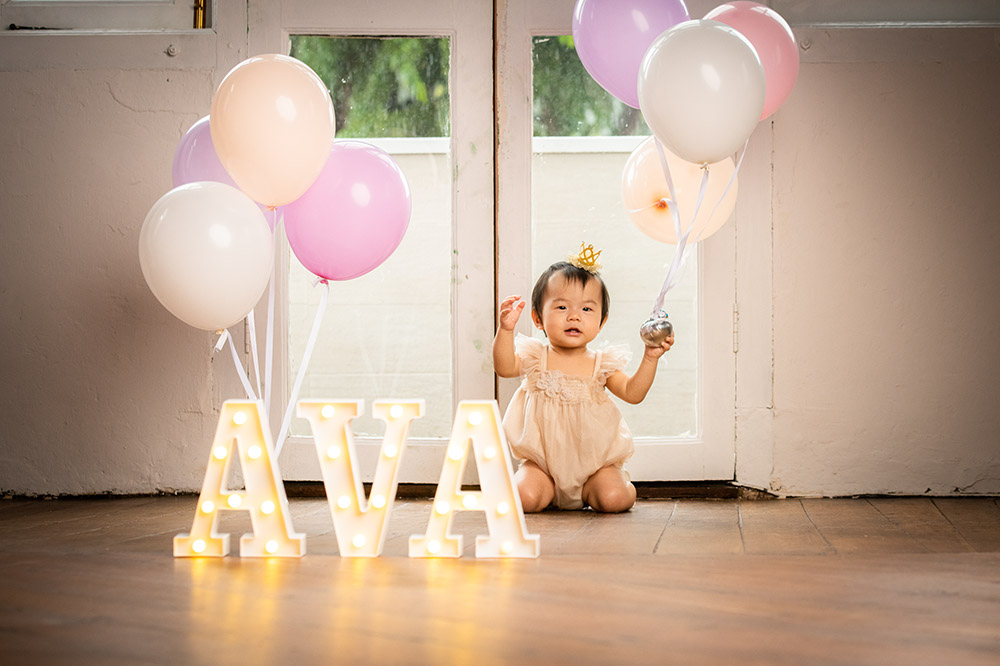 We had our daughter's 1st birthday cake smash photoshoot with Yan. The pictures all turned out so nice and perfect. Yan was patient and lively with us and made our whole experience so nice and enjoyable.

Definitely not easy to take baby pictures with two dogs but Yan managed to do it. We should have gone with the White Room Studio for her newborn pictures. The experience and the result are totally incomparable!

 
– Audrey Leow & Family, 2021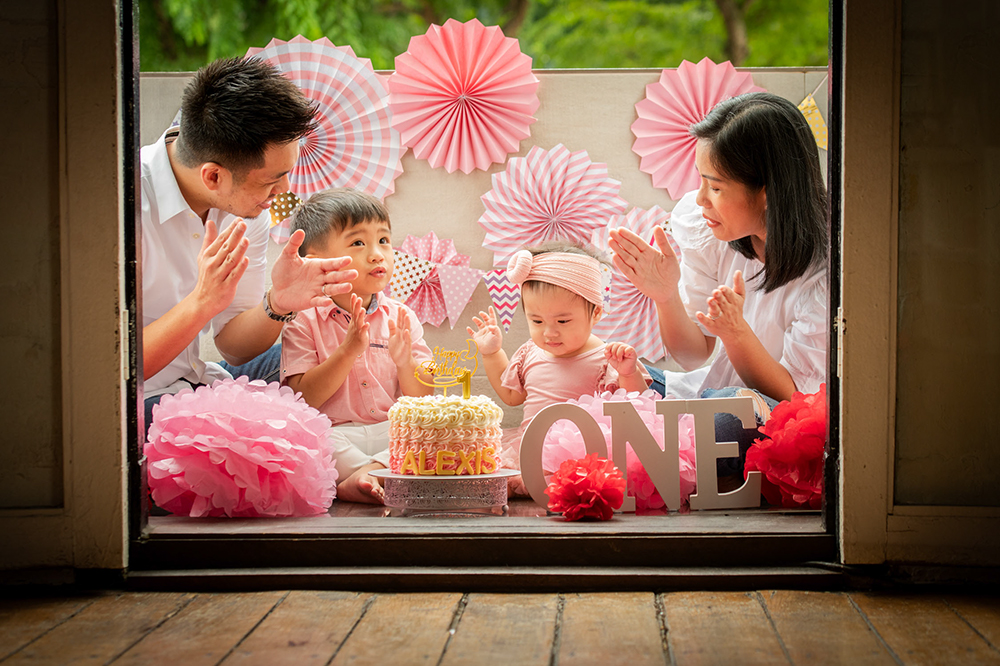 WHAT TO BRING AND WHAT TO WEAR

Bring 2-3 different outfit changes! You can bring a cute little outfit for your baby's cake smash photoshoot session, Eg a pink tutu dress for the girls or a bow tie with suspenders for the boys.
Color coordination is very important for outfits for everyone. Ideally, they should also complement our cake smash themes. We have 4 wonderful themes to choose from!
Onederful Colours: Rainbow coloured balloons, paper flowers and decorations. If you're choosing this theme, we recommend more neutral coloured outfits like whites and khakis so you won't clash with the background.
Feelin' Peachy: Peach tone balloons, red and pink paper flowers and decorations! For this theme, it's best to wear something neutral like white or a contrasting pastel colour like a baby blue or mint green.
Shine Like a Star: Pastel coloured balloons, black & white decorations and yellow paper flowers. A simple white outfit will be fantastic with this theme.
Cool Blue: Mostly baby blue and white balloons and decorations. For this theme, you can wear white or other pastel colours like turquoise or pink.
As much as possible try to avoid polo shirts, checkered patterns, loud big logos and big floral patterns.
PACKAGE DETAILS

Our Cake Smash Studio Family Package starts from $590 for up to 4 pax ($20/extra pax) and includes 1.5 hour of photography session, yummy cake and themed decorations! Highly recommended to prepare 2 outfit changes, including a cute outfit for the birthday boy or girl, and other more light coloured, relaxed outfits for casual family portraits! Bring along any other props you may like for the shoot to personalize your shoot the way you want 🙂
Call us at +6562357037, whatsapp +6587696003 or email info@whiteroomstudio.com.sg to enquire and book your next fun-filled Cake Smash photoshoot with White Room Studio now!