Grandparents are a treasure trove of wisdom, love, and endless stories. They hold a special place in our hearts, and Grandparents' Day is the perfect occasion to show them just how much we appreciate them through a family photoshoot.
Having photos of grandparents and grandchildren together is an heirloom that will be cherished for generations.
Discover the tale of our heartwarming family photoshoot within the cozy embrace of our 2400 sq ft shophouse, as we celebrate the essence of Grandparent's Day.
Celebrating The Grandparents Who've Shaped Our Lives!
Grandparents are the silent heroes of our life, the ones who have filled our childhoods with unforgettable memories.
Most of our grandparents play a huge role being our pillars of strength, been with us through the ups and downs, offering unwavering support and guidance. Whether it's a nostalgic tale from their youth or a comforting embrace, their presence has always brought warmth and joy to our life.
They remind us that old age is a gift and that grandparents are the link between generations, passing on the experience of life and faith to the young" — Pope Francis

In the tapestry of our childhood, many of us are fortunate to have our grandparents, showering us with not just sweets and pocket-money but also the love woven into countless home-cooked meals. These memories form the sweet threads that weave through our early years, creating a quilt of affectionate recollections.
For some, the narrative shifts, leaving a poignant gap with the absence of grandparents. As time slips away, we yearn for a relationship that circumstances didn't allow to fully flourish. In these moments, we reflect on missed opportunities and untold stories, the echoes serving as a reminder of the delicate nature of familial bonds.
It urges us to cherish every fleeting moment, creating a legacy of enduring love and planning a family photoshoot when we can!
Capturing Love and Laughter during a Family Photoshoot at White Room Studio 📸
Behind every family photoshoot lies a heartfelt story, a visual narrative that becomes a cherished chapter in the lives of grandparents, their children, and grandchildren. These family portraits serve as time capsules, encapsulating the beautiful journey shared together.
The journey begins with the magical moment of grandparents witnessing and embracing the birth of their newborn grandchildren — filled with joy and anticipation. In those tender moments, the torch of love is passed on, bringing forth the promise of a legacy that spans generations.
From the first cries to the soft lullabies, grandparents shower their newborn grandchildren with love and care. The wrinkled hands that once cradled their own children now embrace the tiny fingers of a new life. It's a dance of family generations, a melody of love that transcends time.
As the years unfold, grandparents become the bearers of infinite wisdom, and the providers of unconditional love. They were there during the stumbling first steps, first milestone, and the countless moments with their grandchildren.
And comes the day, with pride shimmers in their eyes as they witness those once-tiny hands on their graduation. All grown up and confident, flaunting the enduring support of a loving family.
Pictured: Greg and his loving grandmother during a Graduation Photoshoot at White Room Studio!

My favourite moments have to be whenever my grandma is in the shoot! It's been awhile given the Covid pandemic since we had the opportunity to bring my grandma out for a photo taking session, so seeing her enjoy herself was worth it!" — Greg
Discover the Exceptional Amenities at White Room Studio
In line with the historical charm of our restored 1920s shophouse, please note that there isn't lift access available. However, we understand that stairs might be a concern, and we want to reassure you that there's an alternative. You have the option to choose the second floor, which provides an ideal setting for multi-generational photos. It features our signature Peranakan corner, balcony, classic studio backdrop, and more.
On the second floor, you'll discover our guest lounge, accompanied by a pantry. This space is not only a cosy retreat but also the perfect setting for capturing beautiful moments. Feel free to immerse yourself in the inviting atmosphere, take a break, and recharge while we work to create unforgettable memories during the photoshoot session.
We also have dedicated changing rooms, including a garment steamer, hangers, safety pins and more. Everyone will be well looked after, and if you need anything else, our studio assistants are available to attend to your requests.
Check out more details on your portraiture journey with us and shoot packages below.
The White Room Experience
Taking a photo is not merely clicking on the shutter. For us, it is designing a photography experience meant to capture the best version of you and your loved ones. Have a look at the White Room Experience below:
If you'd like to have a personalised makeover to glam up grandparent's look, book a private makeup & hairstyling session with our professional makeup artists in the comforts of our cosy vanity room!
Feel free to use our changing rooms to get ready – everything you need (garment hangers, steam iron, etc) is prepared for you!
Grandparent's Day Photoshoot Package Details

Our Family Studio Package starts from $490 for up to 4 pax ($20/ extra pax) and includes 1.5 hours of amazing fun and laughter in White Room Studio!
We highly recommended preparing 2 outfits for a variety of family portraits! Download our Rate Card here: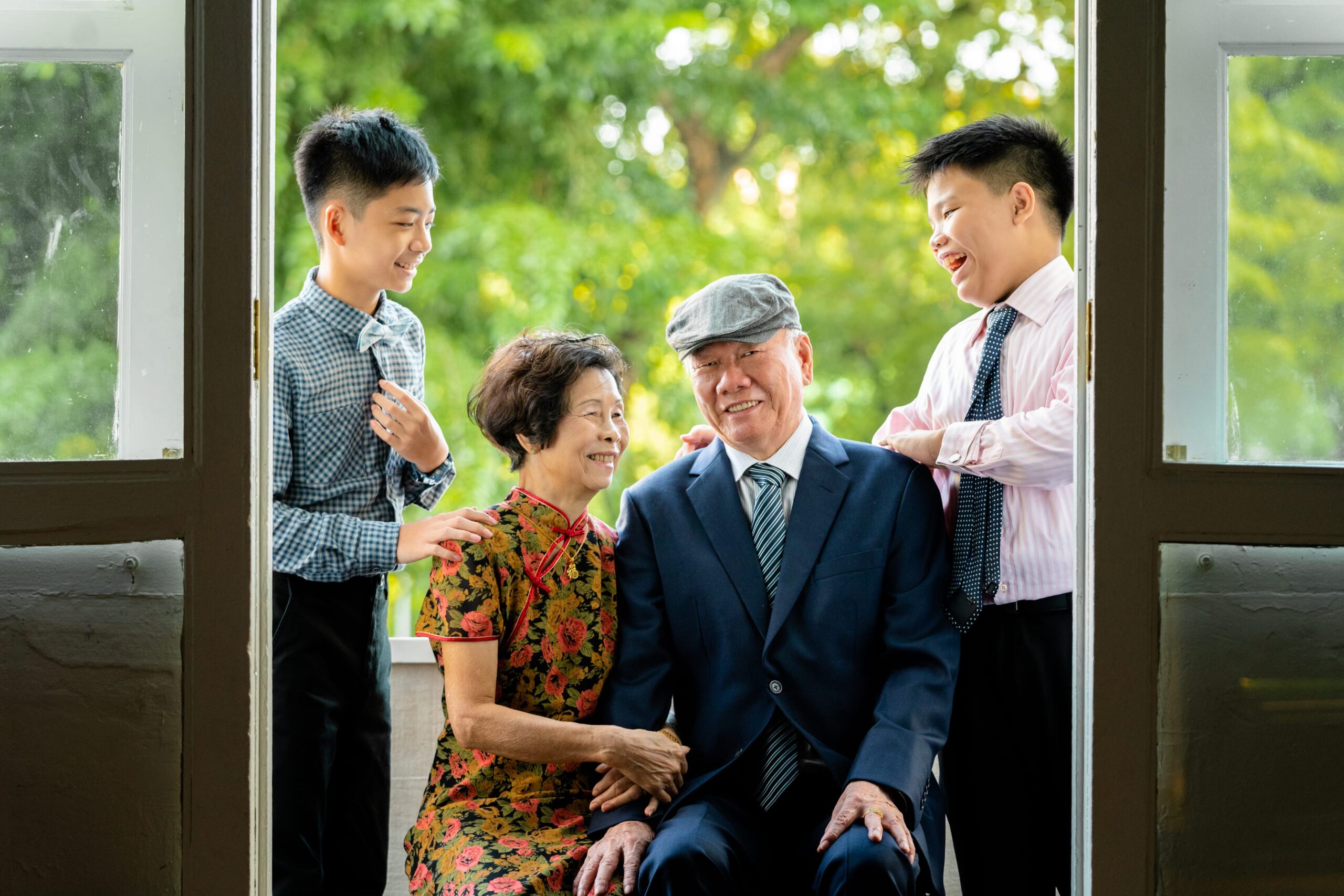 Contact us to book your shoot!