White Room Studio is one of the leading photography studios in Singapore known for its Graduation Portraitures. Every year, graduates flock to this award-winning studio and trust our professional photographers to capture those perfect pictures with the best equipment and artistry. These images are then produced into top-quality prints and amazing photographic displays.
In this blog, we have a chat with two of our photographers to gain some insight on why a graduation portrait taken at White Room Studio is unique and different from other studios.
A graduate from Lasalle College Of The Arts, Felicia is a photographer who is highly passionate in family and baby portraiture even though she started off by photographing models on fashion runways around Asia. Since then, she has grown to be a seasoned professional who has accumulated years of experience in studio portraiture. She has photographed hundreds of families and specializes at creating good rapport with kids and people during her shoots. Felicia is highly experienced in a wide range of portraiture genres from maternity, newborn, family, graduation and corporate.
Delun started his photography journey as a street photographer and has gained a wealth of experience in a wide range of photography genres before turning to studio portraiture to express his creative vision. He is a dedicated professional who is committed to providing the highest level of service to his clients and is known to go the extra mile to capture the best shots during his graduation shoots. Nothing gives him greater joy than capturing that perfect moment with his camera.
---
Ways that White Room Studio is a great choice for your graduation portraiture:
Award-winning Studio
Felicia: Much has been said and published about our studio. The studio's location along River Valley Road is readily accessible by private or public transport. Car parks, bus stops and even a MRT station is just a few minutes' walk away. Various eateries are close by and reaching here is never an inconvenience. Families arrive here more relaxed and are better armed with smiles for the camera.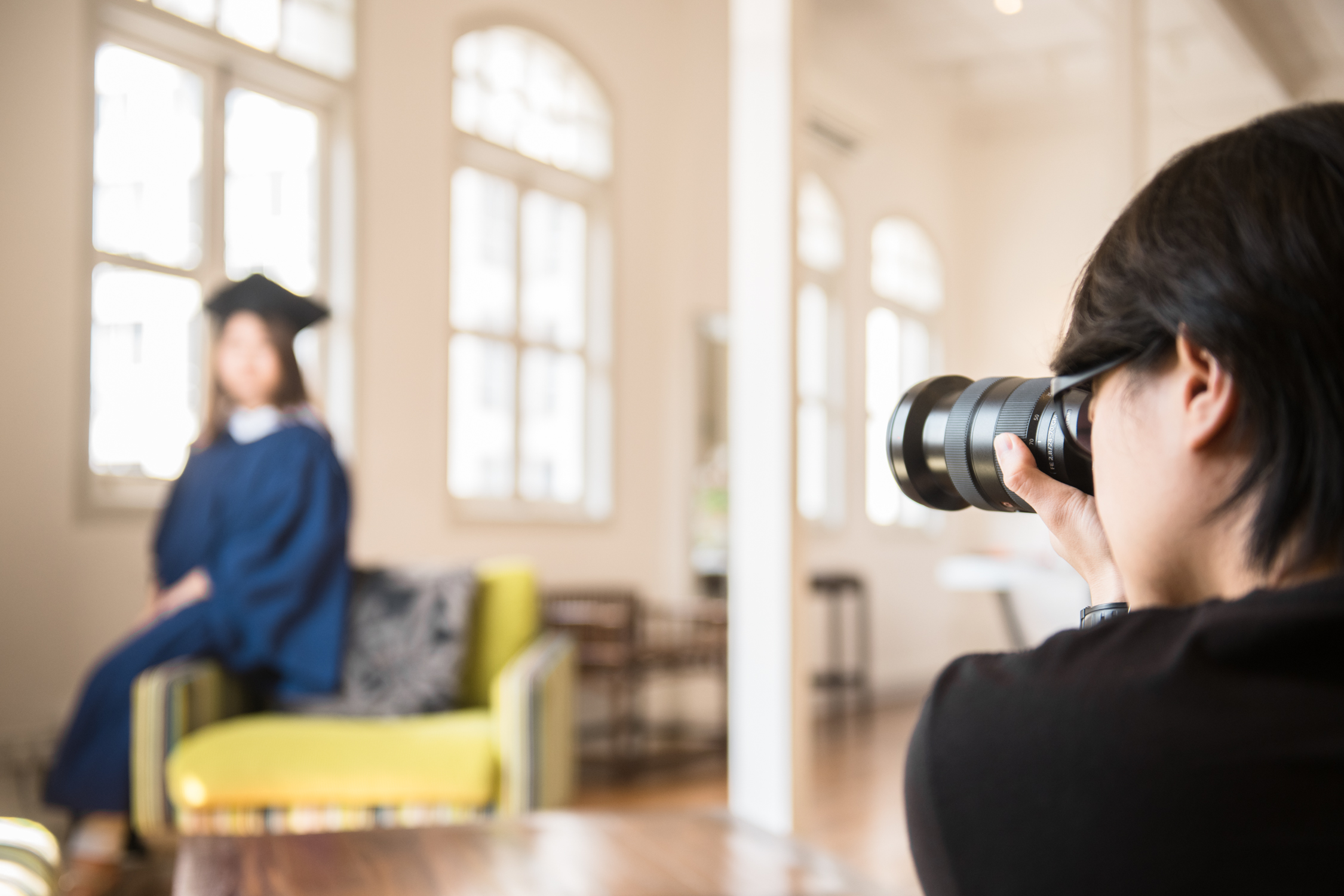 Delun: The Studio is a heritage shophouse of bespoke, Peranakan nostalgia that is full of warm sunlight, big windows, and has a balcony overlooking Fort Canning Park. The abundant natural light compliments our style of capturing the expressions of life that are real, natural, and reflective of the graduates in their academic regalia as well as their loved ones.
(Read more about the process of having your portraiture taken at the studio here.)
Classic Graduation portraitures
Delun: We encourage minimal posing and use little, if any props in our sessions. We prefer to draw out the natural you and celebrate each person's unique self. The end result is timeless photographs filled with fond memories which you can admire in years to come.
Felicia: White Room Studio photographers are trained to capture the most classic graduation poses in great style. We take the time and effort to explore creative angles that eschews mediocre poses for timeless classic expressions that are more impactful as they carry emotions that are open, fun, and real.
It is usually not just a regular Graduation Shoot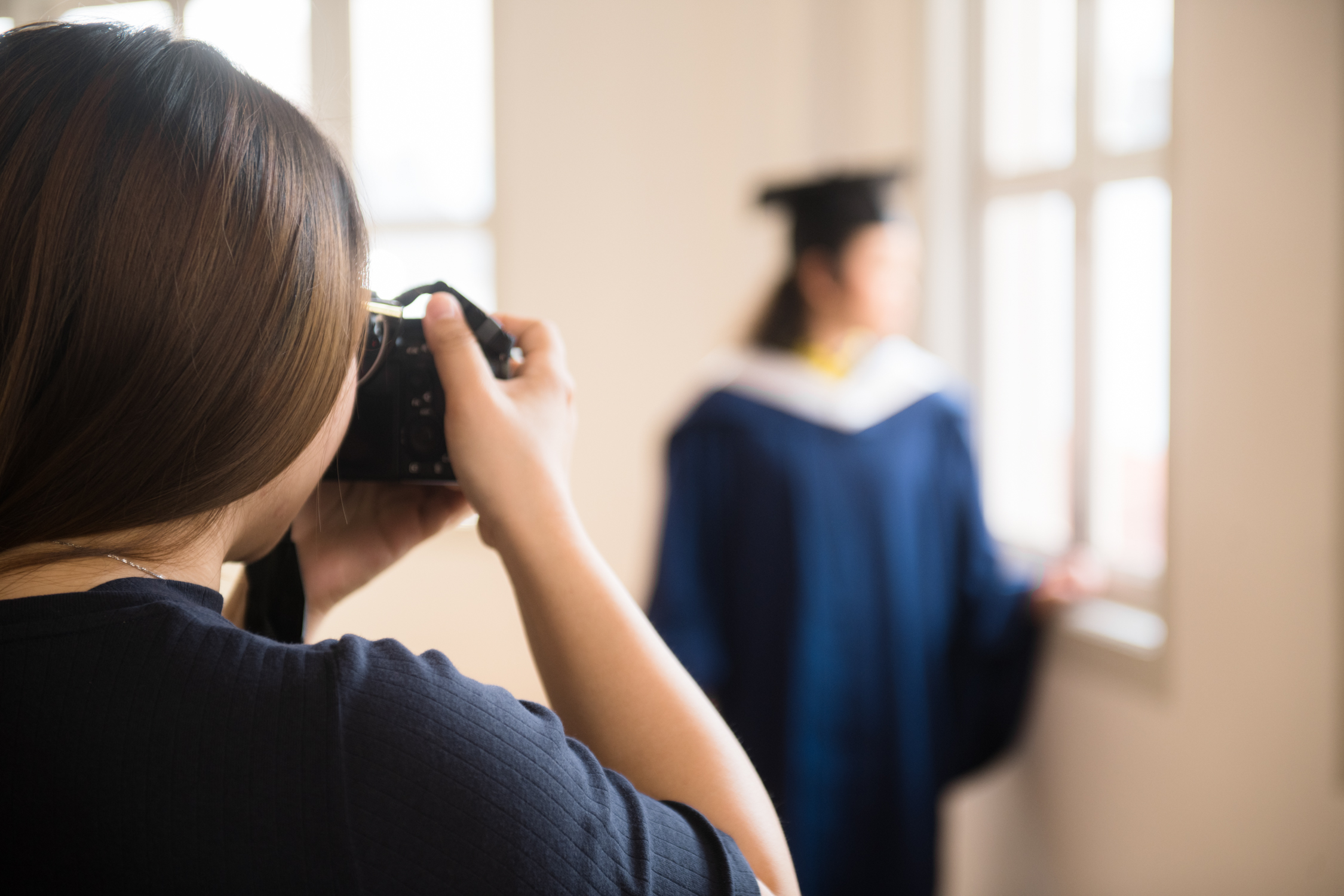 Felicia: When graduates come for their graduation portraiture, sometimes they may not bring just their families. They may bring their fur-kids as well! The good news is that White Room Studio is known for pet shoots as well. As such, a graduation portraiture shoot sometimes transforms into a mixed-genre pet shoot and back all in one sitting, and we are thankful to have been trained to transition from one to another with practiced ease.
(Read more about how we do our pet shoots here.)
Delun: Sometimes a graduation portraiture can bloom into a large-sized (multi-generational) family shoot as well! We are talking about anything from 12 to 18-member families or even larger. The organisation of shots, poses; not to mention the wrangling of all pets and children in for those large group shots can be daunting at times, if not handled properly. There has to be a clear strategy in mind for execution and great rapport with the family's decision makers is crucial.
Related: THE GRADUATION PHOTO SHOOT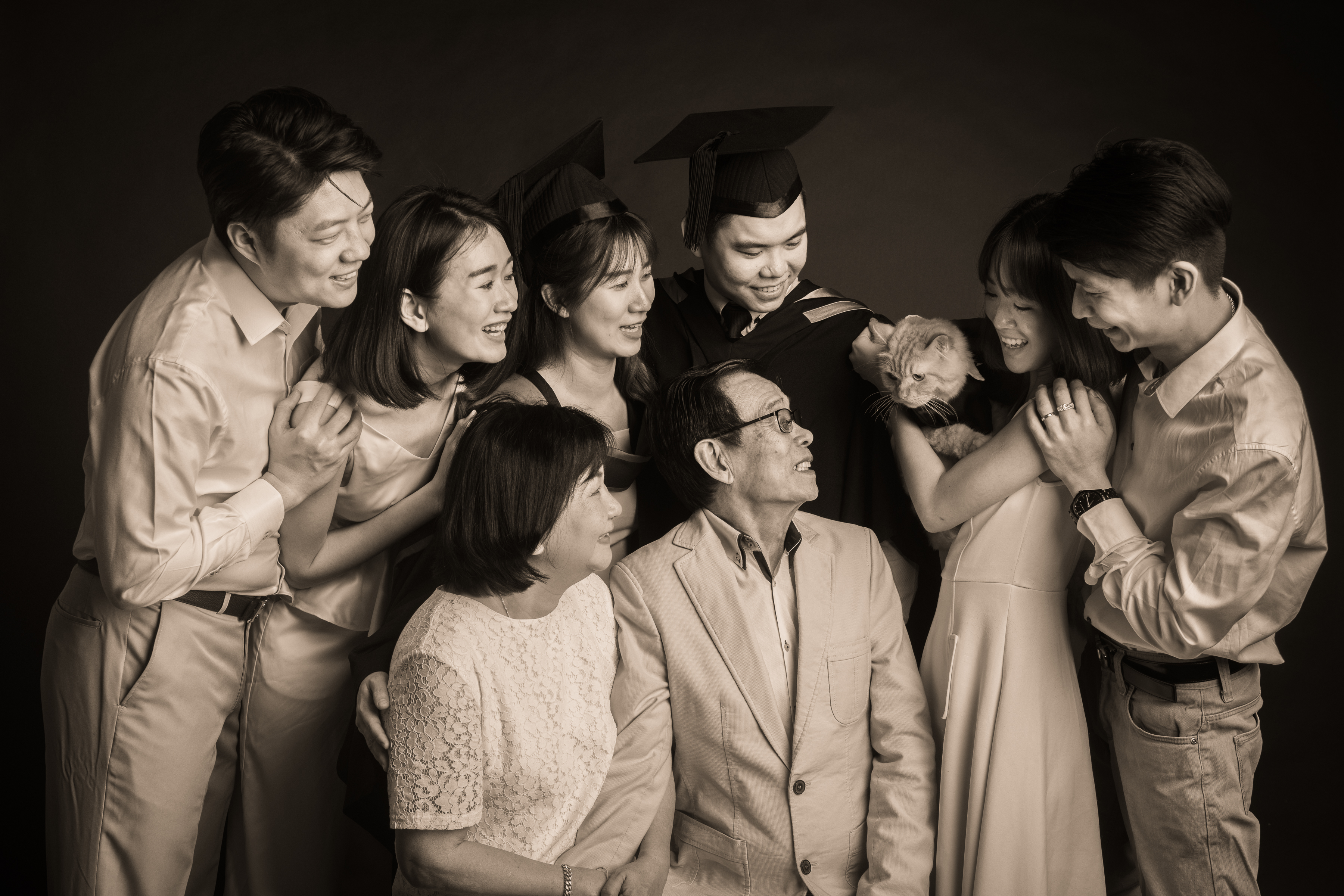 Graduation season is here at White Room Studio once again and our schedules are filling up fast It doesn't matter who you are bringing to your graduation portraiture, be it pets or your entire family – rest assured that the professional photographers at White Room Studio have no problem capturing the best shots and memories that will last you a lifetime.
If you need your graduation shoot on a weekend, we highly recommend that you reserve a date with us 2-3 weeks in advance to avoid disappointment. Call us at +65 62357037, whatsapp +65 87696003 or email info@whiteroomstudio.com.sg to check out your preferred dates now!
Browse through our amazing gallery and feel the experience our clients have with White Room Studio.