In the world of corporate branding, where the visual narrative often speaks volumes, selecting the perfect setting for your outdoor corporate photoshoot becomes an art that transcends the mundane.
Building upon the insightful guidance offered in our previous article titled How To Choose A Location For Your Outdoor Corporate Headshot, we embark on a new expedition through Singapore's urban oasis.
This modern metropolis, renowned for its blend of innovation and nature, offers plenty of stunning outdoor locales that harmonise seamlessly with professional aesthetics.
In this article, we invite you to discover five of the most captivating outdoor settings in Singapore, meticulously curated to lend a touch of sophistication to your next corporate photoshoot.
1. Marina One

Nestled at the heart of Singapore's buzzing Central Business District, Marina One stands as a striking testament to contemporary architecture and urban elegance. The interplay of natural light filtering through the towering glass façades provides a slate for capturing both candid moments and poised professionalism.
Marina One's meticulously designed outdoor spaces not only allow for group shots against a backdrop of lush greenery but also offer angles ideal for individual professional headshots.
From its perfectly manicured lawns to the sleek, reflective surfaces of its architecture designed by German architect Christoph Ingenhoven, Marina One provides an impeccable setting that effortlessly elevates the narrative of any corporate photoshoot, as seen in the portrait of two Kerry Consulting staff above.

White Room Tip 💡
Obtaining a permit is a necessary step for most outdoor corporate photoshoots. However, you should be prepared for a processing period of up to two weeks as the management of the location evaluates each application diligently. This waiting time allows authorities to assess the compatibility of the photography session with the location's schedule and guidelines.
2. Fullerton Bay

Steeped in history and enveloped by the thriving pulse of the city, Fullerton Bay is a must-visit for an outdoor corporate photoshoot. These internationally recognised skyscrapers symbolise the aspirations that drive individuals and companies headquartered in Singapore — each corporate headshot isn't just a picture; it's a slice of who you are and what you do, set against those impressive towers of Marina Bay Sands.
With the expertise of White Room Studio's photography team, you can showcase your professional persona and also the vibrancy of the corporate realm.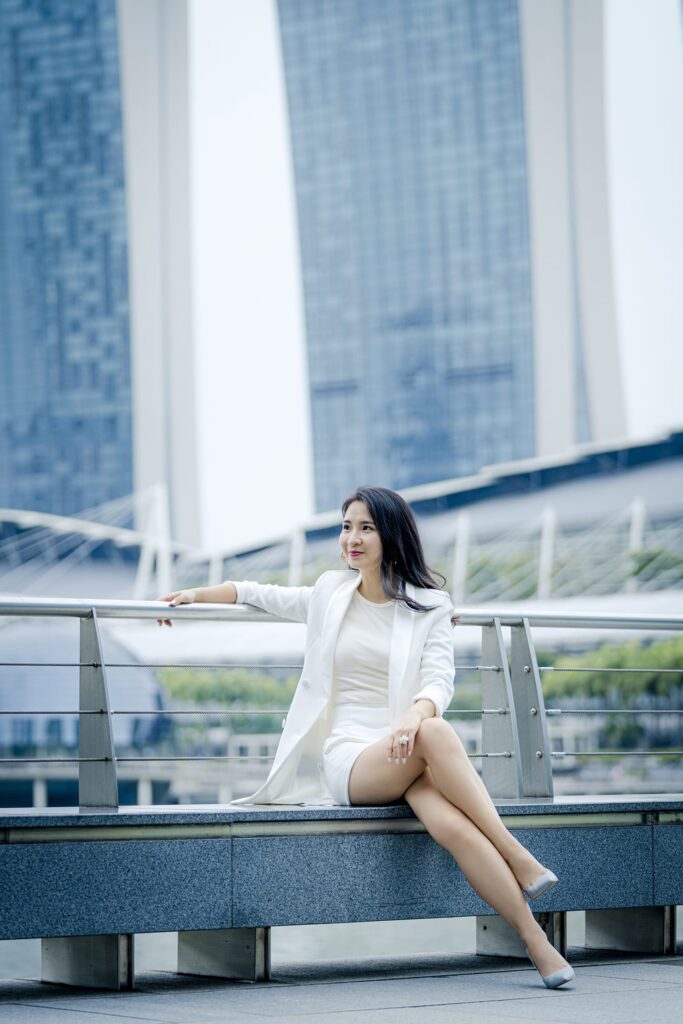 The 207 metre-tall engineering marvel isn't just about breathtaking views; it's a statement of elegance. Millie's (pictured) portraits are infused with a sense of purpose that reflects her personal branding.

3. National Gallery Singapore

Dare to step outside the usual corporate photoshoot box and consider the National Gallery Singapore as your next stop? Though not nestled right in the heart of the CBD, this museum offers a refreshing twist that's worth every click of the camera.
The grandeur of the building, combined with its curated surroundings, creates an atmosphere that elevates your corporate identity. Venture beyond the gallery's walls and you'll find a striking scene: pillars casting artistic shadows that dance in harmony with the sunlight.
It's an unconventional yet captivating setting that captures a professional spirit outside the ordinary.
Pictured below: Who says you can't take a corporate photo with your parents? A fresh graduate and her parents pose for a formidable corporate portrait — these images tell a story of ambition and personal growth within the broader spectrum of art and culture at Singapore's National Gallery.
4. Suntec City

Embarking on a corporate photoshoot within the iconic office towers of Suntec City, Singapore, is like capturing the heartbeat of modern business in a single frame.
Amidst the glass-clad exteriors, each photograph becomes a window into professionalism and innovation. The strategic location in the heart of the city's financial hub adds a sense of gravitas to the shoot, emphasising the organisation's place in the pulse of commerce.
These walking shots embody the powerful and collaborative spirit that thrive within Suntec City's bustling corridors, translating them into visual narratives that resonate with partners, clients, and employees alike.
5. Boat Quay

This next spot is a bit of a hidden gem in Singapore. While it might not be the go-to spot that pops into everyone's mind for a corporate photoshoot, it's a real winner.
Situated by the Singapore river, Boat Quay combines old-fashioned charm and youthful ambiance against the backdrop of quaint shophouses and reflective waters.
For Sing Yee, it was important that her professional stature as a realtor was conveyed in her portraits and professional headshots. Her choice to shoot at Boat Quay is a fresh take on regular corporate-style portraits, and portrays Sing Yee as someone who thinks beyond the ordinary and embraces the extraordinary.
The best part? When the sun starts to set, it throws a magical golden light over everything – talk about a natural filter that makes you shine!
So, while it might not be the top choice in mind for outdoor corporate photography, Boat Quay's got the kind of inexplicable charm that turns professional headshots into something truly special.
6. Bonus — Pasir Panjang Ferry Terminal

This next location embodies the essence of maritime charm, especially for clients who are in the shipping industry. Located on the southwest coast of Singapore, Pasir Panjang Ferry Terminal evokes classic industrial aesthetics which harkens back to the island's early beginnings.
The terminal's expansive harbor, juxtaposed with the colossal container cranes, provides a scene that perfectly distills our client's corporate identity. Amidst the swarm of ferries and cargo vessels, our team skillfully composed shots that showcased the client's role in this sector!
White Room Studio – Your One-Stop Corporate Photo Studio
If a studio setting is more to your liking, look no further! Established in the historic district of River Valley Road, White Room Studio is housed in an exclusive shophouse-studio environment, drenched in natural light.
Explore the possibilities of our open-air balcony, where a serene view of Singapore's lush Fort Canning Park unfolds before you. Inside, you'll find a European-inspired area complete with an inviting arch walkway.
Or, embrace the cosy, rustic interiors of a colonial-era shophouse that exudes homely warmth. Our studio offers an array of settings that cater to diverse preferences, making your corporate portraits and headshots truly exceptional.
Immerse yourself in a playground of sorts, bathed in the soft natural light filtering through the windows of our Peranakan-influenced shophouse. No two corporate portraits will turn out the same!
With versatile setups over two levels, White Room Studio offers a wealth of options for your next corporate headshot as our expert photographers seek to portray your professional image.
PACKAGE DETAILS
Our Corporate Portraiture Package is priced at $390 for 1 pax and it includes 2 outfits photographed and 2 backdrops of your choice!
You will enjoy 30 minutes of artistic photography in our two-storey shophouse studio, be it headshots or a personal branding session.
From a selection of corporate headshots, half-body and full body shots, you will receive 3 retouched soft copies ideal for LinkedIn, CV, or your website!
Personalised hairstyling and makeup services are also available. At White Room Studio, we also have a fully equipped changing room with a garment steamer, plus a spacious executive guest lounge and pantry for you to get ready before your shoot!
If you wish, we recommend that you bring along any props that may highlight your profession and expertise.
Send us a message via the form below and we'll get back to you shortly!