Pet owners know that feeling all too well – trying to snap a good photo of your pet before they run away, out of your sight!
Photographing pets can prove to be quite a challenge, even for the most experienced professionals. So how do we bring out the best in the pets that visit our studio?
Pictured: Fur parents Sher and Jeff with their pet bunny, Potato
Animals come in all shapes and sizes, with different temperaments and personalities.
Dogs are known to be extra friendly and enthusiastic but they have their shy and skittish moments too. On the other hand, cats have a reputation for being proudly independent creatures, but they can also be incredibly affectionate and outgoing.
Whether it's a bird, hamster, or a rabbit – each pet has its unique traits which make them lovable to us!
Admittedly, it's hard not to shy away when a camera flashes at us. So what about our furry companions, who might easily feel just as overwhelmed during a pet photoshoot?
To help you and your fur kid have a fun-filled, stress-free pet photoshoot at White Room Studio, we got 5 tips and tricks for you that will guarantee picture-perfect paw-traits.
1. (Natural) Lights, Camera, Action!
If your pets are adventuring to a new location for the first time, they will need some time to get used to their surroundings, as different sights and smells can excite their senses!
Our 2400 sq ft shophouse studio boasts large French windows and a balcony which overlooks the mature trees of Singapore's iconic Fort Canning Park. This means there is abundant natural light flowing in, gently illuminating the entire room.
Just have a look at the two videos featuring Oscar the Corgi and Snowy the Ragdoll below!
View this post on Instagram
View this post on Instagram
Some pets can be more sensitive to studio lighting, so having plenty of natural light creates a warm and natural environment for your fur kids, putting them at ease. Just be patient and let them slowly warm up to the photographer and the camera!
Pictured: Kylo the Maltipoo (left) and Peanut the Chihuahua (right) with their fur parents
2. Play Dress Up!
Pet photography is all about capturing each pet's character and the special connection you have with them. Sometimes, seeing how hilarious and silly our pets can look in a costume can be even more endearing!
Pictured: Who knew Shitzus and Pomeranians could look so adorable in these costumes?
If you have a costume for your pet in mind, do bring it along for the shoot and make sure the outfit is safe, comfortable and does not restrict their movement, especially if they are wearing it for the first time.
Slowly introduce the costume to your pet and let them get comfortable – most importantly, never leave them unattended by themselves (fur-parental supervision is required!)
Check out Chubby the Pug (@chubbypugg) in his adorable Halloween costume!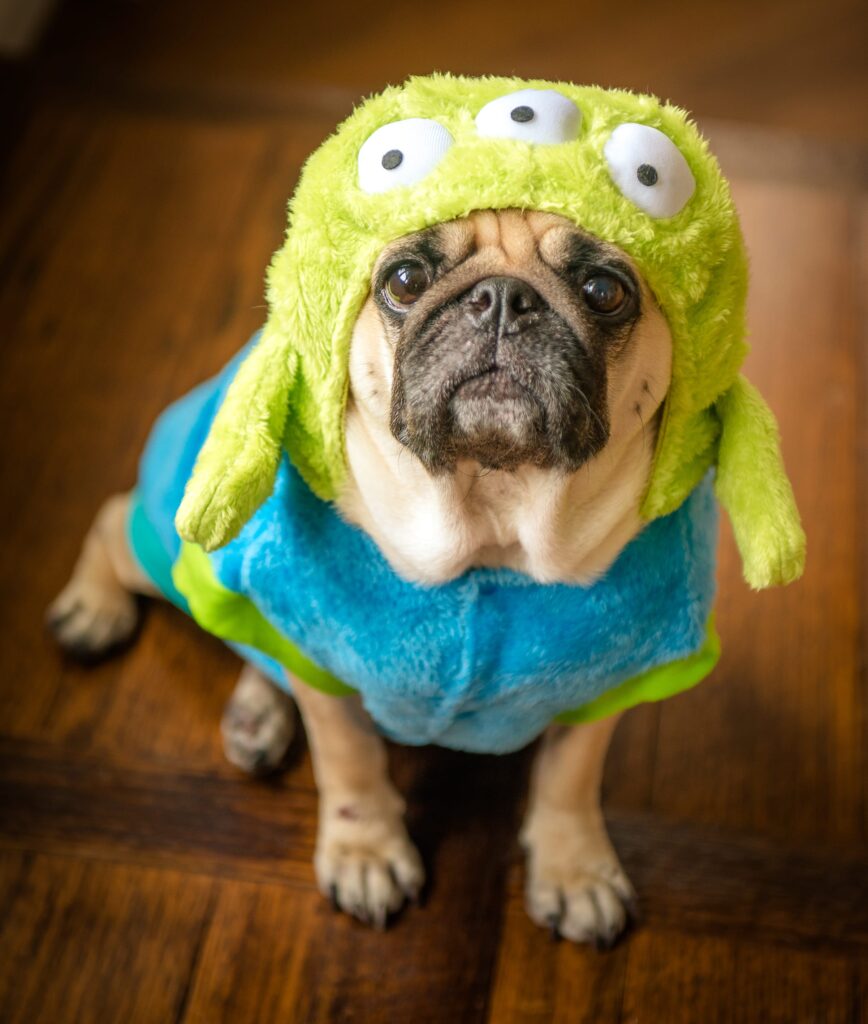 3. Trick and Treat Your Way Through A Pet Photoshoot!
If you have taught your pets any cool tricks, the photoshoot is the perfect time to perform those tricks and reward them with a treat after! This "trick" and "treat" combo works well for pets who need a little motivation to strike a pretty pose for the camera.
You can also bring along your fur kid's favourite toy to encourage their enthusiasm and perk up their energy levels. Some of our clients actually play music to calm their pets during the shoot!
It helps to pay attention to your pet's body language – only use the treats when they need positive reinforcement, or else their interest will wear off fast.
Pictured: Sandra with her cat Snowy (Ragdoll), Xavier and Shan with their doggies, Lisa (Pomsky) and Yoshi (Japanese Spitz)
4. Express Your Love!
Some of the most beautiful moments of a pet photoshoot come from the owner and their pet simply interacting with each other. It could be worth the while to make your pets recreate a certain pose or yield a cute expression, but the best portraits are often those that are candid and true to the relationship.
At White Room Studio, our 2-storey shophouse feels like a home away from home. Filled with natural light and themed decor, there's plenty of room to explore creative angles that translate into fine art portraits!
Ultimately, your pet will not realize that they're being photographed – to them, it is a special playtime with you! So cuddle up with your pet like you're both at home, exchange hugs and kisses – take this opportunity to create magical memories that you will fondly look back on years from now.
And of course, when you need to take a break, feel free to relax in our brand new guest lounge and make yourself at home. Help yourself to the complimentary refreshments in the pantry! We also have a pet bowl prepared for their use if your fur kid is feeling thirsty.
5. Grooming Matters Before A Pet Photoshoot!
Pictured: Caleb the Corgi looks paw-sitively handsome!
Just like how we will get our hair and makeup done before a photoshoot, you want your pet to look their best, whether it's their fur, paws or underbelly. If possible, we highly recommend taking your fur kid to the pet groomer before their pet photoshoot. Download our exclusive Pet Portraiture Lookbook for more professional pre-shoot advice!
During this 1.5 hour session, our pet photographer will snap as many amazing shots as they can, including close-ups of your furry friend that will mesmerize anyone.
Each portrait showcases your pet's unique features and tiny details, such as the softness of their fur or the smooth texture of each paw.
Capture your fur kids at their best on print or frames and canvases; with their images professionally retouched in our signature style!
Pictured: We love pets at White Room Studio! Check out these beautiful pet portraits captured by our pet-loving photographers.
The White Room Experience
Taking a photo is not merely clicking on the shutter. For us, it is designing a photography experience meant to capture the best version of you and your loved ones. Have look at the White Room Experience below:
There is no other pet just like yours, so we want to celebrate the characteristics that make them unique.
White Room Studio Pet Photoshoot Details
The Pet Portraiture Collection is $490 for 4 pax ($20/extra pax). We recommend you prepare 2-3 outfits, and you can get ready in our dedicated changing rooms.
To enjoy a private and relaxing makeup session, you can add on a 1-hour makeup and hair appointment.
Our esteemed professional makeup artist, who has worked with us for almost 10 years, will create a personalised look just for you in our brand new vanity room!
Download our Rate Card:
Contact us to book your shoot!
My boyfriend booked a surprise photography session on my birthday together with my puppy, Kylo. Booking was also a breeze. Communication via Whatsapp / email with swift replies.

We were there bright and early! Yan was there to receive us at the studio and was very helpful and welcoming throughout. She had such a bright personality, we felt very comfortable and was not awkward at all.

Yan is also very good and patient with our puppy – Kylo loves her! The photo studio itself is great and beautiful. I particularly love the balcony with such nice backdrops!

I would definitely recommend White Room Studio to my friends and family!

– Denise Ang, fur parent of Kylo
Did a family shoot for my baby and myself with Justin and Verona at White Room Studio back in August - the shoot went pretty smoothly even with an increasingly tired 2 month old infant, with good posing directions from Justin while Verona helped to make sure my baby was comfortable and looking at the camera. Loved the set-up at the studio and we didn't have to wait long in between for the different set-ups.
My experience with White Room Studio for our recent graduation/family photoshoot was fantastic, and a big part of that was due to our photographer, Jia Ming. Jia Ming was incredibly skilled at directing the photoshoot. They made us feel comfortable and guided us through poses that turned out great. Their friendly and patient approach helped us relax and resulted in genuine, heartfelt smiles in our photos. Jia Ming's attention to detail and ability to find the right angles produced beautiful shots that we'll treasure. Their passion for photography was evident, and it reflected in the final images. Thanks to Jia Ming and the White Room Studio team, we have graduation photos that capture the moment perfectly. I highly recommend them for their professionalism and Jia Ming's excellent direction. It made our photoshoot a memorable experience.
Had a lovely experience doing a family photoshoot with White Room Studio - all photos turned out to be amazing. Our photographer Jia Meng was great in engaging the family and everyone was very comfortable during the shoot. The studio had lovely backdrops too. Overall great service, including before, during and after the shoot! Highly recommend to anyone looking to do a shoot, especially if it's your first time 🙂
Fun & friendly photoshoot with Yating. She made us feel welcome & comfortable during the shoot. Photo viewing service was also great with Dan. Professional & helpful in choosing the photos. Thank you guys.
Hernie Andersen
2023-09-11
We were blown away by the level of skill and artistry when we got to see the photos. Each image was a work of art, reflecting the joy and tenderness we felt at the time. Randy, our photographer captured the emotions and created everlasting memories that we will cherish for the rest of our lives. We wholeheartedly recommend White Room Studio to anyone seeking extraordinary photographs and an unforgettable experience.
A very special experience for the whole family! Yan, our photographer, guided us through the whole process. Her directions and pointers on how we could pose made our time there super fun! Much joy and laughter during the session. Highly recommended, thank you for the memorable time:)
My family and I came here for a photoshoot to commemorate my sisters graduation with Yan as our photographer helping us out. She was extremely knowledgable, helping us get the best pictures. The photography session was really fun and enjoyable, leaving us extremely satisfied with a memorable experience. We loved the photos taken, they were high quality and very well edited. Highly recommend coming here to get your photos taken to commemorate an occasion with your friends and family.
We had originally booked a newborn slot earlier but had to reschedule last minute and the team was so accommodating. On the day of the photoshoot, our daughter was fussing (and crying) and we were worried that we were not able to take any good photos but lo and behold, the talented photog, Justin assisted by the talented baby whisper, Verona - they both managed to calm our baby down. Both were very professional, patient and accommodating. 5 star! Thanks Justin and Verona for helping us create lasting memories!
We did a follow up baby photo shoot (post maternity shoot with White Room Studio) with Justin and Verona, and had an extremely incredible time. Verona is a super 'baby whisperer' and able to soothe our wailing daughter during the photo shoot session. Justin was very patient and understanding, and the end result were all extremely gorgeous. We ended up getting all the digital print because we couldn't resist! Highly recommend Justin and Verona for baby shoot!
Good experience