Graduation season is here in Singapore – think proud smiles on parents' faces, joyful and moving exchanges between friends and families, beautiful bouquets and the debut of the iconic graduation bear!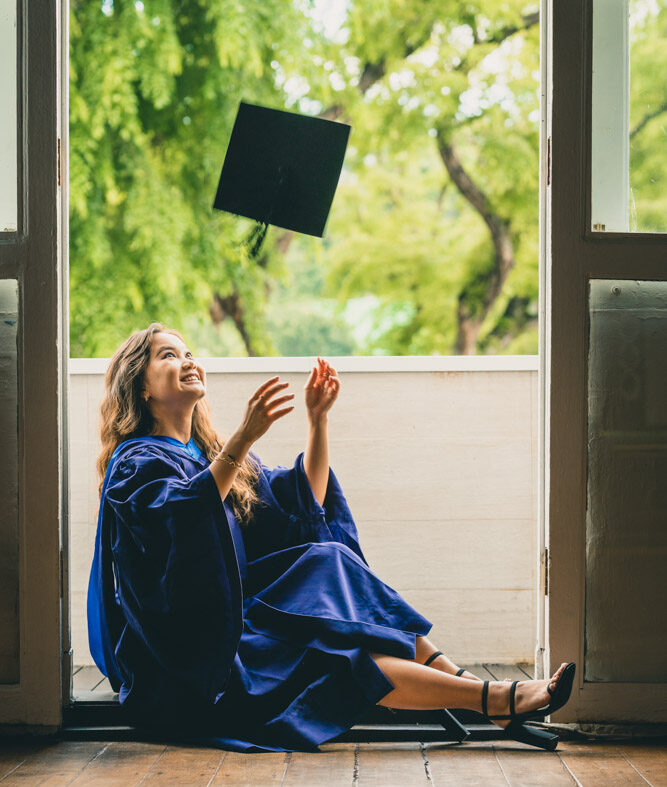 Being able to attend your own graduation ceremony is a significant milestone in every student's life. It is that day where their hard work, commitment, and late nights for many years finally pay off.
What other chance will you get to witness your child wearing the mortarboard, hood, and gown set?
Walking up the stage in this traditional regalia and collecting your scroll in front of the people who supported you – your family, fellow classmates and professors – is the defining moment for every graduate.
For many parents, witnessing this scene is a dream come true!
Here are 3 reasons why a Graduation Photoshoot is the best gift you can give them:
1. Relive cherished graduation memories, without the crowd 
While a convocation ceremony is a large-scale event that's held for hundreds of students and their parents, a photoshoot is more intimate and personalised – just your child and the most important person in their life – you! Our veteran photographers are ready to capture your child looking their best, without all the hustle and bustle in the background.
Graduation is also a time for emotional and heartfelt gatherings, something that virtual ceremonies lack. A photoshoot is the perfect occasion to gather, rekindle those warm feelings, and preserve these special moments.
Instead of queuing up and hastily getting pictures taken at the designated photo booths at convocation ceremonies, our 2400sq ft shophouse in Singapore is the perfect place to relax and be photographed with your family.
We capture portraits that reflect real moments and emotions at White Room Studio.
2. Recreate any moment you like as a family 
Celebrating your child's achievement is one of the greatest joys in life as a parent. What if you could double this happiness and join your child in taking graduation photos too?
You could even recreate the moments that are special to you (how about that graduation ceremony you had ages ago?) and share the pride as a family.
For this once-in-a-lifetime event, graduates are often encouraged to purchase the gowns, which are hardly utilised after the day itself.
Our studio provides a variety of graduation gowns and mortarboards which can be altered and tailored to your requirements, and the best part is that they are included in the cost of the package!
You won't have to worry about making any last-minute changes to the gown. We know how much your child's graduation means to you, so we want to make sure your photoshoot is a treasured experience.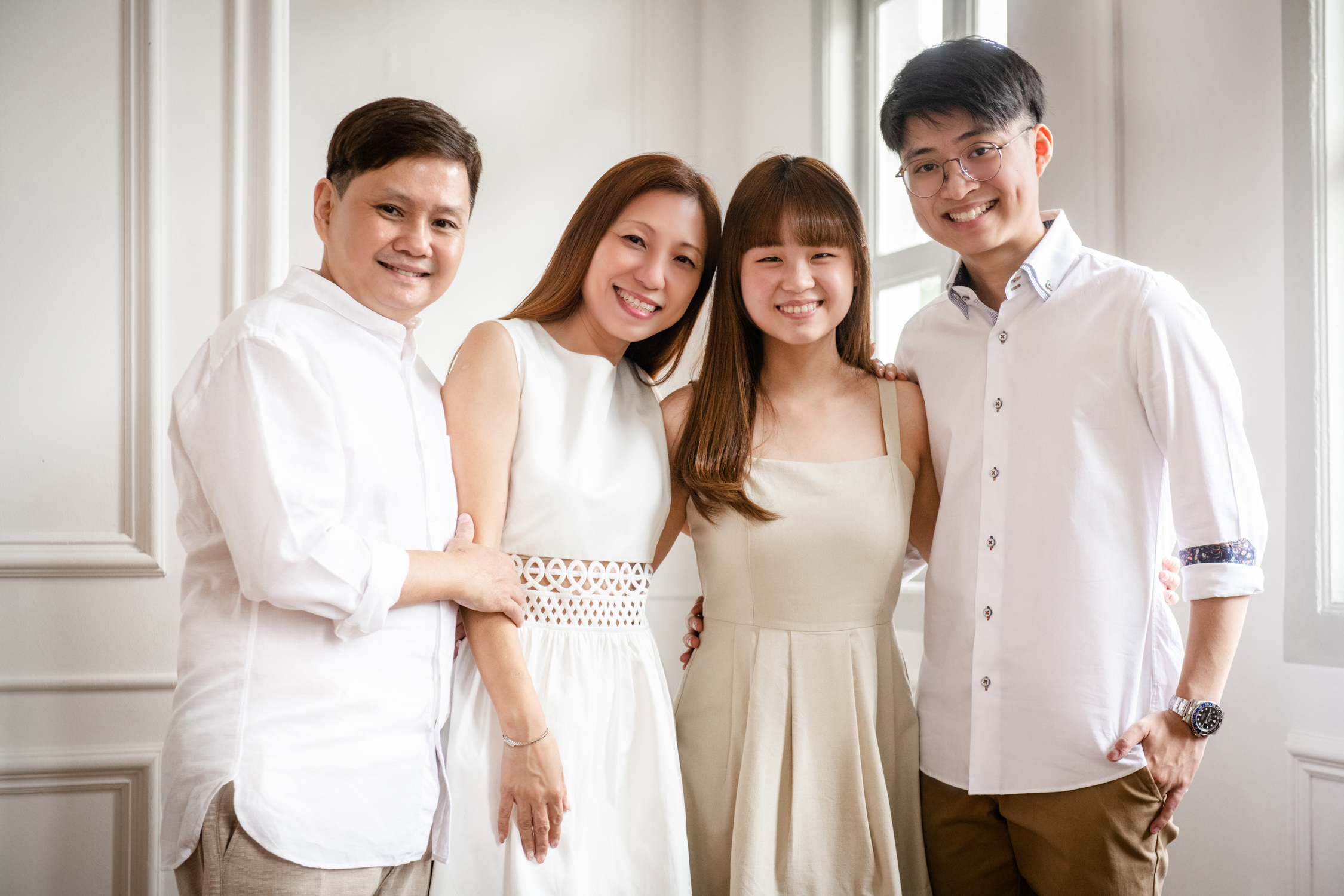 3. Reminisce graduation together, anytime you want 
Now that your child has finally graduated, it's time for some much-needed family bonding!
A graduation photoshoot is the ideal occasion to strengthen those bonds, by sharing warm hugs and getting into funny and playful poses.
You can even show up in casual colour-coordinated outfits or formal attire as a group, as we will explore various areas around the studio.
Want to time travel back to the Peranakan era? We got just the backdrop for you!
You are not just honouring your child's accomplishment – you are also creating fun-filled memories for them to look back on!
Each photo taken during the graduation photoshoot will be colour enhanced in our signature WRS style, and the prints will be professionally retouched to your liking too.
You can even customise your photographs with a frame or canvas. All of our creations are made to last for generations as they are crafted with the highest quality. They will not fade for decades.
Don't forget to check out our complete fine-art product catalog! With these physical 'souvenirs', you can reminisce about the good times anytime as a family.
White Room Studio Graduation Photoshoot Details
Our Graduation Studio Package starts from $490 for 4 pax ($20/extra pax). It includes 1.5 hours of amazing fun and laughter in White Room Studio! Pets are welcome too!
We highly recommend preparing 2 outfits (a formal outfit for corporate-style shots and relaxed outfits for casual family portraits)! Also download our exclusive Graduation Portraiture Lookbook for more pre-shoot advice and outfit ideas 👗
Bring along any other props you may like for the shoot to personalize your shoot the way you want 😊

Visit our FAQ page and download our Rate Card: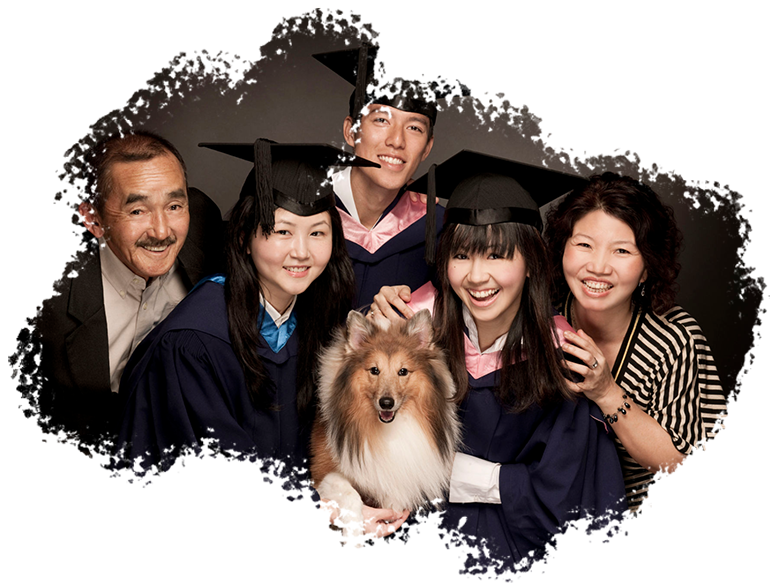 Contact us to book your shoot!
Grads and parents, book a 1-hour makeup and hairstyling package ($150/pax) if you want to look extra elegant for this portrait session!
It will take an hour, and our esteemed professional makeup artist, who has worked with White Room Studio for almost 10 years will create a personalised look just for you in our brand new vanity room!
For our clients' comfort, we have also created 2 changing rooms, plus a guest lounge with a well-stocked pantry across the entire studio.
Feel free to help yourself to refreshments in between your shoot! Our studio assistants are also available if you need anything else.
This was our first time having a graduation/family photoshoot and White Room Studio was a natural choice since it was so highly recommended and raved by my peers and colleagues.

White Room Studio's Director, Dan, was very welcoming and his easygoing and spontaneous persona eased everyone into the photoshoot. We felt very comfortable with the whole situation and the photographs turned out very natural. I also had no idea that he is the chief photographer of the studio, so that was a nice surprise.

During our photo selection this week, Elaine was super methodological and helped us narrow down on our selections – which was no easy feat since there were so many choice ones to choose from.

We have enjoyed this process tremendously and would highly recommend this studio to anyone who wishes to capture their memories in print.

– Gerald Lee and Family